2022 DrivingElectric Awards: the winners
The DrivingElectric Awards recognise the best hybrid and electric cars you can buy right now, with models from MG, Skoda, Hyundai, Tesla, BMW, Mercedes, Citroen and Fiat taking home the top titles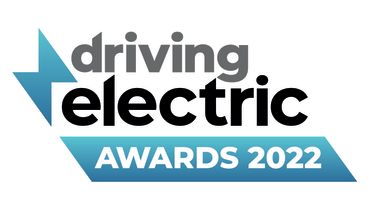 We're proud to announce the winners of the 2022 DrivingElectric Awards. Our annual celebration of the very best electric and hybrid cars on sale is now in its fourth year, and it's bigger than ever, with 25 distinct categories covering everything from the best electric car for city life and the best hybrid family hauler, to the top electric vans and plug-in hybrid company cars we've taken for a spin over the past 12 months.
We also wanted to highlight the tools that can help make transitioning to and living with an electric car easier, including the best home charger, best universal charging network and the best electric-car app.
So whether you're in the market for a hybrid runabout, are a recent plug-in hybrid convert or a long-time EV devotee, we've got you covered. Without further ado, these are the winners of the 2022 DrivingElectric Awards.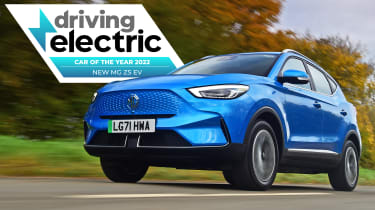 DrivingElectric Car of the Year 2022: New MG ZS EV
The refreshed MG ZS EV is the 2022 DrivingElectric Car of the Year largely thanks to its unbeatable value for money. The Long Range version boasts a 273-mile range and costs £28,495 after the plug-in car grant is deducted. That's on top of a 470-litre boot, a spacious cabin, practical SUV body and a generous amount of standard kit – including a new digital driver's display and a 10.1-inch central infotainment touchscreen that features Apple CarPlay and Android Auto. MG's zero-emissions SUV has been offering an affordable route into electric motoring since its launch in 2019, but with these updates, the ZS EV has become a seriously compelling package for any budget-minded driver looking to switch to electric. Read our full review of the car for more.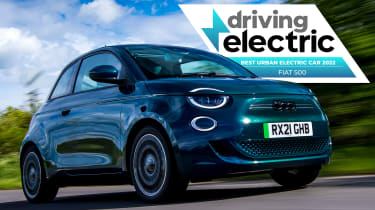 Best Urban Electric Car: Fiat 500
Since it launched in 2020, we've repeatedly driven and even lived with several versions of the electric Fiat 500, and each time we've been thoroughly impressed with what this compact city car has to offer. Our 2021 Car of the Year is not only fun to drive around town and on the twists and turns of a British B-road; it can also handle longer motorway journeys without hesitation. Plus, there are several versions available to suit all styles and budgets, from the range-topping convertible to the entry-level Action, which gets a 119-mile range but close-to-£20,000 starting price. Read our full review to find out more.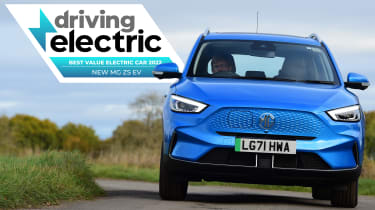 Best Value Electric Car: New MG ZS EV
Few EVs get close to the value for money offered by MG's zero-emissions models. However, the new ZS EV wins its second title this year because, even after a slew of updates to its styling, infotainment and range, it remains one of the cheapest electric cars on sale. It continues to offer an excellent amount of standard equipment and now up to 273 miles of range, all while starting from under £30,000. Better still, an even cheaper version will arrive during 2022. Watch our in-depth video review of the MG ZS EV to learn more.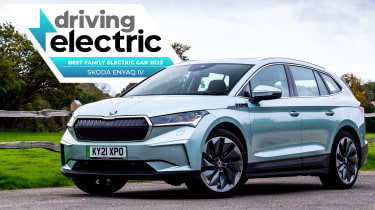 Best Family Electric Car: Skoda Enyaq iV
Skoda knocked it out of the park with the Enyaq iV. The zero-emissions SUV is an ideal family car, offering boatloads of practicality, a spacious and tech-filled cabin, excellent refinement and a solid real-world driving range no matter which model you go for. Skoda's first bespoke electric car is also competitively priced, starting from just over £32,000 after the grant, and it gets the brand's usual 'Simply Clever' features. The fact every version now gets rapid charging as standard is simply the cherry on top of this exceptional cake. Read our full review to find out more.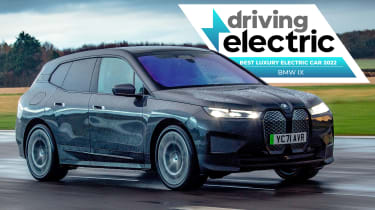 Best Luxury Electric Car: BMW iX
You can say what you want about the styling of BMW's new flagship SUV, but the iX is a seriously impressive statement from the German brand about what we can expect from future additions to its rapidly expanding range of electric cars. Quiet, comfortable and trimmed in some of the highest-quality materials in this segment, the iX is quite simply the most luxurious electric car currently on sale. The Tesla Model X rival is also great to drive, and capable of covering up to 381 miles on a charge if you go for the range-topping xDrive50 model with its 105kWh battery. Read our full review to find out more.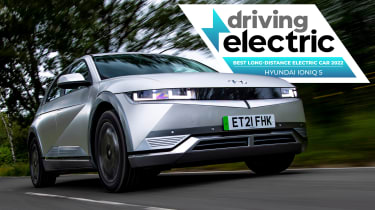 Best Long-Distance Electric Car: Hyundai Ioniq 5
The Ioniq 5's retro-inspired styling inspired a huge wave of anticipation following its unveiling earlier in 2021. But the way it drives and the technology under its space-age bodywork are why it has won our Best Long-Distance Electric Car Award. The Ioniq 5 offers up to 300 miles of range depending on the version you go for, along with luxury-limousine-like ride quality and interior comfort, plus ultra-rapid charging capability that surpasses even some £100,000 flagship EVs. Read our full review to find out more.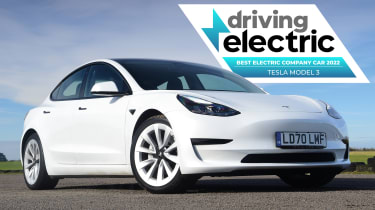 Best Electric Company Car: Tesla Model 3
For a third year in a row, the Tesla Model 3 is one of our winners, thanks to technology, refinement and performance that few cars can top – despite many trying. Company-car users in particular will appreciate the low running costs, including rock-bottom Benefit-in-Kind (BiK) tax rates, and the Model 3's impressive range, which is bolstered by rapid-charging capability and exclusive access to the Tesla Supercharger network. Read our full review to find out more.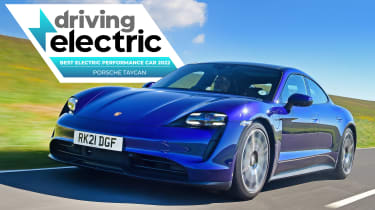 Best Electric Performance Car: Porsche Taycan
Any electric car has the potential to impress in a straight line, but the Taycan takes this award for how engaging and balanced it is to drive; its sharp handling truly lives up to the reputation of the badge on its nose. Plus, Porsche has made improvements to the Taycan's range and expanded the line-up to include two estate bodystyles and a driver-focused GTS variant. Read our full review of the Taycan saloon to find out more and check out our video review of the Taycan Cross Turismo estate to find out more.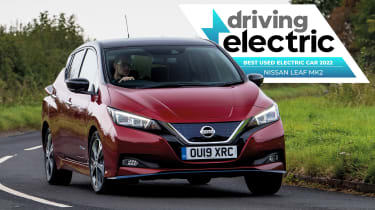 Best Used Electric Car: Nissan Leaf Mk2
Nissan's pure-electric hatchback has been with us in various forms for over a decade now. The second generation was introduced in 2018 and shortly afterwards we got the longer-range 'e+' variant, capable of close to 240 miles on a charge. Not only is the Leaf still competitive with newer models on the market, there's now a healthy supply of secondhand examples – at prices to suit almost any budget. Read our full review to find out more.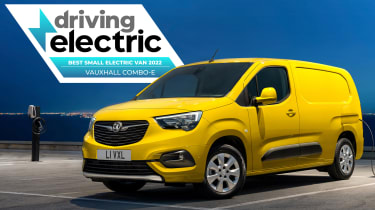 Best Small Electric Van: Citroen e-Berlingo, Peugeot e-Partner, Toyota Proace City Electric and Vauxhall Combo-e
Citroen, Peugeot, Toyota and Vauxhall's smallest electric vans jointly take the Best Small Electric Van title, as they share a platform and technology, and are equally responsible for raising the bar in their class. Excellent performance around town, versatility and rapid charging speeds make them compelling options for anyone wanting a zero-emissions work vehicle. The fact all four are also available with seven seats for eco-conscious family buyers is simply the icing on the cake. Read our full reviews of the e-Berlingo, e-Partner, Combo-e and Proace City Electric to find out more about each one.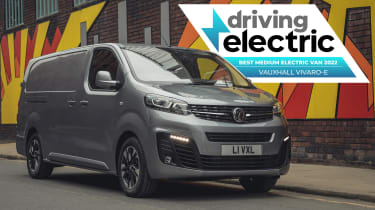 Best Medium Electric Van: Citroen e-Dispatch, Peugeot e-Expert, Toyota Proace Electric and Vauxhall Vivaro-e
Once again, technology sharing across multiple brands means there are a plethora of zero-emissions offerings if you're in the market for this size of panel van. These near-identical sister models use a tried-and-tested powertrain, are driver-friendly on the road and can charge just as quickly as the latest electric passenger cars – not always a given in this class. They're all ideal for businesses looking to switch their fleets from diesel to electric, with all four also available in minibus form with seating for up to nine, too. Read our full reviews of the e-Dispatch, Proace Electric and Vivaro-e to find out more.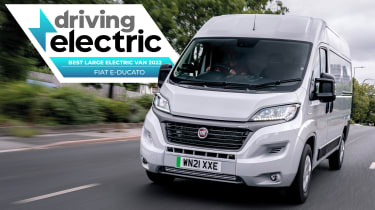 Best Large Electric Van: Fiat E-Ducato
The Fiat E-Ducato wins the Best Large Electric Van title because it's one of the few bigger electric vans capable of more than just 'last-mile' deliveries in urban areas. It's available in a wide variety of body styles, with a total of 24 possible configurations, and two different battery sizes, the largest of which provides enough juice to cover 230 miles. With a maximum payload of just under two tonnes for all models, we've yet to test anything as capable as the E-Ducato in this class. Read our full review to find out more.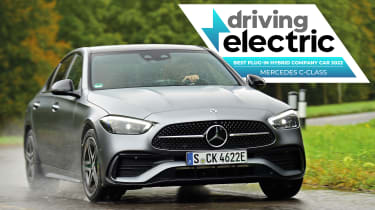 Best Plug-In Hybrid Company Car: Mercedes C-Class
If you're not quite ready to make the switch to electric, then Mercedes' latest plug-in hybrid saloon is the no-compromise solution to go for. Capable of up to 62 miles of electric running on a charge, returning over 400mpg and with CO2 emissions as low as 14g/km, it promises rock-bottom running costs for most motorists. Mercedes has also swiped the best elements of its flagship S-Class and EQS' cabins to give the new C-Class an exceptional interior. Read our full review to find out more.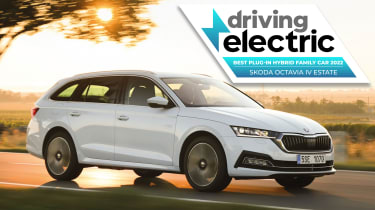 Best Plug-In Hybrid Family Car: Skoda Octavia iV estate
SUVs are all the rage right now, but the Octavia iV Estate takes this award because it's quite simply the perfect do-it-all family car. This versatile plug-in hybrid boasts a whopping 450 litres of boot space, the ability to run on electricity for up to 42 miles and a dependable, punchy petrol engine under the bonnet for when the battery power isn't quite enough. All of this in a sensible and cheap-to-run package. Read our full review to find out more.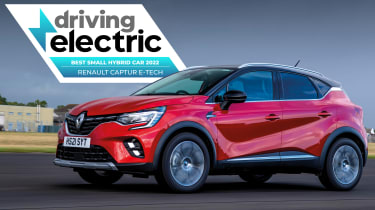 Best Small Hybrid Car: Renault Captur E-TECH
We've tested a lot of hybrid SUVs this year, but the standout for us was the Captur E-TECH. It's a seriously accomplished compact family car that's comfortable, efficient and better still, will effortlessly cruise around on electric power when you're in town. There's little this electrified SUV can't do, and for that reason, it was the clear winner of this year's Best Small Hybrid award. Read our full review to find out more.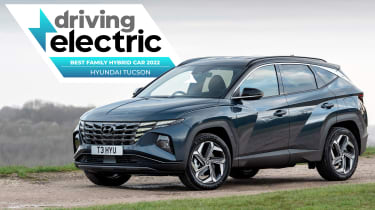 Best Family Hybrid Car: Hyundai Tucson
The Hyundai Tucson claimed the Best Family Hybrid Car title with ease this year, beating rivals in the hugely popular SUV segment thanks to its fuel economy, extremely spacious cabin and vast 620-litre boot. Not to mention the fact it has sharper styling than some sports cars, is competitively priced at just over £32,000 and covered by Hyundai's comprehensive five-year/unlimited-mileage warranty. Read our full review for more.
Best Used Hybrid Car: Toyota Prius Mk4
With a wide selection to choose from thanks to nearly two decades of being on sale, the Prius remains an excellent option if you're in the market for a used hybrid. The latest and greatest Mk4 version, which hit showrooms in 2016, is the one we'd recommend. Combine starting prices of under £20,000 with its excellent fuel economy and low CO2 emissions and you have a recipe for very cost-effective family motoring that's hard to beat. Read our full review to find out more.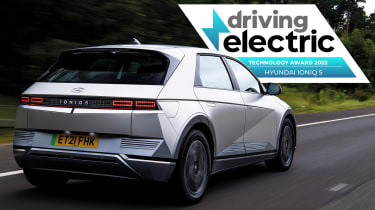 Technology Award: Hyundai Ioniq 5
It's not only the Hyundai Ioniq 5's styling that seemingly comes from the future. With its intuitive infotainment system, long range, vehicle-to-load (V2L) charging and 800-volt electrics that mean it can be topped up at speeds up to 220kW, the Ioniq 5 isn't just for today, but for 2022 and beyond. It's as close to future-proofed as anything currently on the market, and that's why it takes our Technology Award. Watch our video review for more.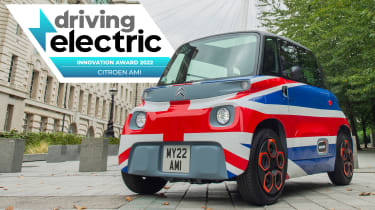 Innovation Award: Citroen Ami
Citroen's ultra-compact two-seat electric quadricycle captured the public's imaginations and hearts when it was unveiled in early 2020. The French brand's little bundle of joy has the potential to be a serious game-changer, as it looks to lighten the load on heavily congested city streets and offer people a safe mode of zero-emissions personal transportation. Frankly, we can't wait for the Ami and Ami Cargo LCV to hit the UK in 2022, hopefully lined up to rent in London and other locations. Click here to read more and watch our video review of the Ami.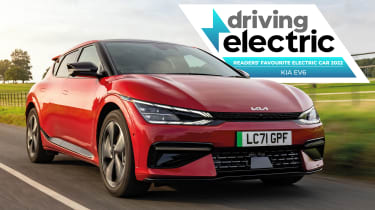 Readers' Favourite Electric Car: Kia EV6
The Kia EV6 is a sharp-looking electric coupe-SUV that clearly has our readers swooning, judging by the results of this year's poll. That's not surprising, given how impressive we found the Hyundai Ioniq 5's sportier sister, thanks to its handling, performance, over-300-mile range and ultra-rapid charging. The first of the South Korean brand's next generation of zero-emissions cars has us, and our readers, excited for what's to come. Read our full review to find out more and check out this story to learn more about what's coming next from Kia.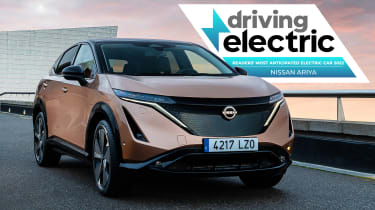 Readers' Most Anticipated Electric Car: Nissan Ariya
A significant proportion of readers picked Nissan's forthcoming pure-electric 'coupe crossover' as their most anticipated car of 2022. The Skoda Enyaq iV and Tesla Model Y rival will offer up to 310 miles of range, rapid charging and an almost-500-litre boot. There'll even be a flagship Performance variant boasting nearly 400bhp and four-wheel drive. Clearly, this family EV is one to watch – could it be our next Car of the Year? Read our story for all the latest.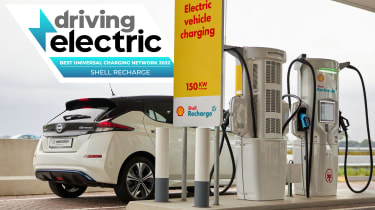 Best universal charging network: Shell Recharge
This year saw Tesla's Supercharger network once again top the charging-network rankings in the Driver Power customer survey, but it remains accessible only to Tesla drivers. So we've once again given our charging-network award to the highest-placed operator that's open to all electric-car drivers, which this year was Shell Recharge. Users who responded loved this network's speed, ease of use and convenient locations. It's currently made up of 170 points, but planned rapid expansion should see this grow to over 5,000 by 2025. Read more about it here.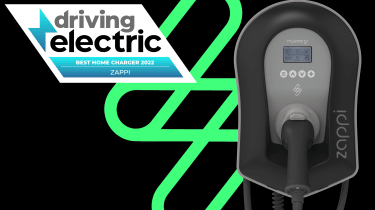 Best home charger: Zappi
The Zappi home charging point was the top choice of those who took part in the 2021 Driver Power owner satisfaction survey. Owners of the British-made charger loved its built quality, reliability, customer service and the ease of the installation process. Several versions are available, either untethered or tethered with a 6.5-metre cable built in, and capable of topping up your car at speeds up to 22kW (although you need three-phase power for the fastest version). The Zappi is also the world's first solar-compatible EV charger and has three unique charging modes to choose from.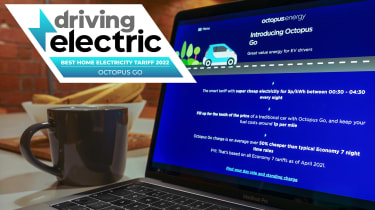 Best home electricity tariff: Octopus Energy Go
Charging your plug-in hybrid or electric car at home will always be cheaper than using a public charging point, but with 5p per kWh rates between 00.30 and 04.30 every night and 16p at other times, the Octopus Energy Go smart-meter tariff keeps running costs at an absolute minimum. Combined with the low standing charge, a lack of exit fees and a promise of 100% renewable energy, Octopus Energy Go is our tariff of choice. Find out more about the best energy tariffs for electric owners here.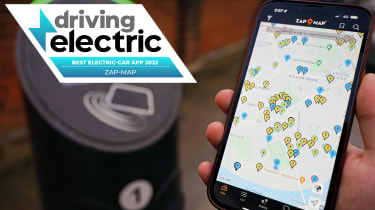 Best electric-car app: Zap-Map
Zap-Map continues to be the go-to app for electric car drivers, and for good reason. Its comprehensive database paired with a reliable and easy-to-use platform means those who want or need up-to-date information on charging-point locations and availability are never left wanting. There's the added bonus of real owner reviews as well. Simply put, every EV owner needs Zap-Map installed on their smartphone. Head this way to find out more about Zap-Map and all its features.
"Everyone wins in the switch to EVs. We must hold our nerve on the 2030 ICE ban"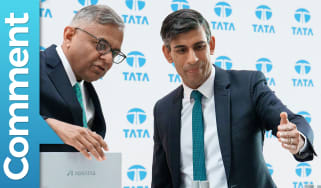 "Everyone wins in the switch to EVs. We must hold our nerve on the 2030 ICE ban"
Government petrol and diesel ban U-turn risks more car market chaos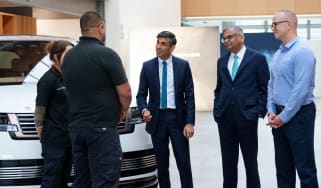 Government petrol and diesel ban U-turn risks more car market chaos
New electric cars coming in 2023 and beyond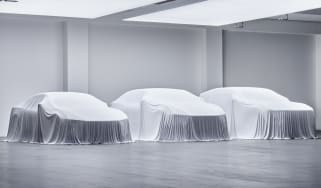 New electric cars coming in 2023 and beyond
With electric cars making up an ever-increasing proportion of sales, the industry is working flat out to launch new models – here's what's on the way …
Volvo EX30 electric SUV: prices, specs and ride review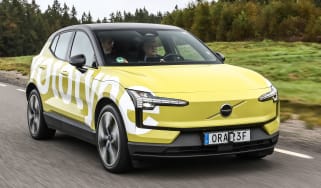 Volvo EX30 electric SUV: prices, specs and ride review
We ride shotgun in Volvo's smallest electric car, which is set to undercut rivals like the Kia Niro EV
"Everyone wins in the switch to EVs. We must hold our nerve on the 2030 ICE ban"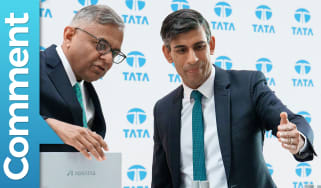 "Everyone wins in the switch to EVs. We must hold our nerve on the 2030 ICE ban"
DrivingElectric's Tom Jervis thinks the government's rollback on the 2030 petrol and diesel ban is a blunder that could kill EV consumer confidence