Top 10 best electric SUVs 2021
These cars combine style and practicality with low running costs, so they're really popular. These are the top 10 best electric SUVs to buy in the UK for 2021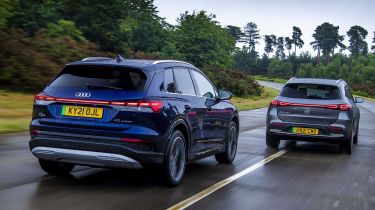 The rise of the SUV has coincided with the advent of mainstream electric cars, which means this popular type of vehicle is abundantly available in electric form. From the Tesla Model X to the Kia e-Niro and Jaguar I-Pace, the electric SUV brings together everything many buyers want: style, practicality and low running costs.
They're particularly appealing for company-car drivers and those who drive into London, since petrol and diesel SUVs are thirsty and emit a lot of CO2. Yet weight and size in an electric car translate to less range rather than more pollution – but since SUVs are large anyway, carmakers can put in more batteries to make up for this.
The best electric SUVs are designed that way from the start, which means the batteries sit low in the chassis and incorporated seamlessly. This means there's usually more room inside than in traditional cars, as there are no complex driveshafts and the like to design around – the motors usually are right next to the wheels they drive.
There are many new models on the way all the time, but we've put together a list of the best electric SUVs for 2021 below. You can also read about the best electric family cars – and don't forget to follow DrivingElectric on Twitter, Facebook, Instagram and YouTube for the very latest.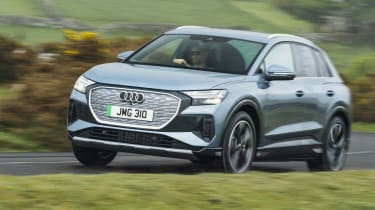 Audi Q4 e-tron
The Audi Q4 e-tron uses the same powertrain as the Volkswagen ID.4 and Skoda Enyaq iV, so it has an impressive range of up to 316 miles and 125kW charging. This also means it's Audi's most affordable electric car at the moment, and it makes a great family car because it's spacious inside and comfortable to drive. The Q4 e-tron's interior is as upmarket as you'd expect from an Audi, and it's more user-friendly than the ID.4's cabin as well, without losing out on the amount of technology available. There's lots of rear leg and headroom, even for adults, and a big boot. The Audi isn't as good value as the VW or Skoda, but if you want something a bit more upmarket, it's still a good option. Read our full review here.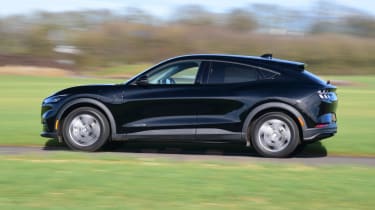 Ford Mustang Mach-E
Ford dipped its toe in the electric market some time back with the Focus Electric, but the Mustang Mach-E is its first proper effort at a purpose-built electric car: designed to take on Tesla and beat it at its own game. It drives well enough to justify the Mustang badge, but at the same time it's no hardcore sports car: it's large and practical enough to fulfil the family SUV brief with ease. A variety of models are offered, with driving ranges from 249 to 379 miles, either rear or four-wheel drive and significant rapid-charging capability. A high-performance GT model will soon join the range, too. In the meantime, read our full Mustang Mach-E review and check out our head-to-head comparison between the Mach-E and the Tesla Model 3.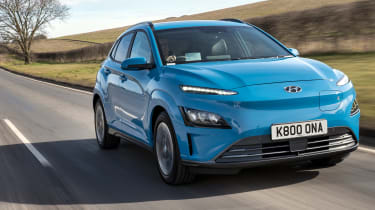 Hyundai Kona Electric
The Hyundai Kona Electric moved the mainstream electric-car market on in a big way. With a claimed range of 280 miles from the larger 64kWh battery model, there's as much range as in some petrol superminis, so the Kona Electric is genuinely useable not just as a day-to-day electric car, but for longer journeys, too. There's practicality, plenty of on-board technology thanks to a strong infotainment system that boasts the latest connectivity, good refinement and a comfortable ride, so the Kona Electric is a great all-rounder. We ran a Kona Electric long-term to really get a feel for it. It doesn't have genuine off-road capability, but the looks are there and few will take the Kona Electric off-road. Read our full review here.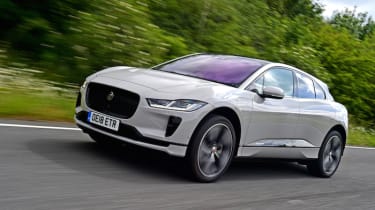 Jaguar I-Pace
Electric SUVs don't come much better than this. When it arrived, the I-Pace immediately shot to the top of its class, and it's easy to see why. The Jaguar offers a range of nearly 300 miles, with performance to rival some much sportier machinery (395bhp and a 0-62mph time of 4.5 seconds proves as much) and the practicality that any family SUV buyer is looking for. Key to this package is the clever body that sandwiches the battery in the floor, so while it's heavy, the weight is low down, so the I-Pace handles sweetly and rides smoothly. It also doesn't hamper practicality, as there's lots of space inside and the 638-litre boot will swallow almost anything a family can throw at it. Charging times are fast, too, with 50kW rapid charging capability giving an 80% top-up in 85 minutes. Read our full review here.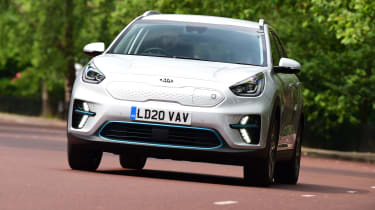 Kia e-Niro
Pound for pound, the Kia e-Niro is one of the best electric cars ever made. And the reason is simple: it combines long-range electric driving with a relatively affordable price tag that significantly undercuts the premium cars on this list, like the Tesla Model X and the Jaguar I-Pace. With a 64kWh battery, the e-Niro returns 282 miles of range on paper, and it will take a rapid charge of up to 100kW for a 0-80% top-up time of an hour and 15 minutes. Better still is the fact that the e-Niro is very good to drive, as well as being practical and comfortable for a family of five. Read our full review here.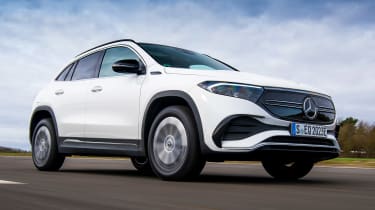 Mercedes EQA
Mercedes' first electric SUV was the impressive but expensive EQC; this more recently introduced EQA makes driving a zero-emissions model with the three-pointed star on the nose a little more affordable. While the EQC shared some components with the GLC combustion-engined model, the EQA is closely related to the GLA. But despite sharing some DNA with a petrol and diesel-powered SUV, it's still a very accomplished electric effort, with a fantastic, bang-up-to-date interior and a very smooth and quiet driving experience for all occupants. It's practical, too, and the range has recently expanded to offer more powerful four-wheel-drive versions as well as the entry-level EQA 250 Sport. Read our full review here.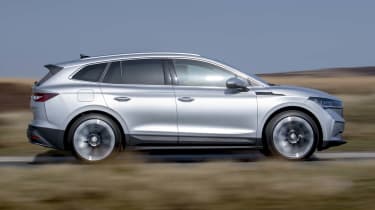 Skoda Enyaq iV
Skoda is renowned for producing great-value and well though-out family cars with petrol and diesel engines; this is its first effort to do the same with zero-emissions electric power. And it's a very good one. Using the VW Group's dedicated MEB electric-car architecture means there's an enormous amount of interior space for both passengers and luggage, not to mention great all-round visibility through those big windows. Technology-wise, you can choose from two different battery sizes: the Enyaq iV 60 and the Enyaq iV 80. They deliver 256 and 333 miles of driving range respectively, as well as decent rapid-charging capability to get you topped up quickly on a longer journey. There are also a variety of interior 'themes' to choose from, with sustainable materials employed to give a unique feel to the cabin. Read our full review here.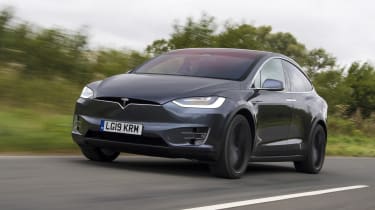 Tesla Model X
The Tesla Model X was the company's third model, and with this electric SUV the US brand spread its wings – literally. That's because of the Model X's signature 'falcon wing' doors that give access to the spacious interior. You can have it as a five, six or seven-seater, but whichever version you choose there's plenty of space in the front and the middle rows. However, it does feel tight in the third row of seats. There's more to the Model X than how many it can carry, though. There are two versions to choose from: Long Range and Performance. The Model X Long Range sees range of around 315 miles, while the most expensive Performance car concedes a little of that range in pursuit of a faster 0-60mph time of 2.7 seconds. Amazingly, it's simultaneously one of the largest and fastest electric cars on sale. Read our full review here.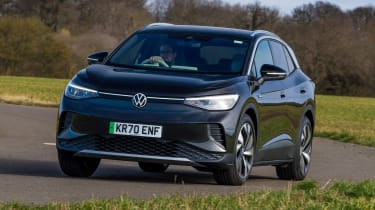 Volkswagen ID.4
The ID.4 is a sister model to the Enyaq iV above and also has much in common with VW's first 'ID'-badged electric car, the ID.3. But as it's an SUV rather than a hatchback, it's even more versatile and practical than its stablemate. There's an almost bewildering array of versions to choose from, with the entry-level 'City Pure' trim being cheap enough to qualify for the government plug-in car grant. At the other end of the range are increasingly lavishly equipped trim levels and driving ranges of up to 323 miles with the larger 77kWh battery (cheaper models get a 52kWh batter for a range of just over 200 miles. Performance fans will shortly be catered for, too, when the ID.4 GTX arrives; it's set to be the first of a whole range of hot electric cars from the German brand. Read our full review here.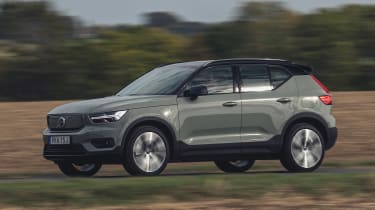 Volvo XC40 Recharge P8
Volvo offers plug-in hybrid power for every model in its range, but this is its first zero-emissions, fully electric SUV, based on the existing petrol, diesel and plug-in hybrid-powered XC40. Such cars can sometimes feel like a bit of compromise, but the XC40 was designed with electric power in mind from the outset and it feels like it on the road. Performance is astonishing: this is a compact family car with 402bhp and the ability to go from 0-62mph in just 4.9 seconds. Grip is good, too, thanks to the car's dual-motor, all-wheel-drive setup. Elsewhere, the P8's fantastic refinement makes it a very relaxing cruiser. It isn't as quiet as an Audi e-tron, but it's not far off. Read our full review here.
Top 10 best seven-seater electric and hybrid cars 2021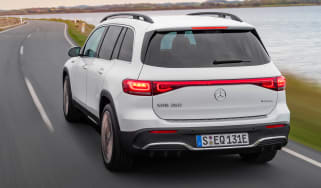 Top 10 best seven-seater electric and hybrid cars 2021
If the regular crop of electrified SUVs and family cars don't provide enough practicality for you, then take a closer look at the range of electric an…
EV36Zero and Nissan's road to carbon neutrality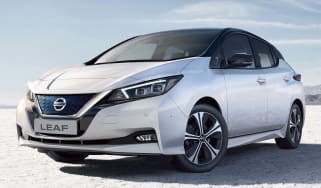 EV36Zero and Nissan's road to carbon neutrality
How the EV36Zero hub in Sunderland is set to take Nissan a step closer to its sustainability goals
Top 10 best luxury electric cars 2021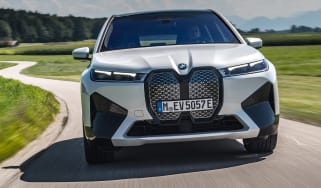 Top 10 best luxury electric cars 2021
From Audi to Tesla, here are our top picks of the most luxurious zero-emissions motoring options on the market right now