Tesla Supercharger network: complete guide to Tesla charging stations
The Tesla Supercharger network is expanding fast, providing reliable rapid charging throughout the UK to Tesla and non-Tesla owners alike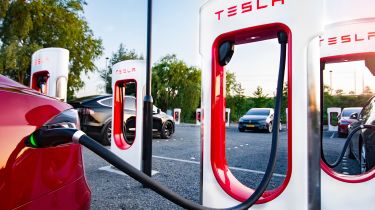 Visit almost any of the major motorway service areas in Britain and you're likely to find a Tesla Supercharger station tucked away in a corner of the car park. These distinctive red and white charging points are everywhere now, with more than 1,000 Superchargers spread across over 100 locations throughout the UK as of November 2022 – with many more opening soon.
Until May 2022, the network could only be used by Tesla vehicles: the Model 3, Model S, Model Y and Model X. The Supercharger network is slowly opening up to all EV owners, with 15 Supercharger stations across the UK now accessible to non-Tesla owners as well.
Even so, access to the entire Supercharger network remains one of the biggest perks of Tesla ownership, especially if you cover a lot of miles as it provides a reliable way to keep your Tesla topped up while out on the road. Keep reading to learn all that you need to know about the Tesla Supercharger network.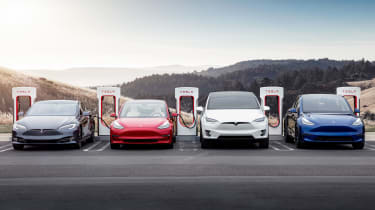 Prices on the Tesla Supercharger network
Unlike other rapid-charging networks which have set pricing for all their chargers, the cost of topping up your car using a Tesla Supercharger varies between each location and earlier this year Tesla rolled out a flexible price model that sees rates change at certain times of the day.
Tesla owners in the UK can expect to pay an average of 35p/kWh during off-peak hours, and an average of 45p/kWh during peak hours (generally between 4-8pm), which is down from a previous average peak rate of 67p/kWh earlier in 2022. 
We're told that Supercharger pricing is set to be reviewed more frequently than before as electricity prices continue to fluctuate in the UK. Exact pricing can be found by selecting any of its chargers on a Tesla's in-car sat-nav system. When your charging session is complete, an estimate of the final cost will be shown on the car's screen, and can also be reviewed in an owner's online account.
However, if you're a non-Tesla owner you can expect to pay around 10-15p/kWh more for your charge, which needs to be activated on the Tesla app. An optional monthly membership fee of £10.99 unlocks cheaper rates in line with what Tesla owners will pay. Again, exact pricing is available to view on the Tesla app.
How to use a Tesla Supercharger
If you're a Tesla owner, using a Supercharger is really simple. So long as you've got a payment method set up, just locate a convenient station using your Tesla's infotainment system or the company's app, then park up and plug in: that's all there is to it. A green light will flash on your Tesla's charging port to indicate that charging has begun, and you can monitor the progress of a charging session on your car's infotainment screen. If you don't want to sit in the car while it charges, you can get the same information on the Tesla smartphone app.
However, if you don't own a Tesla, you'll need to download the Tesla app and to locate one of the 15 Supercharger stations that non-Tesla owners can use. Once you find one, plug your car in and start the charging session. Prices also vary between each site, so you'll need the app to find out exact pricing, too.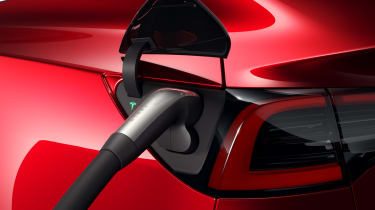 Tesla Supercharger cable
Tesla's Superchargers are equipped with two cables: a Type 2 cable and a CCS cable (above). Both enable DC rapid charging, ensuring quick charging times whichever model you drive. The Type 2 cables are for pre-facelift Model S and Model Xs, while the CCS cable can be used with almost every new electric car you can buy today, including the Model 3 and Model Y. Though, older Model S and Model Xs can also be retrofitted with a CCS adaptor at an extra cost, which will enable them to rapid charge at other, non-Supercharger locations.
Tesla charging time
Most Tesla Superchargers offer rapid charging speeds of up to 150kW and are known as V2 units, however, the latest V3 Superchargers can charge at up to 250kW. Plug your Model 3 or Model Y into one of these units, and a 10-80% top-up will take just over half-an-hour. This equates to around 172 miles of range in just 15 minutes in the right conditions.
Gains for the older Model S and Model X with the V3 Superchargers are more modest, though, as these cars aren't equipped with the necessary CCS charging port as standard. Instead, their maximum charging rate climbs to 145kW when using a V3, which is still very fast in the scheme of things. Thankfully, both the Model S and Model X have recently been updated, and will come with CCS charging ports from now on.
Despite the latest V3 charging points, the Tesla Supercharger network is no longer the fastest out there. The IONITY rapid-charging network and Gridserve's Electric Highway network both feature units capable of 350kW charging speeds. 
That said, there are a limited number of 350kW charging points online right now, and there are currently no electric cars on sale that can make use of its maximum speed. The only ones that come close are the Porsche Taycan and Audi e-tron GT, both of which can charge at up to 270kW. Meanwhile, the Hyundai Ioniq 5 and Kia EV6 max out at around 230-240kW.
Tesla also points out that its Superchargers won't always deliver full speed: the rate you experience could drop depending on your battery level (it takes longer to charge the last 20% of a battery than the first 20% from empty), the number of cars using the Supercharger station at the time, and also the temperature on the day; freezing temperatures in winter can reduce charging speeds and make waiting times longer.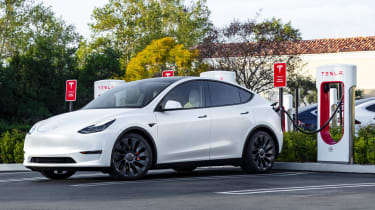 Free Supercharger miles
Certain examples of the Tesla Model S and Tesla Model X on the road come with unlimited, free access to the Supercharger network, although it's not always easy to tell which ones qualify, as the company has ended and then reinstated the offer several times.
Any Model S or Model X bought before 2 November 2018 had (and continues to have) free, unlimited access to the Supercharger network. Cars sold between then and August 2019 were given an annual allowance which equates to 400kWh of free Supercharging. After the credits are used up, users have to pay to use the network.
However, in August 2019 Tesla reinstated unlimited free Supercharging as part of the Model S and Model X sales package. This continued until the end of May 2020, when the perk was again withdrawn. Our advice would be to check whether free Supercharging is included before you buy the car.
You could also get free Supercharger miles by referring friends or family to Tesla who subsequently bought one of the company's electric cars, although these did have an expiration date, which you can view on the Tesla app. This programme has also been removed.
Tesla Supercharger idle fees
If a Supercharger station is at least 50% occupied, leaving your car plugged in after it has been fully charged will result in an 'idle fee'. In the UK, Tesla charges owners 50p for every extra minute the car is left in the charging bay after it has finished charging.
If a station is 100% full, this rises to £1 per minute. Tesla insists it doesn't want to make any money from idle fees, and that the policy is in place simply to encourage users to free up charging bays for others as promptly as possible. If you move your car within five minutes of reaching a full charge, no idle fee will be charged.
If you move your car within five minutes of reaching a full charge, no idle fee will be charged. The fees apply to anyone using the Supercharger network, including non-Tesla owners.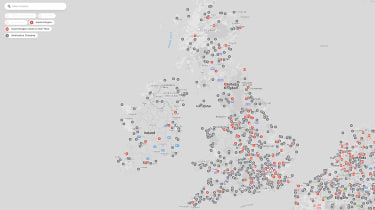 Tesla Supercharger map
Most Tesla Superchargers are located at motorway service stations, which makes long-distance, electric-powered travel across the country a very realistic prospect. If you use Tesla's sat nav to plan a long journey, the system will automatically work out the best route to take, factoring in the ideal stations to stop and recharge along the way.
Globally, there are now over 35,000 Superchargers, spread across more than 40 countries. More than 1,000 of those chargers can be found at sites in the UK, with 158 of them now accessible to non-Tesla owners as well. If you want to find out where any of these chargers are, you can check the Tesla app, the in-car sat-nav, or the Supercharger website.
The Tesla Supercharger map also shows you where you can find 'destination' chargers, which offer slower charge speeds for overnight top-ups. These are usually located in car parks or outside hotels; anywhere you'd expect to be parked for a few hours or more. Because they're designed to charge Teslas over a longer period of time, the destination chargers aren't as fast as the Superchargers. Anywhere between 7kW and 22kW is possible at AC-connected sites, which means a typical Model 3 Standard Range would take around five and a half hours to fully charge.
New Ford Explorer electric SUV revealed in full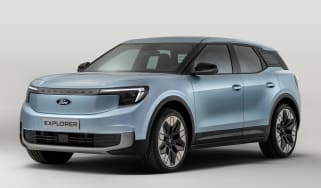 New Ford Explorer electric SUV revealed in full
Ford's new electric crossover boasts a range of more than 300 miles and will be built on the same platform as the Volkswagen ID.4 SUV
Electric car battery life: how to preserve your battery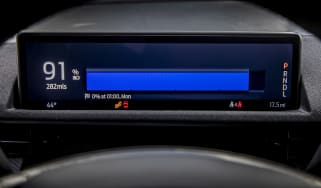 Electric car battery life: how to preserve your battery
Here's how to preserve your electric car's battery life and how much a replacement will cost if you need one
Top 10 best 4WD electric cars 2023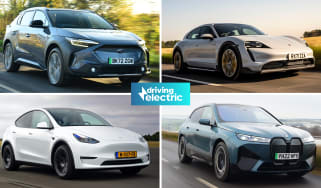 Top 10 best 4WD electric cars 2023
Whether you're looking to venture off-road, or just want some extra assurance in the winter months, we list the best four-wheel-drive electric cars on…