Hyundai Ioniq 5 pre-production prototype review
Our short test drive in a pre-production version of Hyundai's upcoming new electric car reveals there's plenty of substance behind its eye-catching styling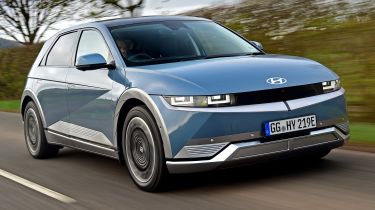 Pros
Great ride comfort
Lots of interior space
Cons
Potentially expensive
Might be too flashy for some
The idea of a Hyundai concept car 'breaking the internet' would have been laughable not that many years ago. But the Hyundai Ioniq 5 was striking enough to have 236,000 people expressing their interest when it was unveiled. Now, we've had a drive in a pre-production model of the car – and it's as impressive in the metal as it was in pictures.
This is by no means Hyundai's first electric car, of course; we like the Hyundai Kona Electric SUV and the Kia e-Niro that shares its platform has long been one of our favourite electric family cars. The Hyundai group is going all-in on electric power, which is why the Ioniq 5 sits on a newly developed platform that will underpin numerous models in the coming years, including the sleek Kia EV6.
Thanks to that new platform, Hyundai was able to design the Ioniq 5 from the ground up without any of the limitations of using a combustion-engine platform. And instead of the sweeping curves and sloping rooflines of almost every other electric car being unveiled nowadays, the company has gone for a wedge-shaped design for the Ioniq 5. If the overall look screams '1970s' to you, that's not surprising, as Hyundai took inspiration from the striking Pony Coupe concept car of 1974. This looks set to become something of a trend for zero-emissions models: the recently unveiled Renault 5 electric concept car was also strongly influenced by a past model.
Overall, the Ioniq 5 is a clever and cohesive piece of design, with short overhangs at the front and back, as well as wide wheelarches that are perfectly sculpted to work with the large 20-inch alloy wheels. While the styling might hark back to '70s and '80s hatchbacks, at 4.6 metres, the scale is very much 21st century: the Ioniq 5 is the same length as a Volkswagen ID.4 and has a wheelbase longer than that of the Audi A6 executive saloon
The Ioniq 5 also includes some of the true concept-car features that are so often lost when a car goes into production – such as the head and tail-lights being made up of dozens of individual LED units that resemble pixels. This car is about more than attention-grabbing exterior styling, though. The interior is vast, thanks to that bespoke electric-car platform freeing up lots of space and requiring no central transmission tunnel.
You also sense that almost the entirety of the Ioniq 5's footprint on the road is to allow for the luxury-limousine levels of legroom you get. Boot space is 531 litres with the rear seats folded up. However, the Ioniq 5's party trick is that the front seats can fold almost completely flat. We're not entirely sure why, but it's still mighty impressive.
Like most modern electric cars, the Ioniq 5's dashboard is dominated by two digital displays: a driver's readout and a central infotainment screen. It certainly isn't as impressive as the Mercedes Hyperscreen in the EQS, or as responsive as the latest Tesla system, but it still works well and looks smart. Hyundai has gone for an extremely minimalist approach to the Ioniq 5's interior, with little branding or badging; there are just four little squares in the centre of the steering wheel.
We drove a pre-production model of the Ioniq 5. Hyundai says it's still working on the final details of the suspension system and stressed that the noise, vibration and harshness standards are not at the level we can expect from the final production models.
But, those caveats aside, we found the Ioniq 5 as impressive to drive as it is to look at. The ride comfort is superb – noticeably more relaxed than that of the Kona Electric – and this is a key benefit of the Ioniq 5's long wheelbase and sophisticated multi-link rear suspension. That, coupled with a low centre of gravity courtesy of the floor-mounted battery packs means body lean in corners is far less that you might expect from a car with soft suspension tuned for ride comfort.
The example we tested featured a dual-motor, four-wheel-drive setup that produced 302bhp for a 0-62mph time of 5.2-seconds. In most situations, the Ioniq 5 will default to rear-wheel drive to improve range, which Hyundai claims will be around 300 miles from the 72.6kWh battery in this car.
Below that in the range will be a single-motor variant with 168bhp and a 58kWh battery. Elsewhere, 800-volt charging architecture will allow you to top up the Ioniq 5 at speeds of up to 220kW. If you can find a public rapid charger capable of those speeds, you'll be able to add 62 miles of range in just five minutes. 
So far, Hyundai has only confirmed the price of the special-edition 'Project 45' trim, which starts at £45,000. However, all 3,000 of those earmarked for Europe have been pre-sold, with deliveries to begin this summer. Beyond that, we expect the stylish and high-tech nature of the Ioniq 5 means it won't be a bargain electric car, with a likely starting price of around £40,000 seeing it miss out on eligibility for the recently reduced UK plug-in car grant.
We won't pass final judgement on the Ioniq 5 until we've driven a final production car, but so far we're very impressed by the Hyundai electric sub-brand's first model – in particular its fantastically spacious interior. A £40,000 starting price will pitch it against the range-topping Volkswagen ID.3 and the entry-level Tesla Model Y, but the Ioniq 5 is shaping up to be a worthy rival to those cars – and more.