Best EV tariffs: electricity deals for electric-car owners
Why should you choose a tailored electric-car tariff for your home electricity? And how much can you save? Find out here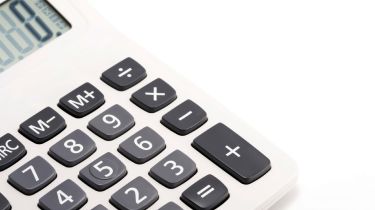 It's tempting to imagine switching to an electric car means getting something for nothing, as you swap horribly expensive trips to the fuel station for… well, just plugging in at home. The truth is, while going electric should definitely save you a packet compared to burning tankfuls of  fuel, if you use your car frequently, you'll still face sizeable energy costs.
A quick bit of math shows how the bills can add up. The average standard cost of a kilowatt hour (kWh) of domestic electricity is 14p, and the average electric car can travel 3.5 miles on a single kWh. So, if you drive 10,000 miles a year, you'll be sucking more than 2,800kWh out of the grid and facing a £400 annual hike in your household electricity bill.
If you're used to filling up a 40mpg combustion-engined car to do the same, you'll have been budgeting £1,200 to £1,300 annually for fuel, so relatively speaking, you're onto a winner. However, it's often more expensive to buy or lease an electric car than a traditional equivalent, and you may suffer more in depreciation when you sell it on.
These are extra costs most electric-car adopters are willing to bear as the price of 'doing the right thing' and as these cars become mainstream, those ownership-cost disparities are starting to even out – or even swing in favour of electric. Still, it makes sense to keep your charging costs as low as possible, and EV tariffs from electricity providers are designed to help you do just that.
As well as cutting your recharging costs with 'off-peak' rates, EV tariffs also allow the possibility of using only the 'greenest' electricity. They often include an option to charge when the renewable output of the national grid is at its highest, during periods of predicted high winds or lots of sunshine. You may also find energy companies offering attractive additional incentives, such as free sign-ups to charging networks.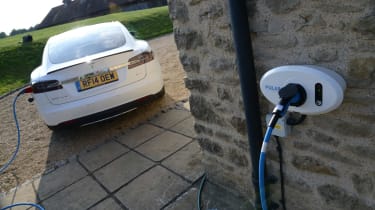 How do EV tariffs work?
Wholesale electricity costs vary at all times of the day due to fluctuating demand, but energy providers traditionally sell power to customers at fixed rates, so you're billed an agreed amount per kWh consumed. As mentioned above, UK tariff charges currently average around 14p per kWh.
For many years, electricity companies have offered off-peak rates under the 'Economy 7' scheme, but you've needed a special meter to benefit from those lower night-time charges. Economy 7 works on the premise that between midnight and 7am, overall consumer demand on the grid is lower. That means wholesale electricity costs fall significantly and companies can pass savings on to customers. The meters are able to record day and night-time power usage separately for billing purposes.
The same principle applies to EV tariffs, many of which offer standard and off-peak rates tailored to the times companies think drivers might typically wish to charge their cars. Instead of an Economy 7 meter, they rely on smart meters to tell companies when you're using power, so the correct rate can be applied at any time. That said, depending on the rates you're offered, an Economy 7 tariff could still be cost-effective.
Partnership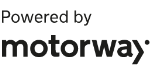 Need to sell your car?
Find your best offer from over 5,000+ dealers. It's that easy.
Most home wallbox chargers allow you to set the time you want your car to start and stop charging, so you can programme yours to switch on and off at any time of day or night. And with electric-car tariff providers free to offer their own off-peak periods, you can look for a scheme that best fits your needs.
The flexibility allows energy suppliers to create tailored tariffs based around not only the cheapest power, but also the 'greenest' – when renewable energy sources are most active on the grid. It also means companies can tempt electric-car drivers with cut-price rates at times those drivers are likely to want to charge their cars outside the traditional off-peak rates – for example at weekends.
The cleverest smart chargers can even respond in real time to variable tariffs that are based on fluctuating wholesale electricity costs. That's an aspect of smart charger technology we expect to become much more common as manufacturers and electricity suppliers develop the market.
Meanwhile, if you want to switch to an EV tariff, there are offers galore from electricity suppliers big and small. All you need is an electric vehicle and a smart meter – although in at least one case, an Economy 7 meter will suffice – and you're good to go.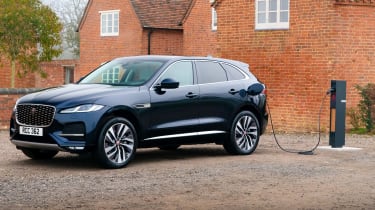 How to find the best EV tariff to suit your needs
Unsurprisingly, there are loads of electricity companies offering special tariffs tailored to attract electric-car drivers. With the huge growth predicted in the sector, it's going to be a hugely lucrative arena for power companies for years to come, and they're already competing fiercely for market share.
It's a complicated marketplace, because your electricity bill has to cover your domestic usage as well as charging your car, so it's not always easy to work out which tariffs will be most cost-effective for any given set of circumstances. 
Fortunately, the search term 'compare EV tariffs' will take you to a number of websites that do the math for you, and work out theoretical savings if you want to switch providers. Such sites are typically affiliated to charging-point installation companies, who earn referrals from the energy suppliers if you sign up to a tariff they've recommended.
For guidance, the industry reckons the average new electric-car driver can save more than £230 per year on their electricity bill, simply by switching to the right tariff from a standard electricity contract. As always, it's essential to shop around, but to give you a feel for the range of electric-car tariffs available now, we've highlighted a few below.
Octopus Agile
Tariff supplier: Octopus Energy Standing charge: 26p/day Peak rate: Variable Off-peak rate: Variable Off-peak hours: Outside 4.00pm-7.00pm
One of the most interesting tariffs around, Octopus Agile tracks wholesale grid prices and your kWh rate goes up and down every half hour with the market price. With an intelligent smart meter that communicates with Octopus as predicted rates are being set 24 hours in advance, you can sometimes find prices fall so low you're actually paid to take power from the grid – although this tends to happen a few times a year at most!
Octopus Go
Tariff supplier: Octopus Energy Standing charge: 25p/day Peak rate: 13.45p/kWh Off-peak rate: 5p/kWh Off-peak hours: 12.30am-4.00am
A straightforward EV tariff, and Octopus claims all the energy it sells you is from renewable sources (which means it matches its wholesale renewables purchases to customer usage). This product won our 2022 Award for Best Home Electricity Tariff.
GoElectric98
Tariff supplier: EDF Energy Standing charge: 27.91p/day Peak rate: From 16.07p/kWh Off-peak rate: 8p/kWh Off-peak hours: All weekend and 9.00pm-7.00am weekdays
This tariff claims to offer the biggest window for off-peak charging of any tariff out there, with 98 hours per week when the 8p/kWh rate applies. However, other tariffs offer lower off-peak rates, so it's swings and roundabouts.
Energy EV Everywhere
Tariff supplier: OVO Standing charge: 28.77p/day Peak rate: 17.78p/kWh Off-peak rate: 10.33p/kWh Off-peak hours: Outside 12.00am-7.00am
This EV tariff works for people with existing Economy 7 meters, but you need to sign up for two years.
EV Driver 4
Tariff supplier: Good Energy Standing charge: 27.75p/day Peak rate: 15.70p/kWh Off-peak rate: 15.70p/kWh Off-peak hours: N/a (flat rate)
If you want the flexibility to charge at any time of day or night, a flat-rate tariff such as this may fit the bill. A single price per kWh also means you don't need a smart charger for your car – a basic fast charger will do.
Green Driver
Tariff supplier: Good Energy Standing charge: depending on region Peak rate: depending of region Off-peak rate: 5-7p/kWh Off-peak hours: 12am-5/7am
Good Energy's Green Driver tariff offers either five or seven hour periods during off-peak times when you charge your car at much lower rates. Depending on which slot you select when you sign up, the rates during these time periods are either 5 or 7p per kWh.
Electric Drivers July 2023
Tariff supplier: British Gas Standing charge: 32.17p/day Peak rate: 24.69p/kWh Off-peak rate: 5.95p/kWh Off-peak hours: 12am-5am
British Gas' tariff offers a five hour period of reduced energy rates. British Gas now allows customers to connect Alfen home wallbox chargers to its Hive smart home platform, however, this functionality is also available for non-British Gas customers (except those on Octopus Agile).
Fix and Drive
Tariff supplier: E.ON Standing charge: 19.78p/day Peak rate: 16.908p/kWh Off-peak rate: 16.908p /kWh Off-peak hours: N/a (flat rate)
E.ON is one of the major UK energy companies offering flat-rate EV tariffs to customers. To encourage you to sign up, it'll put £30 in your account after you've been on the tariff for six months.
We've had a ride in the new electric MG Cyberster and it's NOT what we first thought…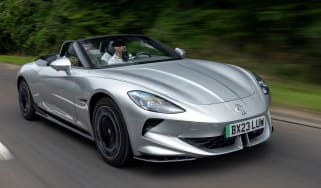 We've had a ride in the new electric MG Cyberster and it's NOT what we first thought…
The MG Cyberster is due to go on sale next year with up to 536bhp and scissor doors – and we've already had a ride in it
Has the UK given up on EVs? New government 'Plan for Drivers' says no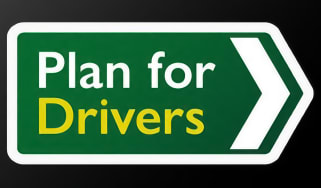 Has the UK given up on EVs? New government 'Plan for Drivers' says no
UK government has announced a new 30-point manifesto which, in part, focuses on electrifying Britain's roads