Top 10 best luxury electric cars 2022
From Audi to Tesla, here are our top picks of the most luxurious zero-emissions motoring options on the market right now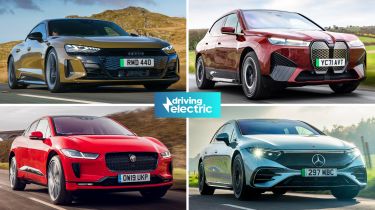 Electric cars are now coming to the masses, with the introduction of budget EVs from brands like Renault and Volkswagen just around the corner. At the same time, there are now more and more electric options for the discerning luxury-car buyer than before – where previously there was the Tesla Model S and little else.
Now, numerous premium and prestigious carmakers' flagship models feature electric power, and even more brands – including Rolls-Royce, Bentley and Aston Martin – are working on zero-emission models. Start-up companies like Rivian and Lucid are also tailoring their cars for luxury rather than the mass market.
So, while we await the arrival of the electric Rolls-Royce Spectre, Lucid Air, BMW i7 and Polestar 5, here's our list of the top 10 best luxury electric cars you can buy in 2022:
Make sure to check out the winners of the 2022 DrivingElectric Awards and our list of the best electric cars on sale in 2022 as well to see what's impressed us the most over the past year – and don't forget to follow DrivingElectric on Twitter, Facebook, Instagram and YouTube for the very latest news and reviews.
1. BMW iX
The iX is the German brand's flagship electric SUV and a direct rival to the Audi e-tron and Tesla Model X. Like many of BMW's latest models, its styling is undeniably distinctive. Thankfully, it also stands out due to the way it drives, its on-board technology, its interior quality and the amount of cabin space it offers. Three versions are available, with the most recent addition being the high-performance M60, which gets 611bhp and 1,100Nm for a 0-62mph time of under four seconds. Most are likely to go for the less potent, but still impressive, xDrive40 or xDrive50. The latter also gets a dual-motor setup, but thanks to a whopping 105.2kWh battery, can cover 380 miles on a charge. Read our full review of the BMW iX here.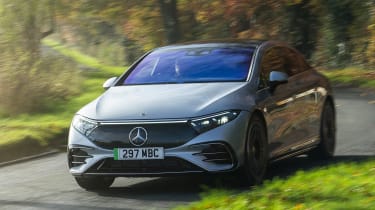 2. Mercedes EQS
Mercedes has a long history of luxury cars, with its S-Class limousine setting benchmarks for half a century. But rather than stuff a few batteries into the latest version, Mercedes started with a clean sheet designing the EQS to usher in the zero-emissions era. When it comes to interior quality and on-board technology, it doesn't disappoint, especially when fitted with the 1.41-metre-wide 'Hyperscreen'. Surprisingly, ride comfort isn't on the same level as the S-Class, but the car does boast an impressive range of up to 450 miles. Prices start from £100,000 and there's a high-performance AMG version. Read our full review for more.
3. Audi e-tron GT
While SUVs are big business for Audi, the German brand is also known for its saloons; the e-tron GT is its first zero-emissions four-door. The low-slung coupe focuses on performance and driver enjoyment, while also packing typical Audi technology and build quality. It can cover nearly 300 miles on a charge and topping up from 10-80% can take as little as 21 minutes thanks to a maximum charging speed of 270kW. It has a lot in common with the Porsche Taycan, however the Audi is more relaxing. Overall, the e-tron GT is great to drive, has a fantastic interior, boatloads of technology and is really comfortable, making it undeniably one of the most exciting electric cars on the market right now. Read our full review here.
4. Porsche Taycan
Porsche has so far only released one electric car, but the brand simply nailed it with the Taycan, creating one of the best EVs on sale. Not only is it available in three different body styles – saloon, Sport Turismo estate and more rugged Cross Turismo estate – there are multiple versions to choose from. The line-up now includes the 4S, the driver-focused GTS and the mind-bogglingly quick Turbo and Turbo S. As you'd expect from a Porsche, handling is sublime. As for range, it'll hit between 208 and 313 miles depending on model. Like its  e-tron GT sister car, the Taycan is capable of 270kW charging, for a top-up from 10-80% in 23 minutes. Read our review of the Taycan, as well as the Taycan Cross Turismo and Taycan Sport Turismo.
5. Tesla Model S
The Tesla Model S has been around for quite a few years now, but it's still the luxury electric car every brand is gunning for. To ensure it remains competitive against newcomers from Audi, Mercedes and Porsche, Tesla updated the Model S for 2022. The Long Range model is claimed to cover over 400 miles on a charge, while the performance-oriented Plaid will produce over 1,000bhp for a sub-two-second 0-62mph time Previous examples we've driven have felt spacious and luxurious, but we have a few concerns about fit and finish, which isn't up to the same standard of some rivals. Yet the performance and range figures are so good, it's easy to overlook these issues. Read our full review of the Tesla Model S here.
6. Tesla Model X
The Model X is Tesla's luxurious sports SUV, but under the sci-fi styling is a very practical and spacious car, with up to seven seats and both front and rear luggage compartments. Yet despite its size and weight (2,300kg), it goes like a rocket. Acceleration from 0-62mph takes just 2.5 seconds in the Plaid version, which also has a 340-mile range. Meanwhile, the Long Range can cover 360 miles and can go from 0-62mph in 3.8 seconds. Like the Model S, there were some interior quality issues with pre-facelift cars, but the Model X is still a luxurious and desirable car. Read our full review of the Tesla Model X here.
7. BMW iX3
The flagship iX isn't BMW's only electric SUV, with the more accessible but still luxurious iX3 serving as the brand's rival to the Audi Q4 e-tron, Volvo XC40 Recharge and Tesla Model Y. It's not the most exciting, nor the most powerful, electric SUV, but it's practical, well built and feels upmarket . Plus, BMW updated the iX3 even before it arrived in the UK, so it matches the styling of the latest X3 on which it's based. There are two trim level – M Sport and M Sport Pro – with prices starting from around £60,000. Less expensive variants will represent better value for money, but the iX3 is still worth considering, because it features plenty of toys, decent real-world range and an engaging driving experience. Read our full review of the BMW iX3 here.
8. Jaguar I-Pace
It launched in 2018, but the I-Pace's dynamic driving experience remains the benchmark for luxury electric cars. It's playful and agile, making it one of the most enjoyable electric cars to drive. Its styling is also a radical departure for the sporty SUV market, while the interior is every bit as slick as the exterior. There's 396bhp from an electric motor on each axle, so acceleration from 0-62mph takes 4.8 seconds, while top speed is limited to 124mph. A 90kWh battery gives an official range of 292 miles. Read our full review here.
9. Audi e-tron
The e-tron was Audi's first electric production car, and if it looks familiar, that's because it's closely based on the existing Q5 and Q7 SUVs. On the road, it's extremely refined, if not the best handling electric SUV, although the cabin makes up for that shortcoming. Power comes from electric motors on the front and rear axles, giving four-wheel drive and 302bhp – rising to 402bhp if you use the boost function that gives an eight-second burst of acceleration. This results in a 0-62mph time of 5.7 seconds and a top speed of around 125mph. The e-tron is capable of 150kW charging and has a range of 248 miles. Read our full review here.
10. Mercedes EQC
Mercedes is on an electrification mission, launching a slew of zero-emissions models in just a few years. The EQC was the first member of the brand's 'EQ' range, which focuses on comfort above most other things. It's superbly smooth and refined; those traits are combined with an elegant interior and high-tech infotainment. Like the iX above, it features love-it-or-hate-it styling, but we think the Mercedes is more striking. Its 80kWh battery gives it a range of 259 miles and 110kW charging sees it go from a 20-80% capacity in around 25 minutes. While it's engineered more for comfort than fun, with 402bhp and 765Nm of torque, it'll hit 62mph from rest in 5.1 seconds. Read our full review of the Mercedes EQC here.
Hyundai Ioniq 6 prototype review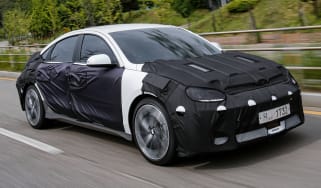 Hyundai Ioniq 6 prototype review
Skoda Enyaq iV updated for 2023 model year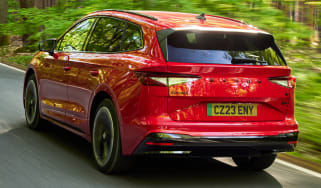 Skoda Enyaq iV updated for 2023 model year
New MG4 EV electric hatchback starts from £25,995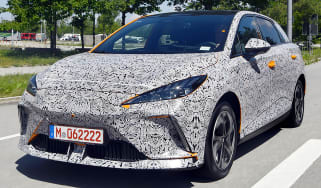 New MG4 EV electric hatchback starts from £25,995
Can solar panels charge an electric car?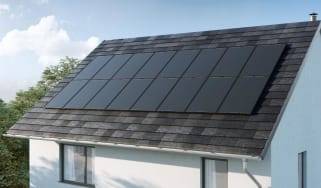 Can solar panels charge an electric car?
Using solar panels to charge your electric car can save you money in the long run. Here's everything you need to know about charging an electric car w…
New MG4 EV electric hatchback starts from £25,995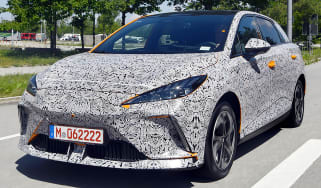 New MG4 EV electric hatchback starts from £25,995
MG's Volkswagen ID.3 rival will be one of the cheapest EVs on sale. We've driven a prototype
Skoda Enyaq iV updated for 2023 model year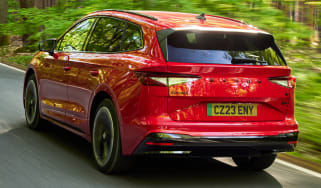 Skoda Enyaq iV updated for 2023 model year
Skoda introduces infotainment upgrades and new option packs to its electric SUV