Porsche Taycan 2022: Sport Turismo bodystyle added across the range
Having debuted in driver-focused GTS form, the Sport Turismo estate bodystyle is now offered across the whole Porsche Taycan range
Porsche has announced that the Sport Turismo estate bodystyle will now be offered across almost the whole Taycan range, having initially debuted only in GTS trim in late 2021.
The news means the entire line-up of Taycan powertrains is available in a choice of three bodies, with the exception of the GTS, which isn't offered in more rugged Cross Turismo guise. In addition, while the entry-level Taycan is rear-drive in saloon and Sport Turismo form, the cheapest Cross Turismo is four-wheel drive.
Porsche says the Sport Turismo is aimed at those who want the practicality of the Cross Turismo, combined with the on-road performance of the saloon. It drops the more off-road-orientated design elements of the Cross Turismo, while still offering up to 1,200 litres of luggage space, depending on exact specification.
Price-wise, the Sport Turismo starts from £73,650 in Taycan guise, rising to £84,830 for the 4S, £104,990 for the GTS and £117,670 for the Turbo, topping out at £140,080 for the most expensive Turbo S variant.
Porsche Taycan GTS
Introduced in late 2021, the all-wheel-drive GTS is the most recent addition to the Taycan powertrains, slotting in above the Taycan and Taycan 4S, but below the Taycan Turbo and Taycan Turbo S. Described as the "sporty all-rounder of the range", the GTS has maximum outputs of 590bhp and 850Nm of torque when the 'launch control' function is activated.  In that mode, it'll go from 0-62mph in 3.7 seconds – placing it in between the Taycan 4S and Taycan Turbo in terms of power output and performance. Top speed is 155mph.
The GTS has a range of 313 miles, thanks to its 93.4kWh battery, plus some updates Porsche made to the Taycan range for 2022 model to improve efficiency. The Taycan's 270kW rapid-charging capability remains the on the GTS, so you can add 62 miles of range in just five minutes using a fast enough charging point. Alternatively, you can replenish the battery from 10-80% capacity in less than 20 minutes.
The Taycan GTS also features a bespoke setup for the adaptive air suspension, which includes Porsche Adaptive Suspension Management. Porsche claims the new settings have been developed to "benefit lateral dynamics". The GTS is also available with optional rear-axle steering for greater agility.
GTS cars can be distinguished from others in the Taycan range by dark exterior and interior trim, with areas of the cabin sporting Race-Tex upholstery. Porsche has also modified its Electric Sport Sound for the GTS.
Top 10 slowest-depreciating electric and hybrid cars 2023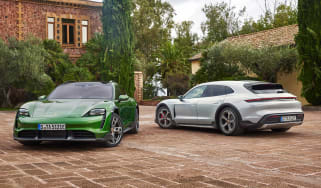 Top 10 slowest-depreciating electric and hybrid cars 2023
Top 10 best luxury electric cars 2023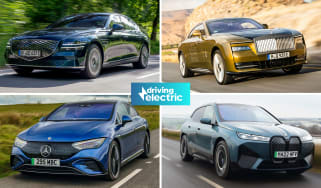 Top 10 best luxury electric cars 2023
Top 10 best 4WD electric cars 2023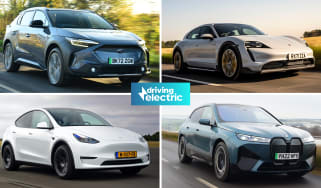 Top 10 best 4WD electric cars 2023
Tesla Model 3 facelift will be a double-edged sword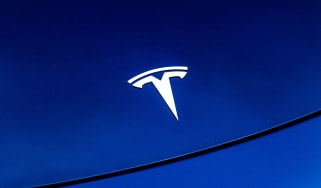 Tesla Model 3 facelift will be a double-edged sword
Tesla's updated EV will have an improved interior, greater range and a more affordable price – as well as one unfortunate drawback
Volkswagen ID. Buzz LWB is a retro, seven-seat electric MPV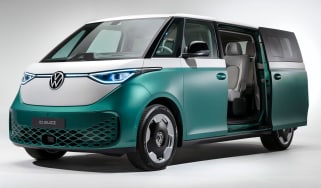 Volkswagen ID. Buzz LWB is a retro, seven-seat electric MPV
Volkswagen has unveiled a larger version of its ID. Buzz EV, boasting more seats and a larger battery with more range
Abarth range to expand with lighter, faster EVs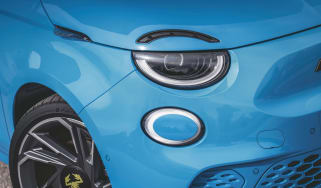 Abarth range to expand with lighter, faster EVs
Italian sports car brand will stay wedded to Fiat, but is eyeing up a faster 500e, plus tuned versions of upcoming crossover