New 2022 Porsche Taycan GTS and Taycan Sport Turismo estate unveiled
Porsche adds new driver-focused GTS variant and Sport Turismo estate body style to the extensive Taycan range; first deliveries are set to start in spring 2022.
Porsche has unveiled the latest additions to the Taycan line-up: the driver-focused GTS variant, and the new Sport Turismo body style that will be offered alongside the regular saloon and the more rugged-looking Cross Turismo.
According to Porsche, the new all-wheel-drive Taycan GTS is the "sporty all-rounder of the range", pumping out a total of 590bhp and 850Nm of torque on overboost when you activate the car's launch control function. 
Do so, and the Taycan GTS (in either saloon or Sport Turismo estate form) will go from 0-62mph time of 3.7 seconds – placing it in between the Taycan 4S and Taycan Turbo in terms of power output and performance. Top speed is 155mph.
The GTS has a range of 313 miles, thanks to its 93.4kWh battery plus some updates Porsche made to the Taycan range for the 2022 model year aimed at improving efficiency and driving range. The Taycan's 270kW rapid-charging capabilities remain the same on the GTS, but still means you can add 62 miles of range in just five minutes using a fast enough charging point. Alternatively, you can replenish the Taycan's battery from 10-80% in less than 20 minutes. 
The new Taycan GTS also features a bespoke set-up for the adaptive air suspension system, which includes Porsche Adaptive Suspension Management. Porsche claims the new settings have been developed to "benefit lateral dynamics". The GTS's system will receive a sportier set-up compared with the normal settings, if you add the optional rear-axle steering to the car as well.
Taycan GTS models can be distinguished from others in the range thanks to dark exterior and interior trim, with areas of the cabin sporting Race-Tex upholstery. Porsche has also modified its Electric Sport Sound for the GTS.
Porsche says the Sport Turismo estate is aimed at those customers who want the extra practicality offered by the Cross Turismo estate, but want the on-road performance of the regular Taycan saloon. It drops the more off-road design elements of the Cross Turismo, while offering up to 1,200 litres of luggage space.
Prices for the new Taycan GTS start from £104,190 in saloon form and £104,990 for the Taycan GTS Sport Turismo. First deliveries are set to start in spring 2022.
BMW i7: electric 7 Series luxury saloon teased ahead of 2022 launch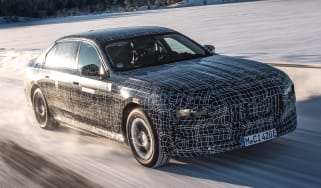 BMW i7: electric 7 Series luxury saloon teased ahead of 2022 launch
Top 10 best seven-seater electric and hybrid cars 2021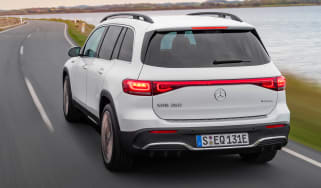 Top 10 best seven-seater electric and hybrid cars 2021
If the regular crop of electrified SUVs and family cars don't provide enough practicality for you, then take a closer look at the range of electric an…
Complete guide to the BP Pulse (formerly Polar Plus) charging network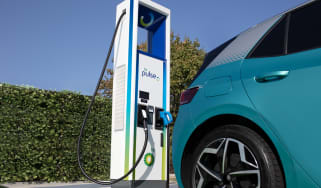 Complete guide to the BP Pulse (formerly Polar Plus) charging network
This is how to charge your electric or plug-in hybrid car on the BP Pulse public charging network (which was formerly known as the Polar Plus network)
Osprey opens first of 150 new electric-car rapid charging hubs for the UK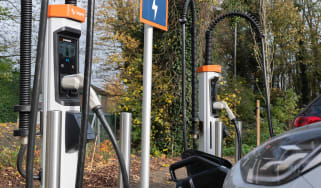 Osprey opens first of 150 new electric-car rapid charging hubs for the UK
The first location in Wolverhampton has now opened, with nine more set to begin construction before the end of 2021