Top 10 best hybrid SUVs and hybrid 4x4s 2022
SUVs and 4x4s traditionally used a lot of fuel, but there are now plenty of efficient hybrid options in the ever-popular class. These are the best ones to buy right now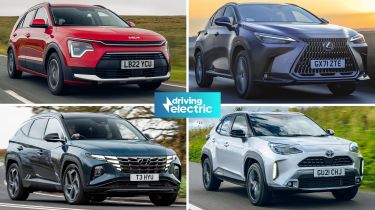 Lots of brands have added hybrid technology to their best-selling SUVs and 4x4s, combining the style and practicality buyers want with impressive fuel economy and low CO2 emissions to cut your running costs – allowing you to have your cake and eat it, in other words.
We're focusing on regular, full-hybrid SUVs in this list; these are sometimes referred to as 'self-charging' hybrids A plug-in hybrid (PHEV) SUV may be worth taking a closer look at if you want to really cut down your fuel consumption. These need to be plugged in and charged like an EV if you want to come close to their claimed fuel-economy figures, and can run on electric power alone for dozens of miles. Plus, having an engine under the bonnet can make long-distance journeys less stressful than in an equivalent pure-electric SUV.
But if it's a hybrid SUV you're after, keep reading for our list of the best hybrid SUVs and 4x4s you can buy right now – and make sure to follow DrivingElectric on Twitter, Facebook, Instagram and YouTube for the latest news on all types of electric and hybrid vehicles.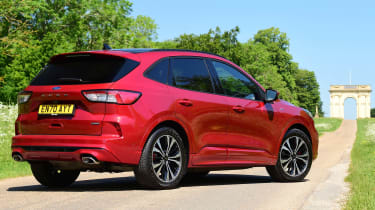 Ford Kuga Hybrid
The Ford Kuga comes in full hybrid (FHEV) and plug-in hybrid (PHEV) forms We're looking at the former here – but both are great choices. The Kuga is roomy inside and has lots of standard equipment, plus a big boot that should work well for family trips and holidays. The Kuga shares parts with the excellent Ford Focus family hatchback, so it's great to drive. The steering is well weighted and responsive, plus it's comfortable on bumpy country roads, so you can drive with plenty of confidence. The petrol engine is combined with an electric motor for low-speed quiet running and around 50mpg claimed fuel economy. Read our full review here.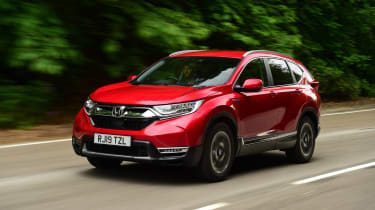 Honda CR-V Hybrid
It's on the cusp of being replaced by a new model, but the current CR-V is still a worthy entry on this list. All the traits that have made the Honda a family SUV favourite in previous generations are present here: it's spacious inside, comfortable on a long journey and boasts characteristic reliability. On the downside, the hybrid system rules out the option of seven seats. The hybrid CR-V is also not quite as efficient as you'd hope: claimed fuel economy only just breaks 40mpg and CO2 emissions are above 120g/km for all models. Read our full review here.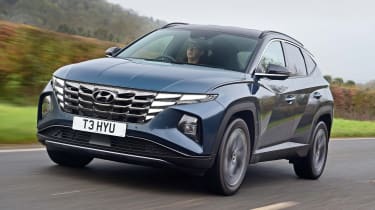 Hyundai Tucson Hybrid
The fourth iteration of the Tucson is by far the best, bringing striking design and the latest drivetrain technology to what was once just a competent but conservative family SUV. The Hyundai is a great all-rounder, offering a comfortable and composed ride, impressive build quality and efficiency at an affordable price for this type of vehicle. All-wheel drive comes as standard, too. A plug-in hybrid version is available, but the full-hybrid Tucson can still return up to 50mpg and is a good chunk of change cheaper than the PHEV. Read our full review here.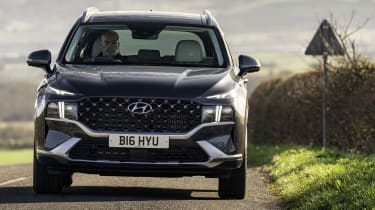 Hyundai Santa Fe Hybrid
The Santa Fe sits a class above the Tucson, offering a choice of diesel, full-hybrid or plug-in hybrid power, but with the additional versatility of a seven-seat layout and more interior space in general. Fuel economy of the regular hybrid version won't touch that of the plug-in, but it won't break the bank, either, at around 40mpg in town and closer to 30mpg on the motorway. Because of the size and weight of the Santa Fe, you don't expect it to be fun to drive, but it does feel planted and grips the road well. Read our full review here.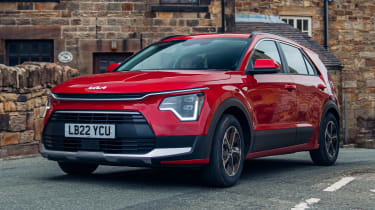 Kia Niro Hybrid
The Kia Niro has been one of the best family cars on sale over the past few years, and once again for its second generation is available with full-hybrid, plug-in hybrid and pure-electric power. The first of those three is the one we're interested in here; it's smooth and efficient around town, capable of up to 60mpg and is even more practical than the old model. The latest Niro is also quite the looker, with cues carried over from the larger Sportage and flagship EV6, combined with a class-leading, dual-screen infotainment setup. Read our full review here.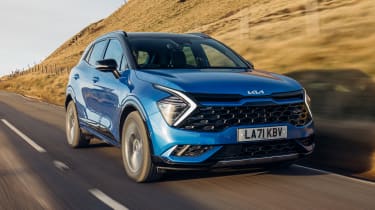 Kia Sportage Hybrid
If the Niro isn't big enough for you, there's always the larger Kia Sportage, which is actually a sister model to the Hyundai Tucson we mentioned earlier. As you'd expected from a modern Kia, the Sportage has a cutting-edge, tech-filled cabin and bold, striking styling that sets it apart from the competition. The ride is on the firm side of comfortable, but there's a whopping 587 litres of boot space and Kia says the Sportage Hybrid can return close to 50mpg. Read our full review here.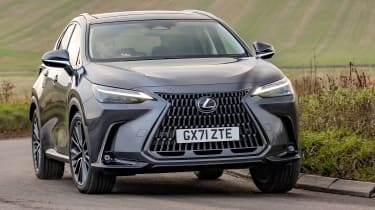 Lexus NX 350h
Lexus' answer to the BMW X3 is now available with plug-in hybrid power for the first time, but traditional "self-charging" hybrids remain a core part of the Japanese brand's line-up. Around town, the full-hybrid NX manages its power sources remarkably well, highlighting Lexus' near-20-year history of producing hybrids, and the car comes close to matching the latest pure-electric models for refinement. Infotainment is light years ahead of the old model's, with touchscreens up to 14 inches wide on offer, plus cabin quality overall is top-notch. Read our full review here.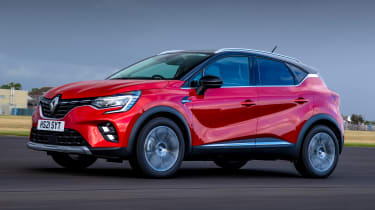 Renault Captur E-TECH
The Renault Captur E-TECH won our 2022 Best Small Hybrid Car award, and for good reason. It's a seriously accomplished compact family car that's comfortable and efficient, plus it'll cruise effortlessly around on electric power when you're in town without needing to be plugged in. The full-hybrid Captur can't quite match its rivals when it comes to practicality, but its infotainment system is solid and the compact Renault's cabin is nicely finished. Read our full review here.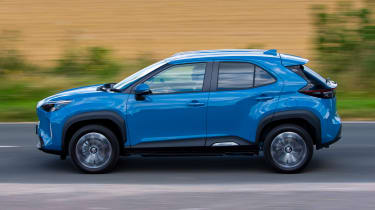 Toyota Yaris Cross Hybrid
The latest Toyota Yaris is a solid and well engineered hybrid supermini, so it wasn't surprising to see Toyota roll out a jacked-up SUV version to cater for changing customer tastes. It runs the same powertrain as the regular Yaris, comprising a 1.5-litre three-cylinder petrol engine and electric motor, as well as Toyota's 'e-CVT' automatic transmission. Unlike the hatchback, all-wheel drive is available on higher specs. Overall, the Yaris Cross delivers what you'd expect from a compact SUV, plus efficient hybrid power. Read our full review here.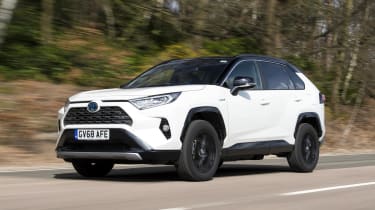 Toyota RAV4 Hybrid
The RAV4 is a longtime rival for the Honda CR-V across several generations, and is now hybrid-only in the UK. As is the case with the Honda, the presence of the hybrid system rules out a seven-seat layout, so the RAV4 seats five only (although Toyota now offers a seven-seater Highlander hybrid SUV, too). It's also more efficient around town than it is on the motorway, so will likely work out more cost-effective for lower-mileage drivers. Elsewhere, the latest RAV4 looks more distinctive than its predecessors. Read our full review here.
New Audi Q6 e-tron electric SUV spotted ahead of 2023 debut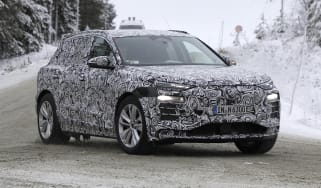 New Audi Q6 e-tron electric SUV spotted ahead of 2023 debut
Electric MINI Aceman crossover arriving in 2024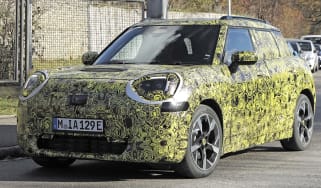 Electric MINI Aceman crossover arriving in 2024
Volkswagen ID.3 facelift due in spring 2023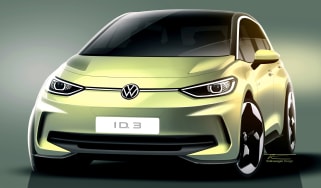 Volkswagen ID.3 facelift due in spring 2023
New sketches provide a glimpse at refreshed styling and cabin of Volkswagen's electric family hatchback
New Vauxhall Astra Electric hatchback and estate unveiled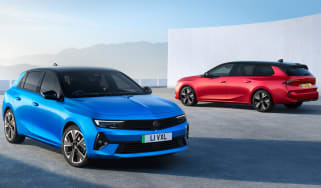 New Vauxhall Astra Electric hatchback and estate unveiled
The new Astra Electric and Astra Sport Tourer Electric go on sale in early 2023, with prices expected to start from between £35,000 and £40,000