Top 10 best hybrid SUVs and hybrid 4x4s 2021
SUVs and 4x4s traditionally used a lot of fuel, but there are now many efficient hybrid options in this class. These are the best ones to buy right now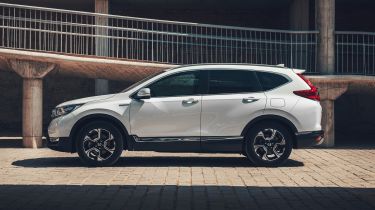 SUVs have become hugely popular in recent years, but as environmental concerns grow, these traditionally highly polluting models might start to seem out of place. Yet the advent of electrification has meant they're able to keep up with the times, and the latest crop of hybrid SUVs and 4x4s combine low emissions with all the style and practicality buyers want.
Toyota was a pioneer of hybrid technology with its Prius hatchback, but these days it's the C-HR and RAV4 SUVs that are more popular, since they take the powertrain from the Prius and package it in an SUV body. It's not just Toyota, of course – everyone from Honda to Hyundai and Kia is at it, and there are plenty of hybrid SUVs to choose from in 2021.
Normal hybrids (sometimes called 'self-charging' hybrids) like these are one thing, but you should also consider plug-in hybrids (PHEVs). These models are able to be plugged in and charged up like a fully electric SUV, but still have an engine on board, which can power the car once the battery is dry. They work well for some people but not others.
You can read about the best plug-in hybrid SUVs elsewhere on the site if you think one is right for you. If not, check out our list below of the best hybrid SUVs and 4x4 for 2021 – and don't forget to follow DrivingElectric on Twitter, Facebook, Instagram and YouTube for the very latest news and reviews on all types of electric and hybrid vehicles.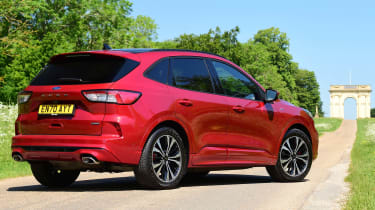 Ford Kuga Hybrid
The Ford Kuga comes in full hybrid (FHEV) and plug-in hybrid (PHEV) forms, and it's the former we're looking at here – but both are great choices. The Kuga is roomy inside and has lots of standard equipment, plus a big boot that should work well for family trips and holidays. The Kuga shares parts with the excellent Ford Focus, so it's great to drive. The steering is well weighted and responsive, plus it's comfortable on bumpy country roads so you can drive with plenty of confidence. The petrol engine is combined with an electric motor for low-speed quiet running and around 50mpg. Read our full review here.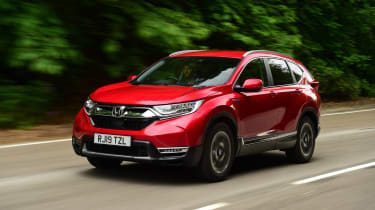 Honda CR-V
Like its Japanese rival Toyota, Honda has a long history of developing petrol-electric hybrid technology. Its latest setup is known as i-MMD, for 'Intelligent Multi-Mode Drive' and it features in the fourth-generation version of the the popular CR-V family SUV, where it makes 184bhp for a circa-nine-second 0-62mph time. All the traits that have made the CR-V a family favourite in previous generations are present and correct here: it's spacious inside, comfortable on a long journey and boasts characteristic Honda reliability. On the downside, the addition of the hybrid system rules out the option of seven seats. The hybrid CR-V is also not quite as efficient as you'd hope: fuel economy only just breaks 40mpg and CO2 emissions are above 120g/km for all models. Read our full review here.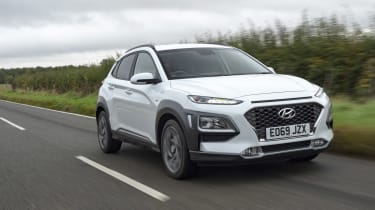 Hyundai Kona Hybrid
The Hyundai Kona small SUV has been offered with a wide variety of drivetrains. First there was petrol and (now discontinued) diesel. Then a fully electric version joined the range, followed by this hybrid. The Kona Hybrid shares much under the metal with its Kia Niro sister model above, but is perhaps more pleasingly styled. It has lower CO2 emissions, ranging from 90-99g/km, so it makes good sense as a company car. Ultimately, we prefer the Kona Electric, but if you want a Kona with internal-combustion power, the hybrid is the one to go for. Read our full review here.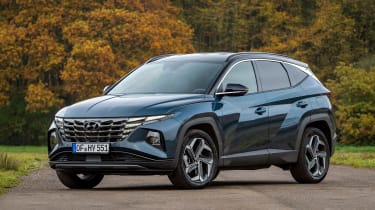 Hyundai Tucson Hybrid
Previous to this current model, Hyundai's Tucson was a component but also pretty conservative family SUV, offering lots of space, anonymous looks and traditional petrol or diesel engines. The latest version, introduced at the end of 2020, upends all that, bringing a striking design language and the latest drivetrain technology. A plug-in hybrid version is on the way, and even the cheaper models in the range employ mild-hybrid technology, but the full hybrid version is most relevant to this list. It employs a 1.6-litre petrol engine paired with an electric motor and a small (1.49kWh) battery. There's 227bhp on tap, along with a six-speed automatic gearbox feeding power to all four wheels. Read our full review here.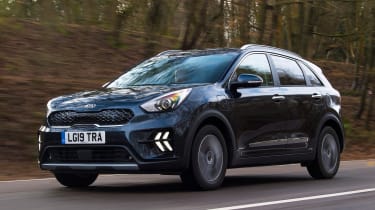 Kia Niro Hybrid
The Niro was one of Kia's first hybrids, packing a 1.6-litre petrol engine, electric motor and battery into an SUV body in order to combine practicality with low running costs. It's not the most thrilling vehicle to look at or drive, but it still has plenty to recommend it to those who buy with their head rather than their heart. With up to 59mpg fuel economy and CO2 emissions as low as 110g/km, the Niro should be affordable to run for both private buyers and company-car user-chooser. And when you factor in an excellent infotainment system and 427-litre boot capacity, the Niro earns its stripes as a solid and dependable hybrid SUV. Read our full review here.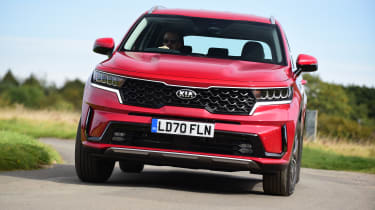 Kia Sorento Hybrid
The Sorento has always offered family buyers a good-value mix of interior space, engine power and practicality, but the latest version (introduced during 2020) stepped things up to become a genuine threat to premium German SUVs. As with the Hyundai Tucson, a plug-in hybrid version is in the works, and Kia still offers diesel power for those who prefer it, but the majority of sales are expected to be of the impressive full hybrid version. As Hyundai and Kia are sister brands, the Sorento Hybrid's drivetrain is similar to the Tucson's above: a 1.6-litre petrol hybrid engine, 1.49kWh battery and electric motor. Together the engine and motor produce a maximum 227bhp and 350Nm of torque, so performance is strong despite the car's considerable weight. Four-wheel drive and a six-speed automatic gearbox are standard across the range. Read our full review here.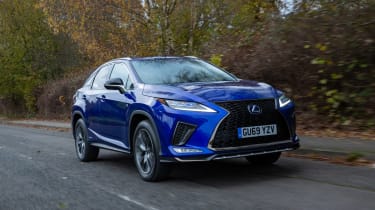 Lexus RX
The Lexus RX comes in two forms: the standard five-seat model and the seven-seat RX L, but they use the same 3.5-litre V6 petrol engine and electric motor to make the RX a hybrid 4x4. Performance is swift enough – 0-62mph takes 7.7 seconds – but you'd never describe this as a fast car. Fuel economy is 35mpg: not great in the grand scheme of things, but not bad for a large and luxurious SUV. Quality is a given for any Lexus, and the RX is no different, while there's plenty of advanced safety technology. The interior is loaded with equipment and beautifully built, but the RX's strongest trait is its refinement and comfort on the motorway. Read our full review here.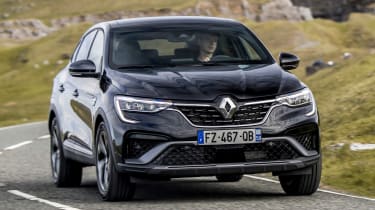 Renault Arkana
If you're after an SUV with a more stylish look, the Renault Arkana is an interesting option. It's largely based on the Renault Captur E-TECH, which is the hybrid model of the popular small SUV, using a 1.6-litre petrol engine for around 56mpg. The Arkana certainly has stylish looks, but it's also got an upmarket interior considering the affordable price, and lots of standard equipment as well. It's not as sharp to drive as it looks, not is it particularly fast, but if you just want a family SUV that looks smart and is good value, the Arkana is worth a look. Read our full review here.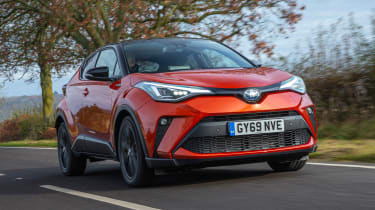 Toyota C-HR
While the C-HR doesn't boast four-wheel-drive capability, it combines the latest hybrid technology with attractive styling thanks to its raised-up body. It's available with a choice of 1.8 or 2.0-litre petrol-electric hybrid powertrains, with the non-hybrid 1.2-litre turbocharged petrol having been discontinued. Those sharp exterior lines mean this isn't the most spacious family SUV you can buy, but it should be more than sufficient for many buyers nonetheless. On the road, the suspension treads the line nicely between fun and comfort, so the C-HR doesn't sacrifice enjoyment or ride quality in pursuit of low running costs. Read our full review here.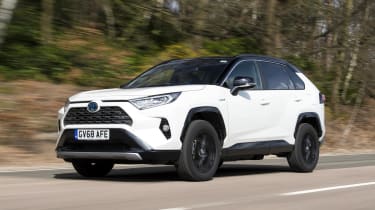 Toyota RAV4
The RAV4 is a longtime rival for the Honda CR-V below across several generations, and is now hybrid-only in the UK. As is the case with the Honda, the presence of the hybrid system rules out a seven-seat layout, so the RAV4 seats five only. It's also more efficient around town than it is on the motorway, so will likely work out more cost-effective for lower-mileage drivers. Elsewhere, the latest RAV4 looks much more distinctive than its predecessors, with striking angular lines. Read our full review here.
Top 10 best seven-seater electric and hybrid cars 2021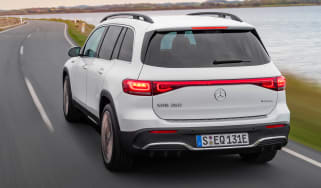 Top 10 best seven-seater electric and hybrid cars 2021
If the regular crop of electrified SUVs and family cars don't provide enough practicality for you, then take a closer look at the range of electric an…
Top 10 best luxury electric cars 2021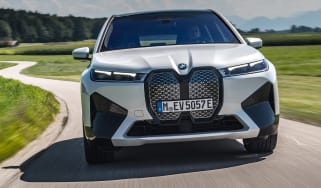 Top 10 best luxury electric cars 2021
From Audi to Tesla, here are our top picks of the most luxurious zero-emissions motoring options on the market right now
EV36Zero and Nissan's road to carbon neutrality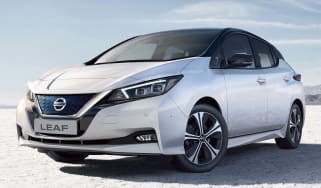 EV36Zero and Nissan's road to carbon neutrality
How the EV36Zero hub in Sunderland is set to take Nissan a step closer to its sustainability goals