Vans
Welcome to the DrivingElectric vans hub page. We're here to help you decide if an electric van is right for your business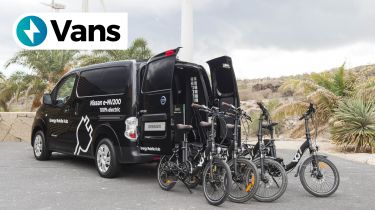 If you're thinking of buying an electric van you've come to the right place. Even if you're just looking to learn more about what electric commercial vehicles can offer, we can help.
It's a fact that electrification is coming to all areas of the car and van market but the big problem facing businesses in particular is knowing when to take the plunge. Technology is developing fast and so is the range of electric van options available, the trick is understanding whether an electric van can suit your requirements and then knowing which one to choose.
That's exactly what we're here to assist you with. On this page you'll find all our latest commercial vehicle news, reviews and features covering electric vans, plug-in hybrid vans and all the associated issues from charging and range anxiety to taxation and finance.
Here's some key advice to get you started...
Would an electric van suit your business?
The big question for businesses. Would the switch to electric work for you right now?
Electric vs diesel vans: which would be better for you?
What are the pros and cons of electric and traditional diesel vans? We map them out to help you reach a decision.
We've tested them all and these are the models we rate most highly right now.
More electric van advice…
Just scroll down for all of our electric van content...