Tesla Model Y review
The Model Y promises a more affordable take on the Model X's seven-seater formula, while retaining Tesla's usual thrills and technology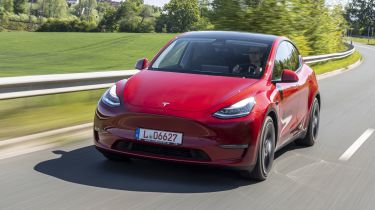 Pros
Fast and fun
Relatively affordable
Option of seven seats
Cons
Slightly awkward styling
Interior quality could be better
Entry-level model not due for a while
| Car type | Range | Wallbox charge time | Rapid charge time |
| --- | --- | --- | --- |
| Electric | 298-314 miles (est.) | 11hrs 45mins (0-100%, 7.4kW) | 31mins (10-80%, 150kW) |
Tesla is often associated with hype, but the Model Y could be its biggest-selling, most important car to date, tapping into the lucrative electric SUV market just as it really starts to boom in 2021. Three versions are planned, broadly similar to the variants of the Model 3. The more expensive Performance and Long Range will arrive first, with twin electric motors and a range of around 300 miles. Later, we'll get a cheaper entry-level Standard Range with a single motor, giving reduced performance and range. We don't have official UK prices yet, but in its native US, the Long Range starts at around $53,000 and the performance at around $61,000. The Standard Range (not yet offered, even in the US) should be priced at just under $40,000, to compete with other eagerly awaited electric SUVs such as the Volkswagen ID.4 and Skoda Enyaq iV.
The Tesla has an ace up its sleeve in this company, however; like its Model S and Model X stablemates, it's available with a third row of seats, to carry seven in total. Some US customers have taken delivery of Model Ys already, but examples for European markets will be built at Tesla's under-construction 'Gigafactory' in Germany; that means deliveries on this side of the pond aren't expected until 2021. So what's in store for buyers when the cars turn up?
Tesla Model Y performance, handling and ride
Our test car was a Model Y Performance. Tesla isn't disclosing exact horsepower figures, but it's believed to make the same 456bhp as the Model 3 Performance. Like that car, it's not short on accelerative 'shove' either from a standstill or a rolling start, feeling like a Mercedes AMG or BMW 'M' model in the way it leaps forward when you step on the throttle. The 0-60mph time is estimated at 3.5 seconds, while top speed is 150mph. The Long Range version dials the 0-60mph time back to 4.8 seconds and top speed to 135mph Teslas have been criticised for being fast yet soulless, but things seem to have moved on with the Y – it's more involving than the Skoda Enyaq iV prototype we've also driven. Be warned, though: excessive 'enthusiastic' driving really eats into range, with every burst of sharp acceleration seemingly taking 15 to 20 miles out of the indicated figure, which on our test car began at 298 miles with a full battery. Ride quality is reasonable – not sports-car harsh, but not cushioning soft, either – so you feel in touch with what the wheels are doing and there's good feel through the steering wheel. As it rides a little higher, the Y inevitably doesn't feel as planted as the Model 3, but is noticeably less unwieldy than the large and heavy Model X. Body lean in corners is almost nonexistent, even when making rapid changes of direction. One area you'll definitely notice a difference if you're making the transition from a petrol or diesel car is when slowing down. Like other Teslas, the Y has a regenerative braking system, and unlike in some other electric cars, the effect is set to maximum by default; that means the car slows down considerably when you lift off the pedal, to the extent that you probably won't need to brush the brakes during most everyday driving.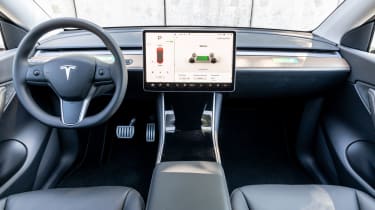 Interior, comfort and practicality
Inside, the Model Y is almost a carbon copy of its Model 3 sibling, with the exception of noticeably more headroom thanks to its higher roof. Getting in and out is easier and the car feels brighter and airier than the Model 3 once you're inside – particularly for rear-seat passengers, who are a bit short-changed in the 3. Another big improvement over the 3 is boot space. That car's small opening and limited luggage capacity hurt its practicality, but in the Y you get more space and the three-part rear seat folds down electronically. The addition of those third-row seats is likely to impinge on capacity quite significantly, however, and they'll likely only be suitable for small children. Sitting in the driver's seat, some may be shocked at the sheer minimalism: there are no dials or readouts apart from the central touchscreen, which operates everything from the radio to the sat nav and wipers. It's impressive from a technical standpoint, but less impressive is the quality of materials used for the seats and trim, which doesn't match what you get in an Audi, Mercedes or BMW. That said, the car we drove was one of the very first off the line, so things may improve.
Verdict
In many ways, there are few surprises here. The Model Y is fast, impressive to drive, cleanly designed and has the same 'want' factor as the rest of the company's products. But a relatively low price and better practicality than the Model 3 set it apart – and set it up for potentially huge sales numbers.
The problem for Tesla is that, unlike its other models, the Y faces a field of direct rivals when it goes on sale in 2021. On the evidence of this drive at least, though, it should be able to put up a good fight.