Electric classic cars: iconic models reinvented for the 21st century
We take a look at what it takes to convert a classic car to electric power, as well as some of the best examples produced to date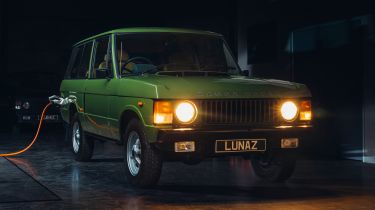 Electric classic cars have grown in popularity over the past number of years as enthusiasts look to keep on enjoying their beloved older vehicles without having to worry about future taxes, zero-emission zones or other government regulations forcing them off the road.
Some manufacturers have commissioned their own conversions of classic models from their past to electric power, often using drivetrain components from their latest brand-new zero-emissions models. Other companies specialise in bespoke conversions of a wide range of older cars, with electric motor and battery configurations to suit the owner's wants and needs.
How much does it cost to convert my classic car to electric?
According to specialist conversion company Electric Classic Cars (profiled below), the cost of a conversion can vary: it says a small car with a sub-100-mile range might cost as little as £20,000 to convert, whereas a large SUV with a 200-mile range might cost as much as £60,000. That includes all parts and labour needed to complete the job.
Carrying out your own conversion will of course be cheaper, but it's not a task for the amateur DIY mechanic: you need extensive knowledge of electrical and automotive engineering to do the job properly and safely. There's also a mountain of paperwork to wade through to get the converted car certified as road-legal and registered. For these reasons, DrivingElectric recommends using a specialist instead of undertaking the work yourself.
What do I need to convert my car to electric?
It's not just a battery pack and electric motor: several other components are vital if you want to end up with a fully functional electric car. Electric Classic Cars can also supply conversion kits for some of the more popular models that people want to switch over. These include the original Volkswagen Beetle, classic Volksagen camper vans and the Fiat 500. Components provided include electric motors and batteries, grommets, crimps, an adapter plate, motor mount, coupler and battery boxes.
We'll now take a look at some of the outfits building and converting electric classic cars, which range from the original manufacturers themselves to smaller specialist firms.
Aston Martin
Renowned British sports-car maker Aston Martin has developed its own in-house electric conversion programme for its classic models. In late 2018, it converted a DB6 Volante as a showcase for what can be done, based around the concept of a 'cassette' drivetrain.
The electric motor and batteries are designed to be almost the same size and weight as the car's original petrol engine and gearbox, as well as delivering near-identical performance characteristics. Much of the technology used was developed for the (now-cancelled) Aston Martin Rapide E project. The conversion is carried out in such a way that it can be reversed at a later date if this is wanted.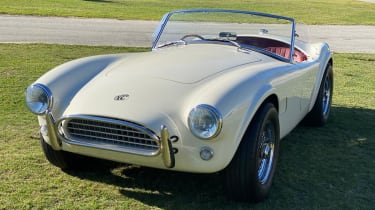 AC Cars
Another long-lived British sports-car manufacturer taking a stab at electrification is AC Cars. Its new Cobra Series1 electric is a reimagining of its most famous model, the Cobra, which first appeared in the early 1960s as a hot-rodded version of the AC Ace.
Based on the Mk1 Cobra, the modern car appears largely unchanged on the outside, but hides a 308bhp electric motor and 54kWh battery underneath its svelte composite bodywork. It weighs under 1,250kg and boasts impressive performance, with a 0-62mph time of 6.7 seconds. Charging speed is capped at 6kW, however. 
The car is on sale now, priced from £138,000. Just 58 will be made – a number that references the number of years since the original AC Cobra was launched in 1962. A more powerful version was made available in December 2020. Priced at £168,000, it ups power to 617bhp for a 0-60mph time of just 3.8 seconds. The 54kWh battery is sufficient for a 200-mile driving range.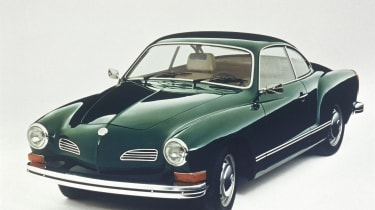 Electric Classic Cars
The previously mentioned Electric Classic Cars (www.electricclassiccars.co.uk) is one of the more established UK companies carrying out electric classic-car conversions. It's run by Richard Morgan and features in a Quest channel TV series called 'Vintage Voltage', showcasing some of the conversions carried out. Past projects have included electric conversions of a Porsche 911, a Karmann Ghia (above), a Fiat 500, a Land Rover Defender 110, a Chesil Speedster, a BMW 2002, a Ferrari 308 GTS and a Lancia Fulvia.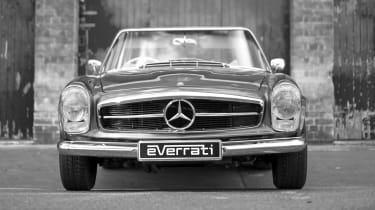 Everrati
Set up by former fintech entrepreneur Justin Lunny, Everrati (www.everrati.com) focuses on "upgrading glamourous vehicles from the past with electric powertrains and a compassionate makeover". The startup firm has already converted a Mercedes Pagoda convertible (above) and a Porsche 964 Targa is currently undergoing a similar upgrade.
According to Lunny: "Our main focus is on converting these (once) thirsty gas-guzzlers to zero-emission vehicles, to ensure their charm and allure can continue to be enjoyed for years to come. It's vitally important to us that our cars retain their original appeal. Our aim is to articulate and enhance the underlying beauty of an iconic motor, offering a truly unique and eco-friendly drive for the car enthusiast of the future."
Lunaz
Founded by David Lorenz and based close to the Silverstone Grand Prix circuit in Northamptonshire, Lunaz Design (www.lunaz.design) employs former Aston Martin, Ferrari, Jaguar, Volkswagen and McLaren staff, working on high-end conversions of exclusive classic cars such as the Jaguar XK120 (above), Rolls-Royce Phantom V, Rolls-Royce Silver Cloud and various Bentleys. The XK120 gets an 80kWh battery pack and the Rolls-Royces a 120kWh unit.
In February 2020, the company announced that it would be doubling its workforce in response to increased demand for its products, and in June 2020 it reported a further surge in demand as countries around the world emerged from coronavirus lockdown measures. In August 2020, Lunaz announced a production run of 30 of its Rolls-Royce Phantom and Silver Cloud conversions, with prices starting at £350,000.
In December 2020, Lunaz announced that it'll produce an initial run of 50 electric classic-era Range Rovers (pictured above), with deliveries set for summer 2021. Each of Lunaz's electrified Range Rovers benefits from a ground-up restoration and boasts four-wheel drive, uprated suspension and improved brakes. Two specifications are offered – Town and Country – along with a choice of two wheelbase lengths and a host of bespoke options; prices start at £245,000 before taxes.
All Lunaz cars are engineered with fast-charging capability, regenerative braking systems and integrated modern technology such as traction control and cruise control. Customers can also specify bespoke, handcrafted interior finishes and upholstery.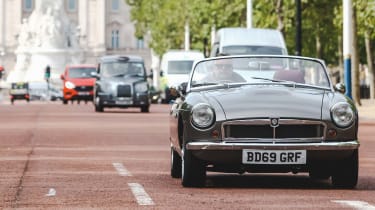 RBW EV Roadster
British company RBW got off the ground in 2020, and plans to build brand-new electric sports cars using fresh MGB body shells and manufacturer-standard electric drivetrains and bodies. It was founded by businessman David Swain and draws on the engineering expertise of automotive component manufacturer Continental.
The EV Roadster's 34.5kWh battery back is the same as that used in the Nissan Leaf, and sits under the bonnet in the space occupied by the engine in a regular MGB. The electric drivetrain, meanwhile, is mounted in a frame that fits within the rear bodywork without the need to cut any metal. RBW hopes to sell up to 30 EV Roadsters in 2021, and you can read our full feature and first drive of the car here.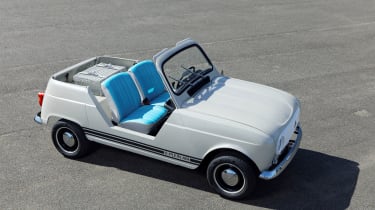 Renault
A few years back, Renault experimented with an open-top electric concept car based on its classic Renault 4 family hatchback. Called the 'e-Plein Air' (above), it's a nod to the Renault 4 Plein Air beach car of the 1960s. The powertrain and battery are from a Renault Twizy, giving the car 17bhp and a range of about 60 miles. Inside, the seats have been reupholstered with an eye-catching blue material, while a picnic hamper features in the rear.
Swind E Classic
The Swind E Classic is an original Mini that has been converted to electric power by British outfit Swindon Powertrain. The company developed its own electric motor (which it will sell you in 'crate' form for £6,400 plus VAT) for the project. Priced from £79,000, the E Classic comes with a 24kWh battery, a driving range of around 120 miles and a charge time of four hours from a 7kW home wallbox charger.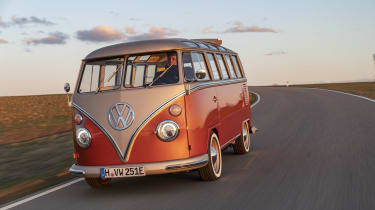 Volkswagen
Volkswagen has created several electric versions of some of its most popular models by adapting the drivetrains of its modern electric-car models. The e-Bulli (above) is a classic VW camper van with the internals of the Volkswagen e-Golf electric hatchback, built to showcase the company's 'eClassics' division in Germany, which has been set up to convert classic VWs of all types to zero-emissions power. The division has also produced a convertible e-Beetle with the drivetrain of a Volkswagen e-up! to further demonstrate what it can do.
Best electric mopeds 2021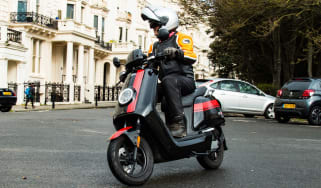 Best electric mopeds 2021
We run down the best electric mopeds you can buy, from some mainstream and some not so well known names
Best plug-in hybrid SUVs 2021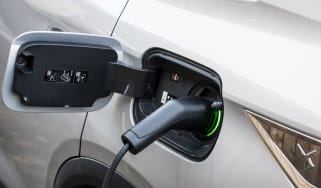 Best plug-in hybrid SUVs 2021
A good plug-in hybrid SUV should combine low running costs with excellent practicality. These are some of the best on sale right now
Fastest electric cars in the world 2021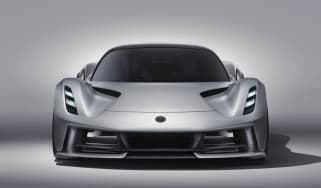 Fastest electric cars in the world 2021
The days of the trundling milk float are long gone: the latest electric cars are now some of the fastest vehicles in the world, full stop