Renault Twizy review
An eye-catching urban runabout with an extrovert nature, the Renault Twizy makes for fun and environmentally friendly city transport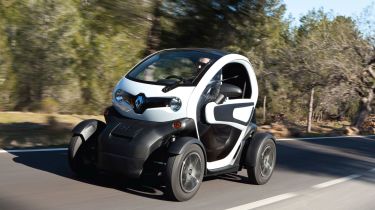 Pros
Charging costs £1 a day
Nippy urban runabout
Fun for extroverts
Cons
Severely limited practicality
Poor ride and refinement
Exposed to weather
| Car type | Range | Domestic socket charge time | Rapid charge time |
| --- | --- | --- | --- |
| Electric | 62 miles | 4hrs (0-100%, 3kW) | N/a |
You don't often hear the word 'quadricycle', but it's an official government classification for a type of road vehicle. Aside from the Renault Twizy, there aren't too many about. The legal definition is something weighing less than 450kg unladen, and with limited performance or power. The Twizy falls into the 'heavy quadricycle' category, as it's bang on the weight limit – including its 100kg battery – and its electric motor produces just under 20bhp.
As it's a unique offering, the Twizy is hard to pitch against specific rivals. On the one hand, it offers a lot more stability, safety and accommodation than an e-scooter, while on the other, it's a lot more compromised than even the most basic of city cars. While doing so is not completely out of the question, you're unlikely to buy one as your only car.
The truth is, the Twizy's whimsical nature is more likely to attract purchasers than its eco credentials are – and that's not necessarily a bad thing. It's a small, wheel-at-each-corner device, built around a tubular metal safety frame with plastic body panels, open sides and a pair of seats arranged in tandem formation. The electric motor drives the rear axle through an automatic single-gear transmission, there's a tiny 6.1kWh battery under the driver's seat and the dinky bonnet lifts up to reveal the charging cable.
The Twizy is easy to operate; the controls are identical to a car's, with a steering wheel and two pedals. The handbrake sits under the steering wheel. Weather protection is provided by a heated windscreen with a single wiper, plus optional doors and side screens. It's a rudimentary set-up, and don't think by going for the doors that you'll stay dry – they won't protect you from the rain during a downpour. There's no heater, or anything else in the way of creature comforts.
The Twizy's official range is quoted at 62 miles, but 50 seems a more realistic number for most drivers – especially when you take into account the UK's generally inclement weather. Due to the battery's small size, it can be charged in around three-and-a-half hours from a fully depleted state using any standard domestic electricity socket. In fact, the Twizy's on-board charger will only draw 10A from any socket, so although you can buy an aftermarket Type 2 adapter, it won't save you any time at a public charging point. There's no point installing a wallbox at home, either (unless, of course, you have a 'normal' electric car as well).
There's only one Twizy bodystyle available, but there are two key variants. The standard model with its two seats is of most interest to private users, but businesses with urban delivery rounds might consider the Twizy Cargo. It looks the same from the outside, but has a 180-litre luggage box where the rear passenger would otherwise sit. The standard passenger version is available in two different trim levels. The entry-level model is called the Expression and has plastic wheel trims, while the Dynamique has alloy wheels and more funky colour combinations to choose from – which isn't a lot for the extra £700 or so asked.
On the road, the Twizy is a mixed bag. It's nimble and grippy and has a decent enough turn of speed to keep up with urban traffic. It's also undeniably fun, at least to start with, thanks to its direct steering. The fact you're so exposed means the Twizy is about as close as you can get to an electric go-kart for the road. Whether that fun wears off after a while depends on your commitment to the concept, but the Twizy has a pretty bumpy and uncomfortable ride, and the exposure to wind and traffic noise can become tiring after a while. Some might suggest the Twizy is better suited to warmer climes.
As for practicality, that depends where you're coming from. Scooter riders will love the (relatively) cosy cabin, but resent the fact that the wider track means they can't filter through traffic as they might on a bike. City-car drivers will feel initially exposed and their passengers potentially affronted by the legs-akimbo posture demanded by the tandem rear seat. Luggage space is severely limited, but there's a bit more space overall than in a scooter top-box, and you can always strap a bag to the back seat.
Is the Twizy a good-value electric vehicle, then? Maybe as a used buy, but now that Renault has removed the battery lease option and hiked up the list price, it looks like little more than an expensive quirk. Still, if you can fit a Twizy into your lifestyle and put up with the practical compromises, it should put a smile on your face every time you drive it. For a more detailed look at the Renault Twizy, read on for the rest of our in-depth review...