Volkswagen Beetle electric: VW commissions official conversion
Official converted electric Volkswagen Beetle uses powertrain from e-up!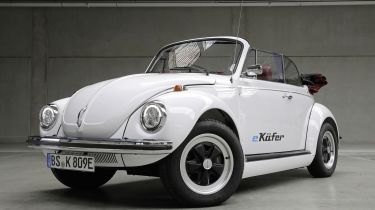 Volkswagen is offering classic Beetle owners the ability to future-proof their cars with an electric conversion.
The official kit from Volkswagen will swap out the Beetle's internal-combustion engine and replace it with the electric motor, battery pack and single-speed gearbox from the e-up! city car.
With 82hp, the eBeetle should hit 50mph in eight seconds and go on to a top speed of 93mph, travelling 124 miles between charges. It's also capable of fast charging, getting to 75% charge in around an hour.
Volkswagen has partnered with German specialist eClassics for the conversion, so UK owners will have to send their cars to Germany for the work to be carried out.
The concept paves the way for the future electrification of more historic models with the Volkswagen Group even hinting at an electric version of the Porsche 356.
The eBeetle will be on display at the 2019 Frankfurt Motor Show, which opens its doors to the public on Thursday 12 September.