Top 10 best electric sports cars 2023
You needn't pick a petrol car if you want maximum driver thrills; the market for electric sports cars is hotting up
Electric cars have come a long way in a relatively short space of time. Similar gains in petrol-car performance, reliability, and general user-friendliness, took decades. In just a few years, EVs have gone from compromised second-car syndrome, to credible long-distance tourers.
But a few areas of the electric-car market remain somewhat understocked. Ultimately, manufacturers are first funding segments with high returns – family cars and SUVs, for example – before eventually turning their attention to areas such as sports cars and hot hatchbacks.
And yet, a handful of car makers are now starting to dip their toes in the water. The hotly-anticipated MG Cyberster looks like a return to form for the Chinese-owned British brand, while we're sure the new electric Porsche 718 will be a thrill to drive, especially given how good Stuttgart's first attempt at an EV was.
Our list of the best electric sports cars may not be brimming with conventional coupes and convertibles, but these four-door family cars are just as good to drive – not to mention, even faster – than their petrol equivalents. 
So don't be put off by the fact they've got five seats or a big boot, our rundown showcases the very best electric sports cars currently on sale. Oh, and if you're not quite ready for an EV, then be sure to check out our list of the best hybrid sports cars first.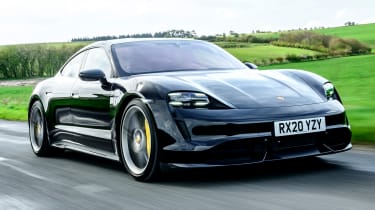 1. Porsche Taycan
It should come as little surprise that the Porsche Taycan tops our list of the best electric sports cars as the boffins at Stuttgart have managed to channel much of what makes the iconic 911 great into a more practical, zero emissions four-door coupe. With direct steering that's brimming with feel, as well as tight body control and plenty of grip, you can use the Taycan to attack a twisty B-road just like any other Porsche sports car.
The Taycan lineup ranges from speedy to utterly supersonic, but we think the lighter rear-wheel-drive base model should offer sufficient driving thrills for most. If you're looking to scorch a supercar at the lights, take a look at the Taycan Turbo S with its 751bhp dual-motor powertrain and 2.8-second 0-62mph time.
This may sound impressive, but partner this with a luxurious and tech-filled interior (you can get the Taycan with up to six individual screens) and the electric Porsche seems to have no compromises – other than its high price. Need space for the whole family? You can also get it with a raised ride height and a big estate boot, in Cross Turismo form.
Read our full Porsche Taycan review to find out more.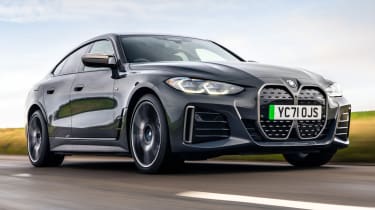 2. BMW i4 M50
If you're sensing something of a trend for four-door rocketships here, that's no coincidence. Understandably, the market for fast family cars is more extensive than it is for sleek two-seaters, and manufacturers know that. As such, many are shovelling R&D funds into models that can double as practical hatchbacks; the coupe and convertible equivalents will come later down the line.
And yet, the latest BMW i4 feels every bit as entertaining as the petrol-powered 3 Series and 4 Series models. With 527bhp and 795Nm of torque, the M50 sprints from 0-62mph in 3.9 seconds, and thanks to its dual motors and typical BMW driving dynamics, more than justifies its M-car badging. It should be easy to live with, thanks to a big 470-litre boot and large 81kWh battery capable of – BMW says – up to 318 miles of range. 
Partnership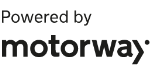 Need to sell your car?
Find your best offer from over 5,000+ dealers. It's that easy.
Read our full BMW i4 review to find out more.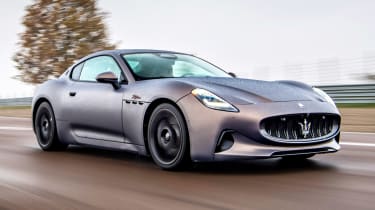 3. Maserati GranTurismo Folgore
The only true two-door coupe on this list, the Maserati GranTurismo Folgore forgoes the old model's sonorous V8 engine and replaces it with a comparatively sterile, but undeniably ballistic electric powertrain. With three motors working together, the electric GranTurismo produces 750bhp, enough to catapult it all the way to a top speed of 199mph. It's not all about straightline performance, though; the GranTurismo Folgore hugs the curves like a true rear-drive sports car – despite being four-wheel-drive – and remains comfortable all the while.
On the inside, the GranTurismo is as beautifully-appointed as you'd expect from a Maserati, with sumptuous Italian leather and a snazzy digital clock on the dashboard – much like on the forthcoming Maserati Grecale Folgore. At a standstill, the electric Maserati features a digitised V8 rumble – on the outside as well as the inside – although this fades away as you start driving; we'll let you decide whether this is a positive or a negative thing.
Read our sister publication's full review of the Maserati GranTurismo Folgore.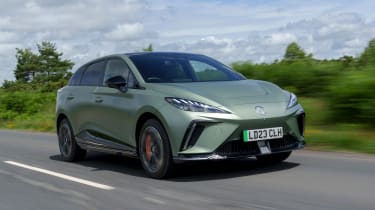 4. MG4 XPower
The MG4 was already a keen-driving electric family hatch, but the British-Chinese brand blew us away with the introduction of the £36,500, 429bhp XPower model. With a pair of electric motors working together, the hot MG4 gets from 0-62mph in just 3.8 seconds, putting it amongst the quickest electric cars you can buy. The changes for the XPower aren't just power-related; the high-performance model gets upgraded brakes, a more sophisticated suspension setup for a better turn-in and a set of grippier tyres.
The result of all this is one of the most enjoyable and engaging electric performance cars you can buy. Sure, there's very little visual difference between the XPower and the regular MG4 – a few flashes of orange are the key distinctions – and we wish the range was greater than 239 miles, but for less than the price of a Kia Niro EV, who are we to complain?
Read our full MG4 review to find out more.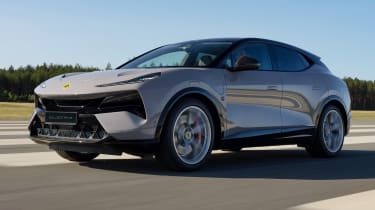 5. Lotus Eletre
"What?" We heard you cry, "an SUV on the best electric sports cars list?" Well, before you click away, let us just say that Lotus has truly worked its magic with the Eletre and created one of the most driver-focused electric cars you can buy, despite its SUV form factor. All three Eletre variants provide oodles of power – the range-topping Eletre R almost feels too fast – while a rear-wheel steering setup makes it feel a lot smaller than its dimensions may suggest, and a sophisticated air suspension setup helps keep body roll in check.
Though it weighs well over two tonnes, Lotus hasn't strayed from its lightweight philosophy with the introduction of the Eletre; lightweight fabrics are used in lieu of leather, while aluminium and carbon fibre are abundant throughout the cabin. On the outside the Eletre gets an advanced active aero package with an electronic rear spoiler, while on the inside the passenger gets an identical set of digital dials to the driver – just like in a Ferrari.
Read our full Lotus Eletre review to find out more.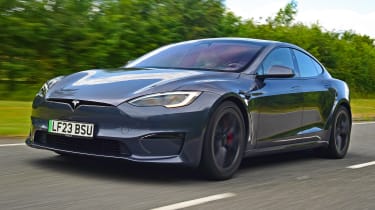 6. Tesla Model S Plaid
The Tesla Model S Plaid is, simply put, the fastest-accelerating car you can buy – if that doesn't make it some kind of sports car, we don't know what does. Despite its luxurious saloon body, the Model S Plaid will rocket from 0 to 60mph in under two seconds, with the driver controlling everything via a jet fighter-style 'yoke' steering wheel. If that isn't enough, the 1,006bhp Plaid is also supposedly capable of reaching 200mph and currently holds the Nurburgring lap record for the fastest production electric car.
Aside from its blistering performance, the Model S Plaid is business-as-usual for Tesla; capable of up to 373 miles on the WLTP test cycle, the Plaid's interior boasts three individual screens: one for the driver, one for the rear passengers and a huge 17-inch main touchscreen. It may be left-hand-drive only, but the Model S does so many things right, we're willing to overlook its small foibles.
Read our full Tesla Model S review to find out more.
7. Audi e-tron GT
The Audi e-tron GT is the brand's alternative to the Porsche Taycan – and it's a close rival, since the two cars share a platform and plenty of parts. The only real reason it sits further down this list is down to choice: the Porsche offers multiple battery and motor options, plus three distinct body styles.
The Audi is only available as a four-door saloon, in e-tron GT and RS e-tron GT guises – with the latter boasting 590bhp and the ability to accelerate from 0-62mph in 3.3 seconds. Technology such as four-wheel steering and adaptive suspension means it handles well, with very little body lean and loads of grip. Plus it's comfortable over bumps even in the stiffer Dynamic driving mode. Plush and luxurious, but great to drive on a twisty road, the e-tron is an impressive all-rounder. 
Read our full Audi e-tron GT review to find out more.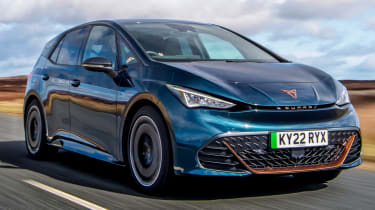 8. Cupra Born
By far the most restrained model in this list, but no less fun to drive, the Cupra Born is a sportier alternative to the Volkswagen ID.3. Equipped with a racier bodykit and more rose gold accents than a branch of Pandora, the Cupra Born has a slightly stiffer suspension setup than the VW, lending itself to a sportier drive. Its steering is heavier, too, while the rear-wheel-drive layout makes the Cupra drive more like a sports car than a traditional, front-driven hot hatch.
There are several versions of the Cupra Born to choose from, but if you're after entertainment, the 228bhp e-Boost model will deliver the most thrills, getting you from 0-62mph in a nippy seven seconds – or even less when specified alongside the smaller of the two available battery sizes. Cash-conscious buyers should also check out the entry-level V1 model as this is still pretty fun to drive and represents good value with its 260-mile range and generous kit list.
Read our full Cupra Born review to find out more.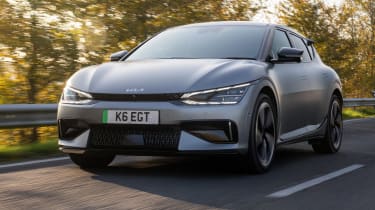 9. Kia EV6 GT
We bet you didn't expect to find a Kia on our best electric sports cars list? Well, with dual electric motors pumping out 577bhp and a 0-62mph time of three-and-a-half seconds, the EV6 GT is like nothing we've seen from the brand before. This high-performance version of the top-rated crossover gets bigger brakes, reworked adaptive suspension and an 11% stiffer chassis to make it more fun to drive, with the slick regenerative braking system only adding to the thrills.
We already love the standard EV6 and the GT takes much of what we love to the next level; the regular car's space-age looks are enhanced by huge 21-inch alloy wheels and figure-hugging lightweight sports seats. It retains its dual-screen infotainment setup, while the GT also benefits from performance-orientated displays and a special 'GT' driving mode, complemented by a matching shortcut button on the steering wheel.
Read our full Kia EV6 GT review to find out more.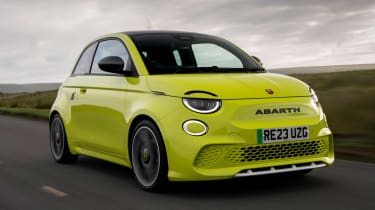 10. Abarth 500e
The Abarth 500 has long been a top choice for those looking for a fun pocket rocket, and the new 500e continues this trend into the electric age. Based on one of our favourite city EVs, the Fiat 500e, the Abarth gets a more powerful 152bhp motor to get it from 0-62mph in seven seconds – although it feels quite a bit faster at low speeds thanks to the instant torque. Quick and darty steering is another Abarth hallmark and this remains for the 500e; the suspension, while firm, makes the car feel composed at higher speeds, while there's plenty of response from the Abarth's uprated brakes.
On the inside, the Abarth gets a grippier Alcantara steering wheel, as well as a pair of bucket seats. Perhaps the Abarth's most unique – and controversial – feature is its sound generator, which plays a synthesised version of the old car's Record Monza exhaust through the interior and exterior speakers. This may seem a bit garish for some, but we think it suits the 500e's cheeky nature.
Read our full Abarth 500e review to find out more.
Top 10 best electric sports cars
Electric Renault 5: prices, 2024 launch date and teaser images of the MINI Cooper rival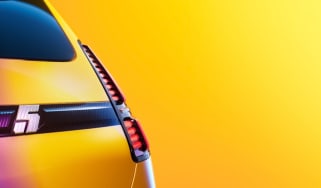 Electric Renault 5: prices, 2024 launch date and teaser images of the MINI Cooper rival
First contact: facelifted Kia EV6 will look even more like a UFO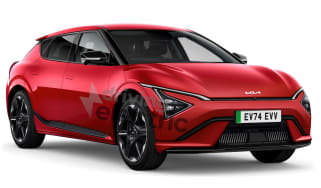 First contact: facelifted Kia EV6 will look even more like a UFO
Kia is readying an update for the EV6 crossover, which is set to include a new face and tech from the larger EV9
New Fisker Ocean Sport washes up in the UK: £36k for a 288-mile range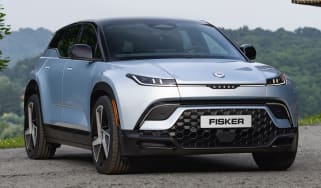 New Fisker Ocean Sport washes up in the UK: £36k for a 288-mile range
American EV startup Fisker has just launched its entry-level Ocean SUV in the UK, with a range of up to 288 miles
Electric Renault Twingo revealed as £17k rival to Citroen e-C3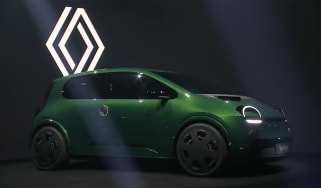 Electric Renault Twingo revealed as £17k rival to Citroen e-C3
Renault has unveiled its smallest EV yet; a sub £20k city car with a claimed high level of efficiency