Top 12 best electric cars 2021
What are the UK's best electric cars to buy in 2021? In no particular order, we run through 12 of our favourite models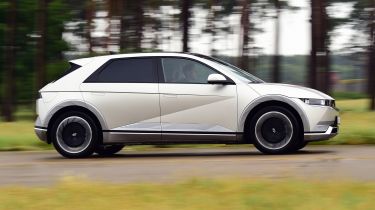 Electric cars are here to stay. It's clear they hold plenty of appeal for UK buyers, as even with falling car sales overall recently, plus the UK government reducing the plug-in car grant (PiCG) in March 2021, sales of electric cars have continued to grow. Huge investments and improvements in charging infrastructure across the country have made it easier to make the switch from a combustion-engined car, too. 
There's a lot of choice available now as well. Previously the line-up was quite limited, but now you can get everything from a small city car to a large SUV, with electric power, and many are fast enough to take on any supercar. Plus, since electric cars cost just a few pounds to charge, they're cheaper to run than traditional cars, as well as being quieter and easier to drive.
If you're looking into buying an electric car, you've come to the right place, as we've put together a list of the 12 best electric cars to buy in 2021. You can also check out our lists of the best electric family cars, best small electric cars and cheapest electric cars – and don't forget to follow DrivingElectric on Twitter, Facebook, Instagram and YouTube for the very latest.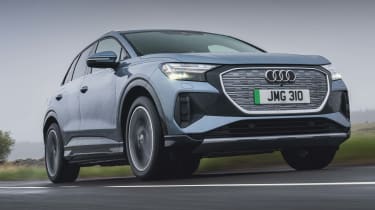 Audi Q4 e-tron
Audi is rapidly expanding its electric-car range and the Q4 e-tron is a fantastic option. It's more affordable than the other e-tron models, but just as impressive thanks to a range of up to 316 miles and 125kW rapid charging – sufficient for an 80% top-up in less than 40 minutes. The Q4 e-tron is spacious and has a big boot, so it makes a great family car, plus it's comfortable and easy to drive thanks to light controls. It's packed with tech, including optional adaptive suspension, which is excellent on bumpy roads. The cabin is well built and looks very modern, with interesting touches such as a squared-off steering wheel and the latest version of Audi's 'Virtual Cockpit' digital driver's display. Read our full review here.
Fiat 500
Winner of the 2021 DrivingElectric Car of the Year award, the latest Fiat 500 boasts a tastefully updated take on the iconic model's charming looks. That theme continues inside, where the 500 is stylish and high-tech, but not overly complex or excessively minimalist. On the road, the Fiat drives sweetly, with a better seating position and smoother ride than its sometimes-uncomfortable petrol-engined predecessor. The icing on this impressive cake is an affordable price: entry-level Action grabs attention at just over £20,000 and will be ideal for those who can live with its 115-mile range, but we Passion is the real value buy, adding extra kit, more power and a larger battery for a 199-mile range. Read our full review here.
Ford Mustang Mach-E
The Ford Mustang Mach-E is a family SUV that seems like it couldn't be further from the muscle car it shares a name with – yet its very punchy power delivery and enjoyable handling prove there's a family link. It's one of the best electric cars for driving, short of the mega-expensive Porsche offerings. The entry-level car has a decent range of 250 miles, but the Extended Range boasts an impressive 380 miles on a charge, plus 150kW charging speed. That means you can top up to 80% in about 40 minutes. The Ford is practical, quiet inside, has a really impressive cabin packed with technology and a huge Tesla-style touchscreen – although it's not as comfortable as some rivals. Read our full review here.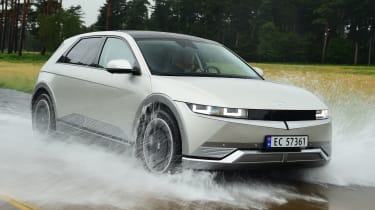 Hyundai Ioniq 5
The Hyundai Ioniq 5 is part of the next generation of electric cars and it shows the future is bright. It's truly futuristic in terms of design, with a look unlike anything else – both inside and out. The Ioniq 5 is comfortable, well priced and good to drive, plus it has around 300 miles of range in its most efficient form. Most impressively, it has 220kW rapid-charging capability, which means you can top up to 80% in an astonishing 18 minutes. Once 350kW chargers are commonplace, the Ioniq 5 will be a real solution to any lingering electric-car range anxiety. Read our full review here.
Jaguar I-Pace
This electric SUV is incredibly impressive. It combines a 90kWh battery with an all-wheel-drive electric-motor setup that delivers 395bhp. Even though this car is quite heavy, it's still rapid, doing 0-62mph in just 4.5 seconds. A claimed range of 292 miles on a full charge is also impressive, and we found in that 230 miles is easily achievable in the real world. On top of this, there are no compromises when it comes to packaging. It's roomy inside and the 638-litre boot gives plenty of luggage space. And in spite of the switch to electric propulsion, the I-Pace is still laced with Jaguar's DNA, so it steers brilliantly, rides smoothly and offers agile handling balanced with refinement. Read our full review here.
Kia e-Niro
With 282 miles of range and relatively affordable starting price, it's no wonder the Kia e-Niro was crowned  DrivingElectric Car of the Year in 2019. This SUV is comfortable, practical and great value for money, making it one of the best all-round packages on the electric-car market today. Featuring either a 39 or 64kWh battery, the e-Niro is well equipped inside with an eight-inch touchscreen, sat nav, heated leather seats, adaptive cruise control, a reversing camera and many other things besides. Its 451-litre boot is an ideal size for families, and Kia's seven-year/100,000-mile warranty is included, too. Read our full review here.
Polestar 2
Polestar is an offshoot brand from Volvo that produces more exclusive, sportier offerings available only with electrified powertrains. The brand's first pure-electric offering is this, the Polestar 2 – a rakish SUV designed to take on the Jaguar I-Pace and Tesla Model 3.Power comes from a pair of electric motors producing a total of 402bhp, fed by a 78kWh battery that provides a claimed 292-mile range. This is a fast car, with a 0-62mph time of under five seconds and effortless acceleration from any speed. We love the 2's cool styling and minimalist interior, as well as the way it drives: it's comfortable yet sporty and seems more agile than a car of this size and weight can be. Rear-seat headroom could be better for taller occupants, but otherwise this is a practical family car that manages to be deeply desirable. Read our full review here.
Porsche Taycan
The Porsche Taycan is a big deal in the performance-car market, as many people believe electric cars can't be as exciting as the petrol-powered supercars we're used to seeing. However, the Taycan shows that anything is possible, and that electric cars can still have the character to thrill driving enthusiasts. Three versions are available: the entry-level 4S, the mid-range Turbo and the top-of-the-range Turbo S. Prices start from just over £83,000, topping out at more than £138,000 for the ultra-fast Turbo S model. This promises a whopping 750bhp, with a 0-62mph figure of 2.8 seconds – quick enough to compete with most supercars. Top speed is 161mph; more than enough for those eyeing up the fast lane on Germany's autobahns. The cheapest 4S actually achieves the longest range in the line-up, with cars boasting the 93kWh battery option (there's a 73kWh unit, too) capable of up to 288 miles on a charge. For most, this will be the sweet spot, with 0-62mph in four seconds more than fast enough for everyday driving and grand touring. Read our full review here.
Renault ZOE
The Renault ZOE is one of the best electric cars on sale, thanks to a facelift in 2019 that gave it more range, more power and faster charging than the previous version. Today, the ZOE has a 52kWh battery that returns up to 245 miles of range, while there's a choice of electric motors generating 107 or 134bhp; acceleration times equate to 11.4 and 9.6 seconds respectively. This might not sound very quick, but both will complete 0-30mph in less than four seconds, making them nippy in town and city environments. As standard, the ZOE will accept a maximum charge of up to 22kW via a Type 2 charging socket, but buyers have the option of adding a CCS port for fast-charging of up to 50kW. Plug into a home wallbox delivering 7kW of power, and the ZOE will be fully charged from flat in under nine hours, while a 50kW fast-charger – increasingly common at forecourts and motorway service stations – will see a 20-80% in less than an hour. Read our full review here.
Skoda Enyaq iV
The Enyaq iV is Skoda's first dedicated electric car and the maker has come out of the blocks at quite a pace, as it's among the best you can buy. It's been given a little head start, because it shares lots of technology with the Audi Q4 e-tron above and Volkswagen ID.4 below; like those models, the Skoda is a great family car with plenty of range and a modern interior. The 80 model has 333 miles of range and 125kW charging capability, but like with most Skodas, it's the value for money and practicality that stand out. It's really spacious for passengers and luggage, as well as being well priced and good to drive. Read our full review here.
Tesla Model 3
This list wouldn't be complete without Tesla's most recent creation: the Model 3. It's available in three guises: Standard Range Plus, Long Range and Performance. The Standard Range Plus is the entry-level car, returning 254 miles of range from a single charge as well as a 0-60mph figure of 5.3 seconds. Then there's the Long Range: it has a range of 348 miles and it's slightly faster off the line than the Standard Range Plus. The Performance is the most impressive of the lot: its range is slightly down on that of the Long Range, but what it loses in range it makes up for in acceleration. 0-62mph is achieved in a mind-boggling 3.2 seconds, with a top speed of 162mph. Read our full review here.
Volkswagen ID.4
Volkswagen wowed us with its ID.3 electric family hatchback, but when the larger, more comfortable and more spacious ID.4 arrived, it showed even more promise. The ID.4 uses the same technology, so there's up to 323 miles of range and a punchy electric motor, plus 125kW rapid charging. The ID.4 is a comfortable car and really easy to drive thanks to  light controls, a high driving position and decent visibility. It's also roomy inside for passengers as well as luggage, so it makes a great choice as a family car. It's a shame the infotainment system is fiddly to use, but it's fairly easy to forgive when it looks as smart as it does in the upmarket – if a little plain – cabin. Read our full review here.
Best electric motorbikes 2021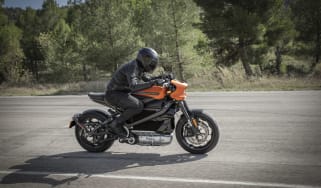 Best electric motorbikes 2021
More and more brands are getting in on the electric motorcycle action. Here's our pick of what's out there right now...
Osprey announces 150 new electric-car rapid charging hubs for the UK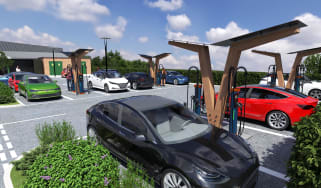 Osprey announces 150 new electric-car rapid charging hubs for the UK
First location in Wolverhampton to open in October 2021, with nine more to begin construction this year
How much is the Benefit-in-Kind company-car tax on an electric car?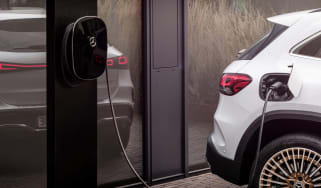 How much is the Benefit-in-Kind company-car tax on an electric car?
The company-car tax, or BiK rate, on electric cars is 1% during the 2021/22 financial year and will rise to just 2% in 2022/23, making a zero-emission…