Top 12 best electric cars 2022
What are the UK's best electric cars on the market in 2022? In no particular order, we run through our favourite new electric cars you can buy right now…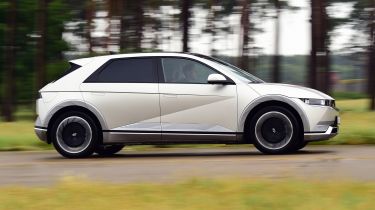 It's hard to imagine that just over a decade ago, the only electric car for the masses you could buy was the Nissan Leaf. But today, we're almost spoiled for choice, with a plethora of zero-emissions models ranging from city cars to super saloons now available. And the selection is constantly growing!
We already know Subaru, Toyota, Renault, Nissan, BMW, Lexus, Polestar, Hyundai and Kia – to name but a few – have new electric cars coming out within the next 12 months. The UK government's plug-in car grant (PiCG) also continues to help people make the switch to electric, while huge investments and improvements in charging infrastructure across the country are making it easier to live with electric cars and cover long distances, too.
Electric cars in general are hard to turn your nose up at, thanks to zero tailpipe emissions, rock-bottom running costs, stunning performance and silent powertrains making them more relaxing and easier to drive.
If you're looking into buying an electric car, you've come to the right place. We've put together our round-up of the 12 best electric cars to buy in 2022. Make sure to check out the winners of the 2022 DrivingElectric Awards as well to see what impressed us the most – and don't forget to follow DrivingElectric on Twitter, Facebook, Instagram and YouTube for the very latest.
Audi Q4 e-tron
The latest model to join the e-tron range is also the brand's most affordable zero-emissions model yet. It's just as impressive as its luxury SUV and saloon siblings thanks to a range of up to 316 miles and 125kW rapid charging – sufficient for an 80% top-up in less than 40 minutes. The Q4 e-tron is also spacious and boasts plenty of boot space, making it ideal for family-hauler duties, plus it's comfortable and easy to drive thanks to light controls. It's packed with technology, including optional adaptive suspension, which is excellent on bumpy roads. The cabin is well built and looks very modern, with interesting touches such as a squared-off steering wheel and the latest version of Audi's 'Virtual Cockpit' digital driver's display. Read our full review to find out more.
BMW iX
Sitting at the very top of BMW's rapidly expanding range of electric i models is the iX – winner of our Best Luxury Electric Car award. Like most of the German marque's machines, the styling of its flagship SUV makes it stand apart from rivals like the Audi e-tron and Tesla Model X, but so does the way it goes down the road. Quiet, comfortable and trimmed in some of the highest-quality materials in this segment, the iX feels suitably luxurious, but it's also great to drive, and capable of covering up to 381 miles on a charge if you go for the range-topping xDrive50 model with its 105kWh battery. Read our full review to find out more.
Fiat 500
Fiat has ditched the pump for the plug with the latest 500 city car. The winner of our Best Urban Electric Car award for 2022 and our Car of the Year for 2021 has a stylish and tech-filled cabin, which is pleasingly not overly complex nor excessively minimalist. On the road, the Fiat is fun to drive, with a better seating position and smoother ride than its sometimes-uncomfortable petrol-engined predecessor. The icing on this impressive cake is an affordable price: entry-level Action grabs attention and will be ideal for those who can live with its 115-mile range, but the mid-range Passion is the real value buy, adding extra kit, more power and a larger battery for a 199-mile range. Read our full review to find out more.
Ford Mustang Mach-E
The Ford Mustang Mach-E is a family SUV that seems like it couldn't be further from the muscle car it shares a name with – yet its very punchy power delivery and enjoyable handling prove there's a family link. It's one of the best electric cars for driving, short of the far more expensive Porsche Taycan. The entry-level car has a decent range of 250 miles, but go for the Extended Range model and the Mach-E can cover an impressive 380 miles on a charge, plus it boasts 150kW charging speeds. That means you can top up to 80% in about 40 minutes. The Ford is practical, quiet inside, has a really impressive cabin packed with technology and a huge Tesla-style touchscreen – although it's not as comfortable as some rivals. Read our full review to find out more.
Hyundai Ioniq 5
The Hyundai Ioniq 5 is part of the next generation of electric cars from the Korean carmaker, and it shows the future is bright. The Ioniq 5 is truly futuristic in terms of design, with styling that's more attention-grabbing than some supercars. But there's plenty of substance behind that space-age styling, as the Ioniq 5's cabin and ride are supremely comfortable, plus it's well priced and offers around 300 miles of range in its most efficient form. Most impressive, though, is its 220kW ultra-rapid charging capability, meaning that if you find a fast enough charging point, topping up from 10-80% takes just 18 minutes. Read our full review to find out more.
Jaguar I-Pace
The Jaguar I-Pace has been around for a few years now, but remains a benchmark for electric SUVs. It combines a 90kWh battery with an all-wheel-drive dual-motor setup that delivers 395bhp. Even though this car is quite heavy, it's still rapid, doing 0-62mph in just 4.5 seconds. A claimed range of 292 miles on a full charge is also impressive, and we found that 230 miles is easily achievable in the real world. On top of this, there are no compromises when it comes to packaging. It's roomy inside and the 638-litre boot gives plenty of luggage space. And in spite of the switch to electric propulsion, the I-Pace is still laced with Jaguar's DNA, so it steers brilliantly, rides smoothly and offers agile handling balanced with refinement. Read our full review to find out more.
MG ZS EV
Winner of our 2022 Car of the Year and Best Value Electric Car awards, the ZS EV is one of the most affordable EVs on the road – starting from under £30,000 – but can also cover up to 273 miles on a charge and comes with a respectable amount of kit as standard. For its recent facelift, the ZS EV's styling and infotainment have both been upgraded, with the latter now including a digital driver's display and a 10.1-inch central infotainment touchscreen with Apple CarPlay and Android Auto. There's plenty of space inside, too, and coupled with the 470-litre boot, the ZS EV should be ideal for most families. Better still, there's an even cheaper version to come. Read our full review to find out more.
Polestar 2
The Polestar 2 is the fledgling Swedish brand's response to the highly popular Tesla Model 3. Several versions of the electric coupe-SUV are now available, with the entry-level model using a single electric motor powered by 64kWh battery for a range of 273 miles. The top-of-the-range version, meanwhile, gets a dual-motor setup and thanks to an upgrade in 2021, now produces 469bhp, propelling the car from 0-62mph in 4.4 seconds. On the road, the 2 is comfortable yet sporty and seems more agile than a car of this size and weight can be. We also love its muscular styling, minimalist cabin and the fact that it's so practical. Read our full review to find out more.
Porsche Taycan
The Porsche Taycan proved that electric cars have the potential to be just as exciting and engaging to drive as enthusiast-focused petrol-powered models. The Taycan line-up has expanded significantly since the car was first introduced, with the first zero-emissions Porsche now available in two estate body styles (Cross Turismo and Sport Turismo) as well as regular saloon form. There are also several versions to decide between, from the entry-level rear-drive Taycan right up to the range-topping Turbo S, which packs 751bhp. In 2021, Porsche added a more driver-focused GTS model, which looks to be the sweet spot of the range, offering close to 600bhp from a dual-motor setup, as well as over 300 miles of range. Read our full review to find out more.
Renault ZOE
The Renault ZOE is one of the most popular electric cars on sale in the UK. It's powered by a 52kWh battery that returns up to 245 miles of range, while there's a choice of electric motors generating 107 or 134bhp, for 0-62mph times of 11.4 and 9.6 seconds respectively. That might not sound very quick, but both will do 0-30mph in less than four seconds, making them nippy in towns and cities. As standard, the ZOE will accept a maximum charge of up to 22kW via a Type 2 charging socket, but buyers have the option of adding a CCS port for rapid charging at up to 50kW. Plug into a home wallbox delivering 7kW and the ZOE will be fully charged from flat in under nine hours, while a 50kW public charger will see you from 20-80% in less than an hour. Read our review for more.
Skoda Enyaq iV
The Enyaq iV is Skoda's first dedicated electric car, and undeniably one of the best on sale now. The zero-emissions SUV is an ideal family car, offering boatloads of practicality; a spacious, modern and tech-filled cabin; excellent refinement and a solid real-world driving range of between 255 and 336 miles depending on which model you go for. It's also competitively priced and gets the brand's usual 'Simply Clever' features like umbrellas hidden in the doors. The fact every version now gets rapid charging as standard is just icing on the cake. Read our full review to find out more.
Tesla Model 3
This list wouldn't be complete without Tesla's biggest-selling creation yet: a car that all others are gunning for thanks to its rapid-charging technology, refinement and performance. The Model 3 is available in three guises – Standard Range Plus, Long Range and Performance – all of which feature a minimalist yet classy interior. The entry-level Model 3 can cover up to 305 miles on a charge, as well as accelerate from 0-62mph in under six seconds. Then there's the Long Range, which boasts a range of 360 miles and 4.2-second 0-62mph time. The Performance is the most impressive of the lot: its range is reduced to 340 miles, but it makes up for that with searing performance: 0-62mph is achieved in a mind-boggling 3.2 seconds and top speed is 162mph. Read our full review to find out more.
Audi Q8 e-tron: New name on the cards as part of 2022 facelift for e-tron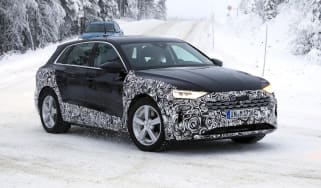 Audi Q8 e-tron: New name on the cards as part of 2022 facelift for e-tron
Top 10 best plug-in hybrid SUVs 2022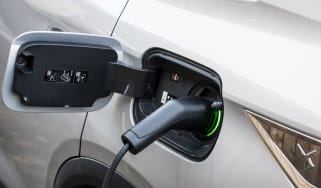 Top 10 best plug-in hybrid SUVs 2022
The finest plug-in hybrid SUVs offer low running costs, enough electric range for daily use and excellent practicality. These are the best plug-in hyb…
Top 10 best plug-in hybrid cars 2022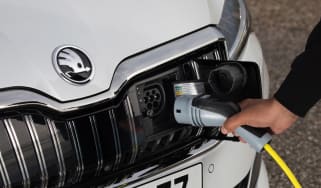 Top 10 best plug-in hybrid cars 2022
Plug-in hybrid cars are great for keeping fuel and company-car tax bills low. Here are the best ones to buy in the UK right now
Top 10 best luxury electric cars 2022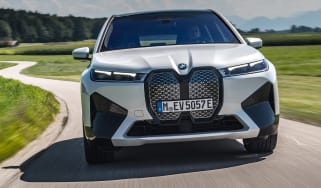 Top 10 best luxury electric cars 2022
From Audi to Tesla, here are our top picks of the most luxurious zero-emissions motoring options on the market right now