Volkswagen e-BULLI previews electric T1 conversion
VW launches eClassics division to convert and build retro vans with modern electric car technology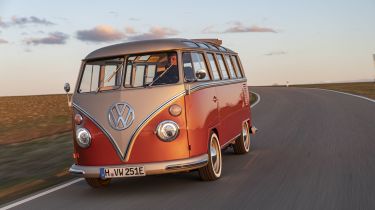 Volkswagen Commercial Vehicles has revealed the e-BULLI electric van. It was due to be unveiled at the postponed Techno Classica show, but the company has subsequently previewed it online.
The e-BULLI is built by Volkswagen's eClassics divisions and uses a 45kWh battery to power an 82bhp electric motor, which is almost twice as powerful as the original T1's four-cylinder petrol engine.
The motor produces 212Nm of torque – again, around twice as much as the original. Volkswagen says the e-BULLI is limited to 81mph – the same as the recently updated e-up! city car.
The electric drive system is all built in-house at the Volkswagen Group's facility in Kassel, Germany. The batteries are mounted centrally under the floor, which the company says "lowers the e-BULLI's centre of gravity and thus improves its driving characteristics". Every e-BULLI is rear-wheel drive.
CCS charging allows owners to top up the e-BULLI's battery to 80% using 50kW fast chargers in around 40 minutes. It can also charge at up to 22kW on an AC charger; a full charge results in around 124 miles of range.
Visually, the e-BULLI keeps all its retro styling cues – and looks almost indistinguishable from the original on the outside. The two-tone paint has been updated for 2020, and there's a set of LED headlights – as well as a battery charge indicator at the rear.
Inside, the interior has been overhauled with a two-tone colour scheme, push-button start, and the gearlever from the latest T6.1 Transporter van. There's solid wood on the floor, a panoramic folding roof and seating for eight. The digital displays and LED lighting further emphasises the modern edge.
This is not just a show car, however, as Volkswagen will be offering electric conversions – as well as fully built restored classics – of its T1, T2 and T3-generation vans. Prices for the T1 conversion start from €64,900 (£59,000), while all necessary parts will be available as a kit, too.
New Volkswagen ID.7 brings the fight to the Tesla Model 3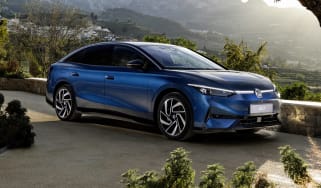 New Volkswagen ID.7 brings the fight to the Tesla Model 3
Volkswagen ID.7 Tourer is the sensible electric estate we've been waiting for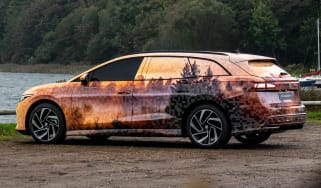 Volkswagen ID.7 Tourer is the sensible electric estate we've been waiting for
Volkswagen ID. GTI Concept brings the GTI badge into the electric age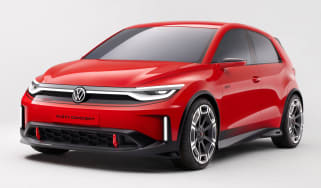 Volkswagen ID. GTI Concept brings the GTI badge into the electric age
First contact: facelifted Kia EV6 will look even more like a UFO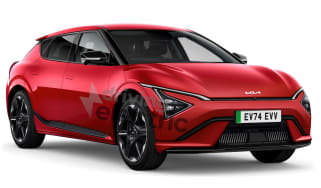 First contact: facelifted Kia EV6 will look even more like a UFO
Kia is readying an update for the EV6 crossover, which is set to include a new face and tech from the larger EV9
New Fisker Ocean Sport washes up in the UK: £36k for a 288-mile range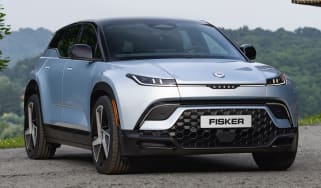 New Fisker Ocean Sport washes up in the UK: £36k for a 288-mile range
American EV startup Fisker has just launched its entry-level Ocean SUV in the UK, with a range of up to 288 miles
Electric Renault Twingo revealed as £17k rival to Citroen e-C3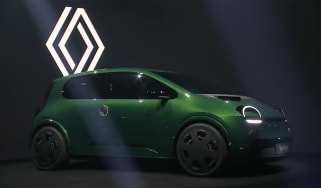 Electric Renault Twingo revealed as £17k rival to Citroen e-C3
Renault has unveiled its smallest EV yet; a sub £20k city car with a claimed high level of efficiency