Porsche 911 hybrid set for 2023 launch
Porsche confirms that development of a hybrid Porsche 911 is underway – but it won't arrive until 2023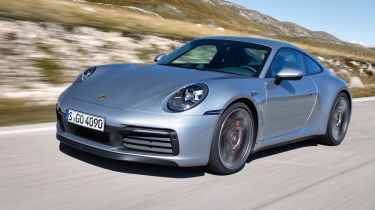 The Porsche 911 is set to gain a hybrid or plug-in hybrid variant by 2023, company bosses have confirmed. Speaking to our sister title Auto Express, Porsche's head of research and development Dr. Michael Steiner suggested that the electrified 911's final form has not yet been decided upon. 
"The platform is hybrid-ready, and we have prototypes. I drive it myself; it's fun to drive," Dr. Steiner told Auto Express. "One thing that should be decided on is whether it's more performance-orientated hybrid or range-orientated plug-in hybrid. This is one of the main decisions we have to take – deciding which direction such a variant of the 911 should take."
Insiders at Porsche have said that cars like the Porsche 918 Spyder and Porsche Cayenne hybrid have informed the hybrid 911's development, helping it to remain agile – but also that the company's engineers aren't happy with the weight penalties a large battery brings.
Porsche engineers have suggested that the associated four-wheel-drive system can be a plus point, however, adding traction and handling flexibility to the 911's already stellar dynamics. 
"It's also once again to do with weight," Steiner told Auto Express. "The more range you would like, the more weight you have to add, but if you're only looking for performance, you could have a really small battery that boosts the car and regenerates under braking."
Porsche anticipates that pure-electric cars will make up 25% of its global sales by 2025, with 25% of sales being hybrid cars and the remaining 50% using traditional petrol power.
Given the success of the hybrid Panamera models – they make up 75% of UK Panamera sales – Auto Express' source suggests that these figures could be subject to change as the marketplace adjusts to pure-electric and hybrid cars.