Citroen DS electric conversion unveiled by Electrogenic
This converted electric DS retains the model's famous 'magic carpet' ride thanks to components developed to preserve the trademark serene driving experience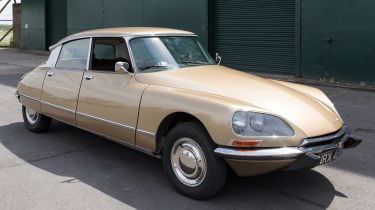 This 1971 Citroen DS is the latest electrified creation from Electrogenic: an Oxford-based classic-car conversion company behind several 'world first' conversions. It's claimed to be the first professional battery-electric converted DS.
While the DS' original manual transmission remains and power is still sent exclusively to the front wheels, in place of the original 2.0-litre petrol engine, Electrogenic has fitted one of its 'Hyper9' electric motors that, in the Citroen, produces 120bhp and 235Nm of torque.
Under the DS' iconic saloon body is a 48.5kWh battery, which makes the zero-emissions DS capable of covering up to 140 miles on a charge. Electrogenic has also equipped the DS with a 29kW charger, allowing the owner to top up the battery in around two hours from a fast enough charging point. A larger battery is available from Electrogenic as well, if customers want a range of over 200 miles.
The original DS was famous for its plush ride quality and self-levelling suspension, however the original hydro-pneumatic system used a noisy mechanical pump that would spoil the serene driving experience created by the new electric powertrain. To fix this, Electrogenic created its own silent electric pump to power the system.
Steve Drummond, director and co-founder of Electrogenic, said of the company's latest conversion: "Repowering classic cars with all-electric drive brings a number of benefits, from ease of use to reliability and performance gains. But with our conversions, the aim is always to enhance the original characteristics of the car. In this respect, the Citroen DS was ideally suited to an electric conversion – the silent powertrain adds to the serene driving experience and fits perfectly with the character of the car."
In addition to its one-off projects like this Citroen DS and the Triumph Stag and Morgan 4/4 conversions unveiled earlier this year, Electrogenic also offers conversion packages for the Jaguar E-Type, available with up to 396bhp and 600Nm of torque, with a maximum driving range of 250 miles on a full charge.
BMW i4 facelift to topple Tesla with huge range and tech upgrades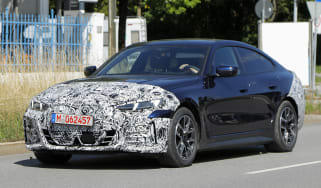 BMW i4 facelift to topple Tesla with huge range and tech upgrades
An updated version of the BMW i4 has been spotted testing, likely sporting a longer range and the latest technology
Electric BMW iX2 is set to take the kidney grille to the next level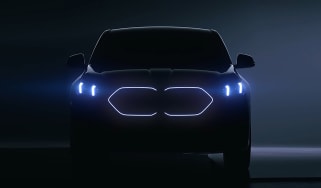 Electric BMW iX2 is set to take the kidney grille to the next level
BMW has teased the highly-rumoured iX2 coupe-SUV, which has been revealed to get enlarged illuminated kidney grilles