Morgan 4/4 and Triumph Stag are latest classic cars to get electric conversion
Electrogenic aims to create guilt-free, zero-emissions classic-car experiences with its conversions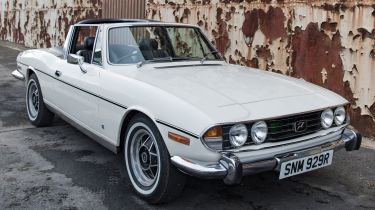 Classic-car electrification company Electrogenic has created two 'world first' conversions: a 1976 Triumph Stag and a 1957 Morgan 4/4.
Both are believed to be the first cars of their type to be transformed from petrol to completely zero-emissions powertrains. Gone are the Stag's original 3.0-litre V8 and the Morgan's four-cylinder, as both have been replaced by Electrogenic's 'Hyper9' electric motor.
The 'Hyper9' motor produces 106bhp and 235Nm of torque, and in both cars has been coupled to the original manual gearboxes. In place of their fuel tanks (and in the Triumph's case, its spare wheel, too) sits a 37kWh battery, which Electrogenic claims will provide 150 miles of driving range.
Charging should also be easy, as Electrogenic has fitted Type 2 charging connectors to both. Ian Newstead, the company's director and co-founder, said: "We love the challenge of converting beautiful classic cars with technology that means they'll be able to continue to be used guilt-free, even in our cities, for years to come.
"Working on first-time conversions such as the Stag and the Morgan 4/4 helps us to continue honing both our technology offering and our knowledge of the integration process in different body types, and means we maintain our position as a leader in classic car electrification."
"Converting older cars like these to electric power is about using modern technology to bring out the best characteristics in the cars," said Steve Drummond, Electrogenic's other co-founder. "For us this means increasing power within the capabilities of the original vehicle, optimising weight distribution and not using too many batteries to keep the handling crisp and precise.
"Our systems also allow us to maintain the originality of the rest of the car, which is a really important factor for us. For example, it means that we can repurpose the original instruments to keep the interior as untouched as possible. Ultimately, what we're always trying to do with our conversions is to make the cars we've been entrusted with into 'better versions of themselves'."
Electrogenic is an Oxford-based electrification company that has already converted a number of classic cars to electric power, including a 1963 Volkswagen Beetle and a Series 2 Land Rover.
BMW i4 facelift to topple Tesla with huge range and tech upgrades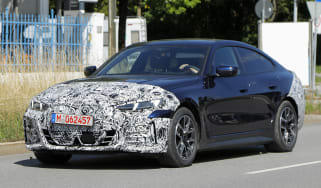 BMW i4 facelift to topple Tesla with huge range and tech upgrades
An updated version of the BMW i4 has been spotted testing, likely sporting a longer range and the latest technology
Electric BMW iX2 is set to take the kidney grille to the next level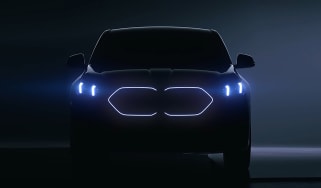 Electric BMW iX2 is set to take the kidney grille to the next level
BMW has teased the highly-rumoured iX2 coupe-SUV, which has been revealed to get enlarged illuminated kidney grilles