Renault's e-Plein Air is a Renault 4 electric car ready for the beach
Renault creates electric e-Plein Air to celebrate 10th anniversary of the Renault 4L International event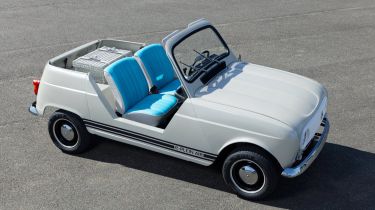 Renault Classic has marked the 10th anniversary of its 4L International festival by creating an electric version of the popular Renault 4.
Called the e-Plein Air, the one-off vehicle is a nod to the Renault 4 Plein Air beach vehicle of the 1960s.
The e-Plein Air's powertrain and battery have been lifted from a Renault Twizy, giving the vehicle 17bhp and a range of 62 miles; the latter figure, however, was derived from the now-defunct NEDC efficiency test, with real-world range in the region of 50 miles.
Officially the Twizy has a top speed of 50mph, although Renault claims to have hit 53mph in the e-Plein Air during testing, with a maximum figure of 62mph still thought to be possible.
The car weighs 580kg, including the weight of the 6.1kWh battery. With a Type 2 charging socket, the e-Plein Air should be fully recharged using a standard 7kW wallbox in less than an hour.
Numerous changes have been made to the exterior of the donor vehicle: the wheelbase has been shortened and the wheels are bigger, referencing the JP4 incarnation of the Renault 4L from the 1980s.
The white paint is a unique blend made specially for the e-Plein Air and there's a custom-built grille replacing the previous item.
Inside, the seats have been reupholstered with an eye-catching, blue material, while a picnic hamper features in the rear. The steering wheel and dashboard remain the same, although the instrument cluster has been borrowed from the Twizy.
Renault has no plans to put the car into production, but says it will monitor the public's reaction to its creation. The carmaker is eager to be seen as a leader in the electric vehicle field and has turned its attention to one of its most popular classic models following the electrification of other iconic vehicles such as the Mini and Fiat 500.
The Renault e-Plein Air isn't the first electrified beach vehicle to emerge this year: in March, Volkswagen unveiled its ID. Buggy concept based on the firm's MEB electric-car platform. The company says MEB could support both mass-production and low-volume electric vehicles, meaning the ID. Buggy could become a reality in the future.
Electric Renault 5: prices, 2024 launch date and teaser images of the MINI Cooper rival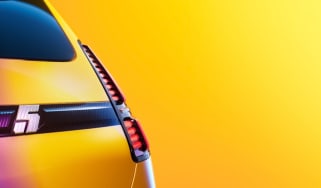 Electric Renault 5: prices, 2024 launch date and teaser images of the MINI Cooper rival
MINI Cooper Electric: pricing and specs for British-built electric supermini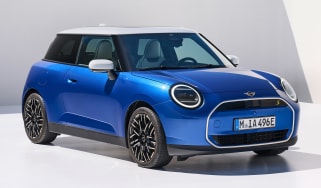 MINI Cooper Electric: pricing and specs for British-built electric supermini
MINI's latest electric hatchback introduces a revolutionary interior design, as well as larger batteries to provide a 250-mile range
DrivingElectric Awards 2024: the winners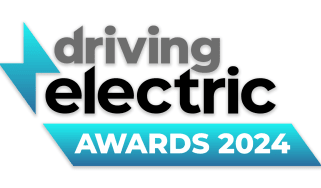 DrivingElectric Awards 2024: the winners
We celebrate the very best products in the EV world
The Kia EV9 is DrivingElectric Car of the Year 2024
The Kia EV9 is DrivingElectric Car of the Year 2024
Kia's new electric flagship wins big at DrivingElectric's annual awards ceremony