Best home electric car chargers 2023: how to choose the right EV wallbox
If you're buying an electric or plug-in hybrid car and you have a driveway or off-street parking, then you'll want a home EV charger to top up its battery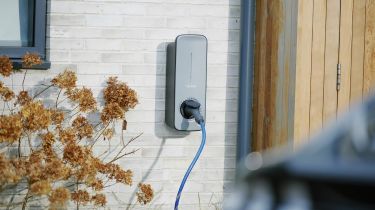 Before buying your first electric or plug-in hybrid (PHEV) car, you'll need to think about where and how you're going to charge it. If you live in a flat or house without a driveway, there are plenty of on-street charging solutions for you, but for drivers with off-street parking, such as a driveway or garage, the best solution is usually to charge at home from a wallbox.
Indeed, even at the rate the UK's public charging network is growing, most experts think home charging is likely to remain dominant method for keeping EVs topped up in the short to medium term. It's easy, convenient, and often cheaper than charging while out and about, too.
But with so many companies offering home electric-car chargers, how do you choose? Below you'll find all you need to know – including opinions from existing owners, as well as the results of extensive testing by our team of EV experts. At the very bottom of this page we've included a few frequently asked questions, as well.
So whether you're after the latest feature-packed wallbox, or something simple but secure, keep reading for everything you need to know…
Best home electric-car chargers as voted by EV drivers
The first thing to do when searching for a new product – whether it's a television, smartphone or an electric-car charger – is to read some owner reviews. Getting opinions from real-life customers gives you a sense of what they like and don't like, helping you make an informed decision before spending your hard-earned cash.
Below we've extracted the information from the latest Driver Power satisfaction survey, in which electric car owners ranked their home chargers in various categories – from the installation process to ease of use, customer service and app connectivity. The owners of these chargers are a very happy bunch; picking a wallbox from this list is a great starting point.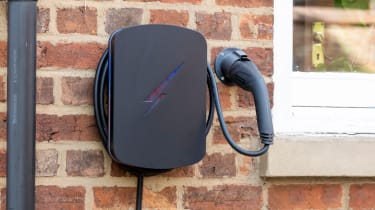 1. Hypervolt - 92.32%
It was a landslide victory for Hypervolt, after taking the first place in seven out of the nine categories in the 2022 Driver Power survey. According to those who responded, the installation process couldn't be simpler and the physical units look great and are very well built. Hypervolt's customer service impressed owners, too, who also said that the smartphone app for the chargers is easy to use. Taken together, awarding the Hypervolt Home 2.0 our Best Home Charger award for 2023 was a no-brainer.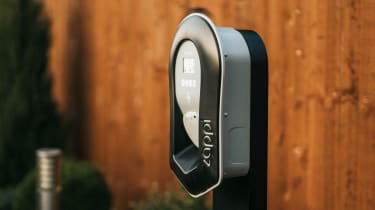 2. Zappi - 89.36%
Winner of our Best Home Charger award last year, Zappi may have missed out on the top spot in this year's survey, but it still received a respectable set of scores across the board. The wallbox from British firm myenergi was ranked second best for build quality, charging speed and customer service. Zappi also performs well when it comes to reliability and the ease of installation.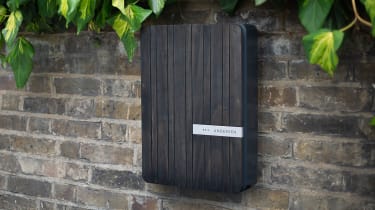 3. Andersen – 87.40%
Andersen's chargers are some of the most expensive on the market, but that's not too surprising considering it's Porsche's recommended charging-point provider. They're also some of the most stylish chargers you can buy, according to owners, who were equally pleased with the ease of use and build quality. Some owners weren't best pleased with the speeds their chargers were providing, but otherwise there were few complaints to go around.
Best home electric-car chargers as tested by our experts
As well as listening to what real owners have to say, you may also be interested in the expert view. Here, we've reviewed some of the newest models on the market – from the cheap and cheerful Rolec, to the minimalist EO Mini Pro. We've rated them in different areas, and discussed some of the different features available.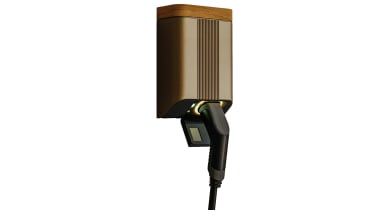 Simpson & Partners Home Series
Partnership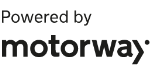 Need to sell your car?
Find your best offer from over 5,000+ dealers. It's that easy.
Price From £649
Tethered/untethered +£50/yes
Timer Yes
Solar compatible Yes
Size 286 x 196 x 111mm
Rating 5/5 stars
Of the seven home wallbox chargers we've tested in 2023, the Home Series from Simpson & Partners came out on top. We were impressed with the unit's ease-of-use, and the overall fit-and-finish was very good, too. The tethered units can also come with incredibly long cables, ranging from 6.8m to 10m, depending on which version you go for.
The Home Series has you covered if you want to customise the charger's looks: you can pick from a selection of finishes, and with either a metal or wooden lid. Make sure you don't go overboard, though – you could be looking at a four-figure price tag if you're not careful with the options.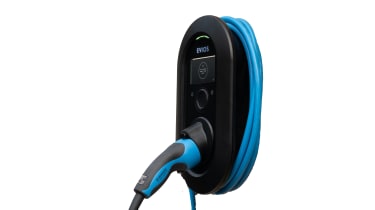 EVIOS One
Price From £675
Tethered/untethered Yes/no
Timer Yes
Solar compatible Yes
Size 221 x 396 x 137mm  
Rating 4.5/5 stars
Style-conscious buyers may not be won over with the EVIOS One's looks, though if desirability isn't a major concern, then it's worth putting on your radar. The One is easy to use through the touchscreen controls, and the accompanying mobile app is pretty intuitive as well. Overall, you shouldn't have problems using the EVIOS day-to-day.
The feature list on the EVIOS One is pretty generous, as well – we especially like how each user gets their own PIN, which is handy if the wallbox will be installed in a house share or communal car park. Do be aware that the EVIOS only comes as a tethered unit – if you want a wallbox that you can plug your own cable into, you'll need to look elsewhere.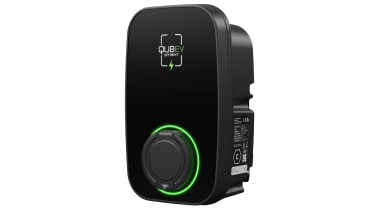 Rolec QUBEV Smart
Price From £449
Tethered/untethered +£30/yes
Timer Yes
Solar compatible Yes
Size 200 x 330 x 109mm  
Rating 4/5 stars
Much like the plug-in hybrid and electric cars they'll be recharging, many home wallbox units cost a pretty penny. Handily, there are some affordable options, with one of the better ones we've tried out being Rolec's QUBEV Smart.
Despite the low cost, the QUBEV is quite well-equipped, and the accompanying mobile app is also impressively useful. Like many other wallboxes, you'll need to pay a bit more for one with a built-in cable, but even then the price increase from an untethered to a tethered unit is just £30. If you can look beyond the unit's size and looks, the QUBEV Smart is worth considering.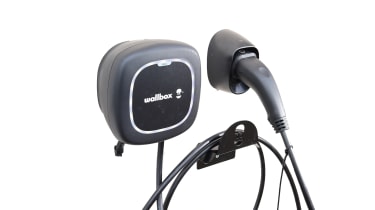 Wallbox Pulsar Max
Price From £525
Tethered/untethered Yes/No
Timer Yes
Solar compatible Yes
Size 198 x 201 x 99mm
Rating 4/5 stars
The Wallbox Pulsar Max shares its four-star rating with the Rolec QUBEV Smart, though it doesn't represent quite as good value for money. However, if your budget can stretch to it, the Pulsar Max may be worth a look.
It's much more compact than the Rolec, for instance, so the Pulsar Max makes sense if you want something a bit more discreet. The associated tech is also pretty handy – we like the Pulsar Max's easy-to-use smartphone app, though on occasion we found discrepancies between the built-in Amazon Alexa voice controls and the LED ring which shows your car's charging status.
Ohme Home Pro
Price From £560
Tethered/untethered Yes/no
Timer Yes
Solar compatible No
Size 170 x 200 x 100mm
Rating 3.5/5 stars
If you want a really compact wallbox charger, then you may want to put the Ohme Home Pro on your shortlist. It's admittedly a bit bigger than Ohme's other wallbox offering, the ePod, though that one makes do without an LCD screen so we reckon the Home Pro's larger dimensions are worth it for the better functionality.
Another plus point for the Ohme Home Pro is that it's compatible with the energy provider Octopus' Intelligent off-peak evening charging tariff. Like other smart home wallboxes, the Home Pro can receive over-the-air software updates, though unlike others it doesn't connect to the Internet through WiFi – it instead uses a 3G/4G mobile data connection.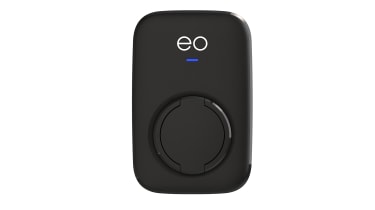 EO Mini Pro
Price From £520
Tethered/untethered +£40/yes
Timer Yes
Solar compatible Yes
Size 230 x 151 x 125mm  
Rating 3.5/5 stars
Reasonably priced, small in size and discreetly designed, the third-generation EO Mini Pro makes a decent case for itself if you're after a compact home wallbox unit. It helps, too, that the mobile app connects quickly and without fuss; you need this to operate the charger as it has no display screen or button functionality to speak of.
One concern with the EO Mini Pro is that, when compared with some similarly-priced rivals, it's lacking in some features. For example, solar compatibility is only available on the Mini Pro as an optional extra. Due to its small size, the tethered models can only be fitted with a 5m cable, so the EO isn't ideal if you need a long cable on your home wallbox.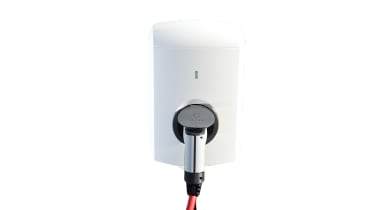 Hive Alfen Eve S-Line
Price From £439
Tethered/untethered +£85/yes
Timer Yes
Solar compatible No
Size 240 x 370 x 130mm
Rating 3/5 stars
For value, the Hive Alfen Eve S-Line does stack up fairly well. It's one of the more affordable chargers in this test (though the tethered models are quite a bit pricier than the untethered ones), and the offers available through British Gas can help sweeten the deal even further. Using the Hive mobile app, you can also schedule charging for when your energy tariff is at its cheapest.
However, other chargers out there do offer a similar feature-set to the Hive, and in order to use that app you will need a mobile data connection. The Alfen Eve S-Line is also very big (it's by far the largest wallbox in this test), which may put off those who'd prefer something that's a bit less brash.
How do I charge an electric car at home?
So, how do you charge an electric car at home? A regular three-pin plug will draw a maximum charge of 3kW, which is too slow to fully charge most electric cars in a useful amount of time, even if left overnight. However, installing an EV wallbox charger at home will bring down charging times, making electric-car ownership considerably more viable.
What is a home wallbox charger?
A home wallbox charger is a unit that's installed either in your garage or outside your house – whichever is nearer to where you park your car. This is connected to your home's mains electricity and virtually all of these devices will charge your car at a faster rate than and more safely than can be achieved using a normal three-pin plug.
There are various other benefits: you don't need to run an extension cord from your home, which could be hazardous; wallboxes are weatherproof, so they can be used in all conditions; some units are also 'smart' and can be controlled remotely with an app on your phone.
What types of home wallbox chargers are there?
There are dozens of different companies offering home wallbox chargers. The factors you'll need to consider are price, ease of installation, charging speed, connector and cable type, compatibility with your home and even how the wallbox looks. In 2014, the European Commission ruled that all public charging points should feature Type 2 connector compatibility. This is why new electric cars and PHEVs often feature Type 2 plugs and cables – and why most home wallbox chargers are also intended for vehicles with Type 2 cables.
It's also worth noting that some manufacturers have partnerships with a certain wallbox supplier, so it's worth checking if they can fit one at your home for a discounted price as part of the deal.
You then choose whether you want a tethered or untethered wallbox. A tethered point means the wallbox comes with the charging cable attached, which plugs straight into your car. While some argue this isn't as futureproof as a socketed wallbox, there's always the possibility of purchasing an adaptor later on.
An untethered wallbox comes with a standard plug, into which you have to run your own cable. These are often supplied with the car, but if not, can be bought from third-party suppliers for around £150. However, the benefit is that if you swap cars or new charging technology comes along, the only thing you need to change is the cable.
What speeds do they charge at?
Basic home chargers typically start at 3kW, though these are becoming less common as technology advances. Most units now reliably deliver 7kW of power, with the priciest units pushing out as much as 22kW – though you'll need three-phase electricity to take advantage of these speeds. This isn't common in UK homes. 
Naturally, the price of the chargers goes up as you move through the power bands. A 3kW wallbox will fully charge the 39kWh battery in a standard Nissan Leaf in around 13 hours – giving you 168 miles of range overnight. A 7kW system will do the same job in roughly six hours, while 11kW or 22kW chargers slash this even further. Not all cars feature the on-board charger necessary to operate at these speeds, however.
Before you choose your wallbox, it's worth thinking about your daily mileage and driving requirements. If you drive only a limited amount each day, bringing the car back with a healthy amount of battery remaining, you perhaps only need a 3kW charger to slowly recharge the vehicle overnight. If you do a lot of driving, often arriving home with little charge left, and you need to use your car regularly throughout the week and at weekends, then a faster charger may be a better option. A more powerful charger may also future-proof you if you're likely to buy an EV with a large battery in the coming years.
It's worth noting that the maximum charging speed your house can deliver depends on the type of electricity supply it receives: most UK households have what's known as a 'single-phase' connection, while larger buildings and factories tend to have more powerful 'three-phase' connections. Consult an electrician to advise on what to expect from your home, in case you end up buying a high-power wallbox that you later realise you can't make full use of.
What is the OZEV grant?
Some wallboxes qualify for the Office for Zero Emissions Vehicles' (OZEV) EV chargepoint grant, although this is no longer available for most homeowners from April 2022. Now, you'll need to be living in a flat, apartment or rented property to take advantage of this offer. Do also be aware that there can be additional complications getting a charging point installed in these circumstances.
This grant is a Government subsidy to reduce the cost of home wallbox installation, covering up to 75% of the purchase price, with a maximum contribution of £350. It shouldn't be confused with the now-discontinued Plug-in Car Grant (PiCG), which offered savings on the purchase of the electric car itself.
In addition to what's mentioned above, to be eligible for the OZEV grant, you need to meet the following points:
You have dedicated off-street parking
You own, lease, have on order, or use eligible electric or plug-in hybrid vehicle for work purposes
Your plug-in vehicle was purchased after 1 October 2016
You have not already claimed the grant for your vehicle
By claiming the grant, you're not exceeding the limit of two OZEV-funded charge points per house
From July 2019, the criteria for the grant was updated to insist that eligible chargers must be 'smart': this means being able to connect to the internet to be operated remotely – using a smartphone, for instance – so that charging times can be scheduled. A list of approved models and installers is provided on the Government's website. This is useful for two reasons: firstly, it can help prevent peaks in electricity demand, which could put a strain on local infrastructure, and secondly it'll help you charge when demand is lowest (usually overnight), saving you money.
How long does it take to install a wallbox?
Most charging-point providers will supply and install the home wallbox within a week, however periods of high demand may mean it takes longer to book a slot. Many providers include the installation cost in the purchase price, with the installation done by a qualified technician.
However, this isn't always the case. Certain special circumstances may mean you'll be charged extra for the installation, but this is unlikely. One company says that 90% of customers have their home wallbox installed free of charge, but as electric cars become the norm, this proportion is likely to gradually decrease.
Hopefully that answers all of your questions, but if there's anything you're unsure of, drop us a line at hello@drivingelectric.com…
First contact: facelifted Kia EV6 will look even more like a UFO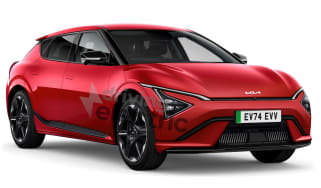 First contact: facelifted Kia EV6 will look even more like a UFO
Kia is readying an update for the EV6 crossover, which is set to include a new face and tech from the larger EV9
New Fisker Ocean Sport washes up in the UK: £36k for a 288-mile range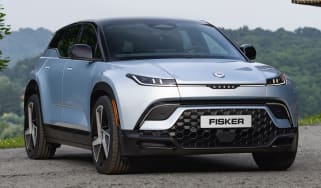 New Fisker Ocean Sport washes up in the UK: £36k for a 288-mile range
American EV startup Fisker has just launched its entry-level Ocean SUV in the UK, with a range of up to 288 miles
New Vauxhall Vivaro Electric is cheaper, yet has more range and tech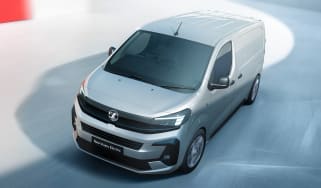 New Vauxhall Vivaro Electric is cheaper, yet has more range and tech
Vauxhall has given its Vivaro Electric panel van a mid-life refresh with a new face and some of the latest tech