What is Apple CarPlay? Electric cars with CarPlay
Smartphone connectivity is standard on almost all new electric cars, so here's everything you need to know about Apple CarPlay and its benefits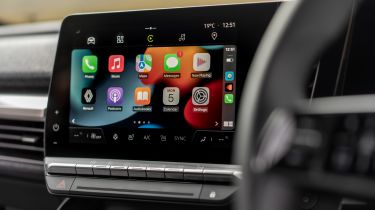 Apple CarPlay is a piece of software that allows iPhone users to project the contents of their smartphone onto a car's infotainment display, and use their favourite apps for music or navigation whilst on the road. These days CarPlay is standard on the majority of new cars – over 600 models in fact, many of which are electric – and it doesn't require any subscription or additional apps to use.
Most cars require you to plug your iPhone into a USB port to access CarPlay, but certain trim levels on some cars now feature wireless CarPlay. Once you're connected, as well as the central touchscreen, you can also use a car's physical controls with apps, or the voice control button to activate Apple's Siri virtual assistant.
In addition to using your favourite apps for music and navigation, the other benefits of CarPlay include the straightforward and intuitive layout, as the large buttons and icons for apps are identical to an iPhone's screen. Plus, because your iPhone will be connected to the internet, your navigation can receive up-to-date traffic information and even alter your route to avoid the resulting delays.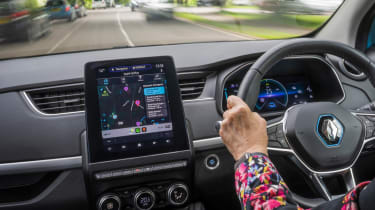 Apps compatible with Apple CarPlay
You won't have access to all of your phone's apps via CarPlay; it's not considered safe to allow users to play Angry Birds or send a tweet while doing 70mph on the motorway. But CarPlay does let you make phone calls, send messages and look up contacts, as well as access your music through your iPhone's built-in Apple Music or third-party apps like Spotify.
The list of apps compatible with Apple CarPlay has also grown a lot since the software was first introduced in 2014. BBC Sounds, Audible and Amazon Music are among them, as are Waze and Google Maps for navigation. 
Some other CarPlay-compatible apps that electric car owners will find useful are ChargePoint, PlugShare and Zap-Map, which can help you find nearby charging points. It's worth noting you will need a subscription to use Zap-Map with CarPlay.
How to connect Apple CarPlay
Using CarPlay is pretty effortless and you can connect your iPhone to your car in an instant. All CarPlay systems can be connected via the car's USB or USB-C socket, and an increasing number of cars now offer a wireless connection, too. You will also need to make sure that Siri and your WiFi are turned on.
Once you're connected just follow the brief on-screen instructions asking you to unlock your phone. This will permit CarPlay to access the contents of your phone, after which you're done. You'll only need to do this once as your iPhone will log the connection you've made to your car, so that the next time you connect, it will start working automatically.
When you connect CarPlay, the car's infotainment screen will show a menu of the compatible apps. There's also a personalised home screen with widgets for your most frequently used apps, and a row of icons for the three last used apps on the side of the screen closest to the driver.
Using CarPlay is far easier and safer to do than trying to use your iPhone while driving, which of course is an offence that's punishable by a fine and points on your licence.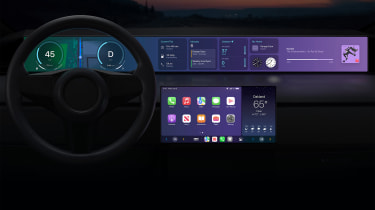 Updates and new features
Apple CarPlay is being constantly updated and improved, meaning new apps and additional features are appearing on a regular basis. In 2021, Apple even introduced the ability to use an iPhone to unlock and start certain cars – including some of the latest BMWs.
Partnership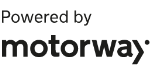 Need to sell your car?
Find your best offer from over 5,000+ dealers. It's that easy.
A major update due to arrive in late 2023 will see CarPlay's functionality expanded even further to include the driver's displays in certain cars – exactly which will be announced later this year. Next-generation CarPlay will display key dashboard readouts, such as the speedometer, as well as being able to directly control some of the car's functions, including the cabin temperature. Volvo was one of the first manufacturers to confirm that its cars will use this new system, but we expect more will follow suit considering CarPlay's popularity.
What if my car doesn't have Apple CarPlay?
As mentioned, there are more than 600 models currently compatible with Apple CarPlay, though some brands still haven't embraced it – including Tesla. You can still connect your smartphone to Teslas, but you then have to rely on the car's built-in music and navigation apps.
If you have an older car that doesn't feature Apple CarPlay it's possible to retrofit the software to some, or get it by installing an aftermarket infotainment system like those from Alpine, Kenwood and Pioneer.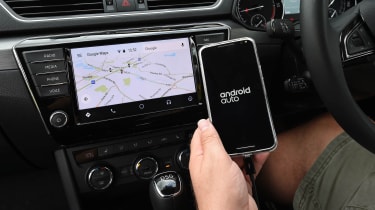 What if I don't have an iPhone?
Fear not, because Google offers a similar setup called Android Auto that allows owners of Samsung, OnePlus, Google Pixel and other smartphones to perform many of the same functions through their car's media system. Other than smartphone compatibility, the biggest differences are that CarPlay focuses on simple, clean, intuitive user journeys, while Android Auto's strength is a more open platform for third-party apps and content.
MINI Cooper Electric: pricing and specs for British-built electric supermini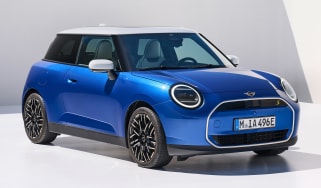 MINI Cooper Electric: pricing and specs for British-built electric supermini
MINI's latest electric hatchback introduces a revolutionary interior design, as well as larger batteries to provide a 250-mile range
Tesla Cybertruck: pricing and specs for Elon Musk's electric pickup truck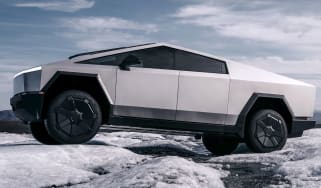 Tesla Cybertruck: pricing and specs for Elon Musk's electric pickup truck
The Tesla pickup truck is now on sale, with a range of up to 340 miles and a starting price of just over $60,000
Electric Renault 5: prices, 2024 launch date and teaser images of the MINI Cooper rival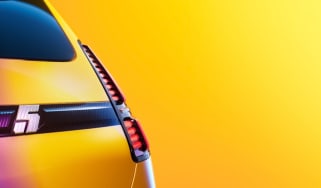 Electric Renault 5: prices, 2024 launch date and teaser images of the MINI Cooper rival
New official teaser pictures for Renault's electric supermini confirm the 5's reveal in February 2024