Top 10 best small electric SUVs
Small electric SUVs provide low running costs, decent practicality and are more affordable than larger models, so they're very popular. Here are the best ones for 2023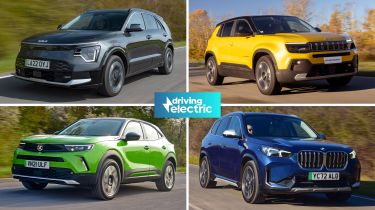 It's hard to think of a type of car that sums up the new car market better than a small electric SUV. Higher-riding SUV models have become ultra-popular over the past decade or so and now they dominate the sales charts, especially in more affordable 'crossover' forms that tend to be smaller and more affordable. Meanwhile, electric car sales continue to grow and many new car buyers are ready to leave petrol and diesel behind.
It's easy to see why: electric cars offer super-low running costs for the majority of buyers and most have more range than drivers will ever need for daily use. Small SUVs offer enough room for a family, trendy looks and are relatively affordable next to larger SUVs and premium cars.
Little wonder, then, that more and more car makers are bringing out models that cater to people who want a small electric SUV. Kia and Hyundai were among the first to bring these cars out and are arguably still the best around, while Renault, BMW, Volvo, Peugeot and even Jeep have recently launched excellent models in this class.
The higher ride of SUVs is nicely suited to electric cars, too, since the batteries sit under the floor. Combine that with the global appeal for small SUVs, and you can see why these cars are coming thick and fast from all sorts of car makers.
Picking which one is best for you might seem a little daunting with all these new and existing models available, but you can read on to find out our picks for the best small electric SUV to buy right now. We've included 10 great models, so there's bound to be one in here that will work for you.
You can also check out the results of the 2023 DrivingElectric Awards to see other cars that have impressed us over the past year. You can also follow DrivingElectric on Twitter, Facebook, Instagram and YouTube for the very latest news and reviews as they happen.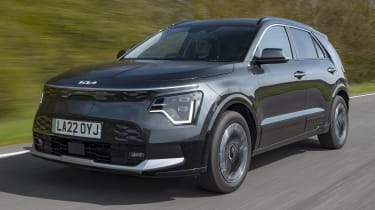 1. Kia Niro EV
The Kia e-Niro was one of the first small electric SUVs to be a truly excellent car, and the Niro EV that replaced it is even better. It comes with more tech, more space inside and more modern looks, so it's our favourite car in this class. All versions come with a 10.25-inch digital driver's display plus another central touchscreen with Android Auto and Apple CarPlay, so it has all the connectivity you need. Its driving range is an impressive and useful 285 miles, and it can charge up in just 45 minutes (to 80 per cent) at a public rapid charger. It's generally comfortable, if a little firm on bumpy roads, but it's also good to drive, accelerates quickly and is very quiet inside. It's one of the more efficient electric cars around, which means running costs should be excellent, too.
Read our full Kia Niro EV review to find out more.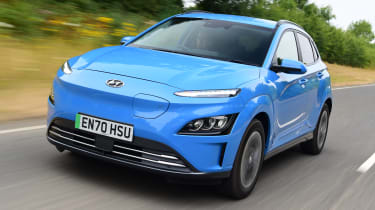 2. Hyundai Kona Electric
The Hyundai Kona Electric is a sister car to the Kia Niro EV, which means it uses a lot of the same technology, particularly the battery. This is clearly a good thing, because the Kona is able to offer similarly excellent efficiency and range (up to 300 miles in 64kWh form). It's also available with a smaller battery that has about 190 miles of range – this could be useful for some because it's cheaper to buy but otherwise not a lot different, so if you're only planning to use the car for commuting it's actually a better choice. The Hyundai has an excellent infotainment set-up with all the connectivity you need, plus a comfortable ride, good performance and enough space inside for families. It's not the most inspiring car around – the interior is a little dull – but the Kona Electric is so good in all the most important areas that this is easy to overlook.
Partnership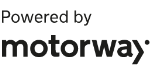 Need to sell your car?
Find your best offer from over 5,000+ dealers. It's that easy.
Read our full Hyundai Kona Electric review to find out more.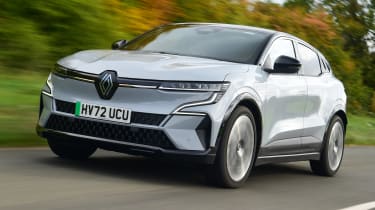 3. Renault Megane E-Tech
The Renault Megane was previously a family hatchback car with mainly petrol engines under the bonnet, but now it has undergone a complete transformation into an electric SUV: the Megane E-Tech. It's not just any old EV SUV, though, as its combination of style, comfort and technology is fantastic. Its Google-based infotainment system is a high point, and even won our 2023 Technology Award, while the interior is excellent and really spacious. It has a 280-mile range, enough to compete with the best models around, and rapid charging from 10-80 per cent in about half an hour at a public charger. It's quiet inside, smooth over bumpy roads and the dashboard and interior makes it feel very modern and more upmarket than you might expect.
Read our full Renault Megane E-Tech review to find out more.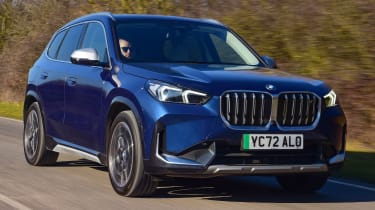 4. BMW iX1
The BMW iX1 is an interesting option for people who want something very similar to what they might have driven before, but with electric power. It drives very much like the BMW X1 in many ways, but the electric motors mean it's not only faster than the combustion-engined version, it's much cheaper to run as well. It's not as futuristic-looking as some of the other models on this list, but it makes up for that with a fantastic interior full of tech, an enjoyable driving experience and a roomy interior. It has a range of 270 miles, which isn't the best here but is more than enough for most people. Probably the biggest downside with the iX1 is the price, as it's a little more expensive than its rivals - but we reckon it's worth the money, because it's the best premium small SUV around right now.
Read our full BMW iX1 review to find out more.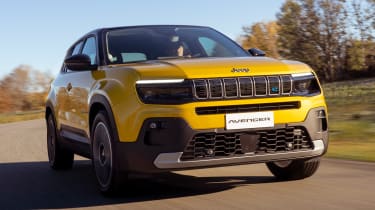 5. Jeep Avenger
While Jeep has built a reputation over the years for building rough-and-tumble off-roaders, its latest model is a thoroughly modern small electric SUV called the Avenger. Its range of around 250 miles isn't as good as the best models in this list but it's still a useful figure, and it makes up for that with very smart looks and a very compact size. It's one of the smallest cars of its type, which is fantastic for tight country lanes and car park spaces, yet it still manages to be really practical and is big enough for family life. It's good to drive on the road, because it's really quiet and comfortable, but like all Jeeps it's also genuinely capable as an off-roader. If you live in a rural area but are able to make use of an electric car, it could be a really good choice.
Read our full Jeep Avenger review to find out more.
6. Volvo XC40 Recharge
The Volvo XC40 Recharge is one of the most luxurious and high-quality electric SUVs you can buy. It's not all that small next to some of the models in this list, and it's also rather expensive, but it is the smallest model in the Volvo EV range. It's fantastic in pretty much every area you can think of: it has a superb range of up to 334 miles; it's very comfortable; incredibly fast; the interior is luxurious; and it has a fantastic Android-based infotainment system. It's roomy inside, looks smart and the XC40 is a quiet, relaxing way to travel. Of course, this doesn't come cheap and the high starting price will mean it's not for everyone, but as a luxury small SUV with electric power, the Volvo is excellent.
Read our full Volvo XC40 Recharge review here to find out more.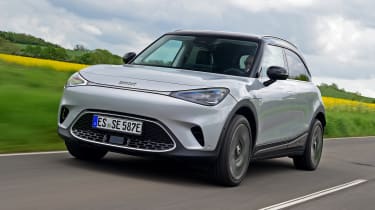 7. Smart #1
Rather unlike the Volvo above, the Smart #1 is all about the value for money. It offers plenty of driving range - about 270 miles - and has a smart interior and exterior. It brings SUV looks and practicality without being too expensive, but the Smart isn't ideal for those looking for connectivity or who value ride comfort, because it's missing key tech such as Android Auto - UK cars get Apple CarPlay - and rides firmly over bumps. If you can overlook those it offers plenty of value thanks to its plush interior and powerful electric motors. It's also usefully small, so it fits the bill if you want an SUV that fits into tight spaces.
Read our full Smart #1 review to find out more.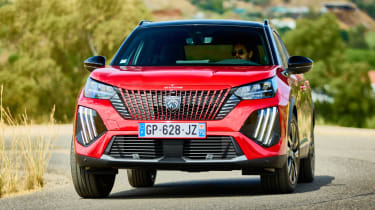 8. Peugeot e-2008
The Peugeot 2008 has been one of the most popular and enduring small SUVs of the past decade, so it makes a lot of sense that the electric e-2008 would be one of the better options for those looking for a small EV SUV. As you've probably noticed, the e-2008's striking looks help it stand out from the crowd, but it's not just skin-deep because the car also has a fantastic interior with plenty of tech, lots of space for the family and a decent boot. Its 250-mile range is good considering its reasonable price, and is capable of 30-minute 80-per-cent rapid charging, so it's not too bad for longer trips. If you love how it looks, the e-2008 is a top choice, even if some of the models above offer more range and better tech.
Read our full Peugeot e-2008 review to find out more.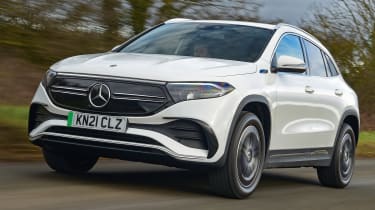 9. Mercedes EQA
Like the BMW iX1, the Mercedes EQA is a lot like the petrol-engined Mercedes GLA, but in removing the combustion engine it has made the car much more appealing. It's faster, cheaper to run and feels more luxurious than the GLA, although of course it costs more to buy. The EQA has a range of up to 324 miles, though some models drop that to 270 miles (still a very good figure and more than enough for most people). It looks even better on the inside than it does on the outside, thanks to an excellent dashboard with high-quality materials and fantastic technology including smartphone connectivity, and even augmented-reality navigation options. It's not as practical or good to drive as the BMW iX1 but we couldn't blame anyone for preferring the Mercedes' fantastic cabin.
Read our full Mercedes EQA review to find out more.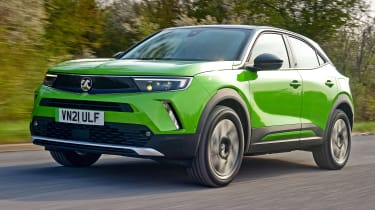 10. Vauxhall Mokka Electric
The Vauxhall Mokka has grown up a lot recently – it's gone from being a middling small SUV and one of the brand's worst cars to being a brilliant electric family car and one of Vauxhall's most appealing models. That's not just thanks to a complete makeover – the new Mokka is a genuinely good-looking car now – but because it now shares tech with the Peugeot e-2008 and offers electric motoring at a very affordable price. It's not the best for range (only about 210 miles) but the Vauxhall is comfortable to drive, has plenty of technology, a good amount of space inside and is very well equipped for the money. 
Read our full Vauxhall Mokka Electric review to find out more.
Best electric SUVs to buy now
Electric BMW iX2 is set to take the kidney grille to the next level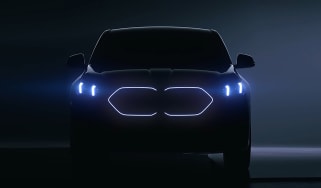 Electric BMW iX2 is set to take the kidney grille to the next level
Vauxhall Frontera to arrive as Crossland EV replacement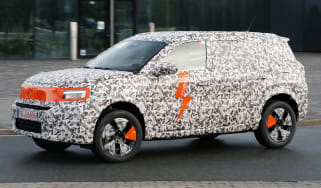 Vauxhall Frontera to arrive as Crossland EV replacement
BMW i4 facelift to topple Tesla with huge range and tech upgrades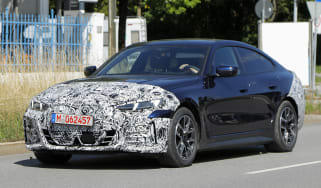 BMW i4 facelift to topple Tesla with huge range and tech upgrades
An updated version of the BMW i4 has been spotted testing, likely sporting a longer range and the latest technology
Electric BMW iX2 is set to take the kidney grille to the next level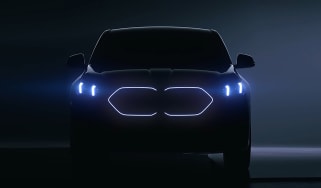 Electric BMW iX2 is set to take the kidney grille to the next level
BMW has teased the highly-rumoured iX2 coupe-SUV, which has been revealed to get enlarged illuminated kidney grilles