Best electric car lease deals UK 2022
Electric car leasing – aka Personal Contract Hire (PCH) or Business Contract Hire (BCH) – is becoming more popular in the UK. Here are some top deals from manufacturers and brokers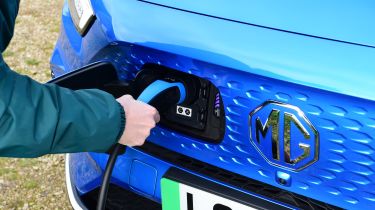 Leasing a car used to be associated mainly with companies and business users, but it's becoming a more favoured option among private motorists, too. While Personal Contract Purchase (PCP for short) remains dominant with these buyers, those looking for a simpler, more flexible approach can be attracted to leasing.
The shift to leasing is happening in tandem with huge growth in electric cars, and the rapid progress of technology in this area means some buyers like the idea of being able to swap into a new model in just a few years with minimal hassle – and don't mind the fact that they won't have the option to buy outright.
As far as car finance options go, leasing is probably the most straightforward. You simply pay a monthly fee to rent the car long-term, either from a broker or directly from the manufacturer. Usually, you need to pay a couple of months up front as a lump sum at the start of the lease, but there's no 'balloon payment' at the end of the agreement – you simply hand the car back and take out a new lease on a new car at that time.
Crucially, the monthly payments on a lease are often cheaper than those on a PCP agreement, so leasing could make an electric car more attainable than you thought. And when you factor in the much lower running costs of an electric car compared to a petrol one, leasing an EV starts to make a lot of financial sense.
On this page, we've rounded up a selection of electric-car leasing deals that are available from both brokers and manufacturers as of spring 2022. As both brands and brokers are constantly adjusting their offerings, it's best to think of them as indicative examples, giving you an idea of what you'll pay for a certain model and what sort of initial rental and mileage limits you might face.
If you'd rather a shorter-term electric car lease, check out our electric-car subscriptions and electric-car rental round-ups instead. But if you're after a PCH deal, here are some great electric-car lease deals in the UK right now. Note that deals and prices were correct at the time of publishing and are subject to change, and that unless it's specifically part of the package, the cost of regular servicing isn't included in these lease deals.
UK electric-car lease deals from brokers – personal contract hire (PCH)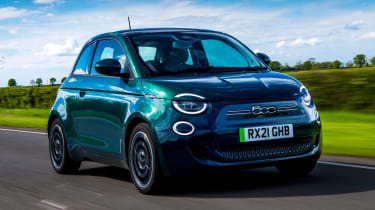 The Fiat 500 has been reborn as a purely electric car. It's stylish, well equipped and great fun to drive, and Leasing.com can get you behind the wheel of a 500 Icon with the 42kWh battery for just over £240 a month over 48 months, with an initial rental of just under £2,165 to be paid. The annual mileage limit is 5,000.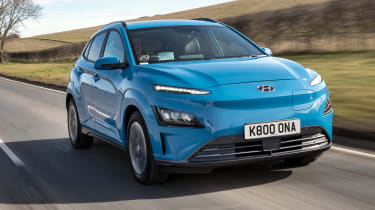 If you want something a bit more practical for family motoring, the Hyundai Kona Electric can be leased for just under £304 a month for 48 months from Leasing.com. That gets you Premium spec with the larger 64kWh battery. Initial rental is just under £2,835 and you can cover up to 5,000 miles a year on this deal.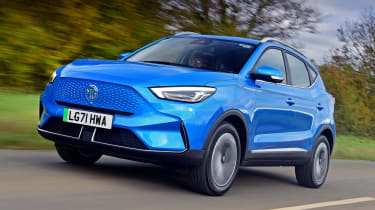 The MG ZS EV is another good-value electric family SUV. It's offered by Leasing.com for just over £286 a month on a 48-month lease agreement. The initial rental amounts to just under £2,743 and there's a 5,000-mile annual limit. This deal gets you into a 51kWh battery car in the Trophy trim level.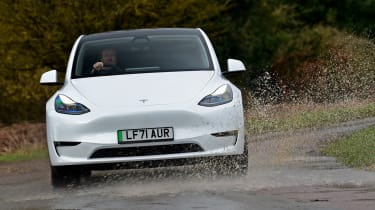 Tesla continues to be one of the most popular electric-car brands for those on a higher budget. Leasing.com can have you driving the Model Y Long Range for just over £521 a month over 48 months, after an initial payment of just under £4,792. You're also limited to 5,000 miles a year here.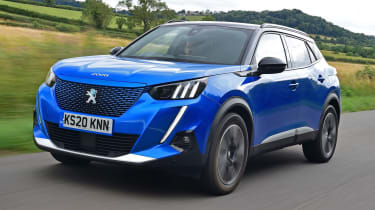 Peugeot's e-2008 offers all the style and electric technology of the smaller e-208 hatchback, but in a more practical and family-friendly body. You can lease one in well equipped GT specification from Leasing.com from just under £367 per month over 48 months. At that price, there's an upper mileage limit of 5,000 a year and an initial rental of just over £3,302 to pay at the beginning of the agreement.
UK electric-car lease deals from manufacturers – personal contract hire (PCH)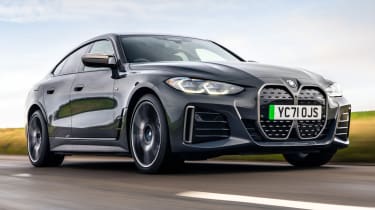 The BMW i4 is among the most impressive EVs to come out of the Munich manufacturer's stable – we'd even say it just shaded the hugely popular Tesla Model 3, especially when it comes to driving enjoyment. BMW UK is currently offering the mid-range eDrive40 M Sport (cash price £54,100) on a 48-month lease with a 10,000-mile annual limit. After an initial rental of just under £4,541, you'll pay £819 a month on this deal.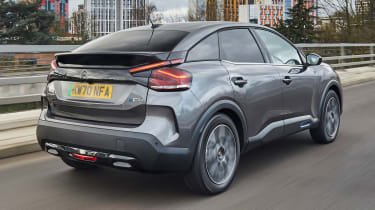 Citroen's e-C4 is one of the quirkier and more distinctive electric family cars you can buy. The French brand is currently offering it in Shine Edition specification, with a 50kWh battery, from £349 a month, after an initial rental payment of £4,174.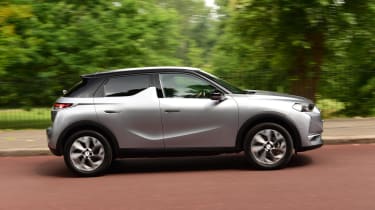 The DS 3 Crossback E-TENSE is a less practical but more styling cousin to the Citroen above. Leasing rates start from £439 a month (with a £5,462 initial payment) for the entry-level Bastille trim, rising to £539 a month (with a £5,804 initial payment) for the range-topping Louvre.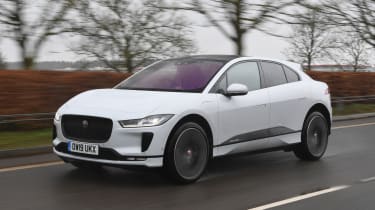 Despite being on sale for several years now, the Jaguar I-Pace has never looked like losing its status as one of the best-handling and most desirable electric cars on the roads. The EV400 Black model is now available on a 48-month lease with a 10,000-mile annual limit for £739 a month, after an £8,868 initial payment.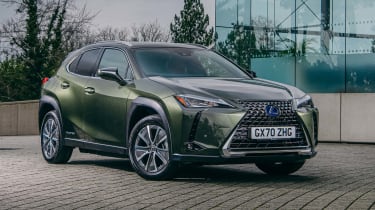 Lexus is well known for its hybrid saloons and SUVs, but has started to dip its toe in the fully electric market with this UX 300e. Available in well equipped Premium Plus specification with 18-inch alloy wheels, it can be rented for £588 a month from the Japanese brand, having paid an initial rental of £3,528. This agreement runs for 36 months and is limited to 8,000 miles per year.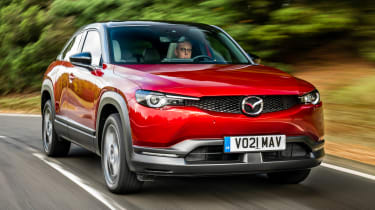 The Mazda MX-30 is an unusual electric-car offering, with a smaller battery than many rivals and unique rear-hinged doors setting it apart from the crowd. Lease deals start from £341 a month after a £2,064 initial rental for SE-L Lux, with the example agreement running for 36 months and allowing 9,000 miles a year.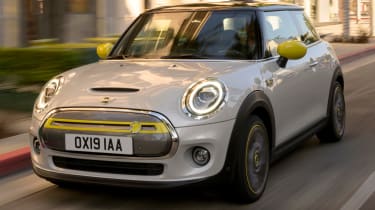 The MINI Electric is one of our favourite small electric cars. Okay, it doesn't have the range for cross-continent adventures, but it's one of the most enjoyable ways to nip around town or tackle your favourite country road. Leasing rates are reasonable, too; in Level 1 spec you can pay just under £320 a month on a 48-month deal, after an initial rental of £4,500 and with a mileage limit of 8,000 per year.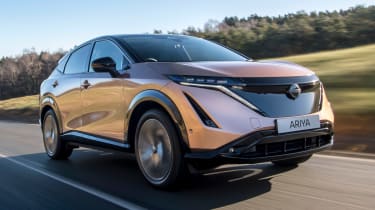 Nissan revolutionised the family-car market back in the 2000s with the Qashqai, and it's hoping to do the same to the electric family car market in the 2020s with the sleekly styled Ariya. In Evolve trim and with an 87kWh battery, it has an on-the-road cash price of just under £52,000, but can be leased on a 36-month deal for just under £678 per month after an initial rental of just under £4,066. The mileage limit per year is 10,000.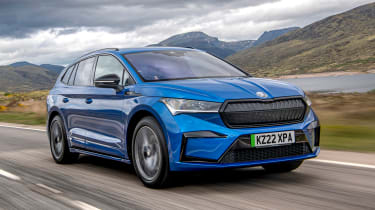 The Skoda Enyaq iV is one of the most popular and best-value electric family SUVs out there. On Skoda's 'Lease&Care' programme, you can lease the larger-battery 80 model with metallic paint and regular servicing included on a 48-month deal for £546 a month, after an initial rental of £3,276. Mileage can be up to 10,000 a year, with any excess charged at 13.74p per mile.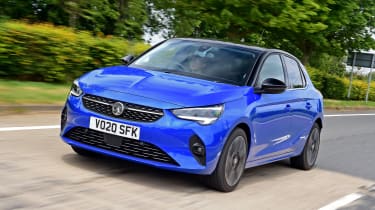 It's not the newest kid on the EV block any more, but the Vauxhall Corsa-e is still a solid and good-value choice if you're looking for a zero-emissions urban and suburban runabout. Vauxhall offers it in GS Line spec for £329 a month over 48 months, after an initial rental of £3,948 and with an annual cap of 8,000 miles.
UK electric-car lease deals from manufacturers – business contract hire (BCH)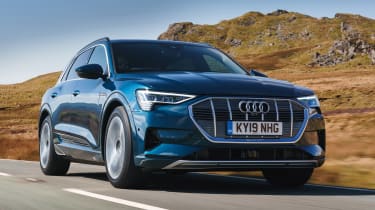 The Audi e-tron electric SUV is a classy and practical large electric car well suited to handling both business and family duties. Audi's business contract hire deal costs £559 plus VAT per month over 36 months, with an initial rental of £3,354 plus VAT and a 10,000-miles-per-annum limit.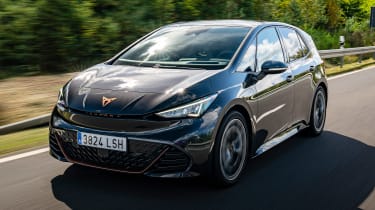 Spanish outfit Cupra is a relatively young brand but benefits from access to VW Group technology. Its version of the Volkswagen ID.3 is called the Cupra Born, and it boasts sportier looks and a higher-quality interior than its rather functional German cousin. The V1 model with a 58kWh battery is available for £399 a month plus VAT, after an initial payment of £2,394 and with an annual limit of 10,000 miles.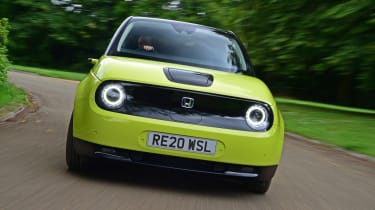 The cute Honda e could be a perfect eye-catching car for business use around the city centre, and in top-spec Advance form it's available from £435 plus VAT per month, after an initial payment of £2,610 plus VAT. The deal runs for 36 months but has a relatively low annual mileage limit of just 5,000.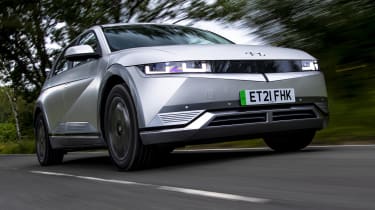 Hyundai has been in the EV game for a good few years but has really stepped up with the Ioniq 5 hatchback. Practical, head-turning and high-tech, it's available in Premium spec with rear-wheel drive and a 73kWh battery on a business lease for just under £434 a month plus VAT, with a £2,601 plus VAT initial rental.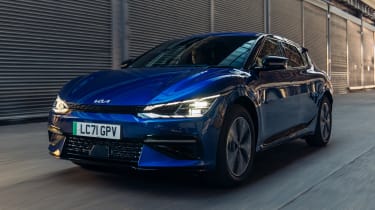 If you want something a bit sportier than the comfortable Hyundai above, its more athletic equivalent from fellow Korean brand Kia, the EV6, is well worth checking out. Business users can lease one for £425 per month plus VAT, having made an initial payment of £2,550 plus VAT. Mileage is to be kept sub-8,000 a year.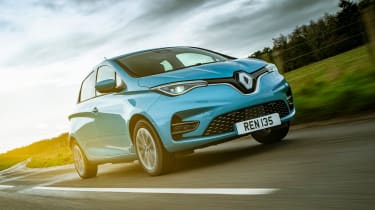 The Renault Zoe supermini was one of the pioneers of mainstream electric motoring and it's still a strong contender these days, returning excellent range for a car so small. In GT Line spec, you can lease one as a business user for £363 plus VAT a month for 36 months, having made a £2,178 plus VAT initial payment.
Top 10 best seven-seater electric and hybrid cars 2022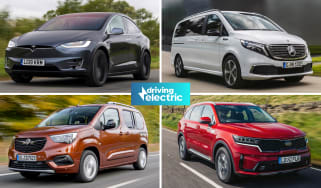 Top 10 best seven-seater electric and hybrid cars 2022
If the regular crop of electrified SUVs and family cars don't provide enough practicality for you, then take a closer look at the range of electric an…
Top 10 cheapest electric cars 2022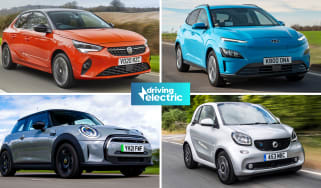 Top 10 cheapest electric cars 2022
Contrary to popular opinion, not all electric cars are expensive. Here are the cheapest ones available in the UK right now
1,972bhp Ford Electric SuperVan can do 0-62mph in under two seconds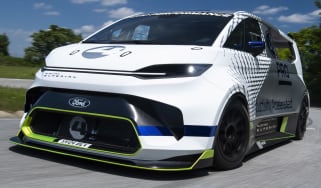 1,972bhp Ford Electric SuperVan can do 0-62mph in under two seconds
Based on the new E-Transit Custom, the Electric SuperVan has made its debut 2022 Goodwood Festival of Speed