London Congestion Charge exempt cars: do electric cars pay to enter the CCZ?
Do electric cars have to pay the London Congestion Charge? We explain the ins and outs of this daily levy for entering the UK capital's Congestion Charge Zone (CCZ)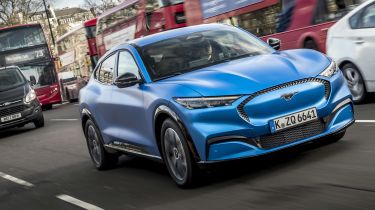 The London Congestion Charge was introduced in 2003 and serves to deter people from driving unnecessarily into the middle of the UK's capital city – a defined area called the 'Congestion Charge Zone', or CCZ for short. It's intended to reduce both traffic congestion and local air pollution. This is not to be confused with the ULEZ (Ultra Low Emission Zone) introduced in 2019, which has since expanded and is set to expand again in 2023.
When driving in London, you'll know you're about to enter the CCZ when you see a sign displaying a white 'C' on a red circle and the words 'Congestion Charge'.
Having been suspended during the Covid lockdown of early 2020, the charge was brought back at a higher rate of £15 a day and with expanded operating hours from June 2020. Since February 2022, the Congestion Charge has applied from 7am to 6pm on weekdays and from midday to 6pm on Saturdays, Sundays and Bank Holidays.
While low-emission vehicles previously escaped the Congestion Charge, these days only fully zero-emissions cars are exempt. But that won't be the case forever, as current plans see that exemption expire in December 2025. Note that exempt cars do not automatically escape the charge – they have to be registered as such beforehand with Transport for London (TfL).
What cars are exempt from the London Congestion Charge?
Until 2025, all purely electric cars, vans and other vehicles are Congestion Charge-exempt, because they have zero tailpipe emissions. This means if you drive a fully electric vehicle and register it with Transport for London (TfL) you won't have to pay the Congestion Charge. Hybrid vehicles – even plug-in hybrids capable of running on pure-electric power for some distance – are not exempt.
How does the London Congestion Charge work?
You only have to pay the charge once a day. That means you can drive in and out of the Congestion Charge Zone (CCZ) many times on the same day without facing further penalties. You pay the charge online, on Transport for London's website.
You can also pay the charge in advance, or wait until the next day to pay. However, doing the latter adds £3.50 to the total, bringing it to £18.50. And if you don't pay by midnight the following day, you'll get a Penalty Charge Notice (PCN) for £160. If you pay this within 14 days, it's reduced to £80.
What other exemptions are there?
Residents living within the Congestion Charge Zone can apply for a 90% Resident's Discount from Transport for London, meaning they'll pay £1.50 every day they drive in the zone. You need to supply documents to prove your residency as well as the fact that you're the owner, registered keeper or authorised user of the vehicle in question. The discount costs residents £10 a year.
Blue Badge holders don't have to pay the Congestion Charge at all. However, as with all the other exemptions, it's vital that the vehicles used by a Blue Badge holder – a maximum of two per badge – are first registered with TfL in order to qualify for exemption.
Other vehicles facing no charge are those with nine or more seats, breakdown recovery vehicles and motorcycles.
What about other low-emission zones?
The London Ultra Low Emission Zone (ULEZ) was introduced in April 2019, operating 24 hours a day, seven days a week in the same boundaries as the Congestion Charge Zone at the time. Petrol cars and vans that don't meet at least the Euro 4 emissions standard have to pay £12.50 to enter the ULEZ area, while diesel cars and vans that don't meet at least the Euro 6 standard are liable for the charge.
This means that while Euro 4 and 5 petrol cars get away with not paying the ULEZ charge, Euro 5 diesels and earlier have to pay it. As a rough guide, diesel cars and vans registered before September 2016 aren't Euro 6 compliant. If in doubt, use TfL's online vehicle checker to see if you need to pay. The ULEZ expanded on 25 October 2021 to encompass the entire 'inner London area' (i.e. the zone bounded by the North and South Circular Roads). This zone is due to be expanded even further in 2023 to encompass everywhere currently covered by the LEZ (Low Emission Zone), which covers the entire Greater London area.
What are other UK cities doing?
Birmingham, Bath and Bradford are just three examples of UK cities that have successfully introduced clean-air zones, while Oxford has implemented a zero-emission zone (ZEZ) for its city centre. It's free to enter Oxford's ZEZ in an electric car, but hybrids that emit less than 75 g/km CO2 are charged £2 a day, vehicles that meet Euro 4 petrol and Euro 6 diesel standards are charged £6, while those that don't meet any of those standards incur a £10 charge every time they enter. Charges for each clean-air or zero-emission zone are likely to be different, so best to check before you set off.
New Fisker Ocean Extreme will have longest range of any electric SUV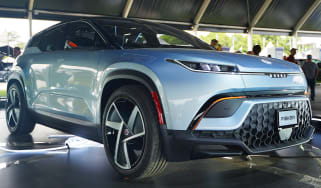 New Fisker Ocean Extreme will have longest range of any electric SUV
The latest rival to the Tesla Model Y, the Fisker Ocean boasts a 440-mile range and a revolving touchscreen
Electric Smart #3 SUV will be the biggest Smart ever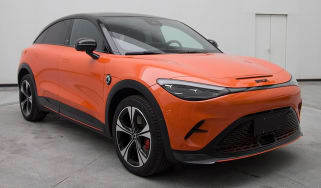 Electric Smart #3 SUV will be the biggest Smart ever
Smart is working on a rival to the Tesla Model Y, set to make its debut at the Shanghai Motor Show in April
Top 10 best 4WD electric cars 2023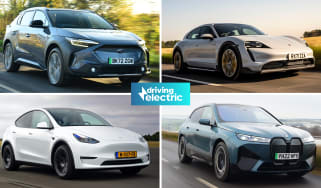 Top 10 best 4WD electric cars 2023
Whether you're looking to venture off-road, or just want some extra assurance in the winter months, we list the best four-wheel-drive electric cars on…