Top 10 best electric family cars 2022
From hatchbacks to SUVs, here are our top picks for the best zero-emissions family cars on the market right now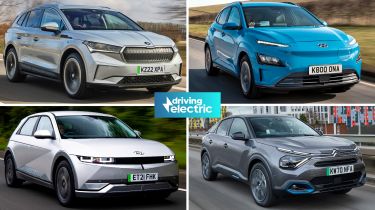 In recent years, the availability of electric cars has exploded, with almost all mainstream carmakers now featuring at least one in their line-up, and several having quite a few. There's a plethora of practical, affordable, efficient and even stylish electric cars out there – ideal for families looking to cut down on their emissions, as well as their running costs. Better still, there are more due in 2022 and beyond.
To help narrow your search, here's our list of the top zero-emissions family cars on sale. They're the more practical but still affordable options you can buy, with bodystyles to suit all tastes, from hatchbacks to SUVs. With the majority of the entries offering over 200 miles of range, and some up able to cover 300 on a charge, you needn't worry about completing the school run before the battery goes flat. Read on for our picks of the best electric family cars right now...
Citroen e-C4
Citroen's half-hatchback, half-SUV electric crossover is an ideal family car thanks to its roomy cabin, comfortable ride and 222-mile range. The e-C4 uses a 50kWh battery and 134bhp electric motor,for a 0-62mph time of 9.7 seconds. So it's not particularly fast, but it's still really punchy from low speed, as well as relaxed and quiet on the move, which pays dividends in typical everyday driving. It can also charge from 0-80% in 30 minutes at a rapid-charging point. Read our full review for more.
Hyundai Ioniq 5
The latest EV from Hyundai has garnered plenty of attention for its retro-inspired styling, but its ultra-rapid charging capability and luxury-car-like ride quality and interior comfort are what won it a place on this list. The Ioniq 5 is also reasonably priced for an electric car that offers so much, starting from under £40k. At that price, you get enough battery capacity to cover 240 miles on a charge, and the car can be topped up from 10-80% in just 18 minutes if you find a fast enough charging point. Taking all that together with a whopping 527-litre boot capacity and the Ioniq 5 is an ideal electric family car. Read our full review of the Ioniq 5 here.
Hyundai Kona Electric
Hyundai has been producing some of the best-value electric cars on the market for years now, and the Kona Electric is a perfect example, being an affordable SUV with a long range to boot. Examples fitted with the 64kWh battery can cover up to 300 miles on a charge, while the entry-level version gets a smaller 39kWh battery that still provides a range of 189 miles. Both are good to drive, with punchy performance, reasonable charging speeds and quiet running in town. Others on this list offer more boot space, and the Kona's interior is a little bland, but it's still ideal choice for family motorists. Read our full review to find out more.
Kia e-Niro
Based on the same underpinnings as the Kona Electric above, the e-Niro offers great value, decent range and plenty of family-friendly space. The official range is 282 miles for the 64kWh model, which is excellent for an affordable family car. There's also a smaller 39kWh battery – like the Kona Electric – for a 180-mile range. Both take around an hour to charge from 0-80% from a 50kW public charger. On the road, the e-Niro is comfortable, practical and efficient, so the claimed range is accurate in our experience. Prices are on the high side compared to the equivalent Kona Electric, but it does come with loads of standard kit. As a result, it's one of the best value EVs around. Read our full review here.
MG 5 SW EV
The MG 5 is not just one of only two electric estate cars currently on the market, it's also one of the cheapest electric cars on sale today and boasts a 250-mile range in long-range guise. Plus, it can recharge from 10-80% in just 40 minutes from a rapid-charging point. Admittedly, the MG isn't the most exciting electric car you can buy, and the plasticky interior leaves a lot to be desired. However, the 5 is remarkable value for money, with plenty of standard kit, plus bundles of practicality, so it's worth a look. Read our full review for more.
MG ZS EV
The MG 5 isn't the Chinese brand's only affordable route into zero-emissions motoring for families. The ZS EV is a small electric SUV that was extensively updated in late 2021. While the previous-generation car was good enough, the new model is improved in every area and represents one of the best-value new electric cars on sale. The 72.6kWh battery means an official range of 273 miles and you can do a 10-80% charge in 42 minutes. The interior is vastly improved, too, and the kit list is generous. Read our full ZS EV review here.
Peugeot e-2008
The e-2008 uses the same electric powertrain as the e-208 hatchback and Citroen e-C4, but it's an SUV, so it's bigger and more practical for families. It's also larger than the old petrol and diesel 2008, with a bigger boot, more interior space and loads of technology. The 50kWh battery under the handsome bodywork feeds a 134bhp motor and provides enough juice to cover 215 miles on a charge, which is a bit less than rivals like the e-Niro and Kona Electric. But the e-2008 gets a thoroughly modern-looking cabin and 100kW rapid-charging capability for a 20-80% top-up in just 20 minutes. Read our full review here for more.
Skoda Enyaq iV
The Enyaq iV isn't Skoda's first electric car, but it's the first to offer families an affordable path into zero-emissions motoring. Prices start from around £40,000 for the spacious, refined electric SUV, with the entry-level model capable of covering over 250 miles on a charge. It's also extremely practical, with a huge 585 litres of boot space on offer. Visibility is excellent all round thanks to large windows and it's easy to fit a child seat if needed. Plus, there's a variety of interior 'themes' to choose from, some featuring eco-friendly materials to give the Enyaq iV's cabin a unique feel. Read our full review here for more.
Volkswagen ID.3
The ID.3 hatchback is intended to be as big a deal for VW as the Beetle and Golf. It's certainly a great all-rounder, offering style, decent range, comfort and practicality at an affordable price. There are several versions available, with models capable of 216 to 338 miles on a charge depending on the battery size. Rapid charging speeds up to 125kW mean you can top up in about half an hour (10-80%), so you don't have to stress about longer journeys. While we're not convinced the interior is as high quality as it should be, the ID.3 is still worth a look at thanks to its value for money and practicality. Read our full review here for more.
Volkswagen ID.4
A sister car to the Skoda Enyaq iV, the ID.4 is Volkswagen's entry in the electric SUV market. It seems to tick all the right boxes, with a comfortable ride, plenty of space inside, 100kW rapid charging as standard. Some models can do more than 300 miles on a charge and practicality is impressive. Sadly, the ID.4 inherits its hatchback sibling's confusing infotainment system, but it remains an appealing package if you're looking for an electric family hauler. Read our full review here for more.
Electric MINI Aceman crossover arriving in 2024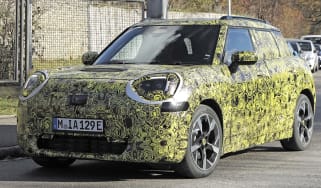 Electric MINI Aceman crossover arriving in 2024
New Mercedes EQG: first ride in electric G-Class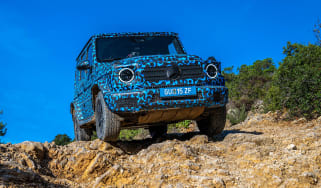 New Mercedes EQG: first ride in electric G-Class
New Abarth 500e electric hot hatch revealed in full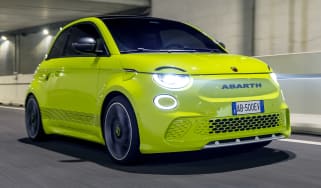 New Abarth 500e electric hot hatch revealed in full
The hot version of Fiat's electric city car does 0-62mph in seven seconds, and will be offered as a hatchback and convertible
Will an electric car work in the winter?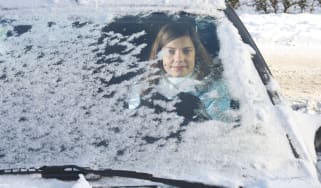 Will an electric car work in the winter?
Worried about a cold snap immobilising your electric car? Here, we explain how cold weather affects electric vehicles
Tethered or untethered home charger?
Tethered or untethered home charger?
All the pros and cons of home wallbox chargers with either tethered or untethered cables