New hybrid and plug-in hybrid cars coming in 2022 and beyond
If electric cars aren't your bag, then maybe one of the many hybrid and plug-in hybrid cars coming soon will be the one for you. Here's what's on the way...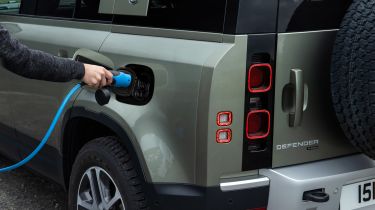 Hybrid and plug-in hybrid cars offer those who aren't yet ready to make the switch to electric several benefits over purely petrol and diesel-powered models, from lower Benefit-in-Kind (BiK) company-car tax, to lower fuel consumption and reduced CO2 emissions.
Plus, hybrids are a convenient yet still less environmentally harmful motoring option to go for if you don't have reliable access to a home wallbox or public charging point you'd typically use to top up an electric car's battery.
As a result, over the past few years there has been an explosion of hybrid cars on the market, from mild-hybrid hatchbacks to plug-in hybrid supercars, and there are plenty more still on their way. Here, we take a look at some of the most notable new hybrid – and plug-in hybrid – cars set to arrive in the near future…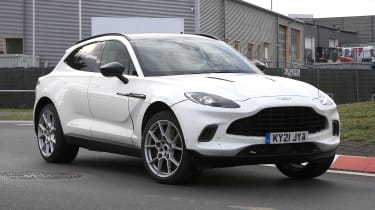 Aston Martin DBX hybrid
Along with the Valhalla, Aston Martin is also working on an electrified version of its DBX SUV. The plug-in hybrid version is expected to arrive in 2024, at which point it'll rival the Bentley Bentayga Hybrid, Audi Q8 TFSI e and Porsche Cayenne and Cayenne Coupe hybrids. However, there's no word yet on battery size, electric motor output, engine size or power output. Read more about the plug-in hybrid DBX here.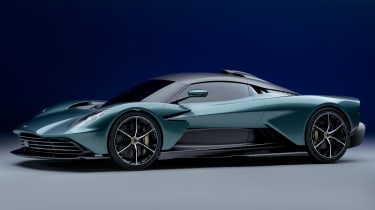 Aston Martin Valhalla
The Valhalla is a breakthrough model for Aston Martin for a number of reasons. It's the storied British brand's first mid-engined production car, as well as its first plug-in hybrid model. It has had a long gestation, and the final version looks quite different to the initial concept, with front-end styling closer to that of Aston's traditional coupe GTs. Under the metal is a 4.0-litre V8 engine and twin electric motors, producing a total of 937bhp for a 2.5-second 0-62mph time. Pure-electric range is a modest nine miles – less than its plug-in supercar rivals the McLaren Artura and Ferrari 296GTB (see below) can manage. Read more about the Aston Martin Valhalla here.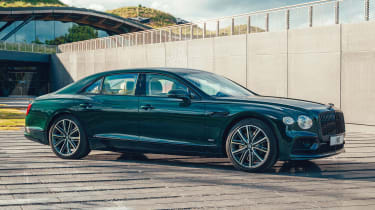 Bentley Flying Spur Hybrid
Bentley is already on to its second generation of the Bentayga Hybrid SUV, but this Flying Spur is the first of the brand's more traditional luxury saloons to get plug-in hybrid power. It has a 2.9-litre V6 petrol engine and electric motor, producing 536bhp and 750Nm of torque – similar power and torque figures to the petrol V8 Flying Spur and sufficient for a 0-62mph time of 4.5 seconds. Bentley also claims the Flying Spur Hybrid is capable of over 25 miles of pure-electric driving and says it'll be be the most efficient Bentley ever, able to cover over 435 miles on a tank of fuel. Read more about the Flying Spur Hybrid here.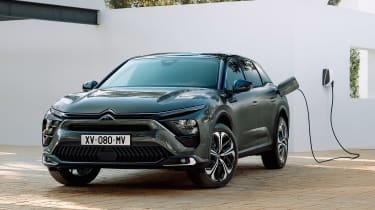 Citroen C5 X
Citroen is looking to go back to its roots of large, comfortable car with the C5 X, which combines elements of an SUV, a large hatchback and a sleek coupe in one bodystyle. It also packs plug-in hybrid power in the shape of the 222bhp petrol-electric setup already used in the C5 Aircross Hybrid family SUV. That should be sufficient for more than 30 miles of pure-electric driving, while on the practicality front, there's 545 litres of boot space with the seats up, and a sizeable 1,640-litre load capacity when they're folded down. Read more about the Citroen C5 X here.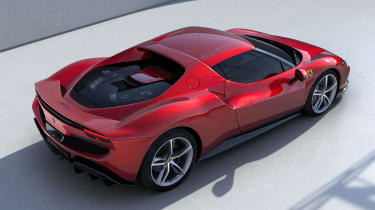 Ferrari 296 GTB
Ferrari's adoption of hybrid power began with the range-topping SF90 Stradale and its open-top Spider version. The more affordable (in Ferrari terms, anyway) 296 GTB has a single electric motor rather than the SF90's three, and is rear rather than four-wheel drive. It still puts out a hefty 816bhp, however, making it capable of 0-62mph in 2.9 seconds and a top speed of 205mph. A relatively small 7.45kWh battery restricts pure-electric driving to around 15 miles, however it ensures a good power-to-weight ratio overall. Read more about the Ferrari 296 GTB here.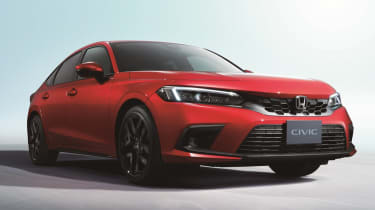 Honda Civic
Honda is gradually moving to hybrid power as the only option for most models in its line-up, with the Jazz supermini and CR-V family SUV already having made the transition. Next up will be the next-generation Honda Civic, arriving in the UK in late 2022. We expect it'll get the same 1.5-litre four-cylinder turbocharged petrol engine and pair of electric motors seen in other Honda hybrids to date, possibly making the same 129bhp and 253Nm of torque this setup achieves in the HR-V (below). Read more about the next-generation Civic here.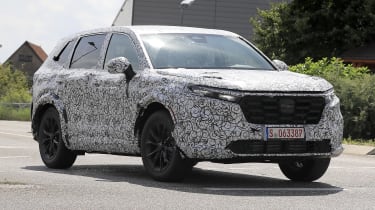 Honda CR-V
Honda is expected to unveil the sixth generation of the CR-V sometime in 2022, and it's likely to be available exclusively with hybrid power if the rest of the brand's range is anything to go by. The new CR-V will be a rival for the Toyota RAV4, Peugeot 3008, Ford Kuga and Nissan Qashqai, however pricing information or any details about the new SUV's powertrain have yet to be released. Read more about the Honda CR-V prototype we spied testing earlier in the year here.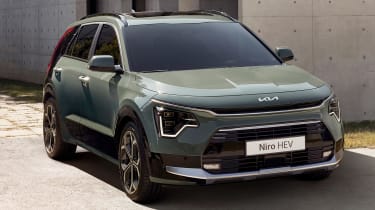 Kia Niro PHEV
The Kia Niro was one of the first mainstream family SUVs to offer hybrid power and has since spawned plug-in and pure-electric versions. The next generation Niro will continue this trend, and will be offered with hybrid, plug-in hybrid and electric power when it goes on sale in 2022. More details about the new hybrid and plug-in hybrid Niro like pricing, mpg and electric driving range will be disclosed closer to the car's launch. Read more about the all-new, second-generation Kia Niro here.
Kia Sportage PHEV
This is the fifth generation of Kia's Sportage mid-size family SUV, and the first iteration to be offered with a plug-in hybrid powertrain. While it's slightly smaller than the global version in order to better suit European roads, the new Sportage that'll arrive on British shores still features striking new styling and significant interior updates, including a dual-screen infotainment setup. The plug-in Sportage should be able to return around 200mpg and cover upwards of 30 miles on electric power alone based on the stats for the Hyundai Tucson PHEV that it shares its powertrain with. Click here to find out more about the new Kia Sportage.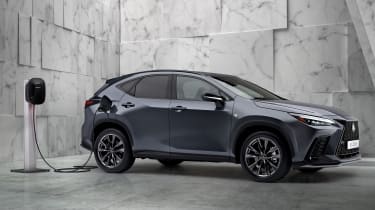 Lexus NX
While Lexus' first electric model – the UX 300e – came out a while ago, the latest generation of the NX mid-size SUV will be the brand's first plug-in hybrid when it arrives in 2022. Customers will have a choice of a 'self-charging' 350h version and the plug-in 450h+ model, with this NX also seeing the debut of a new multimedia system from Lexus. When it arrives, the model will rival the likes of the BMW X3 xDrive30e, Mercedes GLC 300 e and Volvo XC60 Recharge. Find out more about the new Lexus NX here.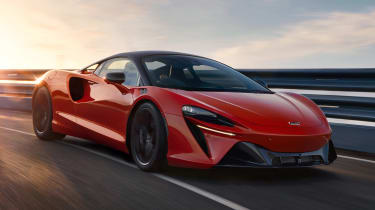 McLaren Artura
McLaren's next generation of supercars will get off to an electrified start in 2021 with the arrival of the Artura, a new plug-in 'High-Performance Hybrid' that'll sit between the GT and Super Series cars in the British manufacturer's range. The all-new supercar uses a petrol-electric powertrain with a V6 petrol engine and electric motor for a total output of 671bhp. It has a small 7.4kWh battery that allows 19 miles of pure-electric range. Impressively, CO2 emissions of 129g/km are quoted alongside a 0-62mph time of just three seconds. Read more about the McLaren Artura here.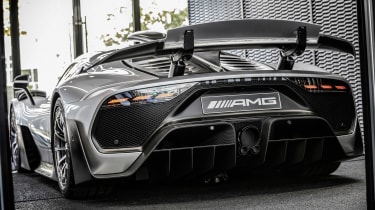 Mercedes-AMG One
One of many electrified performance cars on the way from Mercedes, the One is to be the brand's most ludicrous road car to date. Producing 986bhp from an F1-derived, 1.6-litre turbocharged V6 engine that revs to 11,000rpm coupled with four electric motors – two for each front wheel, one on the engine and one to spin the turbocharger and reduce lag. The finalised version of the ultra-exclusive hypercar is expected to be unveiled later this year, along with a price tag of £2.4 million. Find out more about the Mercedes-AMG One here.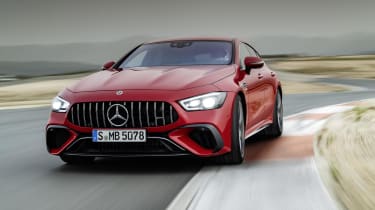 Mercedes-AMG GT 63 S E Performance
The Mercedes-AMG GT 63 S E Performance is the latest electrified supersaloon looking to take on the Porsche Panamera and Bentley Flying Spur plug-in hybrids, as well as the pure-electric Porsche Taycan and Audi RS e-tron GT. The GT 63 S E Performance produces 831bhp from a twin-turbo V8 petrol-electric drivetrain, with 0-62mph taking 2.9 seconds and top speed an impressive 196mph. Mercedes' performance division has also created its own fully electric 671bhp supersaloon called the EQS 53 4MATIC+ and is still working on the ultra-exclusive AMG One hypercar above. Find out more here.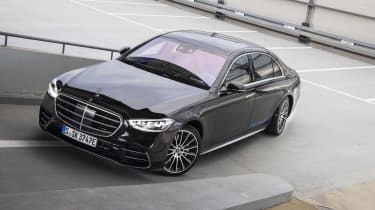 Mercedes S-Class plug-in hybrid
We've already had one generation of S-Class plug-in hybrid in the shape of the S 560 e, but after not very long on sale it's already about to be superseded by this new S 580 e – a variant of the latest seventh-generation S-Class. It combines a 3.0-litre six-cylinder petrol engine with an electric motor for a total output of 510bhp and a 4.5-second 0-62mph time. Elsewhere, a hefty 28kWh battery ensures an electric driving range north of 60 miles, which is one of the longest of any plug-in. We've already had an early drive in the S 580 e – read what we thought of it here.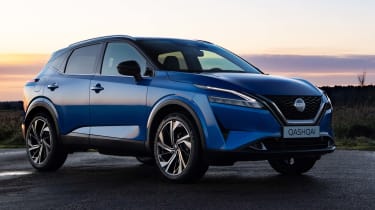 Nissan Qashqai e-POWER
An all-new Nissan Qashqai has arrived for 2021 and an 'e-Power' hybrid model will join the range in early 2022. A new platform called CMF-C means the Qashqai should be competitive with the latest rivals in terms of ride and handling, and should also ensure good integration of electric power. The Qashqai e-POWER has a 152bhp 1.5-litre petrol-engine 'generator', plus a 188bhp electric motor that drives the wheels directly. Fuel economy of 53mpg and CO2 emissions of 122g/km are expected. Read more about the new Nissan Qashqai here.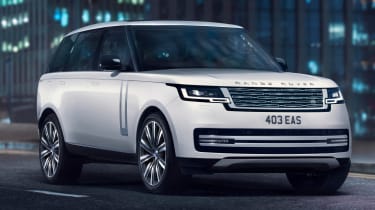 Range Rover PHEV
The Range Rover has been setting standards in the premium SUV class for decades, for the fifth-generation British luxury SUV will not only be available with plug-in hybrid power, but for the first time, up to seven seats. A pure-electric version of the Range Rover will arrive in 2024, but in the meantime, two plug-in hybrid versions of Land Rover's flagship are available, both of which have a claimed zero-emissions driving range of 62 miles in official testing – or 50 miles in real-world driving. Read more about the new Range Rover here.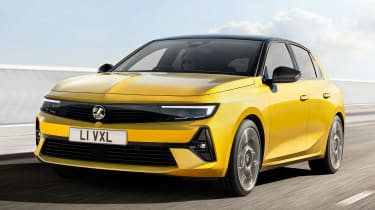 Vauxhall Astra Hybrid
Now that Vauxhall is part of the huge Stellantis Group, the Astra is on course to become a sister model of the Peugeot 308 mentioned further up this page. That means plug-in hybrid power and a choice of hatchback or 'Sports Tourer' estate bodystyles, but the Astra does set itself apart from its French counterpart with Vauxhall's latest 'Vizor' front-end styling, first seen on the compact Mokka SUV. Vauxhall has confirmed two types of plug-in hybrid Astra, so we expect the same 178 and 222bhp electrified powertrains as the 308. Both emit less than 30g/km of CO2 and are capable of nearly 40 miles of pure-electric driving. Read more about the new Vauxhall Astra here, and learn more about the new Astra Sports Tourer plug-in hybrid estate here.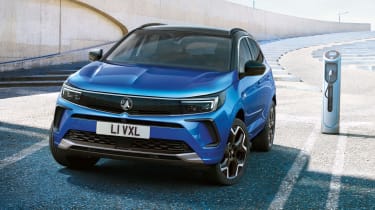 Vauxhall Grandland Hybrid
The Vauxhall Grandland X is getting a major overhaul later in 2021, dropping the 'X' from the end of its name in the process. The choice of plug-in hybrid power – initially only the 222bhp front-wheel-drive setup – remains, however. Inside, the new plug-in Grandland features the 'Pure Panel' cockpit design already seen in the Mokka, while the front end gets the 'Vizor' styling treatment already applied to the Mokka, Crossland and Astra (above). Read more about the updated Vauxhall Grandland here.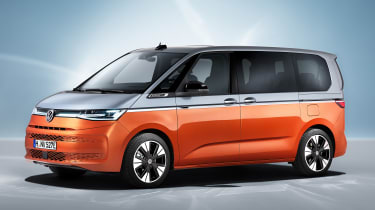 Volkswagen Multivan eHybrid
Volkswagen is dropping the UK-specific Caravelle name it has used for the passenger version of its Transporter van for many generations. The latest version will wear the 'Multivan' moniker that has been used in European markets for many years, as well as getting a thorough styling and technical overhaul – including the option of 'eHybrid' plug-in power. There'll be a 215bhp power output from the engine and electric motor, with the latter drawing power from a 13kWh battery. There'll be an electric mode for zero-emissions driving, although Volkswagen has stated this is intended only for short urban trips, with the engine coming in to play on the motorway. Read more about the new Volkswagen Multivan here.
BMW i4 facelift to topple Tesla with huge range and tech upgrades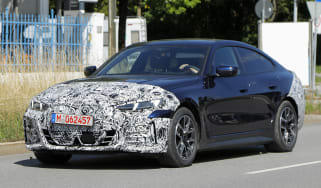 BMW i4 facelift to topple Tesla with huge range and tech upgrades
An updated version of the BMW i4 has been spotted testing, likely sporting a longer range and the latest technology
We've had a ride in the new electric MG Cyberster and it's NOT what we first thought…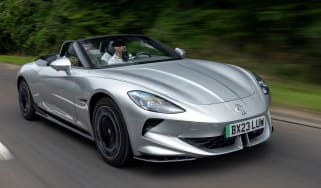 We've had a ride in the new electric MG Cyberster and it's NOT what we first thought…
The MG Cyberster is due to go on sale next year with up to 536bhp and scissor doors – and we've already had a ride in it