Mercedes GLC hybrid review
The GLC is available in both 300 e (petrol-electric) and 300 de (diesel-electric) form, and as a coupe or SUV, offering different takes on the luxury plug-in hybrid formula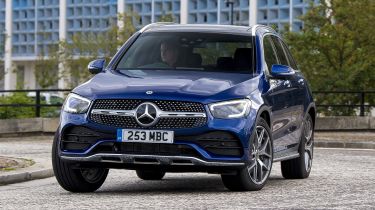 Pros
Fast and powerful
Company-car-tax friendly
Petrol and diesel available
Cons
Less agile than BMW
Step in boot floor
Expensive
| Model | Electric range | Fuel economy | CO2 emissions |
| --- | --- | --- | --- |
| GLC 300 e SUV | 27-28 miles | 117-123mpg | 52-54g/km |
| GLC 300 e Coupe | 26-27 miles | 109-118mpg | 54-59g/km |
| GLC 300 de SUV | 27 miles | 149-157mpg | 48-50g/km |
| GLC 300 de Coupe | 25-26 miles | 135-149mpg | 51-55g/km |
The Mercedes GLC is a mid-size luxury plug-in hybrid SUV that sets itself apart from the competition by being offered in both petrol-electric (GLC 300 e) and diesel-electric (GLC 300 de) form, as well as offering the choice of more practical SUV or more stylish Coupe body shapes.
Company-car users are the main target market: thanks to low CO2 emissions and electric running potential, whichever version of the GLC you go for, your Benefit-in-Kind (BiK) contributions will be drastically lower than they would be for an equivalent purely combustion-engined model.
The GLC's rivals are numerous, including the BMW X3, Audi Q5, Volvo XC60, Lexus NX and Jaguar F-Pace plug-in hybrids. The petrol GLC 300 e uses a familiar 2.0-litre petrol-electric setup from elsewhere in the Mercedes range (such as the C-Class hybrid), producing a combined 316bhp. The result is a nippy 0-62mph time of just 5.7 seconds – and on the road, the plug-in GLC feels as fast as those figures suggest.
In its default drive mode, the GLC 300 e will prioritise electric power for nearly 30 miles – as long as you aren't too heavy with your right foot. Leave it in this setting and the intelligent regenerative braking system will read the road ahead, taking care of all but the most evasive braking manoeuvres – all the while feeding energy back into the battery that would otherwise be lost.
That 13.5kWh battery can be topped up in just over two-and-a-half hours with a home wallbox charger, or you can just use a standard domestic socket and still be done comfortably overnight, ready to go for another zero-emissions commute in the morning.
As is the case with a number of plug-in hybrid models, practicality takes a minor hit – the GLC has a small step in the boot floor. And due to the placement of the batteries, there's no underfloor storage, either – so unless you leave them at home, the car's charging cables must sit alongside your bread and milk in the boot.
Another downside is that, as well as not being as good to drive as its BMW rival, the petrol-electric GLC isn't as efficient as another major competitor – the Audi Q5 TFSI e. It may well be that, as is the case with the E-Class executive saloon – the diesel plug-in hybrid option actually makes more sense, particularly for those who regularly exceed the car's pure-electric range on their journeys. For a more detailed look at the GLC hybrid, read on for the rest of our in-depth review...