Ferrari SF90 Spider revealed with 986bhp and plug-in hybrid power
Ferrari's new flagship supercar loses its roof to become the world's first plug-in hybrid convertible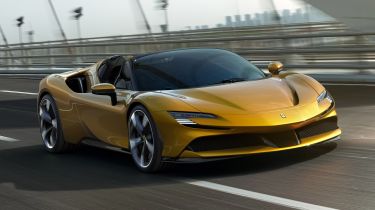 Ferrari has taken the wraps off its latest supercar – the SF90 Spider. A convertible version of the SF90 Stradale coupe, the new car uses the same 4.0-litre V8 petrol engine and electric motor combination, with a mighty 986bhp on tap, plus a 7.9kWh battery that allows for 15.5 miles of pure-electric driving. 
Prices have yet to be announced, but it's safe to expect the SF90 Spider to cost a good chunk more than its Stradale counterpart, which itself comes in at a healthy £376,000. 
The Spider is only the second plug-in hybrid Ferrari and can also be considered the first and only production plug-in hybrid convertible on sale. The car's roof is the biggest change compared to its coupe sibling: it's a fabric item that can fold away in just 14 seconds. There's also a rear window that can be lowered separately to let occupants hear the car's exhaust note a little better.
Inside, the car remains much the same as the Stradale coupe version, albeit with the addition of a pair of fins that help reduce buffeting in the cabin when the roof is down. An impressive 16-inch driver's display is used in place of a traditional central infotainment system.
The convertible conversion has added some extra weight to the SF90 – around 100kg – but this hasn't affected the car's staggering performance figures: 0-62mph in 2.5 seconds, 0-124mph in seven seconds and a top speed of 211mph. That blistering performance is made possible by a fast-shifting eight-speed dual-clutch gearbox and four-wheel drive, with the front axle powered exclusively by the car's electric motor. 
There are four driving modes, each selectable using what Ferrari calls its 'eManettino' – an F1-inspired switch on the steering wheel. Pure-electric running is possible in eDrive mode, with speed limited to 84mph, while Hybrid mode can switch between power sources or blend the two as required. Performance and Qualify modes are there for when maximum power is required, such as on a racetrack.
For those looking for an even more exciting experience on track, an optional Assetto Fiorano pack is available, which adds improved suspension components, sticky Michelin Pilot Sport Cup 2 tyres and reduces weight by 21kg.