New 2022 Aston Martin Valhalla plug-in hybrid V8 supercar unveiled
Aston Martin's first mid-engined production supercar features an all-new 4.0-litre V8 and two electric motors, producing a combined 937bhp
This is the new Aston Martin Valhalla plug-in hybrid supercar in final production form. It has changed significantly since the first images were released back in 2019: it now features more complex styling, looking less like the Valkyrie hypercar, as well as a new V8 plug-in hybrid powertrain with two electric motors, as opposed to the original V6 with a single electric motor.
The British brand's "truly driver-focused mid-engined hybrid supercar" produces 937bhp – 740bhp from the bespoke 4.0-litre twin-turbo V8 engine and 201bhp from the electric motors, one of which is mounted on each axle. Combined, the electric motors and petrol engine can also deliver up to 1,000Nm of torque.
As a result, Aston Martin's first plug-in hybrid road car is capable of accelerating from 0-62mph in 2.5 seconds and reaching up to 217mph. The company says it's targeting a 6:30 Nurburgring Nordschleife lap with the car. No pricing information has been confirmed, although CEO Tobias Moers says it will cost less than £1million.
Another first for the brand is the Valhalla's use of an all-new eight-speed dual-clutch transmission that features an electronic limited-slip differential on the rear axle for improved traction and agility. Aston chose not to fit a reverse gear to the transmission to save weight; instead, the Valhalla reverses using its electric motors only.
Like other plug-in hybrid supercars, the Valhalla is capable of driving in a pure-electric mode. But, while the recently unveiled Ferrari 296 GTB and McLaren Artura can do 15 and 19 miles of zero-emissions driving respectively, the Valhalla has an electric range of just nine miles – albeit at speeds up to 80mph. 
Aston Martin has yet to release details about the size of the battery in the Valhalla, or its charging times. We do know that in EV mode, battery power is directed only to the front-axle motor, while in other driving modes the power is split between the two, or in certain situations can be sent entirely to the rear axle.
The Valhalla also features active aerodynamics that can produce up to 600kg of downforce at 150mph, on a car that Aston Martin is aiming to weigh in at just 1,550kg dry – 20kg less than the Ferrari SF90 Stradale that'll be the Valhalla's most direct rival. To reduce weight, the Valhalla uses a new carbon-fibre tub, much like its more track-focused sibling, the Valkyrie.
The Valhalla will have more interior space and creature comforts than the Valkyrie, coming with features like a central infotainment screen with Apple CarPlay and Android Auto. Standard equipment also includes Matrix LED headlights, dual-zone air-conditioning and various safety features such as active cruise control, blind-spot monitoring and automatic emergency braking. Images of the interior haven't been released yet, however.
Top 10 best hybrid company cars 2023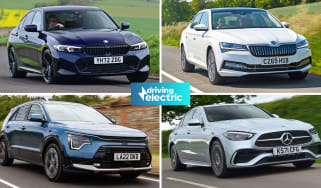 Top 10 best hybrid company cars 2023
Caterham EV Seven is the track day car of the future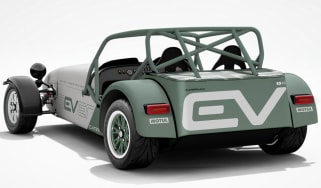 Caterham EV Seven is the track day car of the future
Electric Ford Puma could become the UK's best-selling EV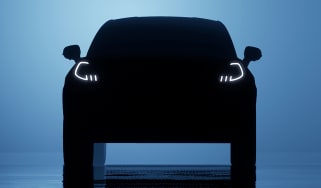 Electric Ford Puma could become the UK's best-selling EV
The Ford Puma EV is set to arrive in 2024 with a range of over 200 miles and a tweaked exterior design
Vauxhall Corsa Electric facelift brings sharp new look and tech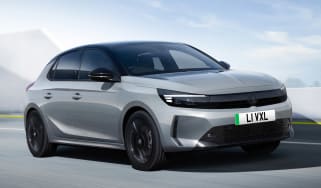 Vauxhall Corsa Electric facelift brings sharp new look and tech
Vauxhall's top-selling electric supermini has been updated for 2023, now getting the 'Vizor' from the Mokka Electric
BMW i5 breaks cover as 5 Series EV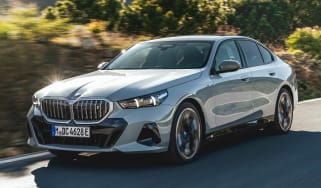 BMW i5 breaks cover as 5 Series EV
BMW has unveiled an all-electric version of its long-running 5 Series, with a range of up to 362 miles