New 2021 Nissan Qashqai hybrid: pictures, details and on-sale date
The latest version of the big-selling family SUV is now on sale, with sharp new look and hybrid-only engine range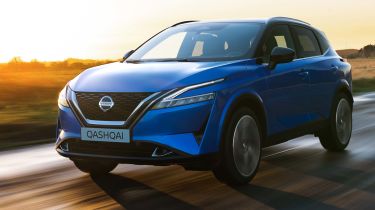 Nissan has revealed the new third-generation version of its most important model in the UK – the Qashqai family SUV. The first cars are expected in showrooms later in 2021; the mild-hybrid petrol model is available to order now, with the innovative 'e-POWER' hybrid following in early 2022.
This Qashqai is the first Nissan to sit on a new mechanical platform, which the Japanese manufacturer calls 'CMF-C'. It promises to be both lighter and stronger than previous models and will underpin a wide range of models from Nissan and its sister brands – including Renault and Mitsubishi – in years to come.
The major news with this new Qashqai is that the big-selling model drops purely petrol and diesel engines in favour of a line-up of petrol-electric hybrid options. Initially, there's a 1.3-litre DIG-T mild-hybrid petrol with a choice of two power outputs, front or four-wheel drive and manual or automatic transmission. Then, 2022 will see the arrival of a unique full-hybrid drivetrain that Nissan calls 'e-POWER', which is front-drive and automatic only.
In addition to the hybrid Qashqai, Nissan has also announced the pure-electric Nissan Ariya family SUV, joining its existing electric passenger-car line-up of the Nissan Leaf family hatchback and Nissan e-NV200 Combi MPV.
2022 Nissan Qashqai e-POWER hybrid details
This system has already debuted on the Japanese market in models such as the Nissan Note supermini and Nissan Serena MPV, but the Qashqai will be the brand's first European car to get it when it arrives in 2022. The e-POWER setup differs from other hybrids (such as those from Toyota and Honda), as the petrol engine doesn't directly drive the wheels. Instead, the wheels are driven by electric motors, which take their power from a battery that is itself charged up by the petrol engine.
Nissan says this will make the e-POWER drive like a pure-electric car, with the same instant torque surge from rest. The engine, meanwhile, operates within an 'optimal range' of revs per minute, which Nissan promises will maximise fuel efficiency while also keeping things quiet and providing "a natural, connected feel during acceleration".
The e-POWER drivetrain will be available in two-wheel-drive form and with an automatic gearbox only. It's comprised of a 152bhp 1.5-litre petrol-engine generator, plus a 188bhp electric motor that drives the wheels. Nissan estimates average fuel economy of 53mpg and CO2 emissions of 122g/km, although these figures have yet to be verified in official testing.
Three driving modes will be available to e-POWER drivers: Standard, Sport and Eco. In Standard, the car is said to accelerate strongly, while lifting off produces a regenerative braking effect similar to the 'engine braking' experienced in a normal petrol or diesel car.
Sport offers better acceleration with reduced engine off time, while Eco is a fuel-saving mode that optimises battery management and allows for 'coasting' when cruising at a steady speed. In all modes, an extra 'B' setting can be applied; this increases brake energy recuperation, slowing the car more efficiently without the use of the brake pedal.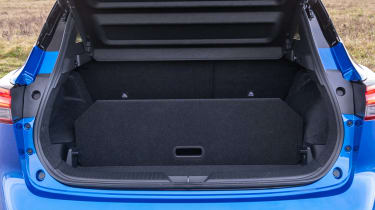 Styling and practicality
The new Qashqai hasn't deviated too much from its predecessor's shape and outline, but boasts a look that Nissan describes as "more muscular, sharp and modern". The front-end treatment is similar to that of the smaller Nissan Juke SUV, with a large V-shaped grille and slim, sharp LED daytime running lights.
A single 'fast line' runs down the side of the body, while alloy wheels of up to 20 inches can now be specified – the outgoing Qashqai's wheel range topped out 19 inches. There's a choice of 11 different body colours, and five two-tone combinations mean a total of 16 variations to pick from.
The wheelbase is 20mm longer than the previous Qashqai's, with the overall length increasing 35mm. The new car is also 25mm higher and 32mm wider than its predecessor. Those increased dimensions pay dividends inside, where Nissan says there's 28mm more kneeroom for rear-seat passengers and 15mm more headroom both front and rear.
A powered hands-free tailgate opens to reveal a boot 50 litres bigger than the previous Qashqai's. Key practicality features from that car, such as side storage compartments and a flexible luggage board system, have been carried over. A wider rear door opening promises easier access for fitting babies and toddlers into child seats.
Interior and technology
Inside, the new Qashqai features a straightforward and functional dashboard design, with a 12.3-inch digital dial screen behind the steering wheel, a prominent tablet-style nine-inch infotainment screen in the middle of the dashboard and an upright panel just underneath it incorporating air vents and physical controls for the heating and ventilation system. A 10.8-inch head-up display in the driver's line of sight is also available.
White ambient lighting is used throughout and Nissan says that all switchgear and buttons have a "high-quality, tactile feel". On the technology front, the car's infotainment system incorporates smartphone integration, on-board wi-fi for up to seven devices and the NissanConnect app for remote interaction with and monitoring of the car. Google Assistant and Amazon Alexa integration allows routes and destinations to be searched for at home and then sent to the navigation system.
The new Qashqai also features the latest iteration of Nissan's 'ProPILOT' driver assistance technology. This will be capable of accelerating or braking autonomously while staying within a traffic lane and keeping a safe distance from vehicles in front, as well as coming to a stop in heavy traffic and then moving off again if the car is stopped for three seconds or less. The system will also take account of the prevailing speed limit, as well as using sat-nav data to anticipate sharp bends.