Nissan Qashqai E-POWER hybrid prototype review
We get behind the wheel of Nissan's unusual new hybrid drivetrain, which features wheels driven by an electric motor and a battery charged by the engine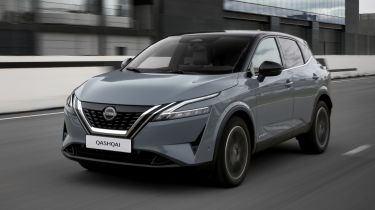 | Car type | Fuel economy | CO2 emissions | 0-62mph |
| --- | --- | --- | --- |
| Hybrid | 53mpg | 119g/km | TBC |
While a petrol-electric plug-in hybrid setup is fast becoming the default power source for family SUVs these days, Nissan is adopting a different approach with the latest Qashqai. While the model has been on sale for the best part of a year now with a mild-hybrid drivetrain, 2022 will see the addition of a new 'e-POWER' variant to the line-up.
Nissan calls it "an EV unplugged" – the wheels are driven by a 188bhp electric motor fed by a battery, but instead of having to plug in to charge the latter, its energy comes from a 1.5-litre petrol engine, humming away in the background at a steady rate – and promising better fuel economy (over 53 miles per gallon) and lower CO2 emissions (119 grammes per kilometre) than a regular petrol Qashqai as a result.
We've now driven this interesting setup for the first time – albeit in pre-production form on a test track – to get an idea of what to expect when it arrives in UK showrooms during the summer. Nissan says the e-POWER is meant to feel like an electric car to drive, and at low speeds especially, it does. You can hear the engine, of course, and anyone who's driven a car with the CVT gearbox will recognise the unusual sensation of the car's speed and acceleration not quite matching the sound that's coming from under the bonnet.
But it soon fades into the background, and often around town it falls completely silent once there's sufficient charge in the battery to keep you going for a bit. Another way the Qashqai e-POWER apes a fully electric car is with its 'e-Pedal' regenerative braking. As is the case with the Nissan Ariya electric SUV, though, this no longer lets you come to a complete stop as it does in the Nissan Leaf, so it's not true 'one-pedal driving'.
Inside, the Qashqai e-POWER gets a 12.3-inch infotainment screen with a revised interface, and outside there's a solid black plastic bar to set this more electrified model apart from the mild-hybrid versions. Apart from that, everything is pretty much as it is on the regular Qashqai.
We'll have to wait until driving the final production car on UK roads before giving our definitive verdict, but in the meantime, this car has the makings of an interesting new option if you're in the market for an electrified SUV – particularly if you're unable to charge a plug-in hybrid or electric car at home or at your workplace.