Aston Martin DBX hybrid spotted testing
A plug-in hybrid version of the Aston Martin DBX luxury SUV has been spotted undergoing testing at the Nurburgring race circuit in Germany
The Aston Martin DBX luxury SUV is set to get a plug-in hybrid drivetrain by 2024, turning it into a direct rival for the Bentley Bentayga Hybrid.
Although no official announcement of the model's launch has been made, spy photographers at the Nurburgring race circuit in Germany have snapped a prototype version undergoing testing, with a yellow windscreen decal indicating it has an electrified powertrain.
With Aston Martin now part-owned by Mercedes-Benz, it follows that the car is most likely to use one of the German brand's petrol-electric engines – perhaps even the same setup as the recently unveiled Mercedes-AMG GT 63 S E Performance. That car has a 4.0-litre twin-turbo V8, electric motor and battery, giving it a maximum power output of 831bhp, a 0-62mph time of 2.9 seconds and a top speed of 196mph.
Other high-performance plug-in hybrid SUVs that could rival the DBX include the Audi Q7 TFSI e, Porsche Cayenne and Cayenne Coupe hybrids.
Top 10 fastest hybrid cars 2022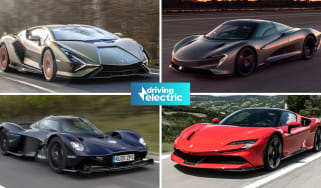 Top 10 fastest hybrid cars 2022
Electric Ford Puma could become the UK's best-selling EV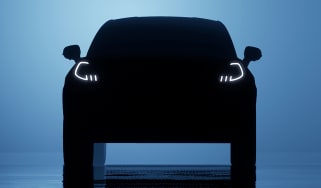 Electric Ford Puma could become the UK's best-selling EV
The Ford Puma EV is set to arrive in 2024 with a range of over 200 miles and a tweaked exterior design
Vauxhall Corsa Electric facelift brings sharp new look and tech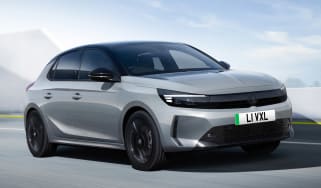 Vauxhall Corsa Electric facelift brings sharp new look and tech
Vauxhall's top-selling electric supermini has been updated for 2023, now getting the 'Vizor' from the Mokka Electric
Caterham EV Seven is the track day car of the future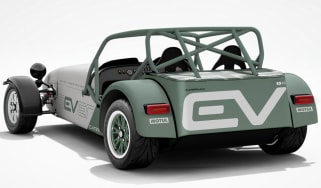 Caterham EV Seven is the track day car of the future
Caterham has revealed an all-electric version of its iconic Seven sports car… that you can't buy