Mercedes-AMG GT 63 S E Performance plug-in hybrid supersaloon launched
Porsche Panamera hybrid rival storms in with 831bhp output from twin-turbo V8 petrol-electric drivetrain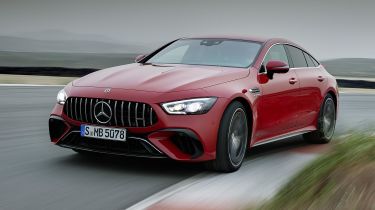 The plug-in hybrid version of Mercedes' AMG GT 4-Door Coupe supersaloon has been revealed at the IAA Mobility motor show in Munich. Sporting the somewhat unwieldy official name of 'Mercedes-AMG GT 63 S E Performance', the car boasts a 4.0-litre twin-turbo V8 petrol-electric drivetrain making up to 831bhp. Acceleration from 0-62mph takes 2.9 seconds and top speed is a heady 196mph.
A 6.1kWh battery mean pure-electric range is just over seven miles – a lot less than more efficiency-focused plug-in hybrids. However, the AMG GT's system is geared more towards using electric power to boost acceleration and performance rather than maximising zero-emissions range. Standard equipment on the range-topping S E Performance version includes adaptive suspension, ceramic brakes and hybrid-specific menus and displays for the MBUX multimedia system.
The AMG GT 63 S E Performance is set to do battle with the already-on-sale Porsche Panamera hybrid and the Porsche Taycan pure-electric car.  Its plug-in hybrid powertrain could also be offered across some or all of the rest of the AMG line-up, including the E-Class saloon and estates, as well as the GLE and GLS SUVs. Mercedes' part-ownership of Aston Martin could also see it used to power the upcoming hybrid version of the British brand's DBX SUV.
Smaller models like the C-Class and GLC are expected to get a new four-cylinder plug-in hybrid drivetrain that AMG is also working on. Elsewhere, AMG has also revealed its first fully electric model in the shape of the Mercedes-AMG EQS 53 4MATIC+, while the brand is also working on an ultra-exclusive hypercar powered by the Mercedes Formula 1 team's 1.6-litre turbocharged hybrid V6 engine.