Mercedes-AMG GT 73 4-Door Coupe EQ Power+ plug-in hybrid spotted testing
Up to 794bhp power output rumoured for upcoming Porsche Panamera hybrid rival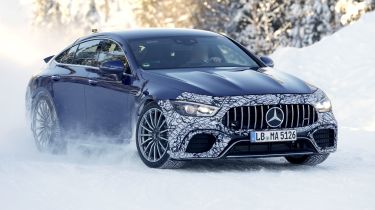 A plug-in hybrid version of Mercedes' AMG GT 4-Door Coupe supersaloon is on the way, as evidenced by new pictures of a prototype version of the car testing in winter conditions.
The 2017 concept car that previewed the GT 4-Door Coupe, the Mercedes-AMG GT Concept, was said to have a hybrid V8 engine under the bonnet, but the initial production version of the car launched with the non-hybrid 630bhp 4.0-litre twin-turbo V8 engine used by other 'AMG 63' models in the brand's line-up.
Now, though, the plug-in hybrid variant looks set to finally arrive, and it could outstrip its petrol-only counterpart in the performance stakes. A total power output of 794bhp (the same as the GT Concept) has been suggested, with such a leap in power likely overcoming the added weight of the hybrid system and battery.
A 0-62mph time of three seconds or less is anticipated, outgunning the current GT 4-Door Coupe 63 S, which takes 3.2 seconds to complete the benchmark sprint. The hybrid version of the car is expected to be called the Mercedes-AMG GT 73 4-Door Coupe EQ Power+ and is set to do battle with the already-on-sale Porsche Panamera hybrid and the Porsche Taycan pure-electric car.
Mercedes tacitly acknowledged the existence of the GT 73 in late 2019, when a year-end video released by the AMG division showed a GT 4-Door Coupe prototype accelerating away silently under electric power, accompanied by the tagline "the future of performance".
Once the GT 73 launches, its plug-in hybrid powertrain could then be offered across some or all of the rest of the AMG line-up, including the C and E-Class saloons and estates, as well as the GLC and GLE SUVs and coupe-SUVs.
A fully electric AMG performance car is under development, too, and the brand is also working on an ultra-exclusive hypercar powered by the Mercedes Formula 1 team's 1.6-litre turbocharged hybrid V6 engine.