Peugeot 3008 Hybrid review
The Peugeot 3008 Hybrid is both fast and cheap to run, but it's expensive to buy, feels heavy and loses some of the non-hybrid versions' practicality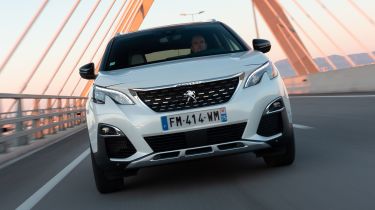 Pros
Fast and powerful
Very low company-car tax
Looks great inside and out
Cons
Feels quite heavy
Reduced boot space
Claimed economy tough to match
| Car type | Electric range | Fuel economy | CO2 emissions |
| --- | --- | --- | --- |
| Plug-in hybrid | 39-40 miles | 157-235mpg | 29-31g/km |
The Peugeot 3008 Hybrid is a mid-size plug-in hybrid family SUV that's part of the recent wave of mainstream cars that can run on electric power for some distance, cutting running costs and smoothing the impending transition to fully electric power for motorists in the coming years.
The 3008 uses very similar technology to the Vauxhall Grandland Hybrid, Citroen C5 Aircross Hybrid and DS 7 Crossback E-TENSE, as all of these cars use the same underlying architecture. Rivals from other manufacturers include the Ford Kuga Plug-In Hybrid, plus BMW's X1 and X2 hybrids.
The 3008 Hybrid's on-paper figures are impressive, just like those of all plug-in hybrid cars. CO2 emissions as low as 29g/km and fuel economy as high as 235mpg looks incredible if you're used to a regular petrol or diesel, yet if you don't plug in regularly, the 3008 Hybrid could be even less efficient than one with no electrification at all. It's all about your usage – this version is designed for those who can plug in every day. The 3008 Hybrid has a pure-electric range of up to 40 miles, which means some versions have a Benefit-in-Kind company-car tax rate of just 7% (although most are 11%) during the 2021/22 financial year.
The range-topping 3008 Hybrid4 is driven by the same 296bhp petrol-electric drivetrain available in the Vauxhall and DS models mentioned above. It consists of two electric motors paired with a 197bhp, 1.6-litre turbocharged engine to deliver that hefty maximum output, and means the 3008 Hybrid4 is fast as well as potentially very frugal. There's also a less expensive 222bhp version, called simply the Hybrid, with a single electric motor (and therefore no four-wheel drive).
There are a number of driving modes to select, and in 'Sport' the full power of the car is unleashed, allowing for a 5.9-second 0-62mph time in the Hybrid4. The eight-speed automatic gearbox isn't the smoothest-shifting transmission we've encountered, but this 3008 can still take off like a hot hatchback when you put your foot down. There's a good deal of vibration and noise when you do so, but fortunately the engine is much quieter when driven more sedately.
You're likely to spend much more of your time in 'Electric' or 'Hybrid' mode. In the former, Peugeot says you should be able to keep going for up to 40 miles on power from the car's 13.2kWh battery alone without waking the engine. Doing this, the 3008 is extremely smooth, quiet and relaxing to drive – a sensation enhanced by good ride quality, even on large 19-inch alloy wheels.
In 'Hybrid' mode, the 3008 behaves more like a Toyota or Honda hybrid, deciding itself whether to use electric or petrol power, or mix the two, in order to make progress as efficiently as possible. You can also hold on to battery charge until you want or need to use it – when you enter an urban area, for example. And the fact that there are two electric motors means you get proper four-wheel drive, too – although it doesn't quite turn the clearly road-biased 3008 into a Land Rover Defender rival.
In order to even get close to that headline fuel-economy figure, you need to charge up the 3008 regularly – most likely from a home wallbox that can be installed when you buy the car. Doing so takes less than two hours, which makes it easy to fit in and around a busy lifestyle. A smartphone app allows you to set charging times to take advantage of cheaper overnight electricity, while the heating or air-conditioning can be pre-set to have the car at a certain temperature for you when you leave.
Peugeot has made some compromises made in order to carry the battery: the fuel tank is 10 litres smaller than a regular 3008's, and boot space comes down from 520 to 395 litres. You do at least get a dedicated 25-litre area for storing the cables while on the move. And while the battery takes away space, it adds weight: 340kg, to be exact, making the hybrid 3008 feel a lot less agile through corners than its purely petrol or diesel-engined counterparts.
In practice, that means there's little inclination to use the prodigious performance we mentioned earlier, and therefore seemingly little reason to shell out the at least £43,500 demanded for the two-motor 'Hybrid4' version. In reality, it's only really going to make sense for company-car drivers.
For private buyers, the standard Hybrid is priced around £5,000 less than a Hybrid4 in the same trim level, but it's also available in a cheaper 'Allure' specification, so you can actually get behind the wheel of one for a little over £36,500, escaping the higher annual rate of VED (road tax) for £40,000+ cars in the process.
Whichever of the two you choose, you'll get the generous standard equipment, head-turning exterior styling, high-tech dashboard and comfortable interior the 3008 has become known for since its launch. You just have to be sure you can live with the practicality sacrifices, and remember that those scintillating on-paper performance figures don't necessarily translate to a thrilling driving experience.