Top 10 fastest depreciating electric and hybrid cars
These are the hybrid, plug-in hybrid and electric cars that lose the most value – opening up the potential for keen secondhand bargains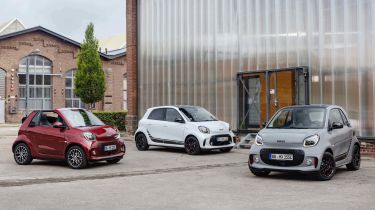 Almost every new car suffers a degree of depreciation during its formative years – some the minute they leave the showroom. Inevitably, as a car piles on the miles, its value drops, with the associated wear-and-tear contributing to its lower perceived worth. But some cars are more susceptible to depreciation than others. Demand plays a big part in this; cars that are more highly sought-after benefit from higher residual value (RV), while those in excess supply may see their used prices adversely affected.
Depreciation can even play a part on how much you pay on a monthly PCP finance deal; more expensive cars often work out cheaper per month than their less prestigious equivalents, largely due to their more favourable RVs. If a manufacturer or dealer knows the car will be worth more when you trade it in, it can charge you less in the interim.
That said, list price does have a big effect on depreciation. More expensive models inevitably have more to lose; even if it's worth pennies at the end of its life, a £10,000 city car will never drop by more than a few thousand pounds, whereas a £70,000 pure-electric SUV has much further to fall. It's worth remembering that if you're not fussed on a brand-new car, then used models with poor RVs can represent fantastic value for money. Once the first owner has taken that initial hit, these cars can be something of a secondhand bargain.
Here, we list the fastest-depreciating electric and hybrid cars, according to CDL Vehicle Information Services (CDL VIS) July 2021 numbers. You can also check out our list of the slowest-depreciating cars to get an idea of those that hold their value the best.
Fastest depreciating electric cars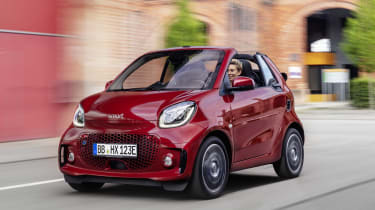 Smart EQ ForTwo Cabrio Brabus (41.55%)
It's a Smart double-header at the top of our electric-car depreciation list: the Smart EQ ForTwo Cabrio version retains a disappointing 41.55% of its value after the first three years. Its niche design won plenty of hearts at launch, but it seems that for some its limited practicality is a compromise too far. While no model fares particularly well, the sporty-looking Brabus Line version sheds the most of its initial purchase price.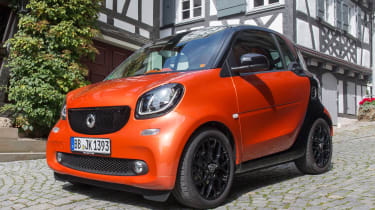 Smart EQ ForTwo Coupe Edition Bluedawn (42.61%)
It seems selecting a fixed roof for your electric Smart has a positive effect on residual values – although in reality, the difference between this Coupe model and the Cabrio is marginal. In many ways, the Smart ForTwo is the perfect electric car: small, urban-friendly and cheap to run. However, a short range, relatively slow 22kW charging and limited practicality all work against it; the Smart is a niche EV that, in Edition Bluedawn guise, suffers badly from depreciation.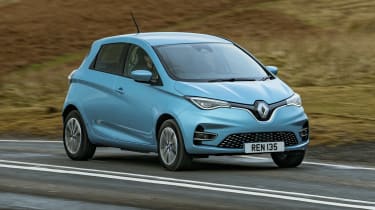 Renault ZOE Iconic Rapid Charge (42.87%)
The Renault ZOE finds itself in third place on this list, which is something of a surprise given its solid real-world range and reasonable price. Updated for 2019, the electric supermini is offered with a choice of motors and specifications – and the mid-spec Iconic fares least favourably here. It's odd really, as this version offers plenty of kit, plus the all-important rapid-charging capability. Don't be put off, though – if the deal's good, the ZOE is a fine small electric car.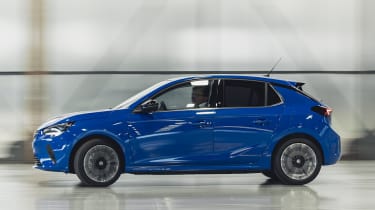 Vauxhall Corsa-e Elite Nav Premium (43.44%)
Historically, the market has been awash with Vauxhall Corsas with weedy petrol engines and spartan kit lists, and it seems the tainted nameplate does this EV supermini no favours. This fully electric Corsa-e is vastly improved, however, and while the Elite Nav Premium model is pricey, cheaper SE Nav cars offer all the equipment you'll ever need. This could be a true used-car bargain in a few years time.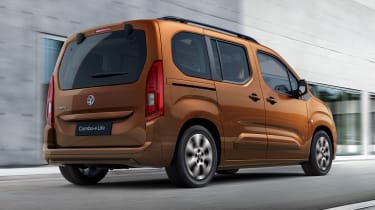 Vauxhall Combo-e Life SE 5-Seat (43.83%)
Despite it being a relatively new car, experts don't predict strong residual values for the Vauxhall Combo-e Life. It's an incredibly practical family car, with room for everything owners can throw at it, but with petrol and diesel MPVs falling out of favour, it's no surprise that electric versions of the same are expected to follow that trend.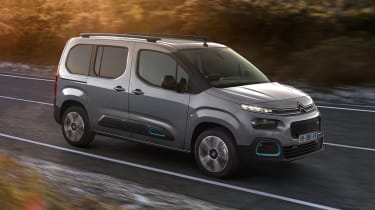 Citroen e-Berlingo Feel (44.56%)
The Citroen e-Berlingo is effectively a Vauxhall Combo-e Life in all but name. The styling is subtly different, but the two models share a wide range of parts, as well as their batteries and electric motors. Loads of space, sliding doors, fast charging and a 170-mile range – both models offer plenty of appeal for those after a practical family car. Just be sure to factor in relatively heavy depreciation when you look at buying one.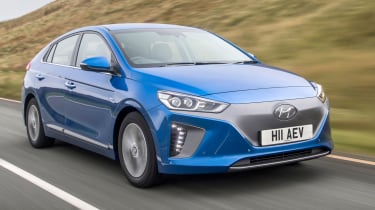 Hyundai Ioniq Electric Premium SE (44.58%)
While perhaps not as established as cars like the Renault ZOE or Nissan Leaf, the Hyundai Ioniq – not to be confused with the new Ioniq 5 – is still one of the true archetype electric vehicles, having been around since 2016. It doesn't have the competitive range of more modern EVs, and the styling both inside and out leaves little to get excited about. It's efficient though, and should prove very easy to live with.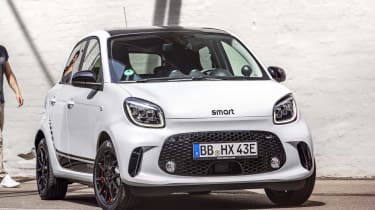 Smart EQ ForFour Exclusive (45.11%)
The third and final Smart to feature in our list of the fastest-depreciating electric cars is the four-seat, four-door EQ ForFour. Likely due to its modest range and limited practicality, the EQ ForFour – specifically in pricier Exclusive specification – will hold on to just 45.11% of its list price after three years or 36,000 miles.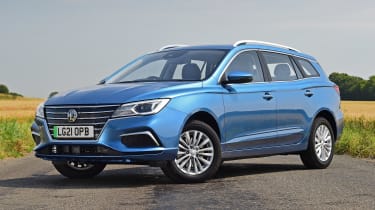 MG 5 52.5kWh Exclusive (46.02%)
The MG 5 is another car we're surprised to see featured in this list. It's a practical, good-value electric estate car with a decent real-world range, so little comes close if you're a pragmatist looking for maximum load space on a modest budget. What's perhaps less surprising is that the specific model listed by RV experts CDL VIS is the higher-spec, smaller battery car – we reckon the sweet spot is the 61kWh, 250-mile model in the cheaper Excite trim.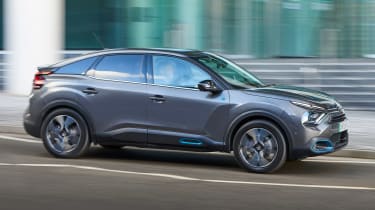 Citroen e-C4 Sense Plus (46.56%)
Propping up our list of the fastest-depreciating electric cars is the Citroen e-C4. Despite sharing many of its parts with the Peugeot e-2008, DS 3 Crossback E-TENSE and Vauxhall Mokka-e, the quirky Citroen crossover is the only one of the four to feature in our top 10. Don't let that put you off if you're after a comfortable zero-emissions family car, though; the Citroen stays true to its roots by feeling soft and supple on all but the very worst roads.
Fastest depreciating hybrid cars
BMW 745Le xDrive M Sport Ultimate (37.41%)
Big luxury cars have always suffered at the hands of the depreciation calculator – and the BMW 745Le is no exception. Despite ditching its wheezy four-cylinder hybrid setup in favour of a punchier six-cylinder unit, a new, top-of-the-line 7 Series will drop in value faster than a boulder falling from a cliff edge. The big BMW isn't alone, however, as the second-placed car in our list is one the 745Le's closest competitors...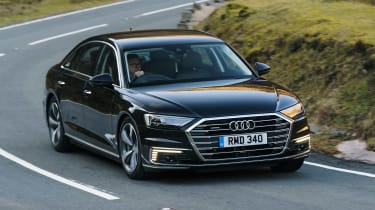 Audi A8 60 TFSI e LWB Sport (37.79%)
Just like the BMW 745Le, Audi's flagship limousine will take a huge hit when it comes to depreciation. While there's not a lot in it, the long-wheelbase models suffer most, ensuring you won't make back money spent on extra rear legroom when the time comes to sell. It's not as sharp to drive as the BMW, but that arguably makes it better to be chauffeured around in.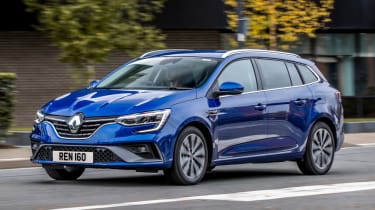 Renault Megane Sport Tourer 1.6 E-TECH Iconic (38.23%)
The two flash executive cars that top this list are followed by something altogether more modest. The Renault Megane Sport Tourer is a practical plug-in estate car that loses out to the myriad hybrid SUVs competing for your cash in this area of the market. Lacking the desirability of its crossover rivals means it struggles to hold its value from new – but shrewd buyers could pick up a bargain secondhand.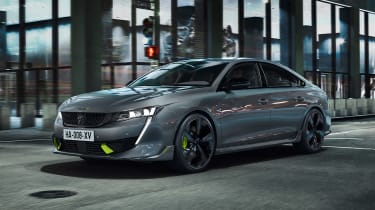 Peugeot 508 Fastback Peugeot Sport Engineered e-EAT 8 (38.71%)
Peugeot hasn't used the GTi name for a few years. Now, the firm's fastest models get the Peugeot Sport Engineered badge, plus aggressive looks and performance to match; the top-spec 508 is a 355bhp plug-in hybrid estate car capable of 0-62mph 5.2 seconds and as many as 26 miles on electric power alone. List prices are high, though, and you'll pay through the nose on a monthly finance deal. Equivalent BMWs or Volvos are cheaper to lease, and should hold their value much better over three years or 36,000 miles.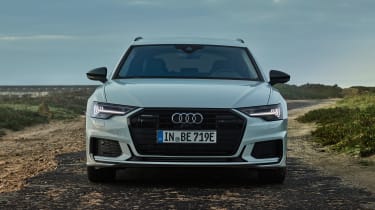 Audi A6 Avant 55 TFSI e Competition Vorsprung (39.53%)
It might surprise you to find even one Audi in the list of the fastest-depreciating hybrid cars, let alone two. The range-topping A6 Avant 55 TFSI e in plush Competition Vorsprung spec will shed a whopping 60.47% of its value after three years, making a dent in even the deepest pockets. It's no surprise, really, given that prices for this variant start at more than £80,000. The entry-level versions are much better value.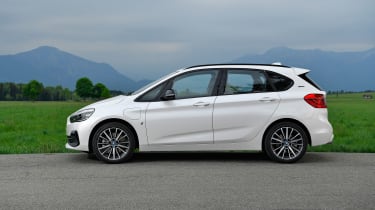 BMW 225xe Active Tourer Luxury (39.65%)
MPVs aren't very fashionable, so it's no surprise to find one of the few plug-in people carriers on this list. With many buyers favouring the raft of almost-as-practical SUVs, cars like the BMW 225xe Active Tourer struggle to hold their value on the used market. Bad news if you're selling, but worth checking out if you're looking for a secondhand one. There are plenty to pick from.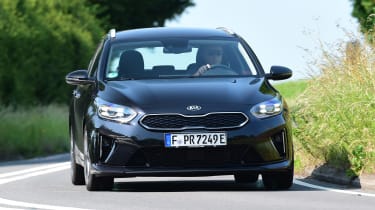 Kia Ceed Sportswagon PHEV '3' (39.71%)
Kia's enviable electrification strategy sets the benchmark many others must meet – from the pure-electric e-Niro and forthcoming EV6, to hybrid versions of the Sorento and Ceed, there's a plug-in for all budgets. But while demand is high for the brand's EVs, predicted residual values for the Ceed Sportswagon PHEV aren't quite as favourable. Still, if a plug-in hybrid suits your driving style, a car like this could cost mere pennies to run.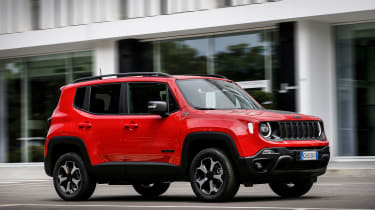 Jeep Renegade 4xe Trailhawk (39.73%)
As it stands, there are very few cars that can take you far off the beaten track and continue to run purely on electric power. The Jeep Renegade 4xe – especially in trail-rated Trailhawk specification – is one of them. It's the most expensive model in the line-up, yet it's also one of the most capable; you'll pay for the privilege, but that doesn't stop it being unique in its appeal.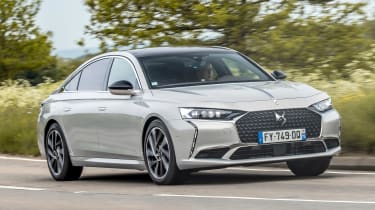 DS 9 E-TENSE Rivoli+ (39.74%)
Big French saloon cars have long struggled in the UK market, with buyers favouring established German (and British) rivals instead. It's no wonder, then, that the latest DS 9 E-TENSE finds itself in our list of the fastest-depreciating hybrid cars. If you want one, we'd recommend the better-value Performance Line model; the Rivoli+ adds extra luxury features, but it's expensive. Still, buy one secondhand and you could bag yourself a comfortable, refined, tech-laden executive saloon for a fraction of what it would cost new.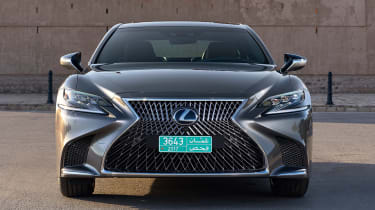 Lexus LS 500h Premium (39.80%)
It's somewhat fitting that our list is bookended by two luxury saloon cars; the Lexus LS 500h is the only non-plug-in hybrid on this list, and while that limits the opportunity for a longer zero-emissions range, it should still prove admirably efficient for such a large car. Big drops in value are inevitable at this end of the market, but that means there are bargains to be had secondhand.
Top 10 best seven-seater electric and hybrid cars 2021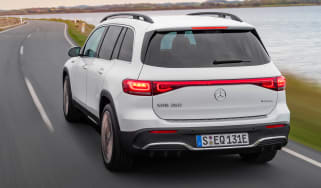 Top 10 best seven-seater electric and hybrid cars 2021
If the regular crop of electrified SUVs and family cars don't provide enough practicality for you, then take a closer look at the range of electric an…
Top 6 best hybrid hatchbacks 2021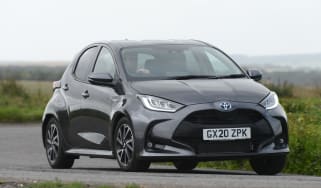 Top 6 best hybrid hatchbacks 2021
A hybrid hatchback is just as practical as a normal hatchback, but with even lower running costs. These are the best on sale in 2021
Complete guide to the BP Pulse (formerly Polar Plus) charging network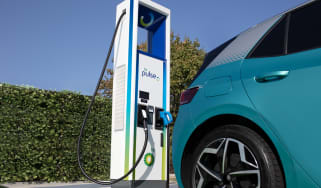 Complete guide to the BP Pulse (formerly Polar Plus) charging network
This is how to charge your electric or plug-in hybrid car on the BP Pulse public charging network (which was formerly known as the Polar Plus network)