​Top 10 fastest-depreciating electric and hybrid cars 2023
These are the hybrid, plug-in hybrid and electric cars that lose the most value – opening up the potential for keen secondhand bargains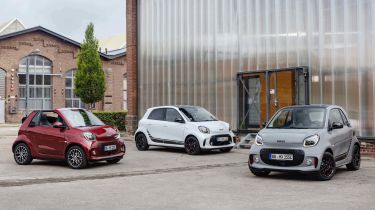 Almost every car suffers a degree of depreciation during its early years – many the minute they leave the showroom. Inevitably, as a car piles on the miles, its value drops, with the associated wear-and-tear contributing to its lower perceived worth. But some cars are more susceptible to depreciation than others. Demand plays a big part in this; cars that are more highly sought-after benefit from higher residual value (RV), while those in excess supply may see their used prices adversely affected.
Depreciation can even have a big impact on how much you pay on a monthly PCP finance deal; more expensive cars often work out cheaper per month than their less prestigious equivalents, largely due to their more favourable RVs. If a manufacturer or dealer knows the car will be worth more when you trade it in, it can charge you less to use it in the interim.
List price can also have a big effect on depreciation. More expensive models inevitably have more to lose; even if it's worth pennies at the end of its life, a £10,000 city car will never drop by more than a few thousand pounds, whereas a £70,000 electric SUV has much further to fall. It's worth remembering that if you're not fussed about driving a brand-new car, then used models with poor RVs can represent fantastic value for money. Once the first owner has taken that initial hit, the canny buyer is left with something of a secondhand bargain.
Here, we list the fastest-depreciating electric and hybrid cars, according to the latest numbers from the car valuation experts at CDL Vehicle Information Services. The percentage figures indicate how much of each model's list price is retained after three years or 36,000 miles on the road. You can also check out our list of the slowest-depreciating cars to get an idea of those that hold their value the best.
Fastest depreciating electric cars
Below are the 10 fastest depreciating electric cars in the UK right now. The data is based on a three-year, 36,000-mile ownership period which will represent quite a high mileage under typical electric car usage patterns so remember that lower-mileage models will be worth more.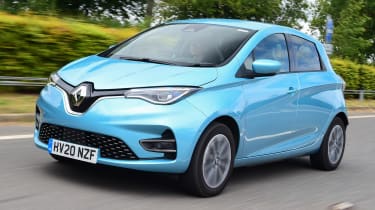 1. Renault ZOE (38.58-43.95%)
The Renault ZOE became one of the first mainstream electric cars when it debuted back in 2013. However, its popularity may have had an impact on its residuals, as the French electric supermini is only forecasted to retain between 38.58% and 43.95% of its value. The worst performer is the (now-discontinued) base R110 model; newer R135 models do slightly better, though, with whether you choose to specify DC rapid charging capability or not surprisingly having little effect on the car's overall worth after a typical three years.
Read our full review of the Renault ZOE to find out more.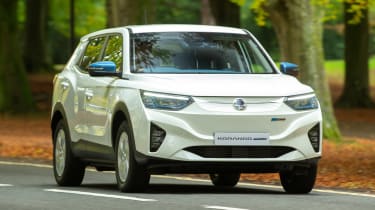 2. SsangYong Korando e-Motion (42-45.73%)
The SsangYong Korando e-Motion is the Korean brand's first electric SUV, and is hoped to turn the fortunes of the brand. But it seems industry experts aren't convinced, as the top-spec Ultimate model is forecasted to retain just £16,000 of its original £38,695 price. The substantially cheaper ELX version does a bit better, retaining 45.73% of its initial value.
Partnership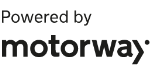 Need to sell your car?
Find your best offer from over 5,000+ dealers. It's that easy.
Read our full review of the Ssanyong Korando e-Motion to find out more.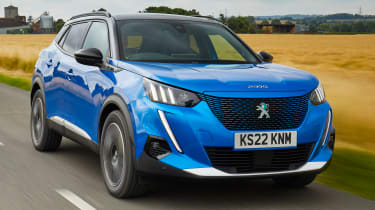 3. Peugeot e-2008 (42.33-44.35%
The Peugeot e-2008 is an of-the-moment SUV version of the 208 supermini. The added dose of style doesn't look like it'll help it in the long run, though, as the e-2008 is only forecast to retain between 42 and 44% of its value over three years. Choose a top-spec GT model and your car will hold onto slightly more of its value than those specced in entry-level Active Premium + trim – however, choosing the aforementioned smaller e-208 will save you even more money.
Read our full review of the Peugeot e-2008 to find out more.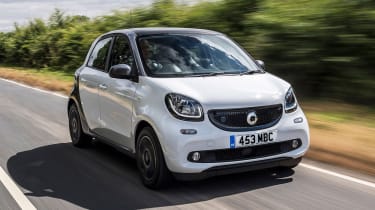 4. Smart EQ Forfour (44.36-44.85%)
The first Smart to feature in our list of the fastest-depreciating electric cars is the four-seat, four-door EQ ForFour. Likely due to its modest range and limited practicality, the EQ ForFour – specifically in pricier Exclusive specification – will hold on to just 44.36% of its list price after three years or 36,000 miles.
Read our full review of the Smart EQ Forfour to find out more.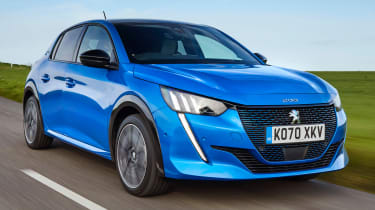 5. Peugeot e-208 (44.64-47.49%)
Remember when we said the Peuegot e-208 will save you money over the e-2008 SUV? Well, not by much, as the chic zero-emissions supermini can only cling onto between 44% and 47% of its initial asking price over three years. As is the case with its bigger sibling, the e-2008, range-topping GT models are the ones to go for if you want to hold onto your money, while you'll have to be prepared to lose around £17,500 over three years and 36,000 miles if you opt for a base Active Premium + car.
Read our full review of the Peugeot e-208 to find out more.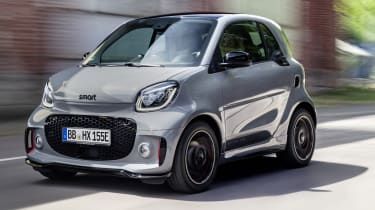 6. Smart EQ ForTwo (44.97-47.47%)
The Smart ForTwo is one of the smallest electric cars you can buy, but is ironically one of the largest sufferers in terms of depreciation. The ForTwo's niche design won plenty of hearts at launch, but it seems that for some its limited range and practicality is a compromise too far. While no model fares particularly well, the sporty-looking Cabrio sheds the most of its initial purchase price.
Read our full review of the Smart EQ ForTwo to find out more.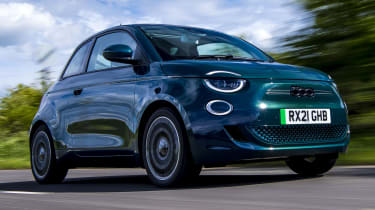 7. Fiat 500Ce (45.97-46.94%)
The petrol-powered Fiat 500 took the UK by storm when it was revived back in the late 2000s, and while the electric 500e model still retains a lot of the petrol car's charm, it unfortunately also mirrors its poor ability to retain its value. The convertible 500Ce with its toaster oven-sized boot is the worst offender in this regard; the electric Fiat soft-top only manages to keep between 46% and 47% of its value over the pre-stated time period. 
Read our full review of the Fiat 500e to find out more.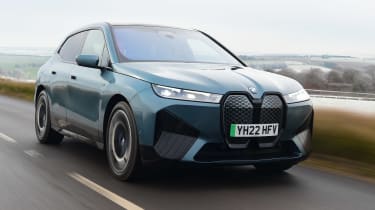 8. BMW iX (47.22-59.15%)
BMW certainly ruffled some feathers when the iX debuted with its polarising design language, and this seems to have had an impact on the electric SUV's residuals. Buyers of high-performance M60 models are projected to lose around an eye-watering £65,000 over three years of ownership; a shrewder choice is the entry-level xDrive 40, which will retain almost 60% of its value over the same period, equating to a roughly £28,000 loss.
Read our full review of the BMW iX to find out more.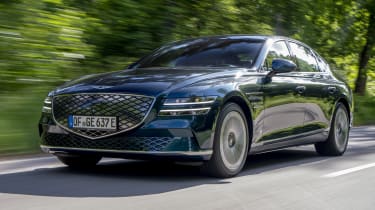 9. Genesis Electrified G80 (47.45-47.84)
The Genesis brand is still very new in the UK and has muscled in with a handful of product launches in the space of just a couple of years. Some are more successful than others when it comes to residual values, and the electric G80 saloon is the worst performer in this area. Specifically, the Luxury Innovation model is forecasted to return 47% of its £70,000 starting price.
Read our full review of the Genesis Electrified G80 to find out more.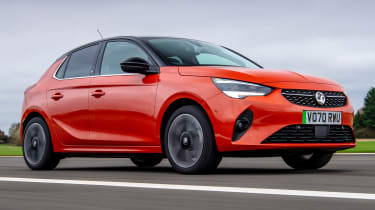 10. Vauxhall Corsa Electric (46.98-49.21%)
The Vauxhall Corsa was one of the best-selling cars in the UK in 2022 and while the plug-in Corsa Electric makes up a significant minority of the total sales, the British brand's supermini still manages to squeeze onto our list of the fastest-depreciating EVs. Top-spec Ultimate models will lose you the most cash in the long run; the Vauxhall Nova-inspired Anniversary Edition is not only our pick of the range, it also holds onto the most value.
Read our full review of the Vauxhall Corsa Electric to find out more.
Fastest depreciating hybrid cars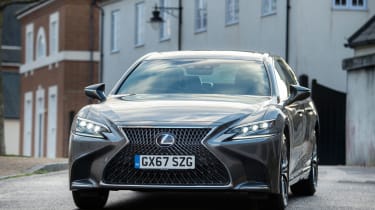 1. Lexus LS 500h (34.77-37.83%)
The first of numerous luxury saloons to make an appearance; the Lexus LS 500h opts for a full-hybrid setup rather than being a plug-in. While that limits the opportunity for a longer zero-emissions range, it should still prove admirably efficient for such a large car. Big drops in value are inevitable at this end of the market – although it seems the LS is particularly prone – but that means there are bargains to be had second-hand.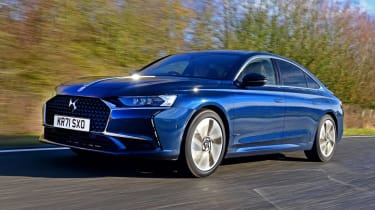 2. DS 9 E-Tense (37.19-38.36%)
Big French saloon cars have long struggled in the UK market, with buyers favouring established German rivals instead. It's no wonder, then, that the latest DS 9 E-TENSE finds itself near the top of our list of the fastest-depreciating hybrid cars. If you want one, we'd recommend the better-value Performance Line model; the Rivoli+ adds extra luxury features, but it's expensive. Still, buy one secondhand and you could bag yourself a comfortable, refined, tech-laden executive saloon for a fraction of what it would cost new.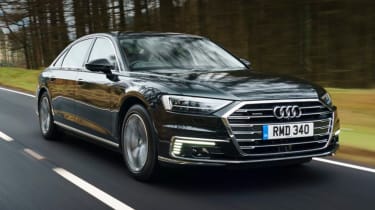 3. Audi A8 (38.62-40.59%)
Just like the BMW 7 Series (which just managed to escape making its way onto this list), Audi's flagship A8 limousine will take a huge hit when it comes to depreciation. The plug-in hybrids are actually some of the better performers when it comes to depreciation, which should give you an idea of the overall picture. It's not as sharp to drive as the BMW, but that arguably makes it better to be chauffeured around in.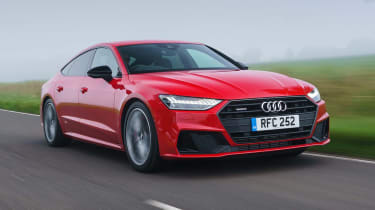 4. Audi A7 (39.55-44.66%)
The second Audi on this list is the A7. This car is good-looking, crammed full of technology and comes with the option of an efficient plug-in hybrid setup. However, it can't escape the apparent fate of all high-end Audis: every variant of A7 retains well below 50% of its initial value – and with such a high starting price, that's a big drop.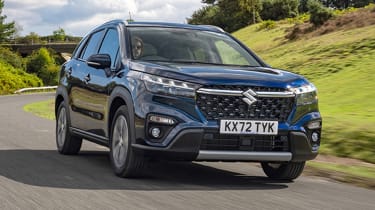 5. Suzuki S-Cross (40.2-42.37%)
The Suzuki S-Cross may be a budget-friendly way into a hybrid crossover, but with a severe lack of power and a dull, outdated interior, the Japanese brand's SUV doesn't fare too well when it comes to holding onto its value. Owners can expect the car to lose around 60% of its initial starting price over three years, which is behind rivals from Nissan and Hyundai.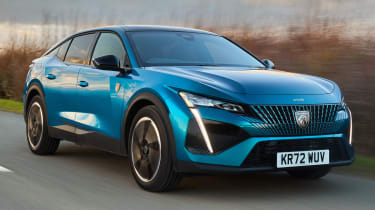 6. Peugeot 408 (42.54-44.04%)
The Peugeot 408's coupe-SUV looks may be very à la mode, but it seems what's in fashion now may not be in a few years time. Consequently, the hybrid-powered SUV-hatchback hybrid will only retain between 42 and 44% of its value over three years. Entry-level Allure cars with the base 178bhp engine should lose owners the most money, while those with the 222bhp hybrid unit are thought to be able to cling onto slightly more of their initial asking price.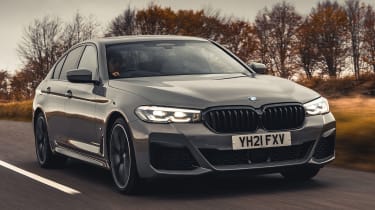 7. BMW 5 Series (42.55-46.65%)
BMW's flagship 7 Series is infamous for losing huge amounts to depreciation, but it's the smaller 5 Series that loses the most in terms of percentage of the car's initial value. There are plenty of variations of the 5 Series to be had, so some versions fare far better than others. The 545e leaves the biggest potential dent in your bank account, while a 530e saloon will incur a slightly smaller financial hit over three years, with the Touring estate not too far behind.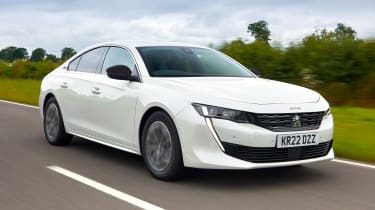 8. Peugeot 508 (43.28-48.52%)
The non-premium family saloon is a dying breed as people turn towards more spacious (and fashionable) SUVs. The 508 – available in both fastback saloon and Sportswagon estate forms – is projected to almost always lose more than 50% of its value over three years of ownership. In terms of the hybrid lineup, base 225 Allure Premium models will retain around 43% of their base price, while high-performance Peugeot Sport Engineered (PSE) cars will retain just under 50% – although, they are more expensive to buy in the first place.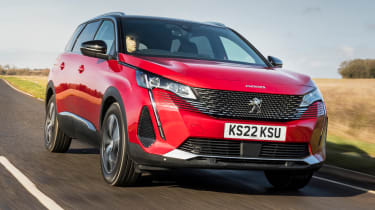 9. Peugeot 3008 (44.22-47.62%)
The third Peuegot on our fast-depreciating hybrids list, the 3008 offers style as well as substance with its concept car-esque looks and big boot. What it doesn't provide, however, is strong residuals, as the Peuegot family SUV will only retain roughly 44-48% of its value over the stated three-year, 36,000-mile period. In this case, it's the mid-spec Allure Premium + 222bhp plug-in hybrid that looks like the shrewdest purchase, with top-spec models costing more to buy and losing owners more money.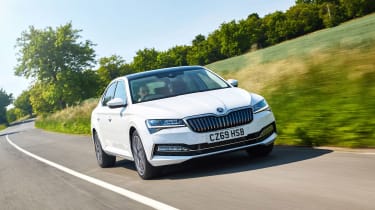 10. Skoda Superb (44.85-48.11%)
The Skoda Superb lives up to its name in many respects, but not so much when it comes to the hybrid iV model's rate of depreciation. Over three years of ownership, Superb iV owners can expect their car to lose anything between 45% and 48% of its value. It's the extra-practical Estate model that tends to hold its value better here over the standard hatchback model – but the difference isn't huge if you prefer the latter's slinkier shape.
Electric Renault 5: prices, 2024 launch date and teaser images of the MINI Cooper rival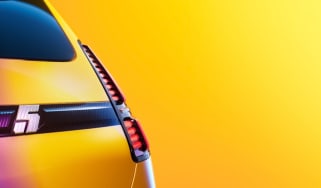 Electric Renault 5: prices, 2024 launch date and teaser images of the MINI Cooper rival
New Fisker Ocean Sport washes up in the UK: £36k for a 288-mile range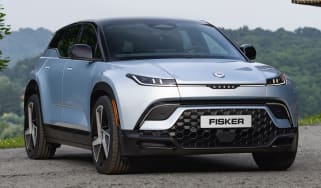 New Fisker Ocean Sport washes up in the UK: £36k for a 288-mile range
American EV startup Fisker has just launched its entry-level Ocean SUV in the UK, with a range of up to 288 miles
First contact: facelifted Kia EV6 will look even more like a UFO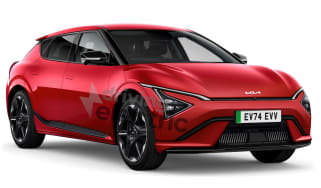 First contact: facelifted Kia EV6 will look even more like a UFO
Kia is readying an update for the EV6 crossover, which is set to include a new face and tech from the larger EV9
Big price cut: Electric Renault Megane prices slashed in time for Christmas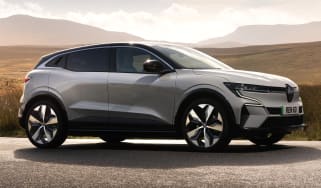 Big price cut: Electric Renault Megane prices slashed in time for Christmas
Renault Megane E-Tech gets a price drop of up to £3,500, bringing the starting price to just £34,495