Fastest depreciating electric and hybrid cars
These are the hybrid, plug-in hybrid and electric cars that lose the most value – opening up the potential for keen secondhand bargains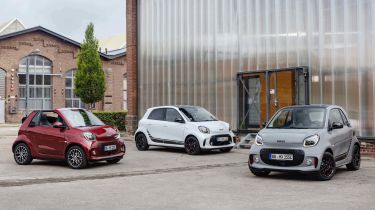 Almost every new car suffers a degree of depreciation during its formative years – some the minute they leave the showroom. Inevitably, as a car piles on the miles, its value drops, with the associated wear-and-tear contributing to its lower perceived worth.
If you want to find out how to value your car, you can see our full how to guide.  
But some cars are more susceptible to depreciation than others. Demand plays a big part in this; cars that are more highly sought-after benefit from higher residual values (RVs), while those in excess supply may see their used prices adversely affected.
Depreciation can even play a part on how much you pay on a monthly PCP finance deal; more expensive cars often work out cheaper per month than their less prestigious equivalents, largely due to their more favourable RVs. If a manufacturer or dealer knows the car will be worth more when you trade it in, it can charge you less in the interim.
That said, list price does have a big effect on depreciation. More expensive models inevitably have more to lose; even if it's worth pennies at the end of its life, a £10,000 city car will never drop by more than a few thousand pounds, whereas an £70,000 pure-electric SUV has much further to fall.
It's worth remembering that if you're not fussed on a brand-new car, then used models with poor RVs can represent fantastic value for money. Once the first owner has taken that initial hit, these cars can be something of an irresistible secondhand bargain.
Here, we list the fastest-depreciating electric and hybrid cars, according to VIPDATA's April 2020 numbers. You can also check out our list of the slowest-depreciating cars to get an idea of those that hold their value the best.
Fastest depreciating electric cars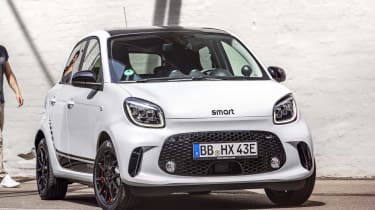 Smart EQ ForFour Passion Advanced (35.48%)
Despite its relatively low list price, the Smart EQ ForFour is the fastest depreciating electric car on sale today. Likely due to its modest range and limited practicality, the EQ ForFour – specifically in Passion Advanced specification – will hold on to just 35.48% of its £20,785 list price after three years or 36,000 miles.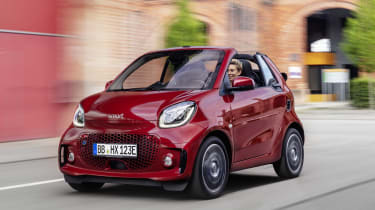 Smart EQ ForTwo Cabrio edition1 (36.23%)
It's a Smart double-header at the top of our electric-car depreciation list; the EQ ForTwo Cabrio version loses a disappointing 63.77% of its value in just three years. Its niche design won plenty of hearts at launch, but it seems for some its limited practicality is a compromise too far. While no model fares particularly well, it's the pricey edition1 that drops the most value.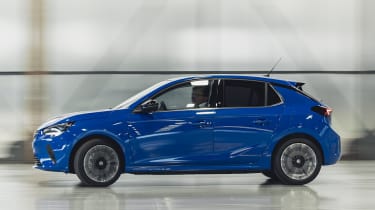 Vauxhall Corsa-e SE Nav (36.97%)
It may have only been on sale a couple of months, but it appears the Corsa nameplate does this electric supermini no favours. Historically, the market has been awash with Vauxhall Corsas with weedy petrol engines and spartan kit lists. This new all-electric Corsa-e is vastly improved, however, and in SE Nav specification offers all the equipment you'll ever need. This could be a true used-car bargain in a few years time.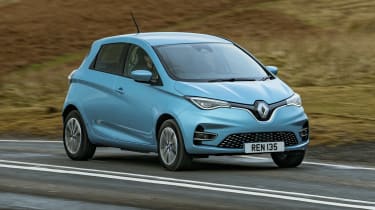 Renault ZOE R110 Play (37.02%)
The Renault ZOE finds itself in fourth place on this list, but that's only half the story. Updated for 2019, the French manufacturer offers the electric supermini with a choice of motors and specifications – and it's the lesser R110 version that fares not so well here. Despite both cars offering a range of around 240 miles, it seems the longer kit list and the option of fast charging on the more expensive R135 model works wonders for the ZOE's RVs; a top-spec GT Line model with the CCS charging retains a more palatable 42% of its original purchase price.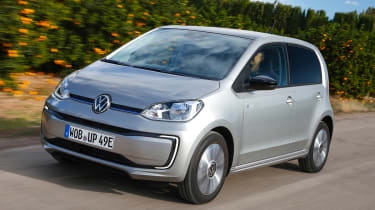 Volkswagen e-up! (37.72%)
Perhaps the fact that the latest Volkswagen e-up! costs so much more than its petrol equivalent goes some way towards explaining its relatively poor residual values. While models like the Renault ZOE (above) and the latest Honda e are bespoke electric cars, the VW is, in effect, just a conventional city car with a battery and motor under the bonnet. While it's a perfectly capable runaround, it's starting to feel its age; plumping for a used example could save you thousands.
Fastest depreciating hybrid cars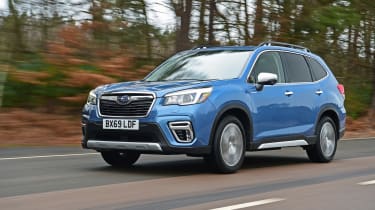 Subaru Forester e-Boxer XE Premium (34.00%)
Historically, Subaru models have held onto their value relatively well. Thanks to its cars' practical body shapes, bulletproof reliability and no-nonsense appeal, the brand has an incredibly loyal customer base. However, rivals offer practicality and desirability in equal measure – not to mention lower running costs and more luxurious cabins. In XE Premium specification, the hybrid-only Subaru Forester costs nearly £40,000 – a lot of money when you consider it'll be worth just a third of that in three years time.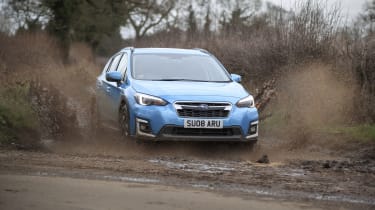 Subaru XV e-Boxer SE Premium (36.99%)
The smaller Subaru XV fares only slightly better than its bigger brother when it comes to predicted RVs. However, the lower list price means it's not such a hard pill to swallow; the top-spec SE Premium costs almost £34,000, and will be worth around £12,450 in three years or 36,000 miles. Go for one of the cheaper variants and the drop in value will be less pronounced.
BMW 745e M Sport Ultimate (37.29%)
Big luxury cars have always suffered at the hands of the depreciation calculator – and the BMW 745e is no exception. Despite recently ditching its wheezy four-cylinder hybrid setup in favour of a punchier six-cylinder unit, a new 7 Series will drop in value faster than a boulder falling from a cliff edge. The big BMW isn't alone, however; a plug-in hybrid Mercedes S-Class does only slightly better in this regard.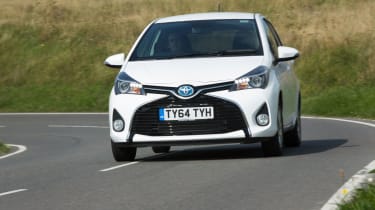 Toyota Yaris Hybrid Excel Navi (37.51%)
With an all-new Toyota Yaris just months away, it's no surprise that the outgoing version is dropping in value. As one of only a handful of small hybrids on the market, it's still a great way of reducing your running costs without committing to a pure-electric vehicle. Some specs fare worse than others, but only a couple of models retain more than 40% of their value after three years or 36,000 miles.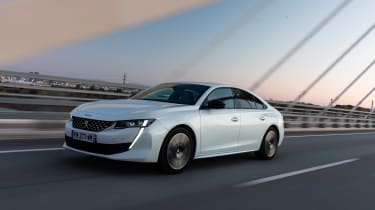 Peugeot 508 Hybrid GT (38.01%)
Perhaps unfairly, fifth spot on this list should be occupied by the Volvo V90 Recharge T8, but as that car is no longer on sale (Volvo now only sells the less powerful T6 variant) the award goes to the latest Peugeot 508 Hybrid in flagship GT guise. Big French saloon cars rarely perform well when it comes to predicted RVs, and the Peugeot is unfortunately no exception; despite its stunning looks, no petrol, diesel or hybrid 508 holds on to more than 41% of its value.
Best plug-in hybrid SUVs 2021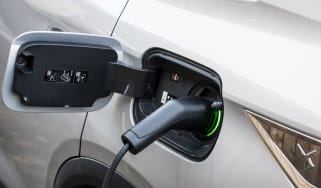 Best plug-in hybrid SUVs 2021
A good plug-in hybrid SUV should combine low running costs with excellent practicality. These are some of the best on sale right now
Best electric SUVs 2021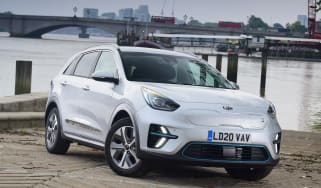 Best electric SUVs 2021
Our selection of the best electric SUVs you can buy features cars that promise to mix style, practicality and rock-bottom running costs
Longest range electric cars 2021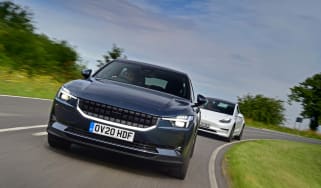 Longest range electric cars 2021
The range of electric cars is continually improving. Here are the top 10 models with the longest range on a single charge