Mercedes A-Class hybrid review
The smallest plug-in that Mercedes makes, the A 250 e is also one of the most efficient. It's a great, if not overly exciting, company-car choice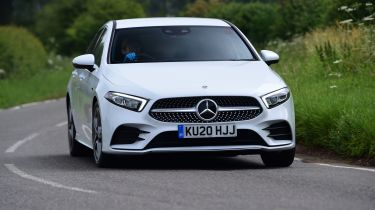 Pros
Very efficient
Low company-car tax
Class-leading interior
Cons
Unrefined drivetrain
Occasionally lumpy ride
Hatchback no longer available
| Car type | Electric range | Fuel economy | CO2 emissions |
| --- | --- | --- | --- |
| Plug-in hybrid | 47-53 miles | 282.5-353.1mpg | 23g/km |
Mercedes' current line-up features an impressive array of plug-in hybrids as the brand strives to offer customers more electrified options. The A-Class saloon is the smallest and most affordable plug-in Mercedes on-sale right now, slotting in below the larger C-Class, E-Class and S-Class hybrids. The A 250 e arrived just ahead of Audi's new A3 TFSI e, while BMW is still yet to release a direct competitor. The Merc's other rival is the latest iteration of the Volkswagen Golf GTE.
At its core, the A 250 e offers most of what more expensive hybrids bring to the table, just in a slightly more affordable package. That includes good looks, a luxurious interior and advanced in-car technology, combined with its potentially low running costs. Yet, this impressive plug-in hybrid now starts from around £41,000, which feels a little steep for a small family car. If your lifestyle allows a fully electric car, the A-Class costs a similar amount to the Volkswagen ID.3 and Renault Megane E-TECH Electric. However, strong residuals typically mean keen monthly finance rates for the A-Class.
Under the bonnet of the A 250 e you'll find a 1.3-litre turbocharged petrol engine – the same one used in the A200, but with a 101bhp electric motor and 15.6kWh battery allowing for a respectable range of up to 53 miles on electricity alone and a total power figure of 215bhp. Our test drive suggested that Mercedes' range estimate is quite accurate, too.
The plug-in A-Class' efficiency figures are very appealing, too, with CO2 emissions of 23g/km and Mercedes claiming fuel economy of up to 353mpg. As a result, the A 250 e would also fare well as a company car, offering one of the cheapest rates of tax for a car that's not pure-electric – and these rates should stay consistent until at least April 2024.
From a home wallbox supplying electricity at 7.4kW, the A 250 e will recharge from 10 to 100% capacity in an hour and 45 minutes.
Trims span the usual AMG Line Executive, AMG Line Premium and AMG Premium Plus, with new prices starting from around £41,500. As of the summer 2023, the A 250 e is available in the UK exclusively as a saloon, so if you're after a hatchback (pictured above), you'll need to scour the used car network.
The axing of the A 250 e hatchback coincided with a facelift for the A-Class range. Highlights included a revised bumper, reshaped front grille, a pair of bonnet bulges and new on-board technology.
Read on for the rest of our in-depth review of the A-Class plug-in hybrid…