Best electric city cars 2021
Small, nimble and built for urban environments: these are the best electric city cars around right now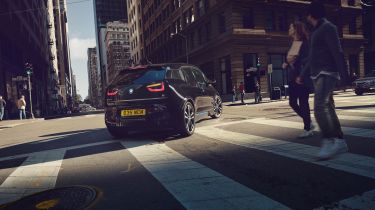 Electric cars are starting to appear just about everywhere, but their spiritual home is the city. Electric power makes by far the most sense if you drive in the city for several reasons, and there are plenty of great electric city cars that demonstrate these.
Firstly, electric cars don't cause local air pollution, so the more electric cars replace combustion-engined cars, the cleaner our cities' air will be. Electric cars are also a young type of car and ranges, although getting vastly longer each year, are still typically pretty short. Most electric city cars, in particular, have a range of around 100 miles, which is no issue for city driving.
City traffic is another reason electric cars work so well here. In slow-moving jams, electric cars are at their most efficient, using very little electricity – unlike combustion engines. They're also all automatic-only, so there's no clutch to get tired of, and their near-silent running means they're nice and relaxing. Read on for our picks of the best electric city cars for 2021...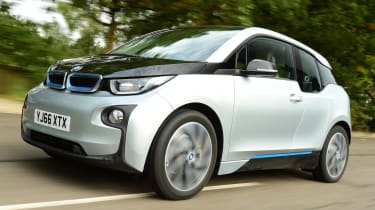 BMW i3
The BMW i3 was an electric-car trailblazer, and has been on sale for years now – just check the classifieds and you'll see loads of used examples. While BMW initially offered the i3 as either a fully electric model or a range extender (with a petrol motorbike engine as a backup), it has since dropped the latter option. Part of the i3's appeal is its bespoke, futuristic design (particularly the interior) and five-door hatchback practicality. Power comes from a 168bhp electric motor driving the rear wheels (there's also a performance S model with 180bhp). BMW claims a driving range of 175-189 miles from the car's 42.2kWh battery. Read our BMW i3 review.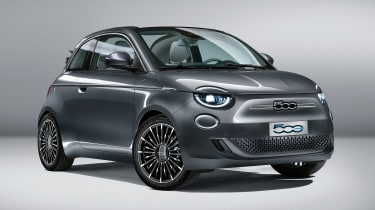 Fiat 500 electric
The latest Fiat 500 is electric-only, so if you already love the funky looks of this popular city car, you're in luck. It comes in two versions: a 24kWh model with 115 miles of range or a 42kWh version with 199 miles of range. It's good to drive, has a decent range and is pretty good value, so it's a successful transformation into an electric car for the 500. There's even more space inside than the previous models and there's plenty of standard equipment as well. Read our Fiat 500 review.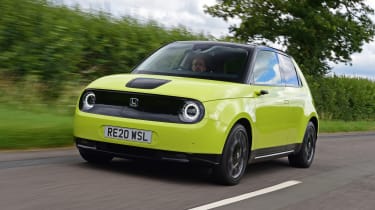 Honda e
The Honda e is a pure-electric rival to the BMW i3 and MINI Electric and has a range of 131-137 miles. Its cute looks and upmarket interior mean it has plenty of appeal, although it's one of the more expensive electric city cars around. It's also great to drive, with punchy performance and a good amount of agility for nipping through city streets. It's practical enough for city life, although the boot isn't as big as we'd like. Read our Honda e review.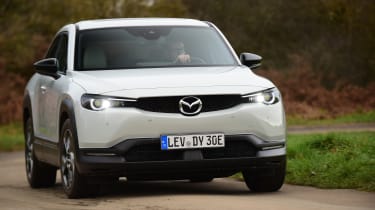 Mazda MX-30
The Mazda MX-30 is the Japanese brand's first pure-electric car and it's a good choice for the city, because it has a relatively short range of 124 miles – but the rest of the driving experience is excellent. The Mazda is great to drive, looks smart and has a pleasant interior, so it's a great commuter. It's built using sustainable materials, and the small 35.5kWh battery means it's also quicker to recharge than some of its rivals. Read our Mazda MX-30 review.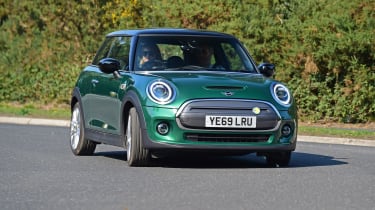 MINI Electric
The MINI Electric follows the same formula as the Fiat 500 above – it's a version of the popular city car that's been on sale for decades, but with electric power. It's a convincing package, as the 32.6kWh battery allows a range of 140-145 miles. The MINI is really good to drive, just like the combustion-engined models, with punchy power from the electric motor and agile handling. It's only available as a three-door at the moment, but it's no less practical than a normal MINI. Read our MINI Electric review.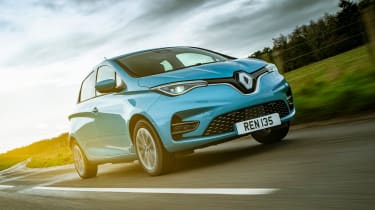 Renault ZOE
The Renault ZOE has been around since 2012, but the initial model's range was poor. This newer model is much better in terms of range, and it's also better-equipped, better to drive and has a nicer interior, complete with materials made from recycled seatbelts and plastic bottles. A 52kWh battery pack takes range up to an official 245 miles, with 50kW fast charging for trips out of town. Two versions are available: the 107bhp R110 or the 134bhp R135. Both are punchy and fun to drive in town. Read our Renault ZOE review.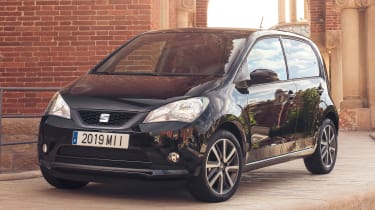 SEAT Mii electric
The SEAT Mii is a fantastic city car, and the electric version is too – although it's a lot more expensive than the petrol model. The Mii electric has a 36.8kWh battery, giving a maximum driving range of 161 miles. It's fun to drive, comfortable and that range is really useful as you won't have to charge it up all the time - you could easily commute all week if you live close to work. The interior is a lot bigger than it looks like it might be given the car's small size, too. Read our SEAT Mii electric review.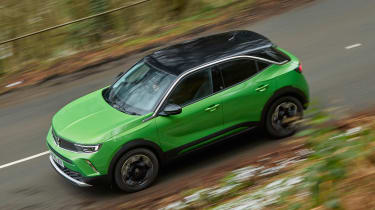 Vauxhall Mokka-e
The Vauxhall Mokka-e is one of the newest models on this list and that's reflected in its range figure of 201 miles – it's not just a city car, then. It can also work as a commuter car if you live in the suburbs thanks to that strong figure, and it's well equipped and comfortable enough to be pleasant for doing so. The Mokka-e isn't the most practical choice despite being an SUV, and you'll have to love the distinctive looks, but it's punchy (thanks to a 134bhp motor) and decent to drive. Read our Vauxhall Mokka-e review.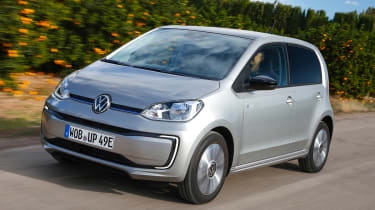 Volkswagen e-up!
The Volkswagen e-up! is the same underneath as the SEAT Mii electric above, and like that car it's also very similar to the petrol-powered version, but more expensive. It has the same 161-mile range as the SEAT, which is great for a small car like this. The VW is fun to drive, comfortable and happens to be one of the more affordable routes into electric car ownership, so it's a great choice. It's roomy inside and relaxing to drive, too. Read our Volkswagen e-up! review.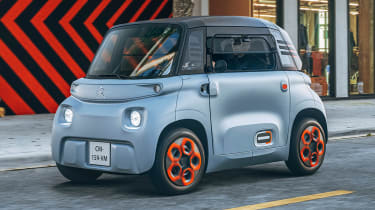 Citroen ami
And finally... the Citroen ami isn't on sale yet, with the French brand still considering whether to bring it to the UK. It's not really a full car, as it's limited to 28mph and has a tiny motor, only two seats and no boot. The cabin is pretty spacious, but it's very basic, however this vehicle is all about super-cheap urban transport. We hope it comes to the UK, as it could be great for use in our biggest cities. Read more about the ami.
Tesla Supercharger network opens to other EVs in the UK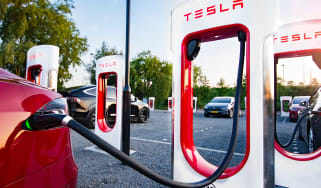 Tesla Supercharger network opens to other EVs in the UK
15 stations and 158 chargers across the Supercharger network are now open for other electric-car users in the the UK
Top 10 best plug-in hybrid SUVs 2022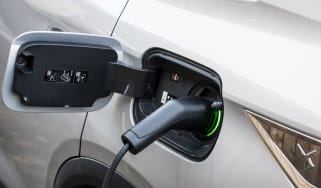 Top 10 best plug-in hybrid SUVs 2022
The finest plug-in hybrid SUVs offer low running costs, enough electric range for daily use and excellent practicality. These are the best plug-in hyb…
New Polestar 3 electric SUV to be unveiled in October 2022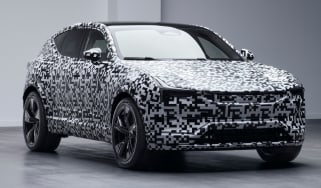 New Polestar 3 electric SUV to be unveiled in October 2022
Polestar's large electric SUV will be followed by a sporty coupe-SUV called the Polestar 4 in 2023 and the flagship Polestar 5 saloon in 2024