Top 10 best plug-in hybrid cars 2023
Here are our top picks of the best plug-in hybrid motoring options you can buy in the UK right now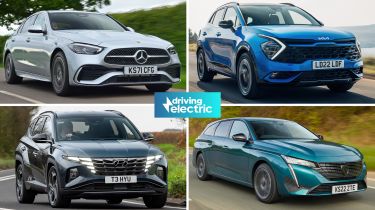 If you want to drastically reduce your fuel and company-car tax bills, but can't make the switch to electric just yet, then a plug-in hybrid (PHEV) is a great option. Plug-in hybrids pair a petrol or diesel engine with an electric motor and battery pack, so they're able to drive on electric power alone, the engine alone, or a combination of the two for maximum efficiency.
The main thing to remember with a plug-in hybrid is that you need to plug it in and charge regularly if you want to get the best fuel economy and electric driving range possible. If you're able to park in a spot with a charger – at home or at work – then you can potentially use electric power for the vast majority of trips, only falling back on the engine for longer-distance runs. If you're not able to charge regularly, then a non-plug-in hybrid – also known as a 'full hybrid' or 'self-charging hybrid' – might be a better option.
But you think a PHEV is right for you, then here are our top picks for the best plug-in hybrid cars on the market right now:
1. Mercedes C 300e
The latest Mercedes C-Class saloon and estate are both available with plug-in hybrid power, offering no-compromise solutions for those not ready to make the switch to electric. The C 300e saloon and estate are both capable of more than 60 miles of electric running on a charge, returning over 400mpg and with CO2 emissions as low as 13g/km, they promise rock-bottom running costs for most motorists. Mercedes has also swiped the best elements of its flagship S-Class and EQS' cabins to give the new C-Class an exceptional interior. 
Read our full review of the Mercedes C 300e to find out more.
2. Volvo V60 Recharge
The estate car is a bit of a dying breed these days as people turn towards SUVs, but Volvo's bread-and-butter offering is still going strong and excels when paired with a plug-in hybrid powertrain. The Volvo V60 Recharge boasts a range of up to 54 miles, which slots it neatly into the 8% BiK bracket. It's also incredibly smooth and comfortable on longer journeys, plus with a 519-litre boot that's no smaller than the petrol model's, there's plenty of space for all your luggage, too.
Read our full review of the Volvo V60 Recharge to find out more.
3. Kia Sportage PHEV
The latest Sportage combines striking exterior styling with a spacious, tech-filled cabin and superb quality interior. It's also the first Sportage to be available with a plug: this petrol-electric version will do 43 miles without touching a drop of fuel and promises fuel economy north of 250mpg if remember to keep the 13.8kWh battery topped up. It's pricey for a private buyer, but company-car drivers will be laughing all the way to the bank.
Read our full review of the Kia Sportage PHEV to find out more.
4. Hyundai Tucson Plug-In Hybrid
Previous generations of Tucson took a 'solid and sensible' approach to family motoring, but could hardly be called exciting. However, Hyundai has switched it up with the latest generation of the mid-size family SUV, which boasts a well equipped and well thought-out interior, not to mention the fact it's one of the most striking-looking family cars we've seen in recent years. The Plug-In Hybrid version adds superb efficiency to this already appealing package, with a promise of over 200mpg fuel economy and nearly 40 miles of electric range.
Partnership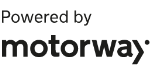 Need to sell your car?
Find your best offer from over 5,000+ dealers. It's that easy.
Read our full review of the Hyundai Tucson Plug-In to find out more.
5. Mercedes A 250 e
Now available only in saloon form, the Mercedes A 250 e features a 15.6kWh battery that'll return up to 44 miles of electric range; handily more than most people drive in an average day. As such, running costs should be suitably low, with a full charge from a home wallbox costing just a few quid. In electric-only mode, the A 250 e will manage up to 87mph, so it won't be hampered by stints on the motorway, and when you do run out of juice there's a very capable 1.3-litre turbocharged petrol engine with 158bhp to fall back on.
Read our full review of the Mercedes A 250 e to find out more.
6. Lexus NX 450h+
The latest iteration of Lexus' popular mid-size SUV is the first available with plug-in hybrid power. The NX 450h+ boasts an impressive 40-mile electric range; when this is depleted, the Lexus SUV turns into a regular self-charging hybrid in order to maintain strong fuel economy. To top it all off, the NX 450h+ gets typically angular Lexus styling and rock-solid build quality, as well as an all-new touchscreen infotainment system. If you'd rather sit and relax instead of attacking the bends like a BMW driver, the NX 450h+ could be just the ticket.
Read our full review of the Lexus NX 450h+ to find out more.
7. Range Rover Sport PHEV
By far the most expensive entry on this list, the plug-in hybrid version of the latest Range Rover Sport is also the most refined and relaxing model to drive in the luxury SUV's line-up. The electric motor provides a truly serene driving experience, with the Range Rover Sport PHEV able to cover up to 70 miles on battery power alone, according to Land Rover. The ride is comfortable, as you'd expect, but that doesn't mean the car can't handle a corner or two. In fact, thanks to four-wheel steering it's surprisingly agile, even around town. Pair all that with a modern-looking cabin filled with impressive technology and the Range Rover Sport PHEV elevates this already exceptional SUV to new heights. 
Read our full review of the Range Rover Sport PHEV to find out more.
8. BMW 330e
The 330e preserves all that's great about the standard-setting 3 Series and adds a petrol-electric drivetrain to the mix. A 12kWh battery gives up to 37 miles of electric range, with the electric motor capable of 68mph before needing assistance from the 2.0-litre turbocharged engine. More impressive than that, however, is that the plug-in hybrid 3 Series is still great to drive: the weight of the battery hasn't dulled its performance in corners, and the engine is tuneful enough to put a smile on your face on a fast B-road. It might not have the electric range of the equivalent Merc or Volvo, but the Beemer can't be beaten for driving fun.
Read our full review of the BMW 330e to find out more, as well as our review of the BMW 330e Touring plug-in hybrid estate.
9. Kia Niro PHEV
The new plug-in hybrid Kia Niro improves on what was already a great family car by adding bold styling, class-leading tech and even better fuel economy than before. In fact, Kia claims the Niro PHEV can return up to 280mpg, and cover 40 miles without using a drop of petrol. The Niro PHEV's 348-litre boot offers similar luggage capacity to a hybrid Peugeot 308 or Volkswagen Golf, while its ride is probably the most comfortable of the entire Niro line-up. The fully electric Niro EV is only a little more expensive and should cost less to run – especially if you charge at home via a wallbox – but if you're not quite ready to commit to an electric car, the Niro PHEV can provide a glimpse at the EV driving experience.
Read our full review of the Kia Niro PHEV to find out more.
10. Peugeot 308 Hybrid 180
Two plug-in hybrid versions of the Peugeot's family hatchback and SW estate (above) are available, both with a zero-emissions driving range of 37 miles, and official fuel economy figures well over 250mpg. The new 308 is also a pretty sharp looking family car that gets plenty of kit as standard. Some of its rivals may attract an even lower Benefit-in-Kind (BiK) rate as the 308 PHEV, but its 12% tax rate is still impressive, plus it's less expensive to buy than its Mercedes, Audi or Volkswagen alternatives.
Read our full review of the Peugeot 308 hatchback here, as well as our in-depth review of the plug-in 308 estate here.
Make sure to check out the winners of the 2023 DrivingElectric Awards and our list of the best electric cars as well to see what's impressed us the most over the past year – and don't forget to follow DrivingElectric on Twitter, Facebook, Instagram and YouTube for the very latest news and reviews.
Best plug-in hybrid cars to buy now
Electric Renault 5: prices, 2024 launch date and teaser images of the MINI Cooper rival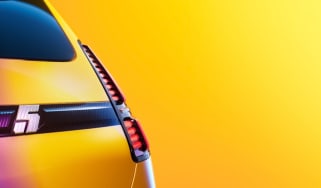 Electric Renault 5: prices, 2024 launch date and teaser images of the MINI Cooper rival
Big price cut: Electric Renault Megane prices slashed in time for Christmas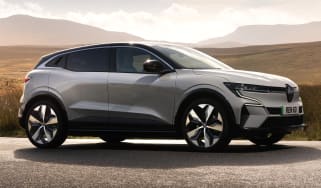 Big price cut: Electric Renault Megane prices slashed in time for Christmas
Smart #3 review: a compact coupe-SUV with Big Brother watching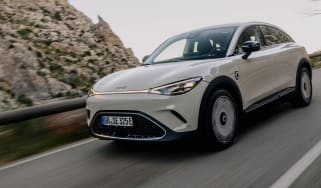 Smart #3 review: a compact coupe-SUV with Big Brother watching
Electric Renault 5: prices, 2024 launch date and teaser images of the MINI Cooper rival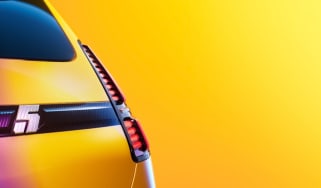 Electric Renault 5: prices, 2024 launch date and teaser images of the MINI Cooper rival
New official teaser pictures for Renault's electric supermini confirm the 5's reveal in February 2024
Big price cut: Electric Renault Megane prices slashed in time for Christmas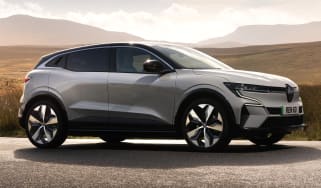 Big price cut: Electric Renault Megane prices slashed in time for Christmas
Renault Megane E-Tech gets a price drop of up to £3,500, bringing the starting price to just £34,495