Top 10 best plug-in hybrid cars 2022
Here are our top picks of the best plug-in hybrid motoring options you can buy in the UK right now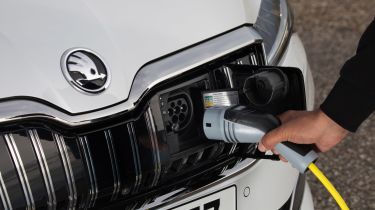 If you want to drastically reduce your fuel and company-car tax bills, but can't make the switch to electric just yet, then a plug-in hybrid (PHEV) is a great option. Plug-ins have a petrol or diesel engine plus an electric motor and battery pack, so they're able to drive on electric power alone, the engine alone, or a combination of the two for maximum efficiency.
The main thing to remember with a plug-in hybrid is that you need to plug it in and charge regularly to get the full benefit. If you're able to park in a spot with a charger – at home or at work – then you can potentially use electric power for the vast majority of trips, only falling back on the engine for longer-distance runs. If you're not able to charge regularly, then a non-plug-in hybrid – also known as a 'full hybrid' or 'self-charging hybrid' – might be a better option.
But if a PHEV is right for you, then keep reading for the best plug-in hybrid cars on sale right now. Click through to our in-depth reviews to learn more – and follow DrivingElectric on Twitter, Facebook, Instagram and YouTube for the very latest news on these and every other type of electric and hybrid car there is. Here's the top 10: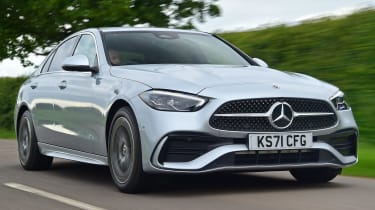 1. Mercedes C 300e
The latest Mercedes C-Class saloon and estate are both available with plug-in hybrid power, offering no-compromise solutions for those not ready to make the switch to electric. The C 300e saloon and estate are both capable of more than 60 miles of electric running on a charge, returning over 400mpg and with CO2 emissions as low as 13g/km, they promise rock-bottom running costs for most motorists. Mercedes has also swiped the best elements of its flagship S-Class and EQS' cabins to give the new C-Class an exceptional interior. Read our full review here.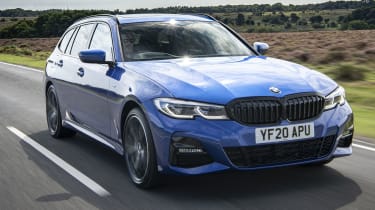 2. BMW 330e
The 330e preserves all that's great about the standard-setting 3 Series and adds a petrol-electric drivetrain to the mix. A 12kWh battery gives up to 37 miles of electric range, with the electric motor capable of 68mph before needing assistance from the 2.0-litre turbocharged engine. More impressive than that, however, is that the plug-in hybrid 3 Series is still great to drive: the weight of the battery hasn't dulled its performance in corners, and the engine is tuneful enough to put a smile on your face on a fast B-road. What's more, the hugely popular 3 Series saloon and estate were updated for 2022, with sharper styling and technology from the iX flagship SUV. Read our full review here.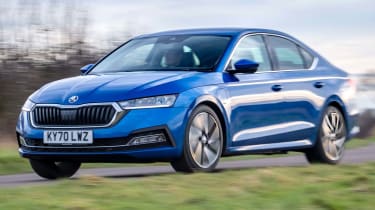 3. Skoda Octavia iV
Skoda's Octavia iV is a versatile plug-in hybrid that boasts a whopping 450 litres of boot space in estate form, the ability to run on electricity for up to 42 miles and a dependable, punchy petrol engine under the bonnet for when the battery power isn't quite enough. All of this in a sensible and cheap-to-run package makes this quite simply the perfect do-it-all family car. But if the family wagon look isn't for you, there's obviously a hatchback available as well. Read our full review here.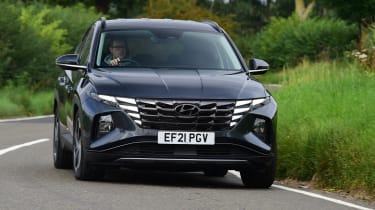 4. Hyundai Tucson Plug-In
Previous generations of Tucson took a 'solid and sensible' approach to family motoring, but could hardly be called exciting. However, Hyundai has switched it up with the latest generation of the mid-size SUV, which boasts a well equipped and well thought-out interior, not to mention the fact it's one of the most striking-looking family cars we've seen in recent years. The Plug-In version adds superb efficiency to this already appealing package, with a promise of over 200mpg fuel economy and nearly 40 miles of electric range. Read our full review here.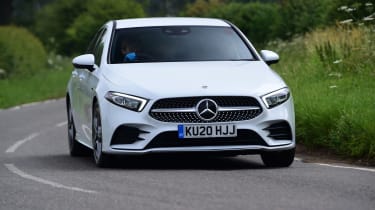 5. Mercedes A 250 e
Available in hatchback and saloon form, the Mercedes A 250 e features a 15.6kWh battery that'll return up to 44 miles of electric range; handily more than most people drive in an average day. As such, running costs should be suitably low, with a full charge from a home wallbox costing just a few quid. In electric-only mode, the A 250 e will manage up to 87mph, so it won't be hampered by stints on the motorway, and when you do run out of juice there's a very capable 1.3-litre turbocharged petrol engine with 158bhp to fall back on. Read our full review here.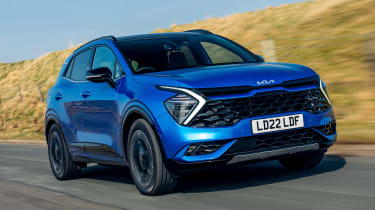 6. Kia Sportage PHEV
The latest Sportage combines striking exterior styling with a spacious, tech-filled cabin and superb quality interior. It's also the first Sportage to be available with a plug: this petrol-electric version will do 43 miles without touching a drop of fuel and promises fuel economy north of 250mpg if remember to keep the 13.8kWh battery topped up. It's pricey for a private buyer, but company-car drivers will be laughing all the way to the bank. Read our full review here.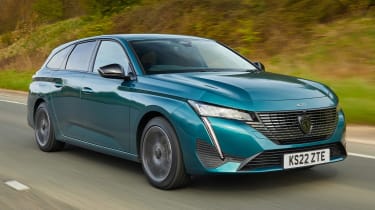 7. Peugeot 308 Hybrid 180
The latest iteration of Peugeot's answer to the Volkswagen Golf is the first to be offered with plug-in hybrid power. Two electrified versions of the family hatchback and estate (above) are available, both with a zero-emissions driving range of 37 miles, and official fuel economy figures well over 250mpg. The new 308 is also a pretty sharp looking family car that gets plenty of kit as standard. Some of its rivals may attract an even lower Benefit-in-Kind (BiK) rate as the 308 PHEV, but its 12% tax rate is still impressive, plus it's less expensive to buy than its Mercedes, Audi or Volkswagen alternatives. Read our full review of the Peugeot 308 hatchback here, and our in-depth review of the plug-in 308 estate here.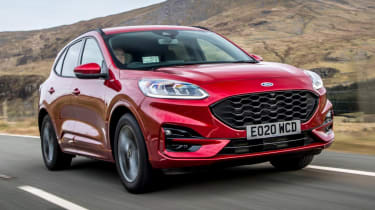 8. Ford Kuga Plug-In Hybrid
The Ford Kuga has established itself as a favourite of both buyers and company-car users in recent years. This plug-in hybrid version will be of particular interest to the latter thanks to its very low 32g/km CO2 emissions and 35-mile electric range guaranteeing low Benefit-in-Kind tax. Apart from that, it counts on all the strong points of the mild-hybrid and full-hybrid Kugas: a spacious interior, one of the biggest dealer networks in the UK and a great driving experience thanks to the involving handling we've come to expect from Ford. Read our full review here.
9. BMW X5 xDrive45e
The big X5 boasts one of the longest electric ranges of any plug-in hybrid. It has a 24kWh battery that can return up to 54 miles of running from a charge; the car can also reach 83mph without assistance from the 3.0-litre turbocharged petrol engine. The six-cylinder unit is potent, and working in tandem with the electric motor it'll produce a whopping 389bhp for a 0-62mph time of just 5.6 seconds. Along with that performance, you get a roomy, luxurious and high-tech cabin, plus a handy 500 litres of boot space. Read our full review here.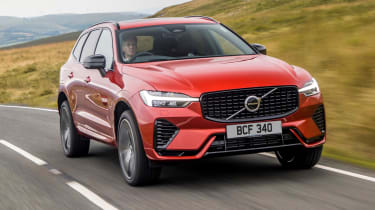 10. Volvo XC60 Recharge
The Volvo XC60 Recharge ticks many boxes, promising to mix all the practicality of its SUV rivals with a more upmarket approach. An electric range of up to 32 miles is par for the course, but 385bhp and 0-62mph in 5.5 seconds is up there with the fastest plug-in hybrids on sale. A choice of trim levels provide a high-quality interior finish and plenty of technology as well. Meanwhile, the ride is comfortable, and head and legroom are plentiful throughout. It's a seriously good all-rounder. Read our full review here.
New Peugeot e-408 electric fastback saloon arriving in 2023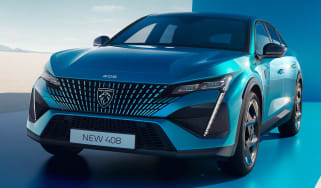 New Peugeot e-408 electric fastback saloon arriving in 2023
Peugeot e-308 electric hatchback and estate revealed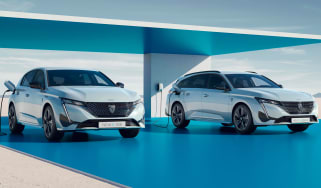 Peugeot e-308 electric hatchback and estate revealed
New Polestar 3 electric SUV priced from £79,845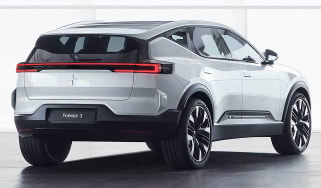 New Polestar 3 electric SUV priced from £79,845
Specs for the first Polestar SUV have surfaced online, with the Tesla Model X rival boasting a 380-mile range from its 111kWh battery
Top 10 best electric cars 2022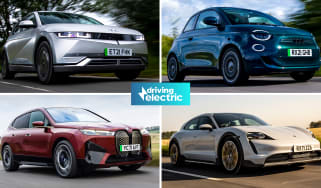 Top 10 best electric cars 2022
Here, we run through our favourite new electric cars that you can buy right now in the UK…
Top 10 best seven-seater electric and hybrid cars 2022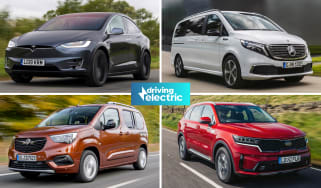 Top 10 best seven-seater electric and hybrid cars 2022
If the regular crop of electrified SUVs and family cars don't provide enough practicality for you, then take a closer look at the range of electric an…