Top 10 cheapest electric cars 2022
Contrary to popular opinion, not all electric cars are expensive. Here are the cheapest ones available in the UK right now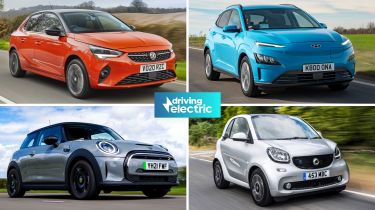 More and more electric cars are arriving on the market all the time, with a fair few being flagship SUVs and luxury saloons that easily attract six-figure price tags. But that's not to say there aren't many more affordable routes into zero-emissions motoring.
Electric cars tend to be more expensive than their petrol or diesel-powered counterparts, but prices are coming down, and a new generation of sub-£20,000 EVs from the likes of Renault and Volkswagen will be arriving within the next few years, capable of easily covering over 200 miles on a single charge.
In the meantime, the UK government offers a plug-in car grant (PiCG) which cuts up to £1,500 off the price of eligible cars. It only applies to cars costing up to £32,000, but that includes all the cars featured on this list. Plus, electric cars generally are far less expensive to run and attract lower company-car tax rates, too.
Therefore, if you're a budget-minded motorist, you needn't wait until the entry-level Volkswagen ID.1 arrives in 2025. Scroll down to read our list of the cheapest electric cars you can buy right now. And once you're done, don't forget to check out who won big in the 2022 DrivingElectric Awards and follow DrivingElectric on Twitter, Facebook, Instagram and YouTube for the very latest on all electric and hybrid cars, at any price point.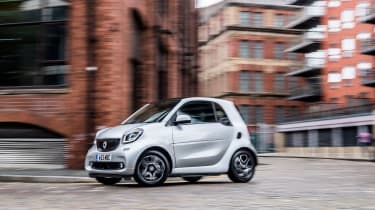 1. Smart EQ ForTwo – £20,725
Smart's EQ ForTwo is a two-seater version of the ForFour below. With no back seats to weigh it down, range improves slightly from the larger car, although 83 miles on a charge remains far below what the likes of the Fiat 500 and MINI Electric that also feature on this list can offer. There's also a Cabrio version that combines city-focused driving dynamics with open-air thrills. In a warmer climate, this might be one to consider. But in the UK? Forget it. Read our Smart EQ ForTwo review here.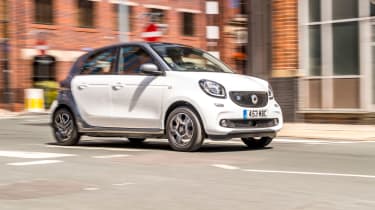 2. Smart EQ ForFour – £20,795
The EQ ForFour is powered by an 80bhp motor, delivering a leisurely 0-62mph figure of 12.4 seconds. The battery measures 17.6kWh and the official range isn't great: 81 miles from a charge. This is poor by early electric-car standards, never mind modern ones, and an update in late 2019 left the powertrain untouched. Still, if you're only ever going to drive to the shops and back – or perhaps tackle the school run each day – then the EQ ForFour will serve those purposes well. Just don't expect it to do much else. Read our Smart EQ ForFour review here.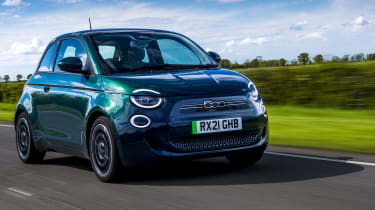 3. Fiat 500 – £21,995
The latest and greatest Fiat 500 is electric-only, rivalling the MINI Electric and Honda e. It offers good real-world range for a small electric car, with either 115 or 199 miles on tap depending which battery size you go for, all while retaining the charm and fun factor its predecessor was known for. It's good to drive, has a well designed interior and is roomier inside than the car it replaces. It's still not the most practical proposition – the boot measures just 185 litres, for example – but there's still much to enjoy. It's one of our favourite small cars on sale and winner of the Best Urban Electric Car title at the 2022 DrivingElectric Awards. Read our Fiat 500 review here.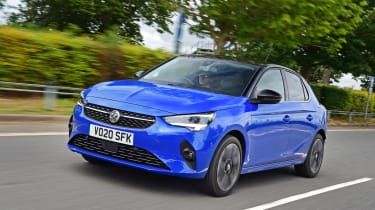 4. Vauxhall Corsa-e – £25,805
The Corsa-e now starts from just over £25,000 after Vauxhall slashed the price of its zero-emissions hatchback in the wake of the PiCG reduction. It not only costs nearly £3,000 less than its French sister car – the Peugeot e-208 – but thanks to an update in December 2021, the Corsa-e is now capable of covering up to 222 miles on a single charge. Plus, it's comfortable, well equipped and has a smart interior, making the Corsa-e worthy of a closet look. Read our Vauxhall Corsa-e review here.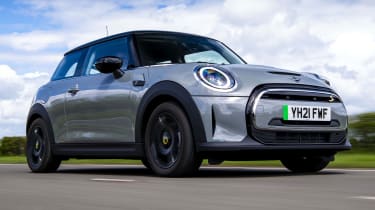 5. MINI Electric – £27,000
Like the Honda e, the MINI Electric is targeted at city-dwelling buyers, with around 120 miles of real-world range available from a 32.6kWh battery. At 1,360kg, the car is around 130kg heavier than the petrol version of the hatchback, but it still feels agile and fun to drive, preserving that trademark MINI 'go-kart handling' that fans love. Read our MINI Electric review here.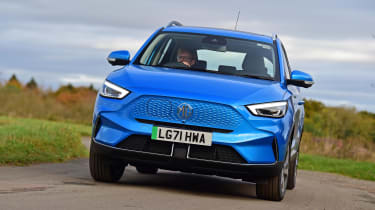 6. MG ZS EV – £27,495
The winner of the Car of The Year and Best Value Electric Car titles in the 2022 DrivingElectric Awards, the refreshed MG ZS EV offers an impressive range and standard kit for under £30,000. MG's electric SUV comes with a generous amount of equipment, including LED headlights, adaptive cruise control, keyless entry, a 360-degree parking camera, and 10.1-inch central touchscreen. The recently introduced entry-level ZS EV gets a 198-mile range thanks to a 51kWh, but upgrading to Long Range version with its 72kWh unit only adds £2,000 to the price tag and boosts the car's range to 273 miles. Read our MG ZS EV review here.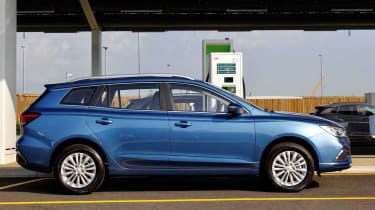 7. MG 5 SW EV – £27,495
The MG 5 SW EV is one of the best-value electric cars on sale – and also the only mainstream electric estate you can buy. Offering family-car practicality for supermini money, it has plenty of space for passengers, luggage and pets. The Long Range model has a claimed range of up to 250 miles, and 50kW charging means you can top up to 80% in 40 minutes using a compatible charger. Elsewhere, the MG 5 brings a good level of equipment for its price, including cruise control, smartphone connectivity and a reversing camera, while everything is covered by a generous seven-year/80,000-mile warranty. Add the fact that it's decent to drive and there's little to sour what's a very good deal. Read our MG 5 SW EV review here.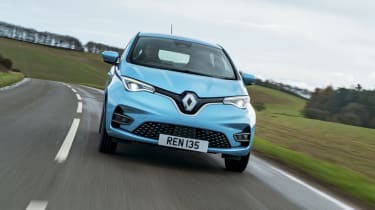 8. Renault ZOE – £27,595
If you're after a capable and cheap electric car, the Renault ZOE is about as good as it gets. Updated in 2020, the latest model uses a 52kWh battery and comes with an official range of 245 miles. 50kW CCS rapid charging is also available, making quick top-ups at public stations more feasible, too. Read our Renault ZOE review here.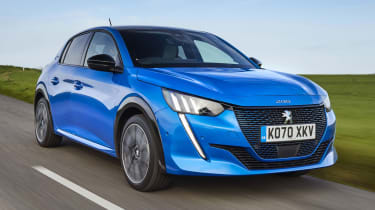 9. Peugeot e-208 – £28,225
The e-208 is based on the same platform as the previously mentioned Vauxhall Corsa-e, as both firms are part of the Stellantis Group. This means the e-208 gets the same 50kWh battery as that car, although its official range is slightly higher, at 225 miles. Arguably, both the exterior and interior design of the e-208 surpasses that of the Corsa-e, begging the question of why the latter is more expensive. We've yet to work that one out, but one thing we can say is that – among many positive traits – the Peugeot's ride is slightly too firm for our liking. Read our Peugeot e-208 review here.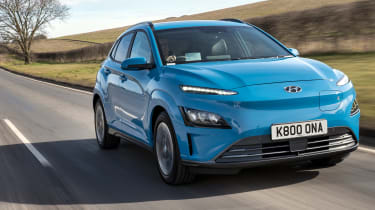 10. Hyundai Kona Electric – £28,950
The Kona Electric is offered with two battery sizes, including a 64kWh unit that offers 300 miles of range. However, go for the smaller 39kWh battery in entry-level SE Connect trim and the Kona Electric comes in at under £29,000 after the plug-in grant is deducted – making it the cheapest zero-emissions SUV on sale in the UK. It's still well equipped, has sharp styling and is relaxing to drive. Read our Kona Electric review here.
Tesla Supercharger network opens to other EVs in the UK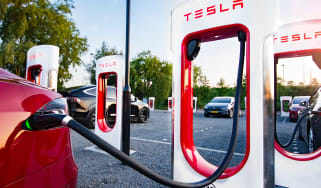 Tesla Supercharger network opens to other EVs in the UK
15 stations and 158 chargers across the Supercharger network are now open for other electric-car users in the the UK
Top 10 best plug-in hybrid SUVs 2022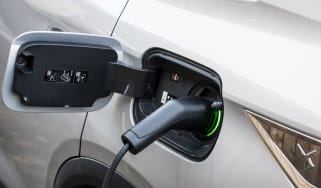 Top 10 best plug-in hybrid SUVs 2022
The finest plug-in hybrid SUVs offer low running costs, enough electric range for daily use and excellent practicality. These are the best plug-in hyb…
New Polestar 3 electric SUV to be unveiled in October 2022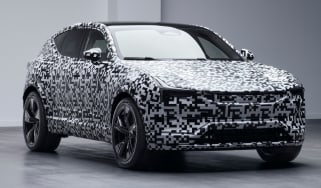 New Polestar 3 electric SUV to be unveiled in October 2022
Polestar's large electric SUV will be followed by a sporty coupe-SUV called the Polestar 4 in 2023 and the flagship Polestar 5 saloon in 2024