Top 10 cheapest electric cars 2022
Contrary to popular opinion, not all electric cars are expensive. Here are the cheapest ones available in the UK right now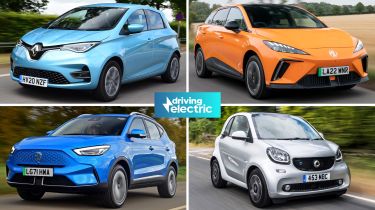 There's a wide range of electric cars on the market these days, more than a few being flagship SUVs and luxury saloons that easily attract six-figure price tags. However, that doesn't mean there aren't much more affordable routes into zero-emissions motoring, too.
Electric cars tend to be more expensive than their petrol or diesel-powered counterparts, but prices are coming down, and a new generation of entry-level EVs will be arriving within the next few years. Plus, electric cars generally are far less expensive to run and attract lower company-car tax than their combustion-engined competitors, so you can claw back some of the difference over the course of ownership.
Therefore, if you're a budget-minded motorist, you needn't wait until 2025 when the sub-£20,000 Renault 5, Volkswagen ID.1 or Cupra Urbanrebel are all on sale. Scroll down for our list of the cheapest electric cars you can buy right now. And once you're done, check out who won at the 2022 DrivingElectric Awards and follow DrivingElectric on Twitter, Facebook, Instagram and YouTube for the latest on all electric and hybrid cars, at any price point.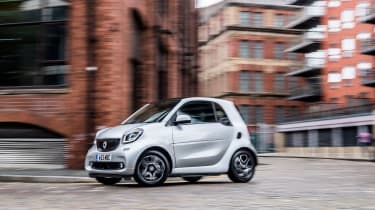 1. Smart EQ ForTwo – £22,225
The incredibly compact Smart EQ ForTwo is not only the cheapest entry on this list, but by far the smallest. It's only a two-seater and offers a range of just 83 miles on a charge, which is far below what the likes of the Fiat 500 can manage. There's also a Cabrio version that combines city-focused driving dynamics with open-air thrills, but it adds a few thousand pounds to the Smart's price tag and probably isn't the ideal EV for contending with British weather. Read our Smart EQ ForTwo review here to find out more.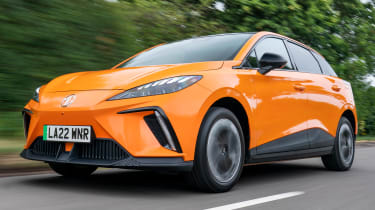 2. MG4 EV – £25,995
The MG4 EV is the brand's first electric hatchback, and rival to the likes of the Cupra Born and Volkswagen ID.3. But while its competitors start from close to £37,000, the MG4 comes in under £26,000. For that you get eye-catching styling, 150kW rapid charging, a generous amount of standard kit and a 51kWh battery; enough for a range of 218 miles. But, if you upgrade to the Long Range version, the family hatchback can cover 281 miles on a charge, all for just £28,495. Read our MG4 EV review here to find out more.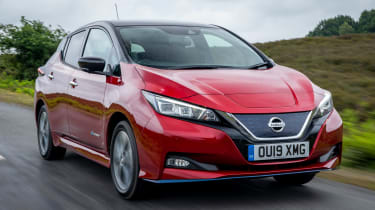 3. Nissan Leaf – £28,995
The Nissan Leaf was one of the first mainstream electric cars, and 11 years on, it remains one of the most affordable EVs on the market starting at just under £29,000. Range in the entry-level model stands at 168 miles, which is significantly less than some of the other hatchbacks on this list, but you do at least get one-pedal driving capabilities – which is great to have around town – plenty of boot space and the option of advanced driver assistance systems, too. Read our Nissan Leaf review here to find out more.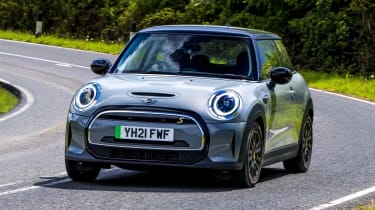 4. MINI Electric – £29,000
The MINI Electric is targeted at city-dwelling buyers, as it offers a limited amount of space and around 120 miles of real-world range from its 32.6kWh battery. At 1,360kg, the electric MINI is around 130kg heavier than the petrol version of the hatchback, but it still feels agile and fun to drive, preserving that trademark MINI 'go-kart handling' that fans love. Plus, the MINI Electric's build quality, cabin design and infotainment system embarrasses electric cars that cost twice as much, yet it starts from £29,000. Read our MINI Electric review here.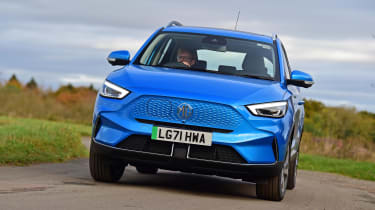 5. MG ZS EV – £29,495
The winner of the Car of The Year and Best Value Electric Car titles at the 2022 DrivingElectric Awards, the refreshed ZS EV offers an impressive range and standard kit for under £30,000. MG's electric SUV comes with a generous amount of equipment, including LED headlights, adaptive cruise control, keyless entry, a 360-degree parking camera and a 10.1-inch central touchscreen. The recently introduced entry-level ZS EV gets a 198-mile range thanks to a 51kWh battery, but upgrading to the Long Range version with its 72kWh battery boosts the car's potential range to 273 miles. Read our MG ZS EV review here to find out more.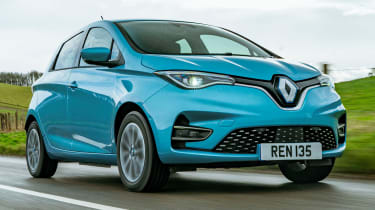 7. Renault ZOE – £29,995
If you're after a capable, compact electric car, the Renault ZOE is still one of the best on sale. Updated in 2020, the latest model uses a 52kWh battery and comes with an official range of 245 miles. 50kW CCS rapid charging is also available, making quick top-ups at public stations more feasible, too, with prices starting from just under £30,000. Read our Renault ZOE review here to find out more.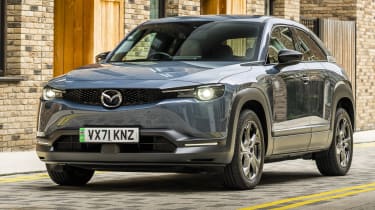 8. Mazda MX-30 – £30,050
Although it's priced very close to the French hatchbacks above and below it in this list, the Mazda MX-30 is something a little different. For starters, it's not quite as practical as they are, with pretty cramped and dark rear seats, plus an unusual pillarless door arrangement. It's also not a class leader when it comes to range, promising only 124 miles on a charge. But it does offer typically sporty Mazda handling, as well as an attractive cabin with sustainable materials used throughout. Read our Mazda MX-30 review here to find out more..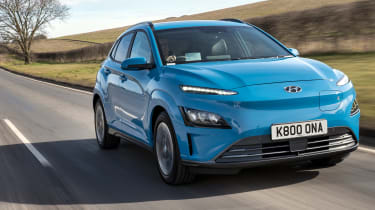 8. Hyundai Kona Electric – £30,450
The Kona Electric is offered with two battery sizes, including a 64kWh unit that offers 300 miles of range. However, go for the smaller 39kWh battery in entry-level SE Connect trim and the Kona Electric comes in at just over £30,000 – making it the second-cheapest zero-emissions SUV on sale in the UK, after the MG ZS EV. It's still well equipped, has sharp styling and is relaxing to drive. Read our full Kona Electric review here.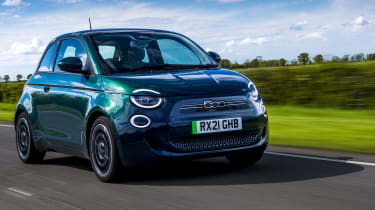 9. Fiat 500 – £30,645
The latest and greatest Fiat 500 is electric-only, but the charm and fun factor its predecessor was known for. It's good to drive, has a well designed interior and is roomier inside than the car it replaces. It's still not the most practical proposition – the boot measures just 185 litres, for example – but there's still much to enjoy. With the entry-level 24kWh Fiat 500 unavailable to order as of July 2022, that means every model comes with a 42kWh battery for a range of 199 miles and 85kW rapid charging. However, it also means the electric city car now starts from £30,645. Read our full review here to find out more.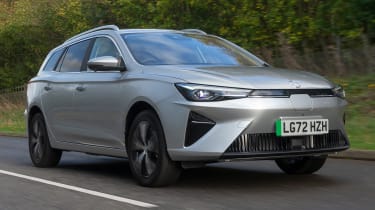 10. MG5 EV – £30,995
The recently refreshed MG5 EV is one of the best-value electric cars on sale – not to mention the only mainstream electric estate car you can buy. Offering family-car practicality for supermini money, it has plenty of space for passengers, luggage and pets. Range stands at 250 miles for the entry-level version, while 87kW rapid charging means you can top up to 80% in a little over half-an-hour from a compatible charger. The MG5's cabin received an extensive overhaul as part of its facelift for 2023, with the upgrades including a new 10.25-inch touchscreen running MG's latest infotainment system. It comes with an impressive level of equipment for the price, and everything is covered by a generous seven-year/80,000-mile warranty. Read our in-depth MG5 EV review here.
New MG4 EV named 2023 DrivingElectric Car of the Year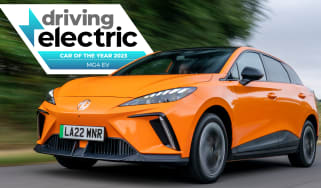 New MG4 EV named 2023 DrivingElectric Car of the Year
New Skoda Enyaq iV vRS hot SUV starts from £52,670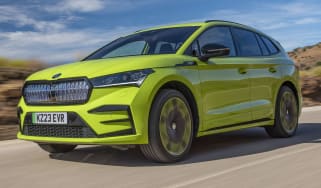 New Skoda Enyaq iV vRS hot SUV starts from £52,670
2023 DrivingElectric Awards: the winners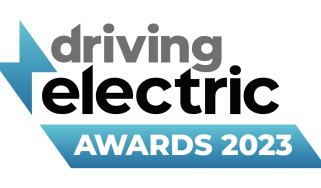 2023 DrivingElectric Awards: the winners
At the end of another historic year for the new car market, we celebrate the best electric and hybrid cars you can buy
Volkswagen ID.3 facelift due in spring 2023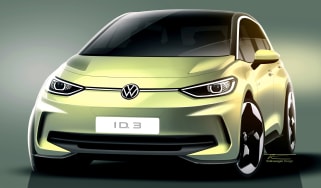 Volkswagen ID.3 facelift due in spring 2023
New sketches provide a glimpse at refreshed styling and cabin of Volkswagen's electric family hatchback
Tesla Semi truck showcases 500-mile range as first examples delivered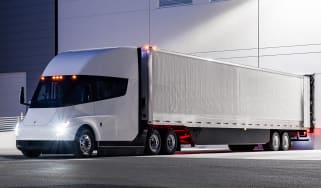 Tesla Semi truck showcases 500-mile range as first examples delivered
The Tesla Semi made its world debut in November 2017, and will become part of Tesla's own fleet