Top 10 cheapest electric cars 2023
Contrary to popular opinion, not all electric cars are expensive. Here are the cheapest ones available in the UK right now
There's a wide range of electric cars on the market these days, more than a few being flagship SUVs and luxury saloons that easily attract six-figure price tags. However, that doesn't mean there aren't much more affordable routes into zero-emissions motoring, too.
Electric cars tend to be more expensive than their petrol or diesel-powered counterparts, but prices are coming down, and a new generation of entry-level EVs will be arriving within the next few years. Plus, electric cars generally are far less expensive to run and attract lower company-car tax than their combustion-engined competitors, so you can claw back some of the difference over the course of ownership.
Therefore, if you're a budget-minded motorist, you needn't wait until 2024 when the £23k Citroen e-C3 goes on sale, let alone 2025 when the sub-£20,000 Renault 5, Volkswagen ID.1, Cupra UrbanRebel all arrive. Here is our list of the cheapest electric cars you can buy right now...
1. BYD Dolphin - £26,195
While this entry may be cheating a bit as the cheapest models aren't due to go on sale until 2024, BYD is nevertheless living up to its name by building the dream of a future where electric cars can be affordable. Even top versions of the BYD Dolphin are inexpensive enough to squeeze onto this list, though all models get things like synthetic leather upholstery, a rotating touchscreen, a reversing camera and a strong four-year warranty. Throw into the mix a comfortable drive and a roomy interior and the BYD Dolphin really begs the question: why pay more?
Read our full BYD Dolphin review to find out more.
2. MG4 EV - £26,995
The winner of the Car of The Year and Best Value Electric Car titles in the 2023 DrivingElectric Awards, the MG4 EV is the brand's first electric hatchback, and rival to the likes of the Cupra Born and Volkswagen ID.3. But while its competitors start from close to £37,000, the MG4 comes in under £27,000. For that you get eye-catching styling, 150kW rapid charging, a surprisingly sporty driving experience, a generous amount of standard kit and a 51kWh battery that's enough for a range of 218 miles. If you have a little extra cash to spend, we recommend stepping up to the Long Range model which, as its name suggests, boosts the MG4's range to a maximum of 281 miles – all still for under £30,000.
Read our MG4 EV review here to find out more.
3. Fiat 500e - £28,195
The latest and greatest Fiat 500 may be electric-only, but it retains the charm and fun factor its predecessor was known for. It's good to drive, has a well-designed interior and is roomier inside than the car it replaces. It's still not the most practical proposition – the boot measures just 185 litres, for example – but we at least appreciate how Fiat has now fixed the old car's awkwardly high seating position in the switch to electric power. There are two versions available: a 24kWh model with a 118-mile range and a 42kWh variant that can travel up to 200 miles. Whichever you go for, all electric 500s are currently being offered with a £3,000 'E-Grant' discount, bringing down the base price even further.
Partnership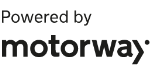 Need to sell your car?
Find your best offer from over 5,000+ dealers. It's that easy.
Read our full review Fiat 500 to find out more.
4. Nissan Leaf £29,495
The Nissan Leaf was one of the first mainstream electric cars, and 11 years on, it remains one of the most affordable EVs on the market starting at just under £29,000. Range in the entry-level Shiro model stands at 168 miles, which is significantly less than some of the other hatchbacks on this list, while the Leaf's relatively dull interior and lacklustre tech are indicative of its age. Things aren't all bad, though; the Leaf's one-deal driving mode remains one of the best we've tried and is great to have around town. That's not mentioning the Leaf's pretty smooth and punchy electric motor, spacious boot and long list of driver assistance systems which will all help you overlook some of the ageing model's shortcomings.
Read our in-depth Nissan Leaf review to find out more.
5. Renault ZOE - £29,995
If you're after a capable, compact electric car, the Renault ZOE is still one of the best on sale. Updated in 2020, the latest model uses a 52kWh battery and comes with an official range of 245 miles, which should be sufficient for a mix of short and longer trips. However, we think the ZOE's strongest selling point is its smart interior which has been pinched from the petrol-powered Renault Clio. Featuring an iPad-style portrait touchscreen and sustainable materials, the ZOE's cabin makes it one of the few mainstream EVs that feels worthy of its £30k+ price tag. The only real drawback is that rapid charging is only standard for the range-topping Iconic model (£31,995), and even then the ZOE's maximum 50kW DC speed is far behind that of the competition.
Read our Renault ZOE review to find out more.
6. MG ZS EV – £30,495
You might be a tad surprised to find a fashionable SUV on a list of the cheapest electric cars, but the MG ZS EV has nonetheless managed to drastically undercut the competition, all while offering a generous list of equipment and a strong electric range. It may not feel the most premium of products, but with features like LED headlights, adaptive cruise control, keyless entry, a 360-degree parking camera and a 10.1-inch central touchscreen all coming as standard, you definitely won't be left feeling shortchanged. Entry-level ZS EV models offer a 198-mile range thanks to a 51kWh battery, but upgrading to the Long Range version with its 72kWh battery boosts the car's potential range to 273 miles, which is on par with much more expensive cars from the same segment like the Kia Niro EV.
Read our in-depth MG ZS EV review to find out more.
7. MG5 EV - £30,995
Not only is MG offering cheap-as-chips electric hatchbacks and SUVs, but the British-Chinese maker also has another strong and appealingly affordable option in the form of a spacious electric estate. The MG5 EV was recently updated to boast the same angular front-end design and minimalist interior of the smaller MG4 hatchback, with the only version now available to buyers being the 280-mile Long Range model. It may be far from the most exciting EV to drive and while it's plagued with the same cheap-feeling interior as other models from the MG range, it's hard to deny the sheer value the 5 offers – especially considering the band's strong five-year warranty.
Read our in-depth MG5 EV review to find out more.
8. Mazda MX-30 EV - £31,250
The Mazda MX-30 is perhaps one of the strangest electric cars you can buy as it's not only available with a zero-emissions electric motor, but also in Wankel-engined range extender hybrid form for the same price. It's the former we're focusing on here which has a pretty lacklustre electric range of 124 miles – roughly the same as a base Fiat 500e. It's not all that spacious, either, with the rear seats being accessed via a rear-hinged door that can only be opened when the front door is ajar. That being said, the electric Mazda is pretty fun to drive and its interior, while cramped, feels incredibly premium and unique. If you're not a company car driver after low BiK rates, we think the range-extender is probably the way to go, though.
Read our full Mazda MX-30 review to find out more.
9. Ora Funky Cat - £31,995
There's plenty to like about Ora's electric supermini, but what truly makes it the cat's whiskers (no, we're not sorry for that pun) is its bargain price. Starting from around £32k, the Ora Funky Cat offers superb value for money with its long equipment list and surprisingly spacious cabin, which can seat four adults comfortably. Quilted stitching on the seats and door cards make the Funky Cat feel premium, while its light steering makes town driving a doddle. A range of 193 miles means the Ora is mainly designed for city driving, but a version with a larger battery is coming soon, as well as an entry-level model that could make it even cheaper.
Read our full Ora Funky Cat review to find out more.
10. Citroen e-C4 – £32,195
One of several cars including the Vauxhall Corsa Electric and Peugeot E-208 that are all built on the same platform, the more budget-focused Citroen e-C4 nevertheless boasts a raised SUV-esque ride height, a comfortable ride and a practical hatchback, all making it the ideal family car. As of 2023, there are now two powertrains to choose from, with even the base model capable of up to 219 miles on a charge. Rapid charging at DC speeds allowing for a 10-80% top-up in less than half an hour means longer trips are possible, even if you don't go for top models with their 259-mile range, while the sleeker-looking Citroen e-C4 X is also available for the same price.
Read our full Citroen e-C4 review to find out more
Cheapest electric cars on sale now
MINI Cooper Electric: pricing and specs for British-built electric supermini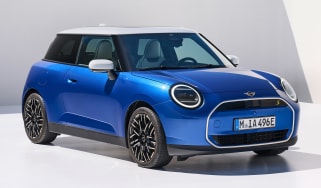 MINI Cooper Electric: pricing and specs for British-built electric supermini
Electric Renault 5: prices, 2024 launch date and teaser images of the MINI Cooper rival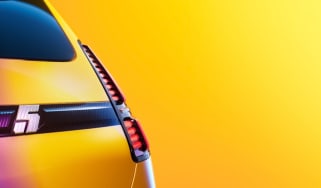 Electric Renault 5: prices, 2024 launch date and teaser images of the MINI Cooper rival
DrivingElectric Awards 2024: the winners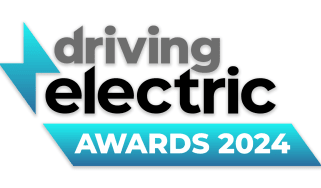 DrivingElectric Awards 2024: the winners
We celebrate the very best products in the EV world
Electric Renault 5: prices, 2024 launch date and teaser images of the MINI Cooper rival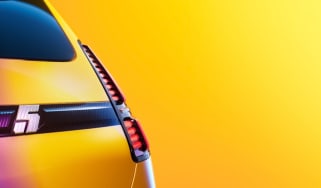 Electric Renault 5: prices, 2024 launch date and teaser images of the MINI Cooper rival
New official teaser pictures for Renault's electric supermini confirm the 5's reveal in February 2024
Tesla Cybertruck: pricing and specs for Elon Musk's electric pickup truck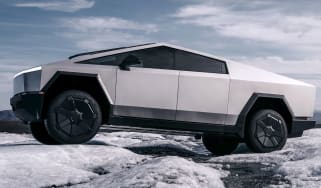 Tesla Cybertruck: pricing and specs for Elon Musk's electric pickup truck
The Tesla pickup truck is now on sale, with a range of up to 340 miles and a starting price of just over $60,000