New 2021 DS 4 E-TENSE: pictures, details and on-sale date
Next electrified DS will slot in above DS 3 but below DS 7 in the range, with a 2021 on-sale date expected for plug-in hybrid model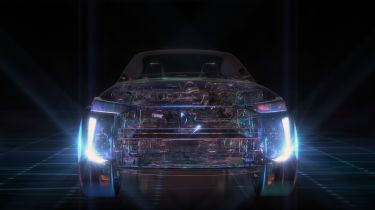 French luxury brand DS has revealed the first official details of its next model, the DS 4. The car was spotted testing under camouflage earlier in 2020, but we now have our first official iinformation about the next addition to the manufacturer's range.
Expected to go on sale before the forthcoming DS 9 saloon in 2021, the DS 4 will use the 'E-TENSE 225' plug-in hybrid powertrain (already used in the larger DS 7 Crossback). This consists of a 178bhp, four-cylinder petrol engine paired with a 108bhp electric motor. The combination makes 222bhp in total, with power sent to the wheels through an eight-speed automatic gearbox; DS expects a 50-kilometre fully electric range from the DS 4.
As a compact premium plug-in hybrid, the DS 4 E-TENSE will be a direct rival for the likes of the Volvo XC40 T5 Recharge, BMW X1 xDrive25e and Mercedes GLA 250 e. It's expected that both DS 4 (hatchback) and DS 4 Crossback (SUV) variants of the car will be offered, although this aspect hasn't been officially confirmed yet and certain markets around the world may not get one or the other.
Inside, the DS 4 will feature an extensive line-up of in-car technology, including an extended 'immersive' head-up display. DS says that, using an optical illusion, this system will seemingly project information on the road ahead as you look out the windscreen, following your gaze in the process. Information projected will include your current speed, driver-aid indications, navigation directions, warning messages or music track names. The head-up display will also be used for the car's infrared night vision system.
On the dashboard infotainment screen, a "tactile, seamless and responsive interface" is promised, with custom profiles and personalised icons available for each user of the car loading automatically when they get in. Voice and gesture controls can be used to operate the system, carrying out functions such as zooming in and out on a navigation map.
Advanced driver-assistance technology is also set to feature on the DS 4, with precise lane positioning, semi-automatic overtaking, speed adjustment for corners by the cruise-control system and traffic-sign recognition all possible. All-round radar and a camera at the top of the windscreen will be used to feed data to these systems.
The DS 4 will also employ the 'Active Scan Suspension' system that has already debuted on the DS 7; this scans the road ahead for bumps and other imperfections before preparing the suspension to best deal with them, promising improved comfort on all road types as a result.