Top 10 slowest-depreciating electric and hybrid cars 2022
Want to limit the amount you lose on a new car? These are the electric and hybrid models that hold on to the greatest proportion of their initial purchase price
It's almost impossible to buy a new car without losing potentially thousands of pounds in depreciation the moment you leave the showroom. Leasing or financing can limit that uncertainty, but almost all new-car deals factor this cost into the monthly payments – meaning you'll end up footing the bill one way or another.
Of course, some cars fare worse than others, and one way of limiting the amount you're set to lose is by opting for a car with a particularly strong residual value (RV). 
A number of factors come into play when assigning these values, but demand versus supply is often the most important consideration. Cars in high demand will often benefit from strong residual values – retaining a greater proportion of their value when the time comes to sell.
But don't think for a second that it's only cars with a prestige or luxury badge that post impressive RVs. Here, we line up the slowest-depreciating electric and hybrid cars according to CDL Vehicle Information Services (CDL VIS) February 2022 numbers. The percentage numbers indicate how much of the car's initial value it should retain after three years or 36,000 miles on the road. Suffice to say, a quick glance at the list throws up one or two surprises…
We've also listed the fastest-depreciating electric and hybrid cars, too, so make sure you also check out our round-up of the models that drop most in value. You never know, it may open up the possibility of a keen secondhand bargain.
Slowest-depreciating electric cars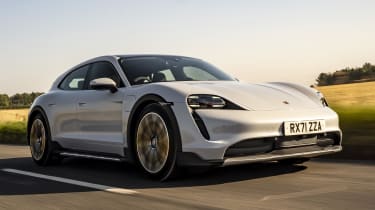 1. Porsche Taycan Cross Turismo (71.29%)
Every version of the Porsche Taycan holds onto its value well, but if avoiding depreciation is your number-one concern, then the top-spec Cross Turismo in Turbo S guise is the one to go for. Take this with a large pinch of salt, though – as the most expensive model, while the percentage of its value lost is smaller, the overall amount may be more substantial.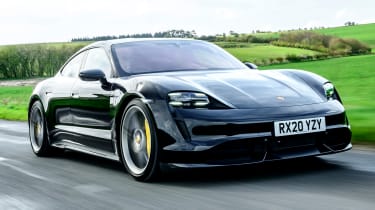 2. Porsche Taycan RWD (66.46%)
From the most expensive to the cheapest: Porsche's entry-level, rear-wheel-drive Taycan saloon finishes second in our list of the slowest-depreciating electric cars. But, as hinted above, while in percentage terms it's not as strong as the flagship Cross Turismo, you'll actually lose less cash on this RWD model.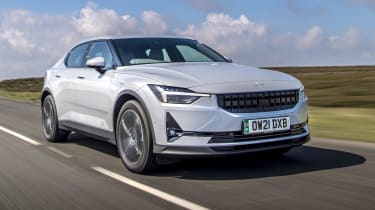 3. Polestar 2 (62.09%)
Polestar is a relatively new brand, but that hasn't done anything to dent its desirability; Volvo's sporty offshoot launched first with the hybrid Polestar 1, latterly bringing the more affordable, pure-electric Polestar 2 to market. It's great to drive, beautifully built, and offers a usable range of more than 200 miles. What's not to like?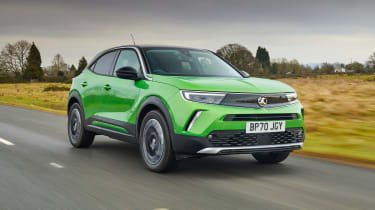 4. Vauxhall Mokka-e (61.03%)
In case you were starting to think that a car needs to cost top dollar in order to appear on this list, the Vauxhall Mokka-e is here to put your mind at rest. Go for the top 'Ultimate' trim level and not only will you get the best the Mokka-e has to offer, but you'll also only spend just over £30,000 – and see a nice chunk of this back when the time comes to sell.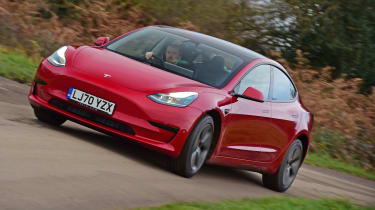 5. Tesla Model 3 (60.68%)
Class-leading on-board technology, ranges of over 300 miles across the line-up and access to the Supercharger network are just some of the many reasons why the Model 3 is so popular. Choose the Long Range version and you should be able to get the best price when selling, however all versions of the Model 3 are expected to retain well over 50% of their initial price.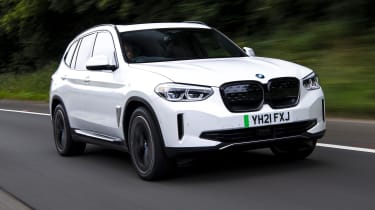 6. BMW iX3 (59.13%)
Unlike its larger BMW iX cousin, the iX3 is based on the existing petrol, diesel and plug-in hybrid X3. There are pros and cons to this approach, but this sense of familiarity is certainly proving popular on the used market, as the IX3 currently retains around 1% more of its initial value than the iX. This may not seem like much, but when you consider the differences in starting price of the two models, small percentages can make a big difference.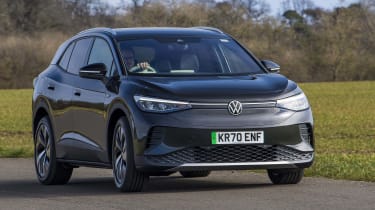 7. Volkswagen ID.4 (63.28%)
Another more affordable offering on this list is the Volkswagen ID.4. And it's a pleasant surprise to discover that the slowest depreciator in the whole range is also the most basic model: the ID.4 Life in Pure spec. It's far more practical than the smaller ID.3, and with an official range of up to 213 miles, it'll fulfil most family duties with ease.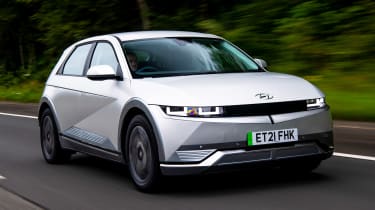 8. Hyundai Ioniq 5 (58.85%)
By far one of our favourite models right now, due to its luxury-car-like refinement, interior comfort, overall quality, road presence and ultra-rapid charging ability, the Hyundai Ioniq 5 was already difficult to find fault with. And it doesn't suffer too badly when it comes to depreciation, either. All versions should retain around 54% of their value or above, peaking at just under 59% for the Premium spec with the 58kWh battery.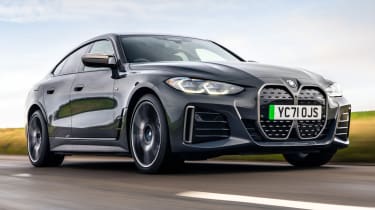 9. BMW i4 (58.36%)
Considering the amount of electric models that BMW offers in its current lineup, it probably is no surprise that two BMWs appear on this list. With excellent build quality, a slick iDrive infotainment system, and an enjoyable driving experience, the i4 is certainly proving popular with buyers and living up to its reputation as the electric alternative to the 3 Series.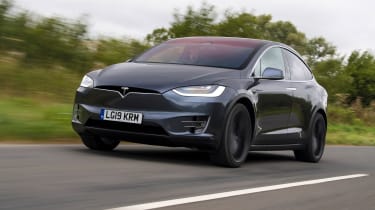 10. Tesla Model X (58.29%)
Not too long ago, you would have found all three of Tesla's mainstream models in this list. However, as more and more manufacturers join the fray, the Model S has dropped out of the top 10 and the Model Y has yet to make an appearance at all. The Model X remains, however – specifically the recently introduced Model X Plaid. It's no surprise that this version is in high demand; strong performance, a long range, plenty of tech and loads of space make it a very desirable family car.
Slowest-depreciating hybrid cars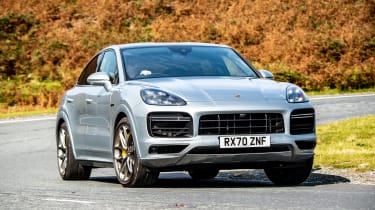 1. Porsche Cayenne Coupé E-Hybrid (68.01%)
Porsche is a top performer in our list of the slowest-depreciating hybrid cars. The first of three models in the top 10, the Cayenne Coupe E-Hybrid beats its more practical SUV sibling – but not by much. In fact, as there's so little in it, we'd simply pick the one that best suits your needs.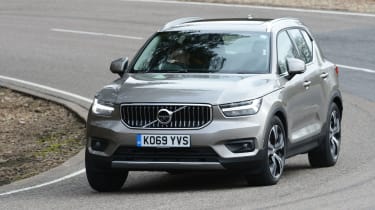 2. Volvo XC40 (67.26%)
The only car to come between the two Cayennes is the more humble yet impressive Volvo XC40. As a matter of fact, every variant of this model, both hybrid and electric, makes an appearance towards the top of the overall slowest depreciators list. Every XC40 should retain at least 51% of its initial value, but for the highest percentage, you'll want to go for the 'Core' trim level.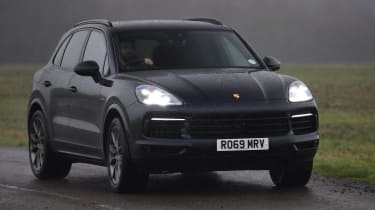 3. Porsche Cayenne E-Hybrid (66.71%)
We'd be splitting hairs to separate the standard Porsche Cayenne from its Coupe counterpart; both are supremely talented SUVs with incredible performance and luxurious interiors. Perhaps the only downside is a relatively short pure-electric range of just 24-27 miles – rivals like the BMW X5 can double that.
4. Toyota RAV4 (64.88%)
While most of the models in this list are premium plug-in hybrids (PHEVs), the RAV4 bucks this trend thanks to its conventional hybrid powertrain and mainstream badge. It's the entry-level Icon variant that holds onto the greatest proportion of its original purchase price, while strong real-world efficiency should keep a lid on day-to-day running costs, too. Should you want or need a plug, the RAV4 is available as a PHEV as well.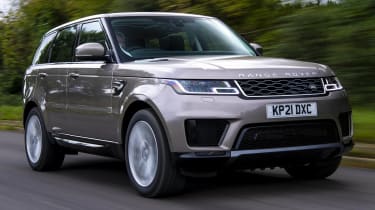 5. Range Rover Sport (65.90%)
The first of two Jaguar Land Rover models in our list, the Range Rover Sport has always been a strong performer on the used market. Perhaps surprisingly it's the diesels that post the most favourable residuals, but the P400e plug-in hybrid is still a sound purchase if you're after a big SUV with a modest pure-electric range. You get all the usual luxury features, an entertaining driving experience, plus the potential for rock-bottom running costs.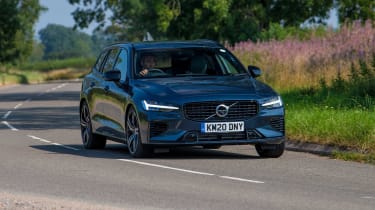 6. Volvo V60 (65.57%)
If you're a fan of the traditional estate car, odds are that you've already looked at the Volvo V60. This sophisticated wagon offers plenty of boot and passenger space, a stylish interior with an infotainment system and controls that are easy to use, and a five-star Euro NCAP safety rating. In plug-in hybrid form, it'll return up to 27 miles of battery range.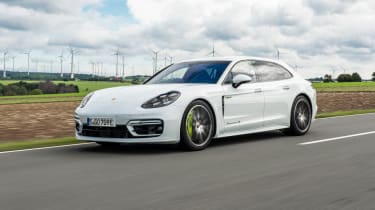 7. Porsche Panamera Sport Turismo E-Hybrid (63.45%)
Just like the Taycan Cross Turismo beats its saloon sibling in the list of the slowest depreciating electric cars, the more practical Sport Turismo version of the Panamera trumps its conventional counterpart in the hybrid rundown. The Panamera perfectly blends its prestige badge and classy interior with the performance and handling you'd more readily associate with a lightweight sports car.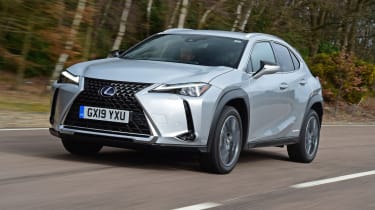 8. Lexus UX (63.18%)
The first compact SUV from Lexus, the UX comes in both hybrid and electric forms. However, the hybrid performs best when it comes to depreciation. Using Toyota's proven full-hybrid technology, the UX should return up to 53mpg fuel economy and will transport a family in space and comfort.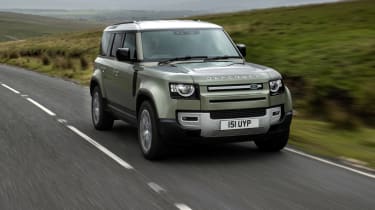 9. Land Rover Defender (62.36%)
It may be big, tough and ready for the rough stuff, but buyers are clearly also attracted towards the greener version of the latest Defender, the 110 P400e plug-in hybrid. While the diesels are still king when it comes to retaining value, the plug-in model really isn't far behind with a percentage of 62.32%. It's not like it's less capable, either, with 398bhp and 640Nm of torque on tap. The only downside is a much higher initial purchase price.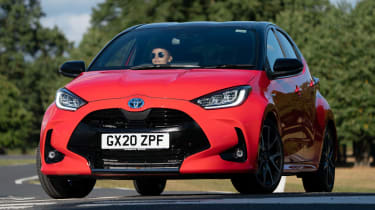 10. Toyota Yaris (62.23%)
​If everything on the list so far has been a bit too bulky for your liking, the Toyota Yaris proves that a more budget-friendly supermini can hold its value just as well as the big SUVs. The latest Yaris once again uses Toyota's "self-charging" hybrid technology, but it has developed into the most desirable take on the model yet, with a generous amount of standard equipment, solid build quality and a rather funky appearance to boot.
Triple test: BMW i4 vs Tesla Model 3 vs Polestar 2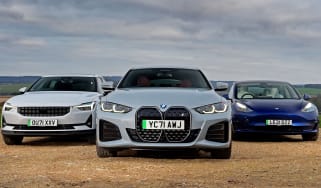 Triple test: BMW i4 vs Tesla Model 3 vs Polestar 2
Where can I buy hydrogen and where is my nearest hydrogen filling station?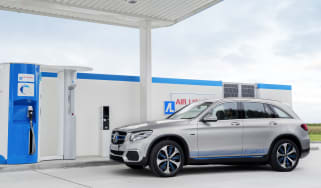 Where can I buy hydrogen and where is my nearest hydrogen filling station?
A guide to where you can find UK hydrogen fuel stations for filling up a hydrogen fuel-cell car
Tesla Supercharger network: complete guide to Tesla charging stations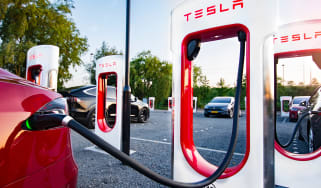 Tesla Supercharger network: complete guide to Tesla charging stations
The Tesla Supercharger network is expanding fast, providing reliable rapid charging throughout the UK to Tesla and non-Tesla owners alike
Top 10 best electric SUVs 2022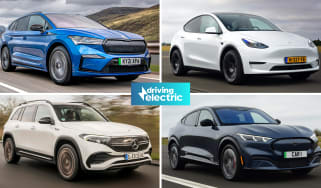 Top 10 best electric SUVs 2022
Electric SUVs combine style and practicality with low running costs, making them a very popular choice in the UK. Here are our top 10 favourites to bu…