Slowest depreciating electric and hybrid cars
Want to limit the amount you lose on a new car? These are the electric and hybrid models that hold on to the greatest proportion of their purchase price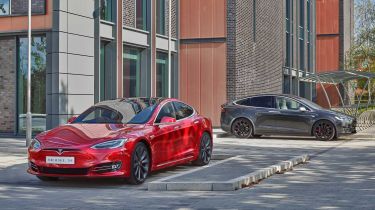 It's almost impossible to buy a new car without the risk of losing thousands of pounds in depreciation. Some cars fare worse than others, and there's no definite way of knowing how much your car will be worth when the time comes to sell or trade in later down the line.
One way of limiting the amount you're set to lose is by opting for a car with particularly strong residual values (RVs). Companies like VIPDATA provide industry-wide analysis on an ongoing basis, assigning a predicted RV to every available make and model – giving an idea of how much value a specific car is likely to lose over three years or 36,000 miles.
A number of factors come into play when assigning these values, but demand versus supply is often the most important consideration. Cars in high demand will often benefit from strong residual values – retaining a greater proportion of their value when the time comes to sell.
But don't think for a second that it's only cars with a prestige or luxury badge that post impressive RVs. Here, we line up the slowest-depreciating electric and hybrid cars according to VIPDATA's April 2020 numbers, and suffice to say, a quick glance at the list throws up one or two surprises...
Slowest depreciating electric cars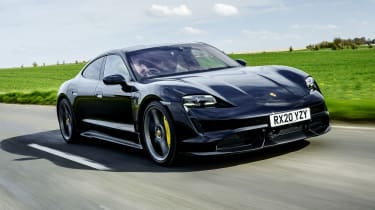 Porsche Taycan Turbo S (77.47%)
Porsche models have a long history of holding their value – and even with the advent of electrification, nothing can come close to the Stuttgart sports-car maker for RVs. Despite costing almost £140,000, the top-spec Taycan Turbo S takes the crown for slowest depreciating electric car currently on sale. Our figures suggest it'll hold on to a whopping 77% of its initial purchase price after three years or 36,000 miles – smashing the second-place Mercedes EQC right out of the park.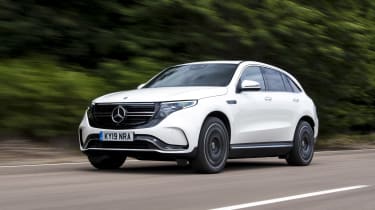 Mercedes EQC400 4MATIC AMG Line (65.38%)
A strong set of core ingredients including a powerful electric motor, SUV body and a premium badge mean the Mercedes EQC is a winner for anyone looking to limit their financial losses. Despite its humble beginnings – the electric EQC is based on the diesel GLC, don't forget – Merc's sole electric car is in high demand, and therefore presents strong RVs across the board. Every model retains between 63 and 65% of its value after three years, but it's the mid-range AMG Line that posts the strongest numbers.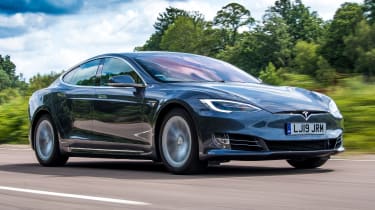 Tesla Model S Performance Ludicrous (59.82%)
The top-spec Model S is the first of three Teslas to feature in our list of the slowest depreciating cars – not bad for a brand with so little history or heritage. It seems buyers love the cars' mix of usable range and easy charging, as well as the practical, minimalist cabins. According to VIPDATA figures, the entry-level Tesla Model S Long Range will retain 58.31% of its value after three years, but it's the bonkers Performance model with the Ludicrous upgrade that pips it to the post – holding on to almost 60% of its original purchase price over the same time period.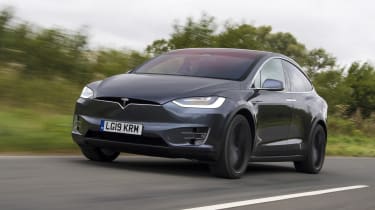 Tesla Model X Long Range (58.81%)
Next up is the larger Tesla Model X. With its seven-seat body and 314-mile electric range, it's a properly practical electric SUV. It might be expensive to buy, but owners can be confident they'll recoup a decent chunk of their initial outlay when the time comes to sell; the Model X Long Range will retain 58.81% of its value according to the experts at VIPDATA.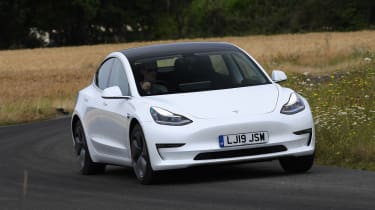 Tesla Model 3 Long Range (57.91%)
Would you believe it? The final spot on our list is yet another Tesla – this time the cheaper Model 3. When you consider that lower initial outlay, the smaller saloon looks like a particularly shrewd buy; for a smidge under £50,000, you can have a classy, fun-to-drive, easy-to-live-with electric car that'll still be worth almost £30,000 three years down the line. The mid-range Long Range version is the one we'd go for, too, blending performance and efficiency with aplomb.
Slowest depreciating hybrid cars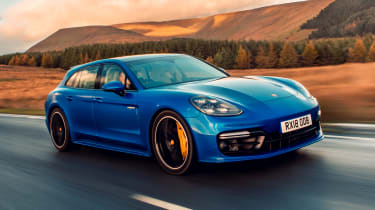 Porsche Panamera Sport Turismo E-Hybrid (64.50%)
While it's the estate-bodied Sport Turismo that tops this list, the conventional Porsche Panamera isn't far behind. In fact, if we were to split the two, the single model would occupy both places one and three on our list of the slowest-depreciating hybrid cars. Just like the Taycan, which tops the rundown of electric cars, the Panamera perfectly blends its prestige badge and classy interior with the performance and handling you'd more readily associate with a lightweight sports car. The fact both the saloon and ST estate retain around 64% of their original purchase price after three years or 36,000 miles is the icing on the cake.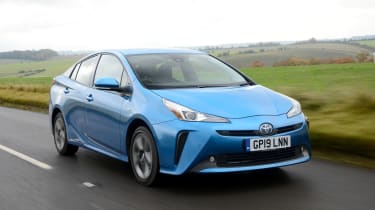 Toyota Prius Active (63.95%)
Perhaps surprisingly, the humble Toyota Prius occupies second place on our list of the slowest depreciating hybrid cars. Its incredible efficiency is a strong selling point for this quirky-looking hatchback, making it a favourite for taxi drivers up and down the country. Decent practicality ensures it's suitable for those with a growing family, too. It seems even a sub-par infotainment system can't put people off; the Prius fights tooth-and-nail with some of the flashiest cars on the planet when it comes to depreciation avoidance.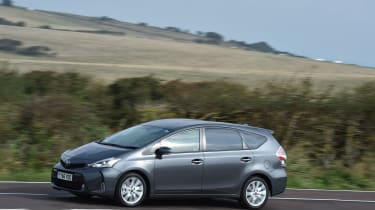 Toyota Prius+ Icon (61.91%)
It's a double whammy for Toyota, with the MPV-bodied Prius+ slotting in as the third slowest depreciating car money can buy. Unlike the Porsche Panamera, we've separated the Prius people carrier from the standard car – as they've little in common aside from their name. However, despite the fact the Prius+ is based on the previous-generation hatchback, it's one of the most practical hybrid cars on sale – and while seats six and seven are best reserved for kids, it's a strong selling point in this segment. If you want to hold on to as much of that original purchase price as possible, make sure you specify sat nav at the point of order – you'll more than likely make this money back when the time comes to sell.
Honda NSX (59.85%)
As something of a curveball, the fourth slowest depreciating hybrid car on sale is the super-rare Honda NSX. That probably contributes to its strong residuals, but let's not forget its complex and highly tuned hybrid system that makes it good for 0-62mph in just 3.3 seconds. It's a proper Ferrari-baiting supercar with all the reliability and dependability we've come to expect from something wearing the Honda badge. Retaining almost 60% of its value after three years goes some way to soften the blow of its near-£150,000 purchase price.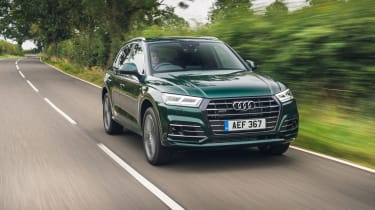 Audi Q5 50 TFSI e Black Edition (59.51%)
The Audi Q5's blend of refinement, practicality and a prestigious badge have always made it an RV winner – and the added boon of a plug-in hybrid powertrain only strengthens its appeal. While there are two models to choose from (and myriad specifications, too), it's the less powerful 50 TFSIe that posts the stronger residual values. The stylish and well equipped Black Edition is the top performer, but even the entry-level S line retains almost 58% of its value after three years or 36,000 miles. We'd avoid the flagship Vorsprung cars, as their higher list prices inevitably mean they've further to fall when it comes to depreciation.
Best plug-in hybrid SUVs 2021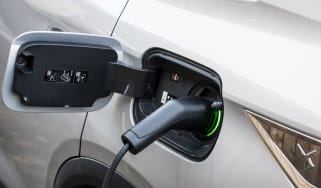 Best plug-in hybrid SUVs 2021
A good plug-in hybrid SUV should combine low running costs with excellent practicality. These are some of the best on sale right now
Best electric SUVs 2021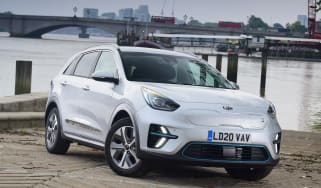 Best electric SUVs 2021
Our selection of the best electric SUVs you can buy features cars that promise to mix style, practicality and rock-bottom running costs
Longest range electric cars 2021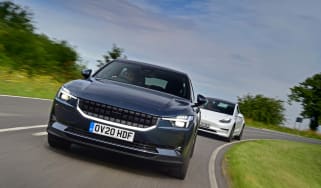 Longest range electric cars 2021
The range of electric cars is continually improving. Here are the top 10 models with the longest range on a single charge