Top 10 slowest-depreciating electric and hybrid cars 2023
Want to limit the amount you lose on a new car? These are the electric and hybrid models that hold on to the greatest proportion of their initial purchase price
It's almost impossible to buy a new car without losing potentially thousands of pounds in depreciation the moment you leave the showroom. Leasing or financing can limit that uncertainty, but almost all new-car deals factor this cost into the monthly payments – meaning you'll end up footing the bill one way or another.
Of course, some cars fare worse than others, and one way of limiting the amount you're set to lose is by opting for a car with a particularly strong residual value (RV). 
A number of factors come into play when assigning these values, but demand versus supply is often the most important consideration. Cars in high demand will often benefit from strong residual values – retaining a greater proportion of their value when the time comes to sell.
But don't think for a second that it's only cars with a prestige or luxury badge that post impressive RVs. Here, we line up the slowest-depreciating electric and hybrid cars according to CDL Vehicle Information Services (CDL VIS) May 2023 numbers. The percentage numbers indicate how much of the car's initial value it should retain after three years or 36,000 miles on the road. Suffice to say, a quick glance at the list throws up one or two surprises…
We've also listed the fastest-depreciating electric and hybrid cars, too, so make sure you also check out our round-up of the models that drop most in value. You never know, it may open up the possibility of a keen secondhand bargain.
Slowest-depreciating electric cars
1. Volkswagen ID. Buzz (71.12%)
Volkswagen's ID. cars are clearly performing well for resale values, even if their interiors leave something to be desired. The ID.Buzz, the MPV and van that's based on the classic Type 2 Bus, has caught the attention of buyers even though it's not been on sale for very long. Whether you choose the Life or Style spec – we'd recommend the former – they're all projected to retain over 70% of their value after three years.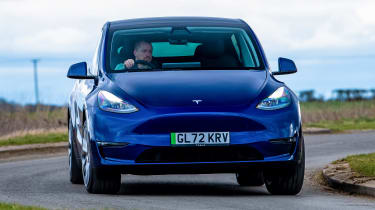 2. Tesla Model Y (66.15%)
The Tesla Model Y is a new entry in our list and has rocketed straight into second place with the introduction of the more affordable single-motor rear-wheel drive model. There's clearly still great appeal in the brand's easy-to-use Supercharger network, which makes running a Model Y a cinch – even if you cover high mileages.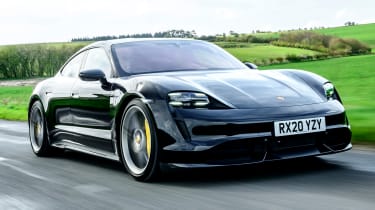 3. Porsche Taycan (65.89%)
Porsche's first-ever electric car has been a runaway success. The Taycan drives just as a Porsche should, and features all the luxury and technology you'd expect at this price point. Yet, while the initial outlay may be high, few cars retain as much value over three years or 36,000 miles. All Taycans perform well in this respect, but it's the entry-level, rear-wheel-drive Taycan saloon that we'd recommend, and it's the car that finishes third in our list of the slowest-depreciating electric cars.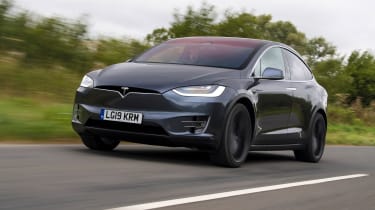 4. Tesla Model X (65.82%)
The Tesla Model X is a bit of an oddity in this list – as it's not clear whether or not you can actually buy one right now in the UK. It features on the manufacturer's website, and it's on the data tables we use to assess residual values. But try to place an order and you'll only be asked for a £100 deposit – you'll be asked to pay the balance as delivery approaches. If you can get your hands on one, however, you'll have one of the fastest electric SUVs available, as well as one that holds onto more than 65% of its original value after three years and 36,000 miles - possibly because of that restricted supply of new cars.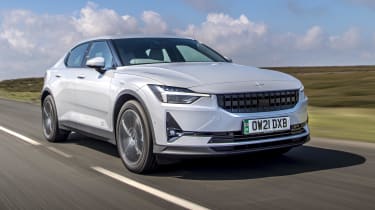 5. Polestar 2 (62.56%)
Another new entry in our list of the slowest-depreciating electric cars is the Polestar 2. Despite having been around for over three years now, the cool-looking family EV is growing in popularity – possibly due to the maker's broad future product lineup that includes everything from coupe-SUVs to convertible sports cars. People are starting to take notice of Polestar, and it's reflected in strong residual values for its first full-EV.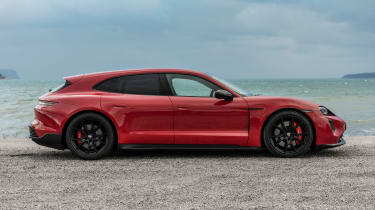 6. Porsche Taycan Sport Turismo (61.90%)
Every version of the Porsche Taycan holds onto its value well, but if you want one car to do it all then we'd opt for the practical Sport Turismo. It may not have the raised ride height of the SUV-styled Cross Turismo, but it's otherwise just as practical, and it's marginally better to drive too. It's the cheapest rear-wheel drive car with the smaller battery that holds onto most of its value, but we reckon this could be a bit of a false economy. We'd spec the bigger 84kWh battery as there's less than half a percentage point in it.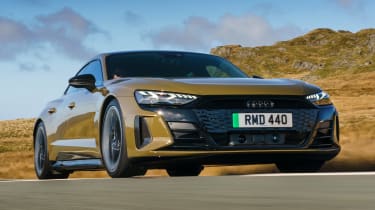 7. Audi e-tron RS GT (61.89%)
If your choice is between the Porsche Taycan and Audi e-tron GT, you'll get more money back on the Porsche. But the Audi has a decent return in its own right, with the best-performing model being the flagship RS GT in Vorsprung spec. Beware, however, this version has the highest list price, so while it will retain a greater percentage of its original purchase price over three years, you'll end up spending more overall versus one of the more modest versions.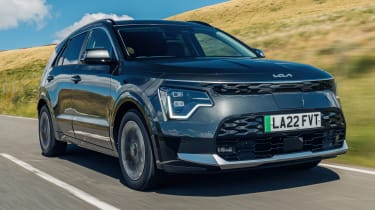 8. Kia Niro EV (61.63%)
It's not all high-end luxury cars in our list of the slowest-depreciating electric cars. In fact, the Kia Niro EV – in lowly '2' spec – is one of the most efficient and affordable EVs currently on sale. It's good to drive and gets plenty of kit, though if you like your toys we think it might be worth stepping up to the '3' or '4' trim for some worthwhile added extras. No Niro EV is expected to lose more than 59.5% of its value during the first three years.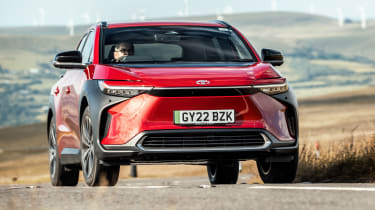 9. Toyota bZ4X (61.37%)
The Toyota bZ4X may be one of the newest SUVs on the block, but it's predicted to retain more of its value than many of its rivals. It's good to see that the entry-level Pure model being the best performer; even this rear-wheel-drive version is well-equipped with a heat pump and wireless Apple CarPlay.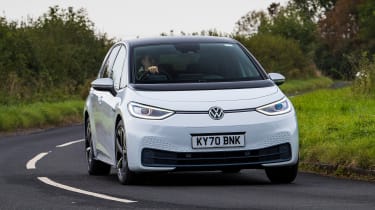 10. Volkswagen ID.3 (61.26%)
Another more affordable offering on this list is the Volkswagen ID.3. And it's a pleasant surprise to discover that the slowest depreciator in the whole range is the popular Business spec with the 58kWh battery. But most versions, whether you pick the cheaper models or the bigger-battery Pro S, offer residual values of between 55-60%.
Slowest-depreciating hybrid cars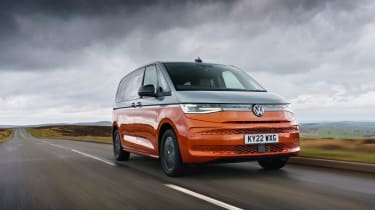 1. Volkswagen Multivan (77.79%)
It's a solid 1-2 for Volkswagen – with the brand not only topping our list of the slowest-depreciating electric cars, but our rundown of the slowest-depreciating hybrid cars as well. If you're weighing up the Volkswagen Multivan and ID.Buzz for your futuristic family van, the latter is likely to be cheaper to run but the Multivan PHEV could be worth more when it's time to resell. It's the entry-level Life trim that offers the best residuals, in either short or long-wheelbase form. The higher-spec Style returns around 69% after three years or 36,000 miles.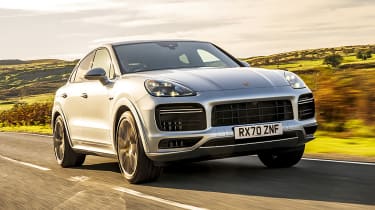 2. Porsche Cayenne Coupe (76.28%)
Porsche is a top performer in our list of the slowest-depreciating hybrid cars. The first of three models in the top 10, the Cayenne Coupe E-Hybrid beats its more practical SUV sibling – presumably because buyers in this area of the market value style as much as they do outright practicality. Even with a new version just around the corner, the pre-facelift model is holding its value well.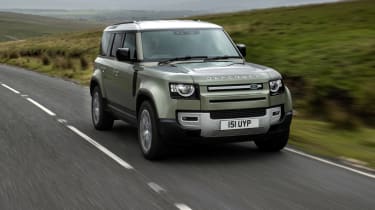 3. Land Rover Defender 110 (73.69%)
It should come as no surprise that the Land Rover Defender P400e features so high up our list of the slowest-depreciating hybrid cars; the mild-hybrid diesel is the car that holds onto more value (in percentage terms) than any other currently on sale – at over 80% after three years or 36,000 miles. The PHEV isn't quite as desirable according to official figures, but plug it in regularly and do most of your journeys on electric power alone, and we think you could save a pretty penny. It's our pick of the range.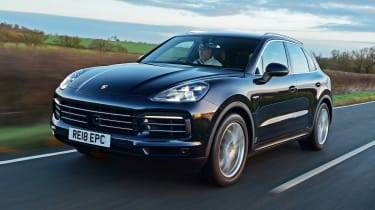 4. Porsche Cayenne (72.55%)
Only slightly behind its sleeker coupe sibling, the standard Porsche Cayenne e-Hybrid is the fourth slowest-depreciating model in our list. It's more spacious than its counterpart, but arguably just as good to drive. It doesn't cost as much to buy outright either, so make sure you do your sums before signing on the dotted line.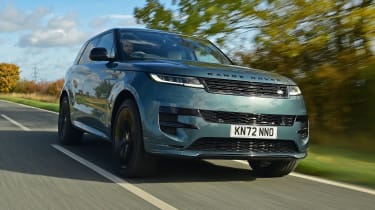 5. Range Rover Sport (71.22%)
The second of several Land Rover models in our list, the Range Rover Sport has always been a strong performer on the used market. It's no longer the diesels that post the most favourable residuals; the P440e plug-in hybrid in SE guise is expected to return a staggering 71% of its original value. You get all the usual luxury features, a commanding driving experience, plus the potential for rock-bottom running costs.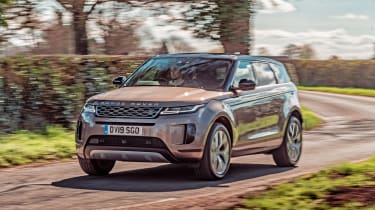 6. Range Rover Evoque (70.54%)
Land Rover has struggled with reliability and build quality issues in recent years, but that doesn't seem to be harming the firm's desirability. The Range Rover Evoque – the baby Range Rover – offers decent residual values at around half the price of the brand's larger cars. The R-Dynamic models with their sportier body kits tend to command the best prices when it's time to sell.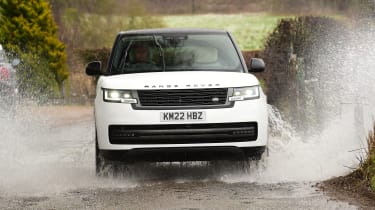 7. Range Rover (69.86%)
The full-size Range Rover PHEV is predicted to be worth nearly as much as the Sport after three years and 36,000 miles. You'll need the P440e SE derivative for the best residual values, and you'll also need a deep pocket to be able to afford the six-figure initial price. Those that can stomach the asking price will revel in the sumptuous materials and state-of-the-art tech found in one of the most luxurious cars on sale.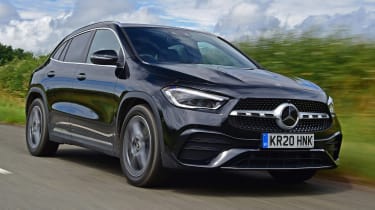 8. Mercedes GLA (69.34%)
One of the more affordable models in our list of the slowest-depreciating hybrid cars is the Mercedes GLA 250 e. Using the same running gear as the excellent A-Class plug-in, the GLA has been recently facelifted, but it's the pre-update model in desirable AMG Line Premium guise that features here. Holding onto almost 70% of its value could make this luxurious family SUV a real bargain.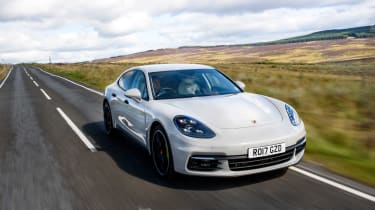 9. Porsche Panamera (68.29%)
The plug-in hybrid Porsche Panamera is an in-demand machine, so residual values are decent across the range. It's the least expensive version that offers the best figures, and it doesn't really matter if you pick four or five seats, or add the 7.2kW charger – you'll get a similar percentage back.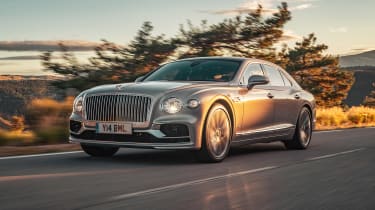 10. Bentley Continental Flying Spur (67.27%)
Possibly the most expensive car on our list – the Range Rover P440e will come close if you're not careful with the options – the Bentley Flying Spur is at its best with a plug-in hybrid powertrain. Nothing whispers luxury like the sound of silence, and with a short electric range, there are few more refined ways to be chauffeured from A-to-B. The materials are first rate, and you certainly won't be left wanting for kit.
MINI Cooper Electric: pricing and specs for British-built electric supermini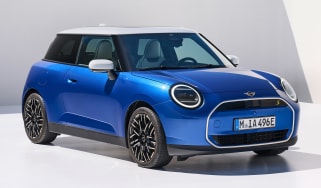 MINI Cooper Electric: pricing and specs for British-built electric supermini
MINI's latest electric hatchback introduces a revolutionary interior design, as well as larger batteries to provide a 250-mile range
The Kia EV9 is DrivingElectric Car of the Year 2024
The Kia EV9 is DrivingElectric Car of the Year 2024
Kia's new electric flagship wins big at DrivingElectric's annual awards ceremony
Tesla Cybertruck: pricing and specs for Elon Musk's electric pickup truck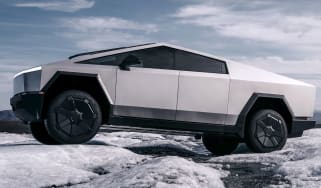 Tesla Cybertruck: pricing and specs for Elon Musk's electric pickup truck
The Tesla pickup truck is now on sale, with a range of up to 340 miles and a starting price of just over $60,000