Top 10 slowest depreciating electric and hybrid cars
Want to limit the amount you lose on a new car? These are the electric and hybrid models that hold on to the greatest proportion of their initial purchase price
It's almost impossible to buy a new car without the risk of losing thousands of pounds in depreciation the moment you leave the showroom. Leasing or financing can limit that uncertainty, but almost all new-car deals factor this cost into the monthly payments – meaning you'll end up footing the bill one way or another.
Of course, some cars fare worse than others, and one way of limiting the amount you're set to lose is by opting for a car with a particularly strong residual value (RV). Companies like CDL Vehicle Information Services (CDL VIS) provide industry-wide analysis on an ongoing basis, assigning a predicted RV to every available make and model – giving an idea of how much value a specific car is likely to lose over three years or 36,000 miles on the road.
A number of factors come into play when assigning these values, but demand versus supply is often the most important consideration. Cars in high demand will often benefit from strong residual values – retaining a greater proportion of their value when the time comes to sell.
But don't think for a second that it's only cars with a prestige or luxury badge that post impressive RVs. Here, we line up the slowest-depreciating electric and hybrid cars according to CDL Vehicle Information Services (CDL VIS) July 2021 numbers, and suffice to say, a quick glance at the list throws up one or two surprises…
We've also listed the fastest depreciating electric and hybrid cars, so make sure you also check out our round-up of the models that drop most in value. You never know, it may open up the possibility of a keen secondhand bargain.
Slowest depreciating electric cars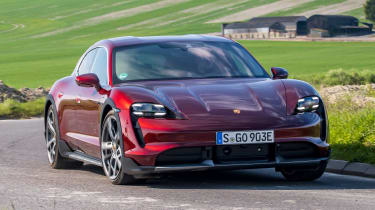 Porsche Taycan Cross Turismo Turbo S (74.43%)
Last year's top performer is pipped to the post only by its more practical, estate-bodied sibling. Every version of the Porsche Taycan holds onto its value well, but if avoiding depreciation is your number-one concern, then the top-spec Cross Turismo in Turbo S guise is the one to go for. Take this with a large pinch of salt, though – as the most expensive model, while the percentage of its value lost is smaller, the overall amount may be more substantial.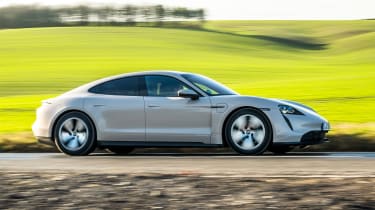 Porsche Taycan RWD (74.10%)
From the most expensive to the cheapest: Porsche's entry-level, rear-wheel-drive Taycan saloon finishes second in our list of the slowest-depreciating electric cars. But as hinted above, while in percentage terms it's not as strong as the flagship Cross Turismo, you'll actually lose less cash on this RWD model. Over three years or 36,000 miles, the basic Taycan drops by just £18,320; Cross Turismo Turbo S cars lose £35,790 over the same period.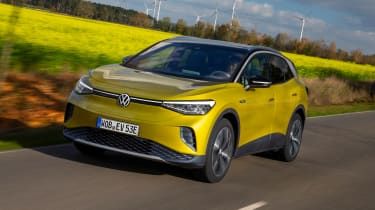 Volkswagen ID.4 Life (63.28%)
Thankfully, our list isn't solely populated by flashy high-end performance cars: the Volkswagen ID.4 finishes third in our list, beating models from Volvo, BMW and Tesla. And it's the most basic ID.4 Life in Pure spec – probably due to the fact it's currently the only version that qualifies for the government's plug-in car grant, which lowers the list price straight off the bat. It's far more practical than the smaller ID.3, and with an official range of up to 213 miles, it'll fulfil most family duties with ease.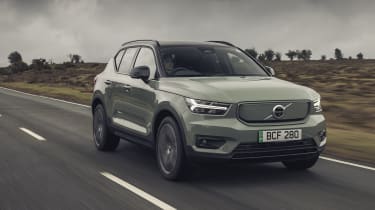 Volvo XC40 Recharge P8 (63.21%)
Fourth place is occupied by another SUV – the Volvo XC40 Recharge. Offering everything we love about the hybrid XC40, plus a smooth, zero-emissions powertrain, the pure-electric Volvo is a practical, well equipped family car with a decent real-world range. Cheaper, single-motor models will be available soon – and could offer even better value for money.
Audi RS e-tron GT (62.48%)
Audi's take on the Taycan (the e-tron GT shares a large number of parts with Porsche electric flagship) is another depreciation shaker. That said, the Audi's list prices aren't significantly lower, yet the hit you'll take on the top-spec RS version is substantially greater than its Stuttgart-built sibling. We'd look closely at the less powerful e-tron models, all of which retain more than 60% of their purchase price after three years.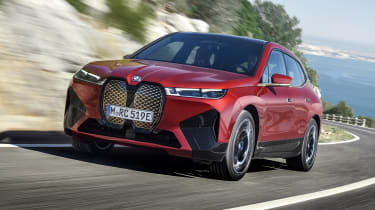 BMW iX M Sport (62.17%)
BMW's pure-electric iX SUV isn't even in showrooms yet, but experts already seem confident it'll hold onto as much as 62% of its original value three years down the line. As is often the case, the M Sport variants post the strongest numbers; more aggressive styling matched to a lengthy kit list make this the model most likely to be in demand in a few years' time.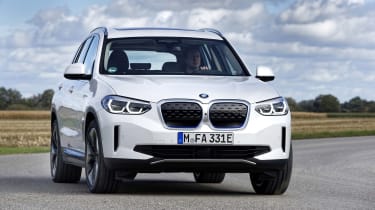 BMW iX3 Premier Edition (62.06%)
Falling only slightly shy of the all-new BMW iX is the iX3 – another car that has barely reached paying customers yet. While the iX is built as an electric car from the ground up, the iX3 is based on the existing petrol, diesel and plug-in hybrid X3. There are pros and cons to this approach, but at this stage, it doesn't seem to have adversely affected resale values.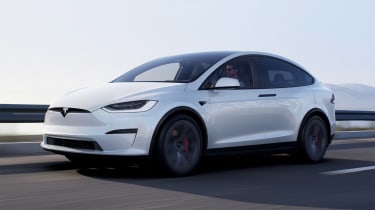 Tesla Model X Plaid (61.68%)
Rewind 12 months and you'd have found all three of Tesla's mainstream models in this list. However, as more and more manufacturers join the fray, the Model S and Model 3 have dropped out of the top 10. The Model X remains, however – specifically the new Model X Plaid. It's no surprise that this version is in high demand; strong performance, a long range, plenty of tech and loads of space make it a very desirable family car. Be warned, though: order one today and it'll be late 2022 before you take delivery.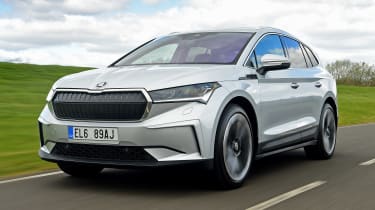 Skoda Enyaq iV SportLine (61.42%)
The Skoda Enyaq iV is one of the best-value electric cars on sale, and that fact is only strengthened by the SportLine version's enviable residual values. But while it's this specific model that posts the strongest numbers, no Enyaq is predicted to lose more than 60% of its purchase price after three years or 36,000 miles. A blend of space, range and fast charging make it a really tempting choice.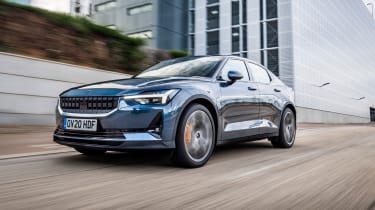 Polestar 2 (61.17%)
Polestar is a relatively new brand, but that hasn't done anything to dent its desirability; Volvo's sporty offshoot launched first with the Polestar 1 (a model that features in our list of the slowest depreciating hybrid cars, below), latterly bringing the more affordable, pure-electric Polestar 2 to market. It's great to drive, beautifully built, and offers a usable range of more than 200 miles. What's not to like?
Slowest depreciating hybrid cars
Honda NSX (67.14%)
As something of a curveball, the slowest-depreciating hybrid car on sale is the super-rare Honda NSX. That probably contributes to its strong residuals, but let's not forget its complex and highly tuned hybrid system that makes it good for 0-62mph in just 3.3 seconds. It's a proper Ferrari-baiting supercar with all the reliability and dependability we've come to expect from something wearing the Honda badge. Retaining almost 70% of its value after three years goes some way to soften the blow of its near-£150,000 purchase price.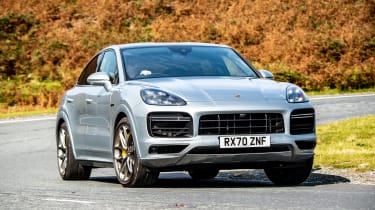 Porsche Cayenne Coupe E-Hybrid (66.13%)
Porsche topped our list of the slowest-depreciating electric cars, and it comes close to doing the same in regards to hybrids. The first of four models in the top 10, the Cayenne Coupe E-Hybrid beats its more practical SUV sibling – but not by much. In fact, as there's so little in it, we'd simply pick the one that best suits your needs.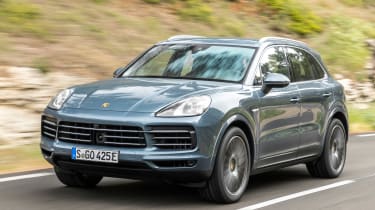 Porsche Cayenne E-Hybrid (65.53%)
We'd be splitting hairs to separate the standard Porsche Cayenne from its Coupe counterpart; both are supremely talented SUVs with incredible performance and luxurious interiors. Perhaps the only downside is a relatively short pure-electric range of just 24-27 miles – rivals like the BMW X5 can double that.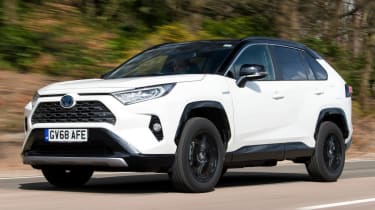 Toyota RAV4 2WD 2.5 VVT-h Icon (64.88%)
While most of the models in this list are premium plug-in hybrids (PHEVs), the RAV4 bucks this trend thanks to its conventional hybrid powertrain and mainstream badge. It's the entry-level Icon variant that holds onto the greatest proportion of its original purchase price, while strong real-world efficiency should keep a lid on day-to-day running costs, too. Should you want or need a plug, the RAV4 is available as a PHEV as well.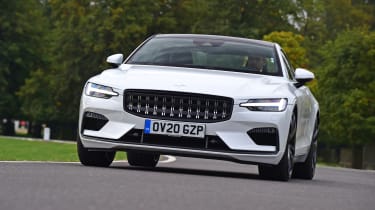 Polestar 1 (64.33%)
Aside from the Honda NSX, the Polestar 1 is the most expensive car on this list. So, while the fact it retains 64.33% of its purchase price after three years or 36,000 miles is impressive, it'll still lose more outright value than many models with less favourable ratings. The Polestar is a compelling package, though: looks to die for, plus a 78-mile electric range and over 600bhp.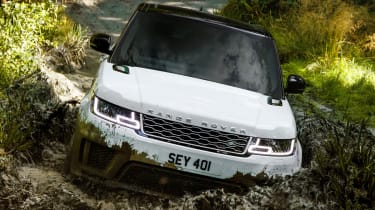 Range Rover Sport P400e HSE Dynamic (63.83%)
The first of two Jaguar Land Rover models in our list, the Range Rover Sport has always been a strong performer on the used market. Perhaps surprisingly it's the diesels that post the most favourable residuals, but the P400e plug-in hybrid is still a sound purchase if you're after a big SUV with a modest pure-electric range. You get all the usual luxury features, an entertaining driving experience, plus the potential for rock-bottom running costs.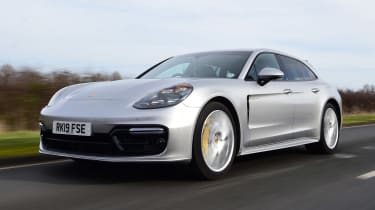 Porsche Panamera Sport Turismo E-Hybrid (63.45%)
Just like the Taycan Cross Turismo beats its saloon sibling in the list of the slowest depreciating electric cars, the more practical Sport Turismo version of the Panamera trumps its conventional counterpart in the hybrid rundown. The Panamera perfectly blends its prestige badge and classy interior with the performance and handling you'd more readily associate with a lightweight sports car. The fact the ST estate retains almost 64% of its original purchase price after three years or 36,000 miles is merely a coincidental bonus.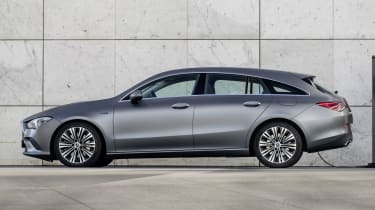 Mercedes CLA 250e Shooting Brake AMG Line Premium (63.13%)
You don't have to spend the big bucks to get a plug-in hybrid capable of retaining more than 60% of its original value after three years or 36,000 miles. Admittedly, the Mercedes CLA isn't cheap, but that initial cost is offset somewhat by its strong residual values. It may not be as practical as some rivals, but the Shooting Brake version's sleek shape will win over plenty of potential purchasers.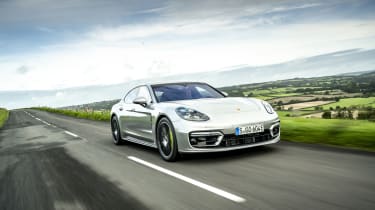 Porsche Panamera E-Hybrid (63.05%)
There's no shame in being the fourth and final Porsche in our list; the standard Panamera E-Hybrid is as noteworthy as the Cayennes – and the Panamera Sport Turismo – that precede it. This is a luxurious executive saloon capable of up to 35 miles on electric power, as well as top speeds of 174mph – although not at the same time, admittedly. There's even a Turbo S E-Hybrid model for those wanting to have their cake and eat it.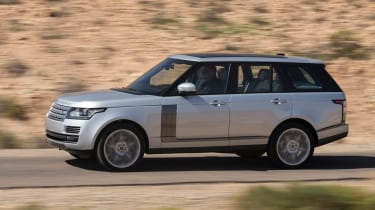 Range Rover P400e Vogue (62.98%)
Just pipping Land Rover Defender and Range Rover Evoque plug-in hybrids, is the brand's flagship Range Rover P400e in Vogue spec. It's one of the most luxurious cars money can buy, and with its hybrid powertrain and ability to deliver pure-electric running, one of the most refined too. The fact the Range Rover continues to appear in this list eight years after it launched is testament to its all-round ability.
Top 10 best seven-seater electric and hybrid cars 2021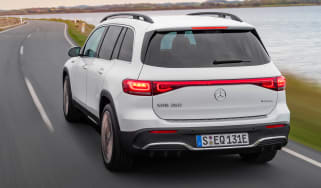 Top 10 best seven-seater electric and hybrid cars 2021
If the regular crop of electrified SUVs and family cars don't provide enough practicality for you, then take a closer look at the range of electric an…
Top 10 best luxury electric cars 2021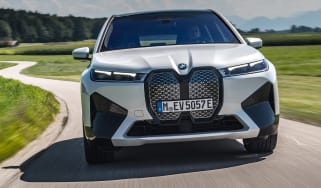 Top 10 best luxury electric cars 2021
From Audi to Tesla, here are our top picks of the most luxurious zero-emissions motoring options on the market right now
EV36Zero and Nissan's road to carbon neutrality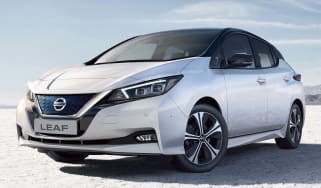 EV36Zero and Nissan's road to carbon neutrality
How the EV36Zero hub in Sunderland is set to take Nissan a step closer to its sustainability goals