Geneva Motor Show 2019: the key electric and hybrid cars
A huge number of electric cars and plug-in hybrids were revealed at this year's Geneva Motor Show. This is our rundown of them all
The Geneva Motor Show is the biggest motoring event of the year as far as the Europe is concerned, and it's one of the most significant annual automotive events in the world. The Geneva show is a window on the car industry's present and future, and if there's one trend that dominated the 2019 instalment, it's electrification.
Many motor shows of recent years have been dominated by electric concepts, but none have felt so steeped in the reality of electric motoring as Geneva 2019. Between the range-extender Nissan IMQ and the pure-electric Fiat Centoventi representing the electric cars of tomorrow, and the Peugeot e-208 and many others representing the mainstream electric cars of today, it felt positive and energetic.
And – significantly – electric power felt like the norm rather than the exception. Other than notable absences from Ford, Jaguar Land Rover and Vauxhall, Geneva 2019 has been the industry's most positive embrace yet of the electric car.
At Geneva 2019, a crop of new electric cars and plug-in hybrids exceeded any previous year in terms of volume and variety. Read on to find out all about the electric stars of this year's show...
Alfa Romeo Tonale concept
Alfa Romeo has previewed its first plug-in hybrid SUV in the form of the Tonale concept. Read the full story here.
Audi Q4 e-tron
Audi's latest electric SUV will slot in below the e-tron. Read the full story here.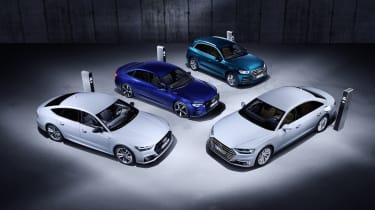 Audi TFSI e plug-in hybrids
Audi is adding plug-in hybrid variants to the A6, A7, A8 and Q5 ranges, with a choice of power outputs and trim levels. Read more here.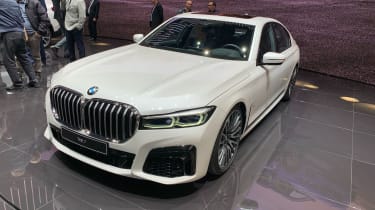 BMW 7 Series hybrid
The heavily revised BMW 7 Series range makes its first public appearance at Geneva, including the all-new BMW 745e plug-in hybrid version. We've already driven a pre-production example, while BMW has also announced a swathe of other new and revised plug-in hybrid models at the show.
Citroen AMI ONE concept
This is Citroen's vision of a future 'urban mobility solution': a tiny electric two-seater that can be owned, rented or shared in busy city environments. Read more about it here.
Fiat Centoventi concept
'Centoventi' means '120' in Italian and this striking-looking concept car reimagines the Italian brand's Panda supermini as a modular, electric and highly customisable family car for the 21st century. Find out more here.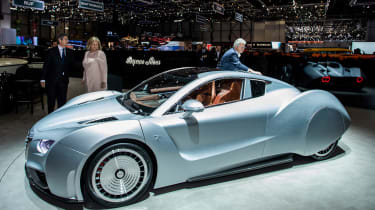 Hispano Suiza Carmen
The illustrious pre-war luxury car brand is making a comeback in very modern fashion at Geneva with this 1,000hp+ 'hyperluxury' coupe. Read more about it here.
Honda e Prototype
The eagerly awaited production prototype of the Urban EV concept. Read the full story here.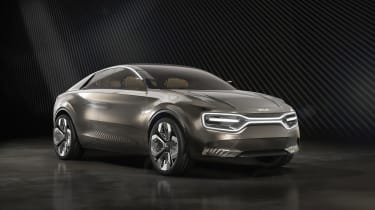 Imagine by Kia concept
The quirkily named 'Imagine by Kia' is a concept that's said to combine elements of SUVs, crossovers and family saloons in one vehicle, creating a striking four-door family car. Here's what we know about it so far.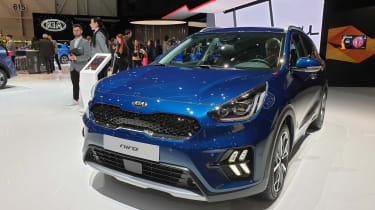 Kia Niro hybrid facelifts
While the award-winning Kia e-Niro has been making waves in the early part of the 2019, Kia hasn't forgotten about the plug-in and non-plug-in hybrid versions of its compact family SUV. Both are getting a visual refresh.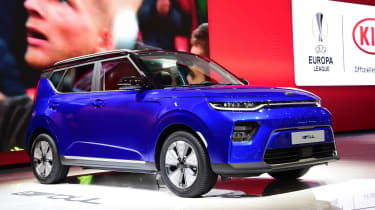 New Kia Soul EV
The first-generation Kia Soul EV was among the first affordable and practical electric cars on the UK market. Now, the second-generation model is on the way. Find out more about it here.
Lagonda All-Terrain Concept
Aston Martin is resurrecting the Lagonda brand as a manufacturer of exclusively electric vehicles. Its first model will be an SUV, previewed by this All-Terrain Concept.
Mercedes EQV concept
The Mercedes' V-Class people carrier has gone electric, and this concept will be followed by a production model later in 2019. Read the full story here.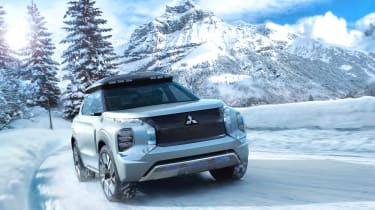 Mitsubishi Engleberg Tourer Concept
An electric concept car that could preview the next Mitsubishi Outlander. Read the full story here.  
Nissan IMQ concept
New Nissan IMQ concept previews next-generation hybrid Qashqai in due 2021, as e-Power is confirmed for Europe. Read more here.
Peugeot 508 Peugeot Sport Engineered
The name is a bit unwieldy, but this high-performance plug-in hybrid saloon concept previews a production version with around 350bhp that'll go on sale before the end of 2020. Read more here.
Peugeot e-208
Rather than launching specific electric models, Peugeot plans to offer electric drivetrains alongside petrol and diesel engines in its cars. The all-new 208 is a case in point. Read more about the e-208 electric version here.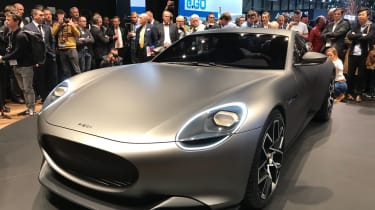 Piech Mark Zero
This new company's name may not be familiar to you, but its founder is the son of former Volkswagen boss Ferdinand Piech. The Mark Zero itself claims a 310-mile range, but there are no performance figures just yet. See more here.
Pininfarina Battista
The Automobili Pininfarina Battista electric hypercar has been revealed, with a 0-62mph figure of less than two seconds and a 0-186mph time of just 12 seconds. And with 1,873bhp, it's the most powerful road-legal production car ever built. Read the full story here.
Polestar 2
Polestar has the Tesla Model 3 and mainstream electric-car buyers in its sights with this new mid-sized model. Read the full story here.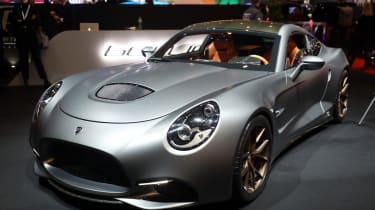 Puritalia Automobili Berlinetta
Another name you probably won't have heard before, Puritalia Automobili is a small Italian firm looking to make a big splash at Geneva with this 952bhp hybrid hypercar. Only 150 examples are planned, and you can read more about it here.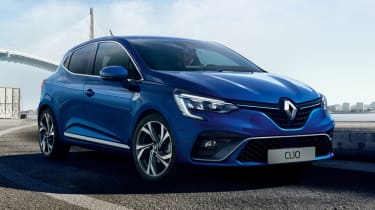 New Renault Clio hybrid
The new Renault Clio has already been revealed, but will be seen in the metal for the first time at Geneva. The French carmaker has also announced that a hybrid 'E-Tech' version of the supermini will go on sale in 2020. Read the full story here.
SEAT el-Born
Named after a suburb of the Spanish capital Barcelona, the SEAT el-Born is a hugely significant car It's our first glimpse of a close-to-production vehicle built on the Volkswagen Group's MEB platform, which will underpin a huge range of electric cars from Volkswagen, SEAT, Skoda and Audi in the coming years. Read more about the el-Born here.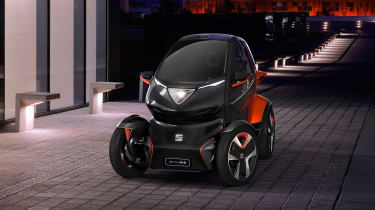 SEAT Minimo
Also from SEAT, the Minimo is a two-seat electric 'quadricycle' that bears more than a passing resemblance to the Renault Twizy. Like the Citroen AMI ONE above, it's intended as an 'urban mobility solution' and could possibly be driven by 16-year-olds without a full license. Read all the details here.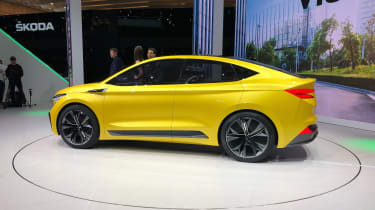 Skoda Vision iV concept
Like SEAT, Skoda has previewed an electric model that'll sit on the Volkswagen Group MEB platform. The iV concept is a sporty-looking SUV-coupe and a production version could be on sale by 2021. Here's what we know so far.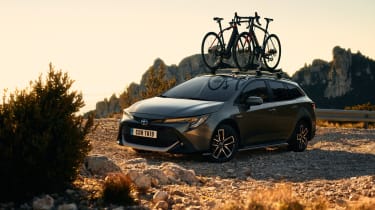 Toyota Corolla Trek & GR Sport
Toyota has only just launched the new and predominantly hybrid-powered Corolla, but is already adding variants to the range. Geneva will see the debut of the aggressively styled GR Sport and rugged Trek models, and you can read more about them here.
Volkswagen I.D. Buggy concept
The latest Volkswagen I.D. electric concept is a retro-inspired Buggy. Read the full story here.
Geneva Motor Show 2019 dates and tickets
The press days for the 2019 show are on 5 and 6 March, and once the world's media has departed the general public get to see the show first hand. The dates for the show's public days are 7 to 17 March, and tickets are still available from the official website where you'll also find hotels and other visitor information.
MINI Cooper Electric: pricing and specs for British-built electric supermini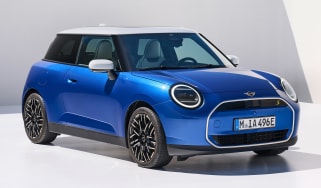 MINI Cooper Electric: pricing and specs for British-built electric supermini
MINI's latest electric hatchback introduces a revolutionary interior design, as well as larger batteries to provide a 250-mile range
Tesla Cybertruck: pricing and specs for Elon Musk's electric pickup truck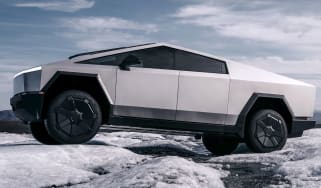 Tesla Cybertruck: pricing and specs for Elon Musk's electric pickup truck
The Tesla pickup truck is now on sale, with a range of up to 340 miles and a starting price of just over $60,000
Electric Renault 5: prices, 2024 launch date and teaser images of the MINI Cooper rival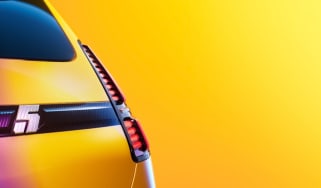 Electric Renault 5: prices, 2024 launch date and teaser images of the MINI Cooper rival
New official teaser pictures for Renault's electric supermini confirm the 5's reveal in February 2024