SEAT Minimo concept previews "the future of urban mobility"
SEAT Minimo is latest compact urban electric vehicle concept from a major manufacturer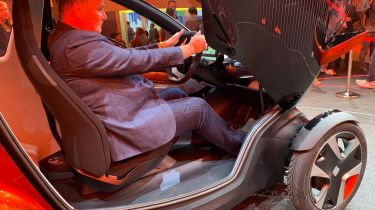 Following hot on the heels of the Citroen AMI ONE concept, the SEAT Minimo is the latest compact 'urban mobility' vehicle prototype to be revealed by a mainstream car brand. It was revealed at the Mobile World Congress event in Barcelona, Spain, in February 2019.
The Minimo combines aspects of car and motorbike design in an effort to minimise its footprint while still offering comfortable interior space. It has a zero-emissions electric drivetrain and is said to be "ready for an autonomous future".
Like the AMI ONE and the production Renault Twizy, the Minimo is a quadricycle, so is exempt from many of the regulations governing full-size cars and can potentially be driven by 16-year-olds without a full driving licence.
SEAT claims the Minimo will do 60 miles on a single charge and its batteries (of which there are four, weighing 25kg each) can be swapped out for fully charged replacements in as little as four minutes, allowing for quick turnaround in car-sharing or short-term rental applications.
The manufacturer is also investigating the possibility of a plug-in version.
The Minimo is 2.5 metres long and 1.24 metres wide, and has large 17-inch wheels in addition to a raised SUV-like seating position. It has a single headlight like a motorbike and features asymmetrical, upward-opening doors (the driver's smaller than the passenger's) designed to allow access even in tight parking spaces.
It'll be made from layered plastic panels, with the exterior ones dyed instead of being painted, possibly to ensure that scuffs and scrapes are less visible.
SEAT Minimo interior
Inside, there's a 1+1 seating layout and a 360-degree panoramic view out. SEAT suggests the rear seat area can be used for either passengers or luggage, and hints at the possibility of a cargo or delivery variant making use of the rear space, as Renault has done with the Twizy.
The carmaker also claims that shoulder room is the same as you'd find in the Arona crossover, even though you'd get three Minimos into a parking space occupied by its small SUV sibling.
In front of the driver sits a central digital display, which shows both instruments and content from the driver's smartphone. SEAT says the Minimo is "preparing for future Level 4 autonomous technologies" and suggests it could one day be capable of travelling unmanned to pick up a car-sharing client when requested.
Commenting on the Minimo, SEAT design director Alejandro Mesonero said: "The design of the Minimo shows the way we understand urban mobility: efficiency, high value and cost-saving, combined with a vibrant design. Our Minimo demonstrates that there's space for fun and style when we're talking about electric and shared vehicles."
Having appeared at the Mobile World Congress , the SEAT Minimo was also on display at the Geneva Motor Show in Switzerland in March.
SEAT expects the Minimo to go into production in 2021, although it's holding talks with third parties with a view to an external company overseeing the vehicle's production on behalf of the Spanish brand.
Cupra Raval name for 2025 small EV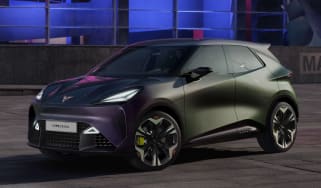 Cupra Raval name for 2025 small EV
Tesla Model 3 facelift will be a double-edged sword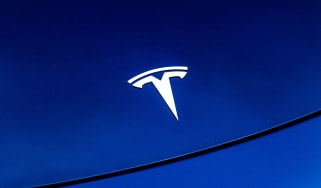 Tesla Model 3 facelift will be a double-edged sword
Tesla's updated EV will have an improved interior, greater range and a more affordable price – as well as one unfortunate drawback
Vauxhall Astra Electric: price, range and video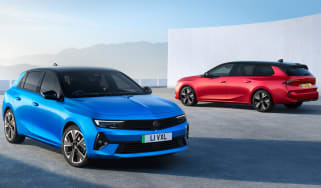 Vauxhall Astra Electric: price, range and video
The new Astra Electric shares its parts with the Peugeot e-308, with first deliveries due soon