New BMW plug-in hybrids announced at Geneva
Existing models get electric range boost; fully electric X3 confirmed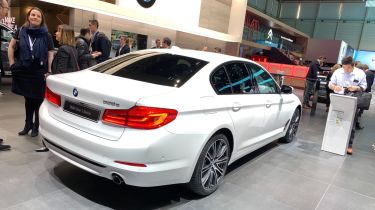 BMW has announced a revised and expanded range of plug-in hybrid saloon and SUV models at the 2019 Geneva Motor Show.
New to the range are the BMW X3 xDrive30e and BMW X5 xDrive 45e SUVs, as well as the plug-in hybrid versions of the latest BMW 3 Series (the 330e) and BMW 7 Series (the 745e). DrivingElectric has already been behind the wheel of the latter.
The existing BMW 530e saloon (above) and BMW 225xe MPV models also get upgraded batteries for a longer electric range.
BMW has also confirmed that a fully electric production version of the X3 will follow in 2020. This has already been previewed by the BMW iX3 concept.
New BMW X3 plug-in hybrid
Production of the BMW X3 xDrive30e is set to start in December 2019. It has four-wheel drive as standard and offers up to 31 miles of emissions-free electric driving, with official CO2 output of 56g/km and fuel economy of just under 118mpg.
Under the bonnet, there's a four-cylinder petrol engine mated to an eight-speed automatic transmission. When combined with the electric motor, total power output is 249bhp, giving a 0-62mph time of 6.5 seconds.
New BMW X5 plug-in hybrid
Those looking for a larger plug-in hybrid SUV are catered for by the new BMW X5 xDrive45e, which pairs a six-cylinder petrol engine with an electric motor for a total of 389bhp, a 0-62mph time of 5.6 seconds and an electric range of just under 50 miles.
Fuel consumption of 135mpg and CO2 emissions of 49g/km are promised; like the smaller X3, the new X5 hybrid comes with BMW xDrive four-wheel drive as standard.
New BMW 3 Series plug-in hybrid
The new BMW 330e, meanwhile, claims a 50% increase in pure-electric range over its predecessor, for a total of 37 miles, while fuel consumption is 166mpg and CO2 emissions are 39g/km.
Like the X3, total electric-plus-engine power output here is 249bhp, but can be temporarily increased by 40bhp using a function called 'XtraBoost'. Acceleration from 0-62mph is completed in six seconds exactly.
New BMW 7 Series plug-in hybrid
BMW's luxury flagship the 7 Series gets two plug-in hybrid variants: the standard-wheelbase 745e and long-wheelbase 745Le. Respective electric ranges are 31 and 36 miles, while fuel consumption and CO2 emissions for the 745e stand at 135mpg and 48g/km. Corresponding numbers for the 745Le are 123mpg and 52g/km.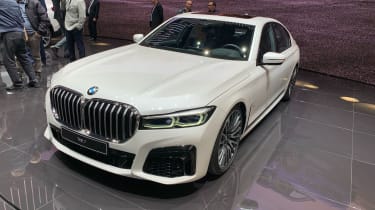 In maximum-output 'sport' mode, the 7 Series hybrid's six-cylinder petrol engine and electric motor work together to produce 389bhp, translating into a 5.2-second 0-62mph sprint for the 745e and a 5.3-second time for the 745Le.
A third variant, the 745Le xDrive, combines the long-wheelbase chassis with BMW's xDrive four-wheel-drive system; the extra traction this brings gives it the fastest 0-62mph time of the lot, at 5.1 seconds. It returns 122mpg fuel economy and emits 52g/km of CO2.
BMW 530e and BMW 225xe plug-in hybrids updated
The existing BMW 530e saloon and BMW 225xe Active Tourer (below) are also receiving updates, with the 530e getting a boost in battery capacity from 9.2 to 12kWh.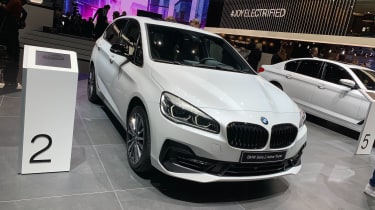 BMW anticipates this will increase the car's zero-emissions electric range by 30% to a total of 40 miles, while its official CO2 emissions figure will be 38g/km. A four-wheel-drive 'xDrive' version of the 530e will also be introduced, with an electric range of 35 miles and CO2 emissions of 44g/km.
Partnership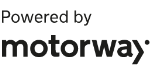 Need to sell your car?
Find your best offer from over 5,000+ dealers. It's that easy.
In the 225xe, battery capacity is being increased from 7.7 to 9.7kWh, taking total electric range to 35 miles and official CO2 emissions to 43g/km. In both the 2 Series and 5 Series hybrids, the increase in battery capacity has been achieved without making the batteries any bigger, so interior and boot space is unchanged.
BMW i4 facelift to topple Tesla with huge range and tech upgrades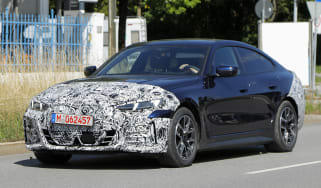 BMW i4 facelift to topple Tesla with huge range and tech upgrades
BMW Vision Neue Klasse is a future electric 3 Series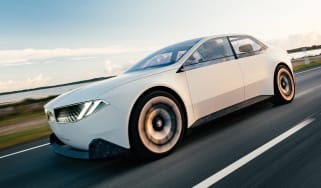 BMW Vision Neue Klasse is a future electric 3 Series
BMW i4 facelift to topple Tesla with huge range and tech upgrades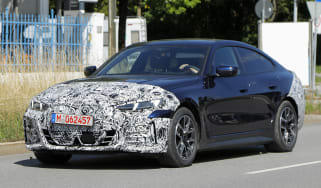 BMW i4 facelift to topple Tesla with huge range and tech upgrades
An updated version of the BMW i4 has been spotted testing, likely sporting a longer range and the latest technology
Electric BMW iX2 is set to take the kidney grille to the next level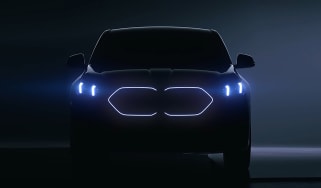 Electric BMW iX2 is set to take the kidney grille to the next level
BMW has teased the highly-rumoured iX2 coupe-SUV, which has been revealed to get enlarged illuminated kidney grilles