Renault Clio E-TECH Hybrid review
The hybrid Renault Clio is a quiet yet punchy small car, with good electric running potential and comfortable ride quality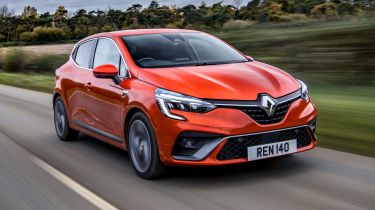 Pros
Smooth and quiet
Comfortable and well equipped
Good electric range for a hybrid
Cons
Ride is firm
Powertrain feels restless
Pricier than non-hybrid models
| Car type | Fuel economy | CO2 emissions | 0-62mph |
| --- | --- | --- | --- |
| Hybrid | 63-64mpg | 99-100g/km | 9.9s |
The Renault Clio E-TECH is part of the wave of hybrid hatchbacks that have come to market in recent years. It wasn't long ago that this was a very niche market, but ever more stringent emissions regulations, revised tax rules and changing consumer attitudes have meant electrified cars like these are now more popular than ever. The latest versions of the Toyota Yaris and Honda Jazz are also hybrid-only, although traditional Clio rivals like the Volkswagen Polo and recently discounted Ford Fiesta haven't made the switch.
It wears the same E-TECH badge as the Renault's other hybrids and EVs, but the Clio is only available as a full-hybrid, not a plug-in hybrid version like the Captur compact SUV. The Clio E-TECH uses a 1.6-litre four-cylinder petrol engine paired with two electric motors and a small 1.2kWh lithium-ion battery, producing 143bhp total. It's a similar setup to the Yaris, and it works well in a small car. The Renault emits between 99 and 100g/km of CO2 and returns fuel economy of 63 to 64mpg, depending on the exact trim level chosen.
It uses a clever Formula 1-derived clutchless gearbox that's complex enough to have two ratios for the main electric motor and four for the petrol engine, with 15 operating modes in total including the pure-electric one. That all sounds awfully complicated, but from behind the wheel, it's not – you just press the right pedal to go and the left one to stop, like any automatic-gearbox car.
You can't plug the Clio in to charge it: the battery takes energy from regenerative braking and the car's forward momentum. It then uses this to run on electric power for short distances, at speeds up to 40mph. Renault says the Clio hybrid can be in electric mode for up to 80% of the time over the course of a typical urban journey – but the engine always has to come on at some point to keep the battery charged.
Elsewhere, the Clio's interior is as good as ever, which is to say it's one of the best in any supermini. On the downside, the 301-litre boot capacity is down on the 391 litres of the petrol car, due to the presence of the battery pack. The hybrid Clio is available in Evolution, Techno, R.S. Line and E-TECH Engineered trim.
So with that excellent real-world economy, stylish exterior and interior, decent practicality and good driving experience, the Clio E-TECH is a strong contender among the growing crop of electrified superminis. Keen drivers may prefer the more straightforward purely petrol engine, but there's no doubt the hybrid will win many fans. For a more detailed look at the Clio E-TECH, read on for the rest of our in-depth review...