Lagonda All-Terrain SUV electric concept revealed at Geneva
Ultra-luxurious Lagonda All-Terrain SUV will lead brand's electric relaunch in 2022
Aston Martin's electric spin-off brand Lagonda has unveiled this All-Terrain Concept at the 2019 Geneva Motor Show. It previews the first production model to come from the reborn name, which is set to go on sale in 2022.
Aston has resurrected the Lagonda name as a dedicated luxury zero-emissions sub-brand, with all of its cars running fully electric powertrains.
The All-Terrain Concept follows on from the Lagonda Vision Concept four-seater seen at the 2018 Geneva show. It carries over that car's four-seater layout, which incorporates the ability for the front-seat occupants to turn around and face those in the back when the car is running in autonomous mode.
Superyachts were said to have been a key design influence on the concept, as evidenced by the large rear overhang, which has clean, curved beltline running across the hatchback panel. The rear also incorporates innovative LEDs, which shine downwards and are hidden from view. Their light is reflected in the appropriate direction by mirrors.
There are rear-hinged back doors, plus opening roof panels, to make getting in and out of the back seats easier and more dignified; there's also a rear shelf that extends from the boot floor to form a seating platform. Up front, conventional air vents and speaker grilles have been ditched, but there's a radical touch for the car's key: it floats when not in use, suspended above an electromagnet.
The company says that the All-Terrain Concept boasts "extraordinary style and space efficiency combined with a rakish design language that demonstrates the unique freedom afforded by Lagonda's commitment to zero-emission powertrain technologies."
Aston Martin and Lagonda CEO Andy Palmer added: "The All-Terrain Concept offers explicit clues regarding what will be the first Lagonda model to enter production, and further demonstrates how Lagonda's zero-emission powertrain enables us to create spectacular cars that will radically redefine their sectors of the market."
Potential technical details of the Lagonda haven't been revealed yet, however Palmer told our sister title Auto Express that it could use a developed version of the Aston Martin Rapide E's 800-volt, 65kWh battery.
A retail price in the range of £300,000 has been suggested, while the Lagonda will be built at the new Aston Martin factory in St Athan, Wales – described as its "home of electrification". The company has trademarked the name 'Varekai', but is remaining tight-lipped as to whether that could be applied to the production Lagonda.
Top 10 fastest hybrid cars 2023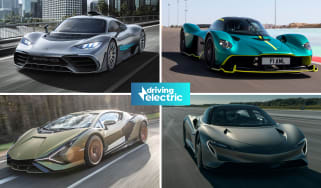 Top 10 fastest hybrid cars 2023
Vauxhall Frontera to arrive as Crossland EV replacement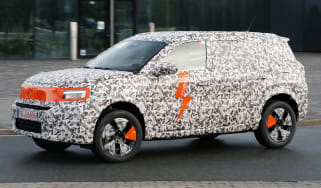 Vauxhall Frontera to arrive as Crossland EV replacement
The Vauxhall Mokka Electric will soon be joined by a chunkier, yet cheaper sibling that's set to revive a classic nameplate
New electric cars coming in 2023 and beyond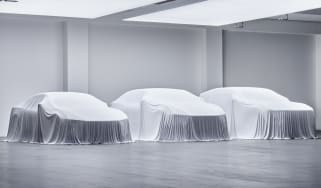 New electric cars coming in 2023 and beyond
With electric cars making up an ever-increasing proportion of sales, the industry is working flat out to launch new models – here's what's on the way …
Formula E-inspired Nissan Concept 20-23 previews hot electric Micra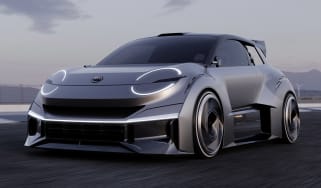 Formula E-inspired Nissan Concept 20-23 previews hot electric Micra
Nissan's latest concept car comes in the form of a high-performance version of its upcoming city EV