Pininfarina Battista electric hypercar: price, specs and release date
Pininfarina Battista electric hypercar will make 1,873bhp and cost around £2million
The Pininfarina Battista electric hypercar – set to become one of the most powerful road-legal production cars  ever, with 1,873bhp – will come with a free bespoke wallbox for buyers, designed in partnership with GreenMotion.
Called the 'Residenza', the Battista home charger has a design inspired by that of the Battista and will be finished in the same colour the buyer has chosen for their car. It'll charge the car at speeds of up to 22kW (dependent on the domestic electricity supply) and is made from recycled and organic materials. A full charge of the Battista's battery using the charger is anticipated to take around six hours.
Automobili Pininfarina has also confirmed that Battista buyers will get five years of unlimited charging on the ChargePoint network included with their purchase. The entire network comprises 115,000 locations across North America and Europe, as well as a further 133,000 locations from other networks, offered through roaming agreements. A 20%-80% charge of the car from a 180kW rapid charger will take 25 minutes.
The hypercar made its UK debut at the Goodwood Members' Meeting in April 2019, stopping off in London to mark the arrival of the Ultra Low Emission Zone (ULEZ) in the capital.
In March 2019, the Battista was revealed for the first time at the Geneva Motor Show. Four electric motors – one on each wheel – combine to produce the headline figure of 1,873bhp, along with 2,300Nm of torque. This results in 0-62mph in under two seconds, 0-186mph in 12 seconds and a top speed of 217mph.
The Battista features a 120kWh, liquid-cooled lithium-ion battery, with the company targeting 280 miles of range. Only 150 examples will be sold, priced in the region of £2 million. Previously codenamed 'PF0', the Battista is named after Battista 'Pinin' Farina, the founder of the legendary Italian styling house and now car manufacturer.
Pininfarina Battista performance
The Italian company has enlisted the help of Croatian manufacturer Rimac to develop the electric powertrain, so the frightening performance figures come as little surprise. With 1,873bhp, the Battista is almost twice as powerful as a modern Formula 1 car, and has seven times more torque than you get from the latest Nissan Leaf.
A 0-62mph time of less than two seconds makes it quicker than a Formula 1 car, too (in a straight line, at least), while the 0-186mph figure of less than 12 seconds is up there with the fastest internal-combustion-engined cars on the planet. Prior to launch, a top speed of over 250mph was mooted, although Pininfarina has settled on 217mph.
The Battista's 120kWh battery capacity is 20% larger than that of the Tesla Model S, with a target range of 280 miles. Pininfarina says it'll charge from flat to 80% full in 25-40 minutes using an IONITY fast charger.
The body and internal structure of the Battista is made from carbon fibre in order to keep weight to a minimum, while a movable rear wing can increase downforce and aid braking. The Battista will run on 21-inch wheels fitted with bespoke Pirelli P Zero tyres.
What is Automobili Pininfarina?
Automobili Pininfarina is an offshoot of the Italian design house Pininfarina, which has been in the business of designing cars for 88 years. Having done so for the likes of Ferrari, Alfa Romeo, Fiat and dozens of others besides in that time, it's now owned by Indian car manufacturer Mahindra & Mahindra, which has a racing team in Formula E.
Partnership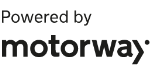 Need to sell your car?
Find your best offer from over 5,000+ dealers. It's that easy.
The design company was founded by Battista 'Pinin' Farina in 1930, and the leadership has been passed down through the generations since. Along the way, the family name was changed to Pininfarina to match that of the brand. Now headed by chairman Paolo Pininfarina – grandson of Battista – the company is set to produce performance cars of its own for the first time.
"After 90 years of history, of innovation and design in the automobile, I think we deserve to have a hypercar with the Pininfarina brand on the streets," he explains. "It is the logical step for a brand which has been a very important player in the history of the automobile for 90 years."
So does that make this the most exciting time in the company's history? "For me, in terms of automotive design, I would say yes," he responds. "Because we are making a breakthrough, because we are developing a car which will bear our name.
"It's strongly driven by aerodynamics and performance, and it's electric. That means it's a car for the future, that it's a car with a lot of innovation inside." That's putting it mildly. According to CEO Michael Pershke, the 1,873bhp on offer is "nearly insane".
"People are extremely excited by the technology, by the capabilities and by the zero emissions," he continues, adding that it's easier and more cost-effective to use an electric powertrain rather than an internal-combustion engine to achieve the Battista's incredible performance figures.
And Pershke expects Pininfarina's customers to reward it for moving so boldly into the electric hypercar market. He argues that they'll have "found a car that is electric, which is beautiful, which has pedigree, which has craftsmanship, which in all likelihood will hold its value. And they're going to be the first to have such a car."
How is it that Automobili Pininfarina – embarking on its first vehicle, don't forget – can build the most powerful road car ever, moving a step ahead of established rivals? "I wouldn't say we are better, but we are for sure faster and more focused," Pershke reasons. "For us it's a do-or-die mission. The existential success or failure for the whole company. There's a tremendous focus on making it work.
"The Porsche Taycan is a great car. But theoretically it could have better performance than it has, but then it would fully substitute the Panamera. So they are – in many companies – sandwiching the electric cars between the combustion-engine cars. That means also that you're not unleashing the full power and capabilities."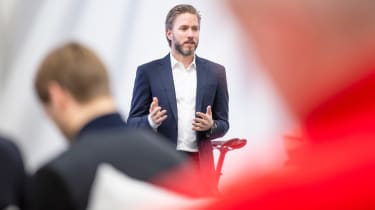 With such astounding performance being promised, Automobili Pininfarina has enlisted racing driver Nick Heidfeld (above) to conduct testing on the Battista. Heidfeld, who raced in Formula 1 for 12 years and in Formula E for four, shakes his head when reminded that the Battista will accelerate faster than any of the cars he raced at the pinnacle of his career.
"Even now speaking about it, it's not going in my head that this will happen," he says. "Because for me F1 probably has the quickest cars. I still can't believe that this will be quicker. It seems wrong."
Even so, Heidfeld is excited by the prospect of testing the Battista and experiencing its electric drivetrain. It's likely that the car will have a special setting to enable all 1,873bhp for high-speed bursts, running on less than full power most of the time.
"One of the things I enjoyed most about Formula E is how you achieve exactly what you ask for in terms of torque at the wheel," he says. "Because there is no delay, there is no misfire, there is no lag. Even if it's just hundredths or tenths, it will be more or less instantaneous."
Beyond that, Heidfeld is equally enthusiastic about working with a company with "such a huge history and heritage", whose designs and coachbuilding he admired as a youngster. "For me, the primary source of emotion is the look and the style a car gives," he says. This is why sometimes I have to pinch myself. To be in that company and help it develop one of the best hypercars the world has ever seen… I really want to make it good."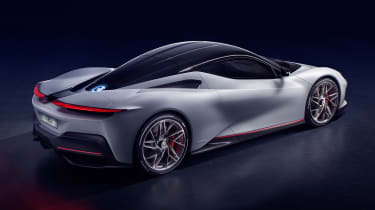 Design
Battista 'Pinin' Farina once said "above all, it must be beautiful" – a philosophy that has underpinned Pininfarina for almost 90 years. It goes without saying that the Battista will need to follow the same brief, with the task being handed to design director Luca Borgogno.
He believes the Battista will be "a treat for the eyes" of those heading to the Geneva Motor Show this year. "It's like when you have a sweet, it needs to make you smile. It needs to make you fall in love a little bit."
As with the powertrain, opting for electric over internal combustion has an effect on the exterior of the car. Borgogno believes they need 30-40% less cooling than a petrol-powered hypercar, meaning there's no need for the kind of grilles you'll see on most road-going vehicles.
"It's very clear in my opinion if you look at the latest hypercars, all the backs of the cars have big grilles," he explains. "We want to have a car that's a little bit more body, a little bit more sensual. And with an electric powertrain, right now it's possible."
Inside, the Battista's interior has been designed to focus absolutely on the driver. Two touchscreens sit either side of a smaller, central display behind the wheel, allowing drivers to control the vehicle's functions without taking their eyes away from the road.
"It's a little tricky for me to imagine these huge touchscreens that we have in our cars today," says Borgogno. "You can imagine it on a normal car, but you still have to look somewhere else, and then move your hands very far away to touch the climate control or something like this. For a car that is this fast – it's a kind of a bullet on the road – you need to be very focused. So having them really close to your hands from a pure ergonomic point of view is really clear."
Automobili Pininfarina will use a virtual-reality system to help customers make design choices when customising their cars. The company says it's open to anything in terms of materials and colour schemes, so every model of the Battista will be entirely unique. Such a bespoke approach is a necessity at this end of the market, and with a large portion of buyers expected to be collectors, the Battista needs to feel like a once-in-a-lifetime car.
As Borgogno observes: "We are trying to define the future of the hypercar." If Automobili Pininfarina succeeds, it won't just be hypercars having their rulebooks rewritten.
Electric Ford Puma could become the UK's best-selling EV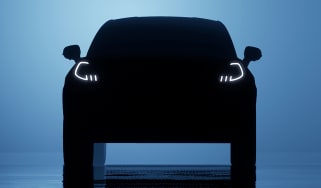 Electric Ford Puma could become the UK's best-selling EV
The Ford Puma EV is set to arrive in 2024 with a range of over 200 miles and a tweaked exterior design
Vauxhall Corsa Electric facelift brings sharp new look and tech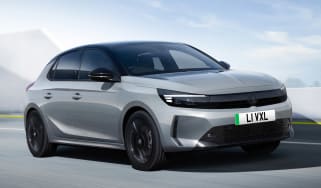 Vauxhall Corsa Electric facelift brings sharp new look and tech
Vauxhall's top-selling electric supermini has been updated for 2023, now getting the 'Vizor' from the Mokka Electric
BMW i5 breaks cover as 5 Series EV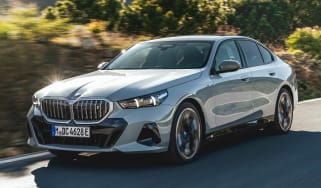 BMW i5 breaks cover as 5 Series EV
BMW has unveiled an all-electric version of its long-running 5 Series, with a range of up to 362 miles