Mitsubishi Engelberg Tourer Concept SUV revealed at Geneva
Mitsubishi Engelberg Tourer Concept promises "a focus on next-generation technology and enhanced EV performance"
Mitsubishi has revealed a new electrified SUV concept at the Geneva Motor Show. The Engelberg Tourer Concept, named after a luxury Swiss ski resort, showcases the future of both the Japanese brand's plug-in hybrid technology and its SUV models.
A bold, boxy look characterises the Engelberg Tourer. At the front, it sports the latest interpretation of the Mitsubishi 'Dynamic Shield' grille design, incorporating moveable shutters to boost aerodynamic efficiency at speed.
A sleek roof box is fitted to the concept, with integrated LED foglights. Typically for a concept car, the Engelberg Tourer features huge oversized alloy wheels, which would be toned down on any production version.
Under the metal, the Engelberg Tourer shares some technology with the existing Mitsubishi Outlander PHEV, including its 2.4-litre petrol engine and pair of electric motors. It has a larger battery than the Outlander, however; with 20kWh capacity, it can travel for up to 43 miles in zero-emissions electric mode.
Total range before refuelling or recharging is required is estimated at 434 miles, while other technology includes permanent four-wheel drive and a torque vectoring system.
Mitsubishi also used the Geneva show to announce the Dendo Drive House (DDH) – its take on vehicle-to-grid (V2G) charging. It's said to allow owners to generate, store and transfer energy automatically between their cars and the home.
DDH will be available to customers when they buy an electric or plug-in hybrid Mitsubishi. and the company plans to start rolling it out in Japan and Europe this year.
BMW i4 facelift to topple Tesla with huge range and tech upgrades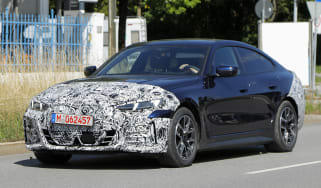 BMW i4 facelift to topple Tesla with huge range and tech upgrades
An updated version of the BMW i4 has been spotted testing, likely sporting a longer range and the latest technology
Electric BMW iX2 is set to take the kidney grille to the next level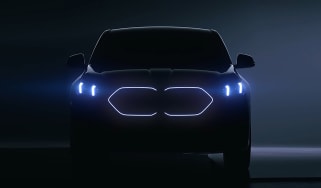 Electric BMW iX2 is set to take the kidney grille to the next level
BMW has teased the highly-rumoured iX2 coupe-SUV, which has been revealed to get enlarged illuminated kidney grilles