Triple test: Toyota bZ4X vs Hyundai Ioniq 5 vs Volkswagen ID.4
Toyota's first purely electric car does battle with two of the best electric family cars on the market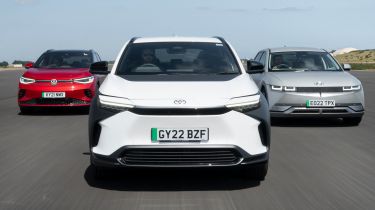 Toyota may have been the brand that brought hybrid cars to the masses in the early 2000s, but the Japanese giant has taken its sweet time producing its first electric car: the bZ4X SUV. Not only is the first of 11 – yes 11 – EVs Toyota plans to launch between now and 2030, it must be able to compete against the heavy hitters from the electric family car class, including the Hyundai Ioniq 5 and the Volkswagen ID.4.
We've sung the praises of the Hyundai Ioniq 5 on more than one occasion, with the zero-emissions family hatchback taking home two trophies in the 2022 DrivingElectric awards, and coming out on top in a few of our other group tests. Meanwhile, the spacious, practical and comfortable Volkswagen ID.4 is a solid choice in the world of electric SUVs. 
Hyundai Ioniq 5
Pros: Eye-catching looks, class-leading charging speeds, huge boot
Cons: No rear wiper, range compared to some rivals, not much else
Toyota bZ4X
Pros: Quiet and comfortable, very good to drive, excellent on-board tech
Cons: Average charging speeds, divisive styling, high insurance rating
Volkswagen ID.4 GTX
Pros: Understated looks, spacious cabin, instant torque
Cons: Not very involving, infuriating infotainment, expensive
It is worth noting that we're using the more performance-oriented ID.4 GTX for this test because it more closely matches the specifications of our top-of-the-range Ioniq 5 and bZ4X. But which of these electric family cars comes out best?