Hyundai Ioniq 5 electric car: details and pictures
Hyundai has released the first official images of its upcoming Ioniq 5 electric car, which is the production version of 2019's 45 concept
Hyundai has released three official 'teaser' pictures of the forthcoming Ioniq 5 electric car, which is based on the Hyundai 45 concept car that was unveiled at the 2019 Frankfurt Motor Show. It has also confirmed a February 2021 date for a full reveal of the car.
The 5 will be the first of many Hyundai electric cars to bear the Ioniq name, after the South Korean brand confirmed that the name of its first production electric model would become a sub-brand for all of its zero-emissions models, in similar fashion to Volkswagen's 'ID' moniker.
This will also be the first electric Hyundai model to use the company's new, dedicated electric-car platform, in contrast to the current Ioniq and Kona, which sit on platforms used for both electric and combustion-engined cars.
At the front, the 5 features an array of "pixel-inspired" lights that Hyundai says hint at the digital technology inside the car. It also has a 'clamshell' bonnet design that spans the full width of the car, minimising panel gaps and giving the 5 what Hyundai describes as "a clean and high-tech overall look". A side-on image also shows the 5's aero-optimised 20-inch wheel design – the largest ever fitted to an electric Hyundai.
A prototype has previously been spotted testing under heavy disguise on a frozen lake in northern Europe and (pictured above) on the Nurburgring Nordschleife circuit in Germany, while in December 2020 another prototype was snapped with its production front and rear light clusters visible.
When it arrives (expected to be at some point in 2021), the production Ioniq 5 is anticipated to slot into Hyundai's electric range at a higher price point than the existing Ioniq hatchback and Kona Electric SUV models. It'll serve as the debut for a new, cleaner and more minimalist design language that'll feature on all electric Hyundais from now on.
Under the retro-inspired exterior styling, the Ioniq 5 will sit on a new global mechanical platform that's being developed to underpin numerous Hyundai and Kia electric cars in the coming years.
Hyundai 45 concept
The Hyundai 45 concept that was unveiled at the 2019 Frankfurt show was said to be a showcase of the firm's future electric-car design language. The 45 concept's name marked 45 years since Hyundai revealed its first car, the Pony Coupe Concept, in 1974.
Like the original, the 45 is a lesson in minimalist design and clean lines. Hyundai calls its approach 'Sensuous Sportiness' and claims it "strips away complexity". Hyundai said the 45 would be a "symbol" of its "forward-driven design direction" and heralded its new monocoque-style body and aerodynamic and lightweight design, inspired by aircraft from the 1920s.
The name 45 also refers to the 45-degree angles front and rear, which form a diamond-shaped silhouette. At the front, the 45 has a latticed grille with kinetic LED cube lamps either side, with a sweeping rear end and an LED light bar spanning the width of the tailgate. There's novelty feature in the shape of an LED bar at the bottom of the door that shows how much battery life is left.
The 45's fastback proportions give it a coupe-like stance. A pair of sliding doors open up to a large, unrestricted opening, and an interior that Hyundai describes as a 'living space' inspired by furniture design. There's plenty of wood, fabric and leather that should give the car an inviting, warm atmosphere, a well as lounge-like seats in the back and front seats that swivel.
The 45 also showcases some futuristic in-car technologies, such as Hyundai's 'projection-beam interface', which eschews a touchscreen and projects displays and functions onto the dashboard. There's also a Camera Monitoring System that uses side cameras rather than door mirrors and is part of Hyundai's open architecture for future self-driving technology.
The cameras also have a built-in brush that wipes the lens clean should it get dirty. In terms of packaging, the batteries are placed low in the 45's 'skateboard floor' and the motors are placed outside of the passenger compartment, freeing up space inside. There are also transparent door pockets, which are horizontal and elongated to allow them to house larger items like tablets.
Best electric mopeds 2021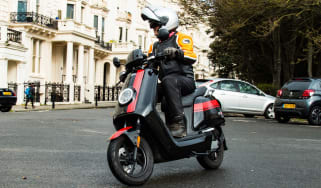 Best electric mopeds 2021
We run down the best electric mopeds you can buy, from some mainstream and some not so well known names
Best electric motorbikes 2021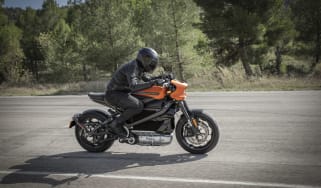 Best electric motorbikes 2021
More and more brands are getting in on the electric motorcycle action. Here's our pick of what's out there right now
Can solar panels charge an electric car?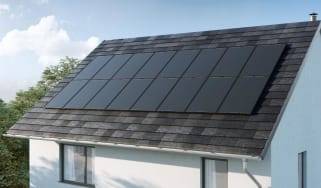 Can solar panels charge an electric car?
Charging your electric car with solar panels is a great way to save money in the long run. We explain why...